6 Best Andalucia Cycling Tours
Cycle Touring with Andalucía's Experts

Having recently won the Prestige Award for best 'Bike Tour Company of the year in Spain' (2021/22) and the 2022 Travel & Hospitality Award for 'Bike Tour Company of the Year for Andalucia' in, we thought it a good time to share more information about our wonderful range of cycling tours. We offer Leisure Cycling/e-Bike Tours, Mountain Bike Tours and Road Cycling Tours, so there is something for everyone to enjoy.
Our cycling routes extend across Andalucía, from Granada to Cadiz and from Malaga to Seville. Along the way, riders will enjoy stunningly scenic countryside and charming white villages.
Why Choose Hike and Bike the Sierras for Cycle Touring in Andalucía?
We have lived and worked in Ronda for over 10 years and have explored the region extensively. We love Andalucía's vibrant cities and characterful white villages and we also enjoy seeking out the less-travelled routes which wind through the countryside between these populated centres. It's easy to look at a map and pick out the mountain roads but it takes years of exploration to find the myriad farm tracks, ancient mountain trails and quiet lanes which crisscross the landscape. Many of them have been used by locals for centuries but have never appeared on any modern-day maps. We have linked together these quiet, rural routes to create wonderful cycling tours, providing a scenic and relaxing way for cyclists to explore the region. We are proud to have been recognised within the travel industry as Andalucía's cycling tour experts.
Andalucía Cycling Tour Maps & GPS Routes
To support all our self-guided cycling tours, we create bespoke maps, marked up with our unique routes and notable features along the way – these are wonderful souvenirs to take home. We also provide free access to a Phone App which shows daily, door-to-door routes, route profile information, hill climbs and descents, and tracks progress through the day. It is a fantastic, easy-to-use navigational solution.
We can also arrange guided cycling tours in Andalucía for a minimum of 6 people, so if you have a group of friends or family who wish to cycle together, we will be happy to provide a guide and support vehicle to give you an even more laid-back cycling touring experience.
Accommodation & Luggage Transfers
On our Andalucían cycling or mountain bike tours, we handle all the logistics to make your cycling holiday as relaxing as possible. We have personally selected our favourite overnight accommodation along our cycling tour routes to ensure you receive a warm welcome in comfortable facilities. We also transfer your main luggage between overnight stops so you don't have to worry about heavy panniers or having to leave your favourite items at home.
So let's take a quick browse through some of our favourite Andalucían Cycling Tours - 2 Leisure Cycling Tours, 2 Mountain Bike Tours, 1 Road Cycling Tour and 1 collection of Day Tours from Ronda. This list is by no means exhaustive but gives a flavour of the variety that we offer. It also includes feedback and photos from just a handful of our happy clients in 2022.
 

Andalucía MTB Tour, Spain – Ronda to Tarifa

Our Ronda to Tarifa MTB tour is a moderate level mountain bike tour which explores off-road trails from the mountains of Ronda down to the characterful, Mediterranean town of Tarifa, located at the most southerly tip of Spain. 5 fantastic mountain biking days (average 38km per day), with some superb sections of single-track and un-groomed footpaths, difficult in places but great for MTBs. The riding is remote most of the time, lots of forest and high hills, passing through the Alcornocales Natural Park. The views over the Mediterranean towards the end are spectacular.

Andy from the UK had previously joined us on a couple of guided, single-day mountain bike rides; in September 2022 he also brought along his friends Charlie and David for the MTB tour to Tarifa. They rode eMTBs and wrote on TripAdvisor:
"Ronda to Tarifa 200km over 5 days by MTB E-bike. If you're a mountain biker. you'll love this. Great mixture of trails over varying terrain. Breath-taking views. Self-navigation made easy with provision of accurate GPS sat nav files. Very nice selection of hotels. Life made so much easier with delivery of luggage from hotel to hotel each day. Wayne & Heather seem to have thought of everything to make the perfect mtb trip. Extremely welll organised, courteous and responsive. Will definitely be returning to discover new trails."

Andalucía Cycling Tour, Spain – Ronda to Seville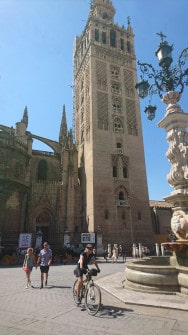 Our Ronda to Seville Cycling tour is a moderate, leisure cycling tour between two of Andalucía's most famous and beautiful towns. 4 scenic cycling days from Ronda to Seville (average 36km per day), then a short cycling loop to visit the Roman ruins at Italica, followed by a final day's sightseeing in Seville (option to extend if desired).
This tour is a feast of stunning scenery, ancient history and Spanish culture. The terrain is extremely varied, beginning in the mountains at the clifftop town of Ronda and gradually dropping to the flat plains of Seville. Along the way, you will ride past olive groves and vineyards, along a disused railway line (with tunnels, viaducts and a vulture colony), through Setenil de las Bodegas (village of the cave-houses), past castles and churches, and along sections of ancient pilgrims' trails (Caminos de Santiago). Finish by enjoying time in Seville, a city of stunning architecture, great food, and the romance and drama of flamenco.
Lee Ann and Jason from Virginia, USA did this tour in October 2022 and wrote on TripAdvisor:
"Biking from Ronda to Seville. We did the leisure cycling tour from Ronda to Seville over 5 days and could not have asked for a better adventure. Heather was quick to answer questions and helped us to select this tour for our vacation. This tour is a great way to see the white villages and Spanish countryside. The routes they selected for us took us through olive farms, railway tunnels (for bikes and hikers only) and vast farmland. It was a great way to experience Spain. Our accommodations were great and were always close to the notable sights in each town. I would highly recommend Hike+Bike to plan your tour of Andalusia."
Katie, Nick and Kaitlin from New York did this tour on e-bikes and had a great time too:i:
"Great eBike trip in Andalusia! Heather & Wayne were a pleasure to work with! We were looking for a muti-day guided e-bike tour in Andalusia, that balanced great leisure biking, views, small town exploration and budget, and the itinerary that they put together for us was spot on. Loved the eBikes and the towns we got to visit, from Ronda to Sevilla. Would highly recommend for anyone looking to explore Andalusia by bike!!"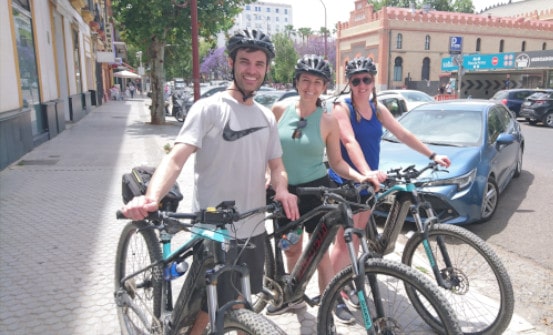 Andalucía Cycling Tour, Spain – Andalucían Hilltop Towns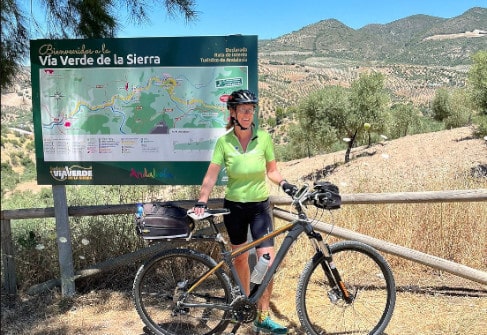 Andalucia is filled with lovely white villages; on our Andalucían Hilltop Towns Leisure Cycling Tour we visit four of the most attractive ones – Grazalema, Zahara, Olvera and Setenil de las Bodegas. This route can be adapted for either hybrid bikes (road and some sections of gravel track) or carbon-frame road bikes – the choice is yours.
The route is 4 days of cycling (average 42km per day) and, as the tour name suggests, includes some nice hill climbs. All that climbing is of course rewarded by spectacular vistas across the surrounding countryside. Whilst the hilltop locations were originally selected for defensive reasons, these days they make wonderful cycling tour destinations.
Katrin, Sigmund and their son Linus from Norway did this tour on hybrid bikes in June 2022. They also requested a day's hiking in the beautiful Grazalema Natural Park along the way, which we were happy to add in for them. They wrote:
"Andalucian hilltop towns - A wonderful tour!" We have just finished a 4 day Andalucia Hilltop towns + 1 extra hiking day which Hike and Bike the Sierras prepared for us. We are so happy for the tour which is a wonderful wasy to explore the area and the interesting white Andalucian towns. Eveything worked perfect, the communication, the selections of the hotels, the bikes and the GPS instruction. It was fun, it needed some energy and effort, but I think that everybody which is medium fit can make this tour. We will recommend this tour to anybody who would like to explore Andalucia in an active way - and we would love to come back and do more hiking and biking in the area. The hiking tour in Grazalema was great, and the biking tour between Ronda - Grazaoema - Zahara de la Sierra - Olvera - Ronda is the best way to explore the area!"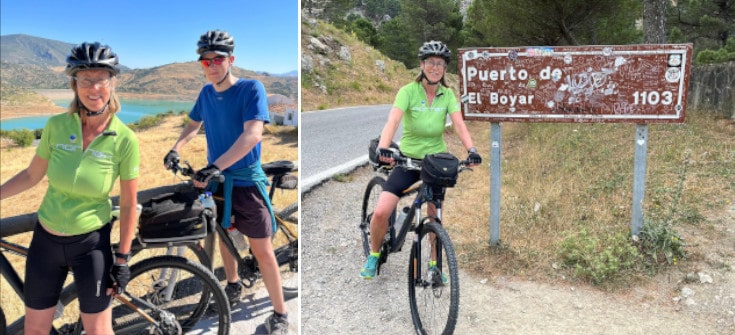 Andalucía MTB Tour, Spain – Ronda to Granada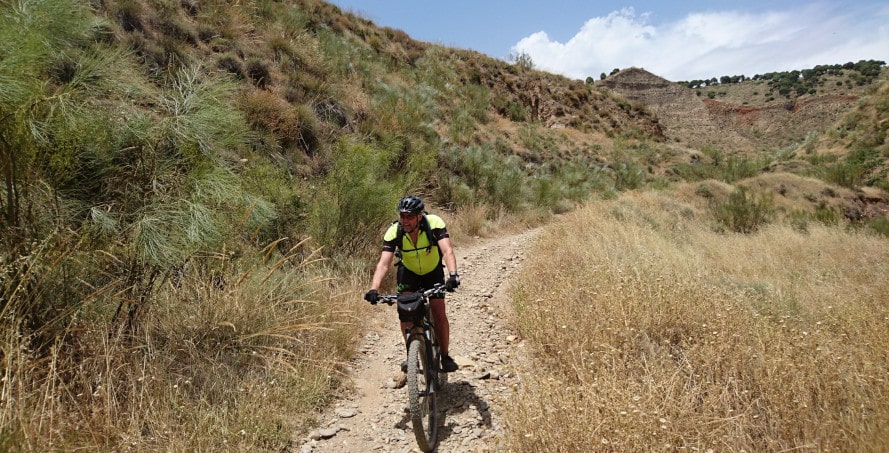 Our Ronda to Granada MTB tour is a more challenging mountain biking option, with some longer days in the saddle (average 51km per day) and technical riding sections. The route is designed to follow some of the least-travelled paths, keeping off the beaten track and biking through scenery that most visitors to the area never get to see. The route heads high up into pine-covered hillsides and through rural countryside, along rocky limestone gorges and through river valleys. There are some tough climbs, thrilling descents, stunning views and quiet trails. This self-guided MTB tour is an opportunity to experience the quiet of the Andalucían countryside, the drama of its landscape and the culture of some of its finest towns and cities, all connected by superb mountain biking trails. 
Ivor, Matt and Paolo from the UK rode the Granada MTB tour in June 2022. Along the way they stayed at One Life Malaga Retreat and, after telling the owner Matthew how much fun they were having, he even joined them for a fabulous day's mountain biking from Periana towards Alhama de Granada.

Andalucía Cycling Tour, Spain – White Villages 'Low Road'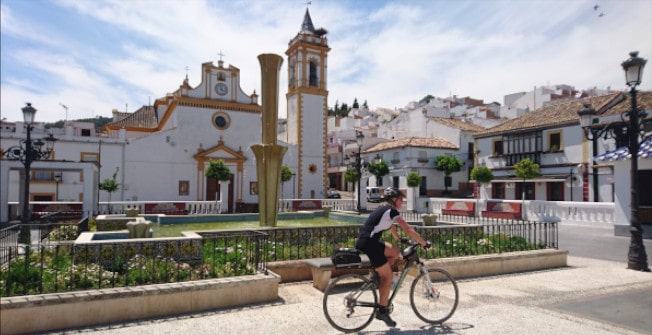 Our White Villages 'Low Road' cycling tour is a moderate, circular leisure cycling tour over 5 cycling days which takes in the drama of the Grazalema Natural Park and the charm of many small white villages. This tour is a wonderful way to enjoy the peace and quiet of rural Andalucía, including a variety of mountain, valley, river and forest landscapes.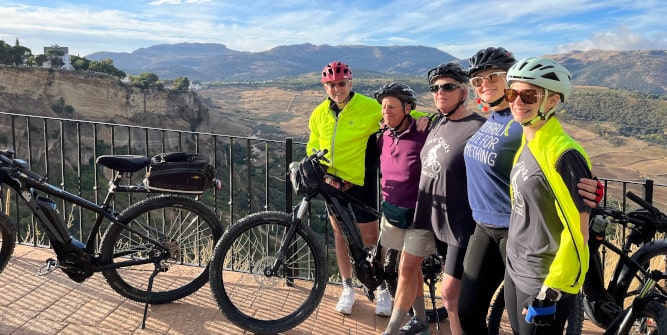 Sally, Terri, Betsy, Morgan and Jen from Canada originally booked our White Villages 'Low Road' cycling tour for Oct 2020.  After many Covid-related postponements, they were finally able to do their Andalucian cycling tour in October 2022. They had a fabulous time exploring the quaint white villages and enjoying the autumn sunshine.
Andalucía Cycling Tour, Spain – MTB and Cycling Holidays in Ronda and Surrounding Villages
For bikers who prefer to stay in one place for their cycling holiday, we also arrange mountain biking holidays and cycling holidays based in Ronda. Riders make daily bike tours out into the countryside, either self-guided with GPS route or with a guide.
Mary, Gavin and their son Fred from the UK stayed in Ronda and enjoyed a mix of self-guided mountain biking and hiking days. Mary commented:
'This was truly one of the most enjoyable holidays we have had. The expert knowledge of Heather and Wayne ensured we had routes suited to our ability and we were able to enjoy cycling the mountains to take in the spectacular views, explore the historic city of Ronda and hike the rugged vast rural countryside. We loved Andalucia and will return to Hike & Bike it some more.'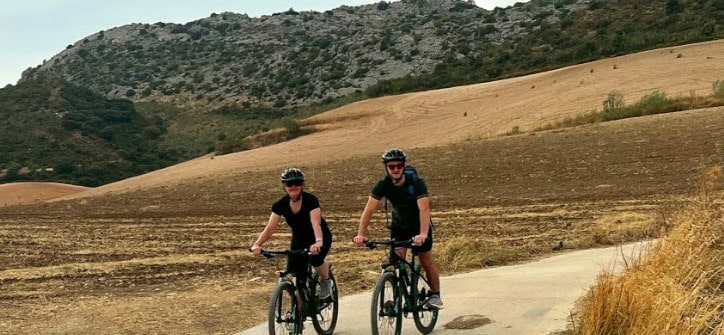 Olaf and Claudia travelled from Columbia in September 2022 for some great guided mountain biking, joining up with other clients Jane and Peter from the UK.

'Thank so much for you all the logistics regarding our Ronda bike holidays. The locations and the scenery were marvelous. We had a lot of fun and we also learnt some single track technics. The design of the routes and the itinerary were just enough for the day. The bikes worked perfectly and the guidance unique. The company of Peter and Jane were very pleasant. The hotel in which we stayed was perfect; nice breakfast and service people were helpful, friendly and very kind.'
Join us on a Fabulous Andalucía Cycling Tour in 2023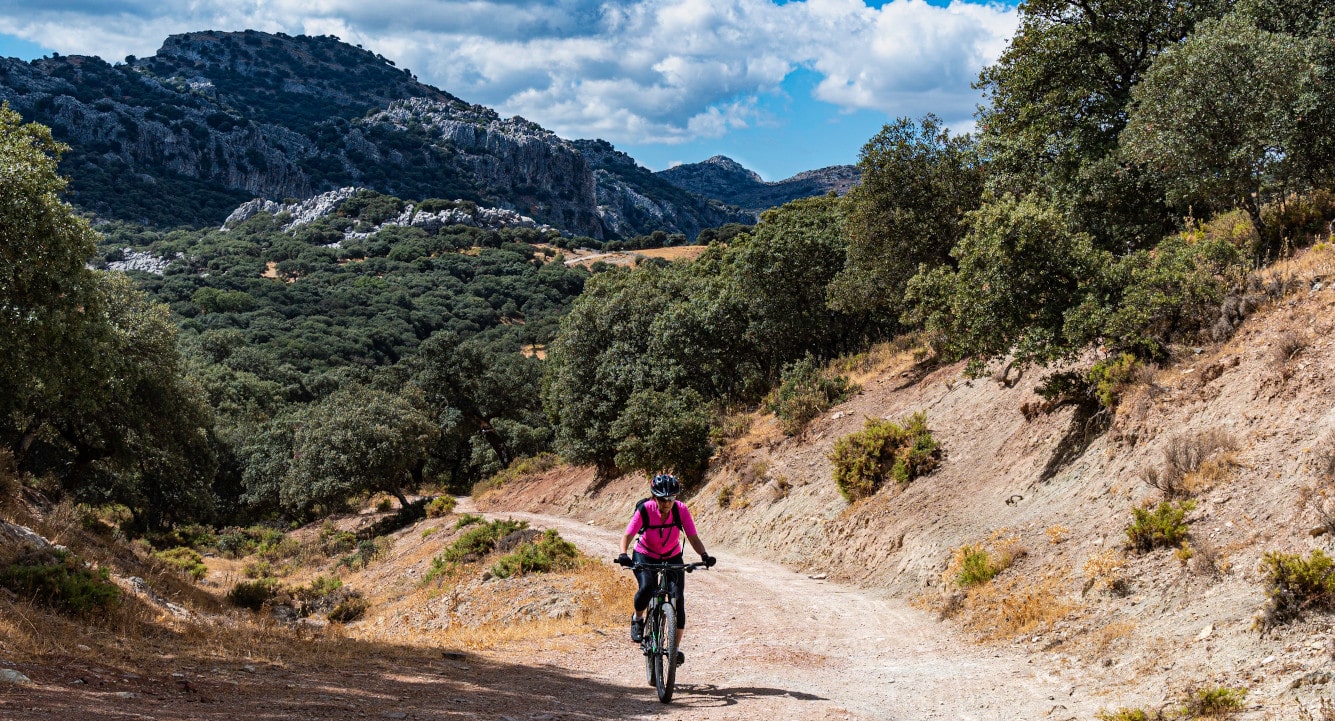 We have so many options for cycling tours in Spain. Please take a browse around our website via the links below, or write to us at info@hikeandbikeholidays.com if you have an idea for a cycling tour but don't know how to get started – we are the Andalucían cycling tour experts and can always put together a fantastic trip.
Heather Cooper, Hike + Bike the Sierras    30/11/2022