New Year Mountain Biking
New Year Mountain Biking Holiday in Spain
Having just completed our New Year MTB holiday for this year, we'd like to say a massive "thank you" to our group of bikers who made it all such great fun! We rode in the mountains and Natural Parks around Ronda in southern Spain, where we are based. The group enjoyed great cross country mountain biking, fantastic mountain scenery, delicious food and sunny conditions – what more could you want from a New Year MTB holiday!
We run an MTB holiday at the end of every year, so if you like the sound of the trip below, please contact us about joining next time.
Fabulous Mountain Biking Week over New Year 2018 / 19
After the usual over-indulgence of eating and drinking over Christmas, it's nice to have something a bit more active to look forward to in the days which follow. Whilst much of northern Europe has only grey skies and drizzle over this period, here in Andalucia we typically have sunshine and blue skies, so it's the perfect place to head to. It can still be a bit chilly at times, especially in the mornings or on long descents, so the sunshine helps to brighten our mood and we particularly appreciated this year how our group managed to set off the blue skies with such a colourful array of gear!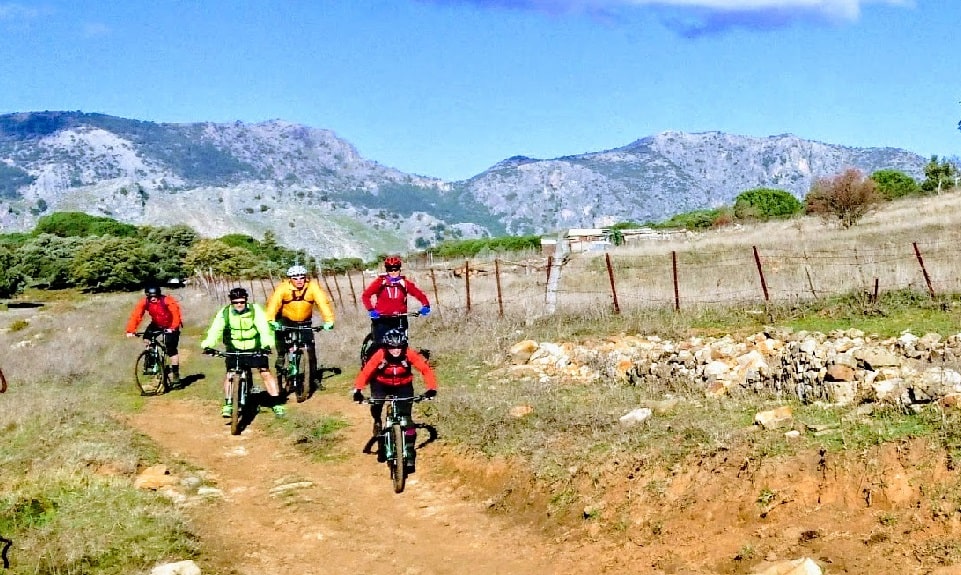 Day 1, Dec 28 – Arrive Ronda
No biking today, just a chance to explore the town of Ronda a little and to get to know one another over a paella dinner.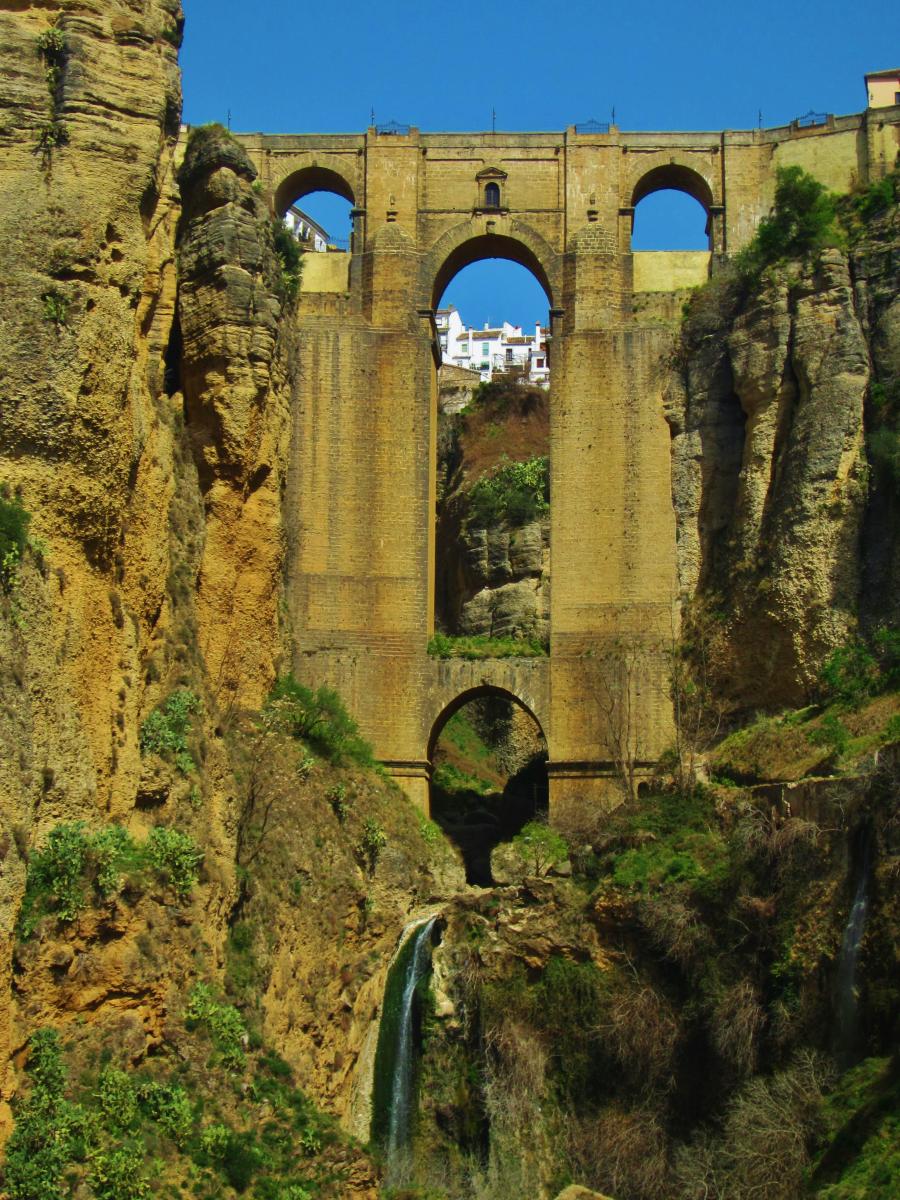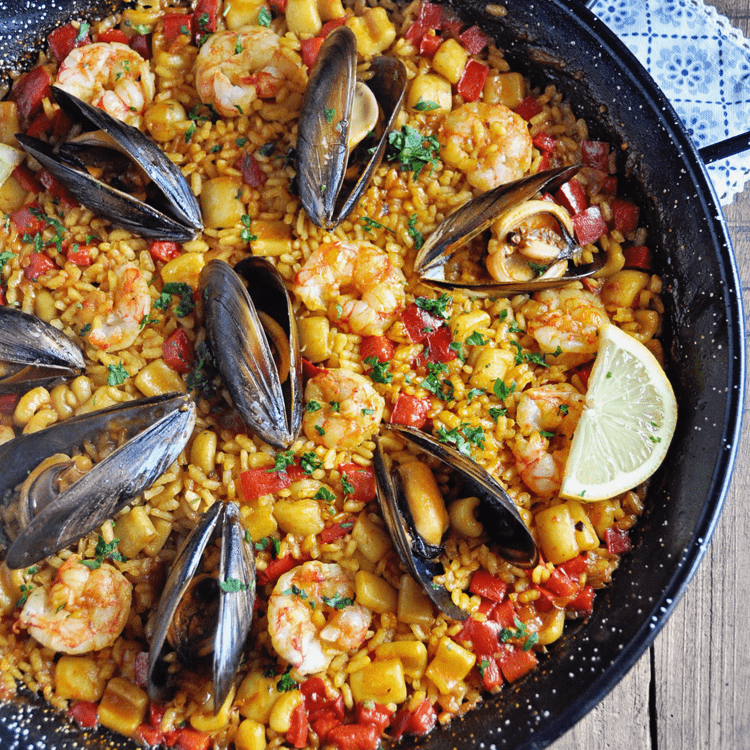 Day 2, Dec 29 – Bandits' Trail (Ruta de los Bandoleros)
Our first day's route is designed to get the legs warmed up a little with some nice varied cross country riding on a mix of wide and single track. On the way out of Ronda we pass a section of Roman viaduct and then we hit the hills and trails where bandits roamed in days gone by!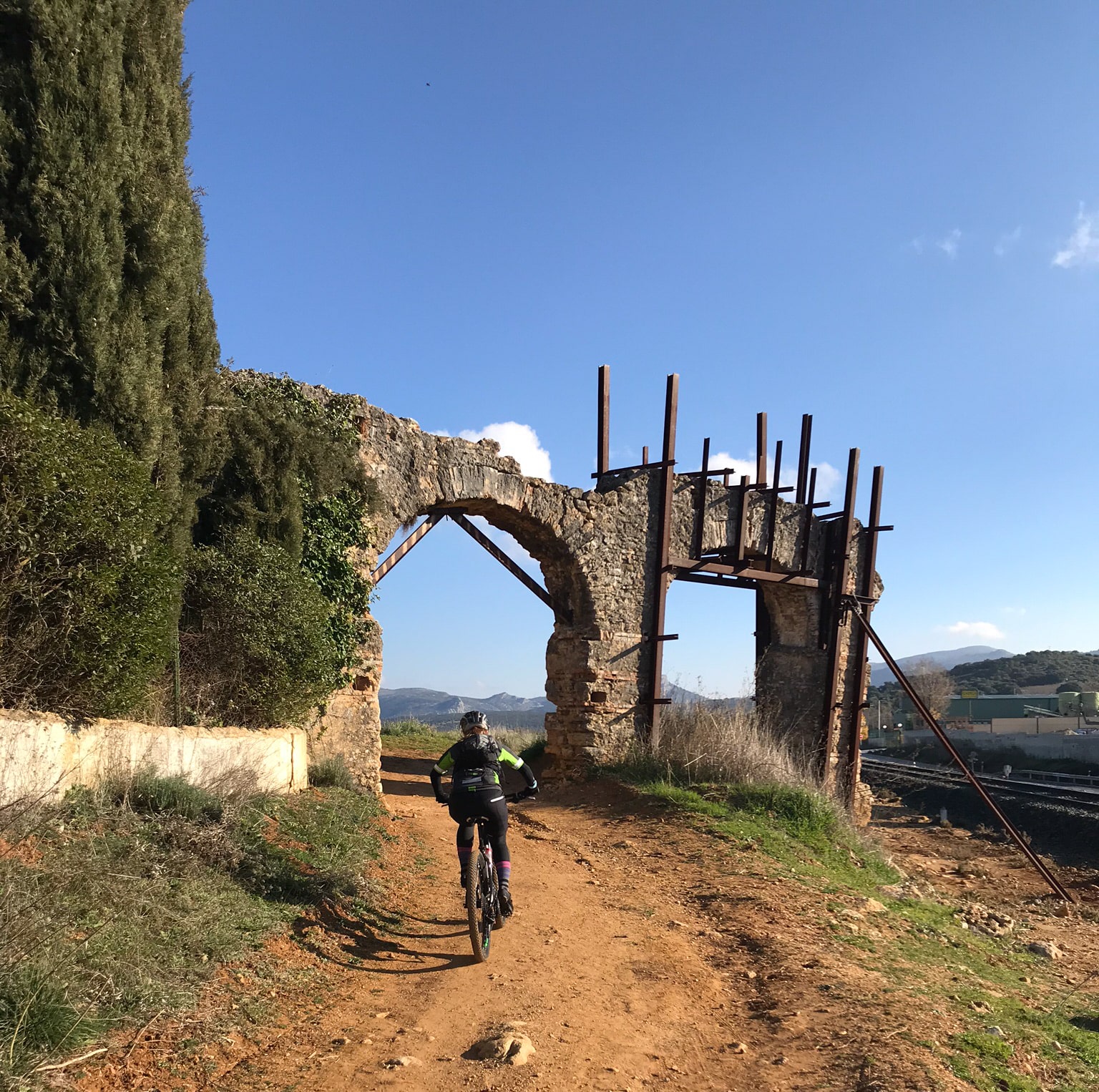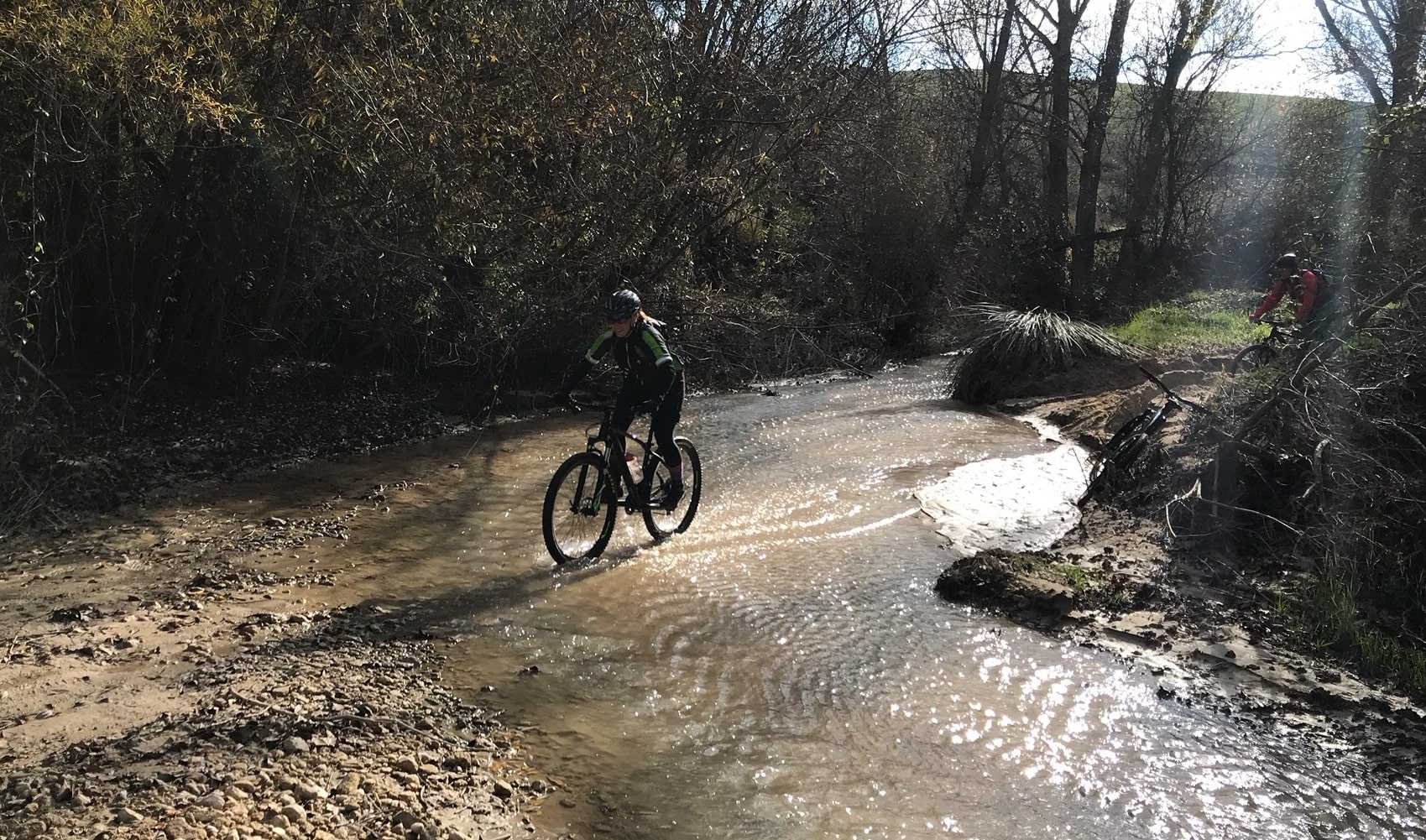 Along the way we stopped for quick refreshments in the unusual village of Setenil de las Bodegas. Over many centuries of river erosion, the limestone valley walls have been eroded away to create huge overhanging rocks, which now form the walls and roofs of cafes, bars and homes through the village.  It's amazing how they squeeze these houses in to the steep and winding streets!
​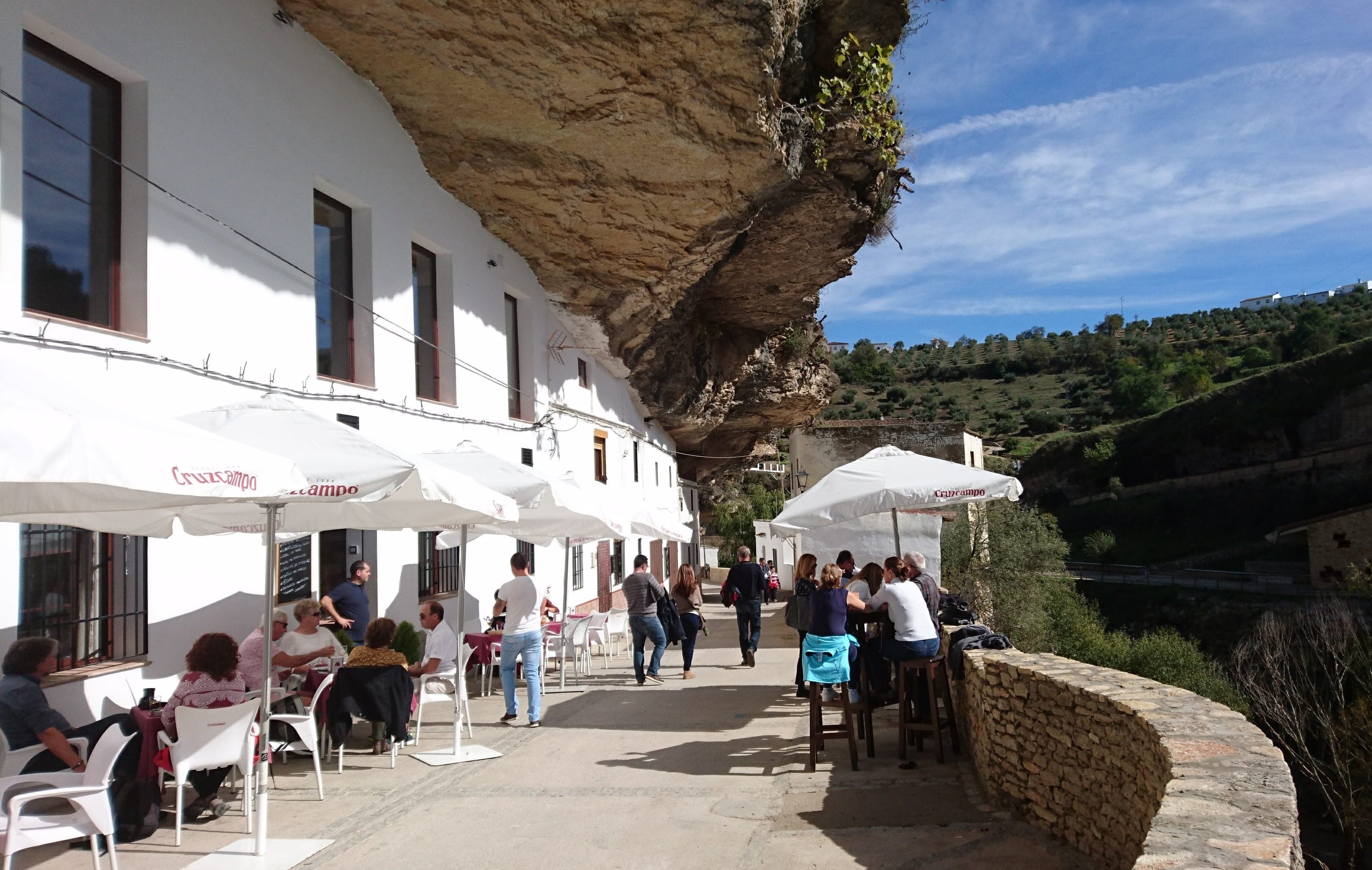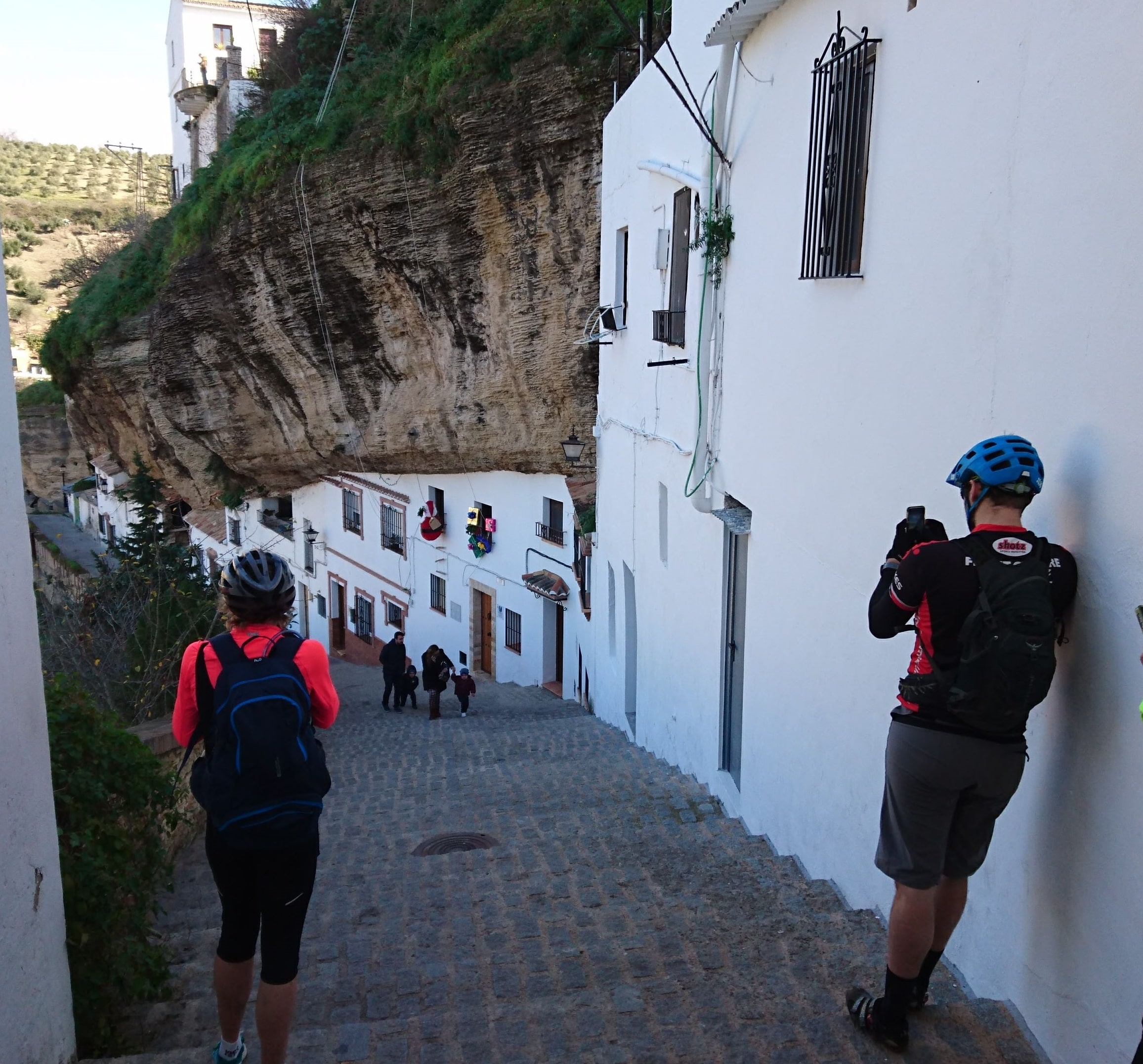 Day 3, Dec 30 – Grazalema Grand Tour
Next day we headed out into the Sierra de Grazalema Natural Park, an area of outstanding and unspoiled beauty, where dramatic limestone mountains surround open meadows, farmlands and streams. A few technical sections and some stream crossings made for fun riding.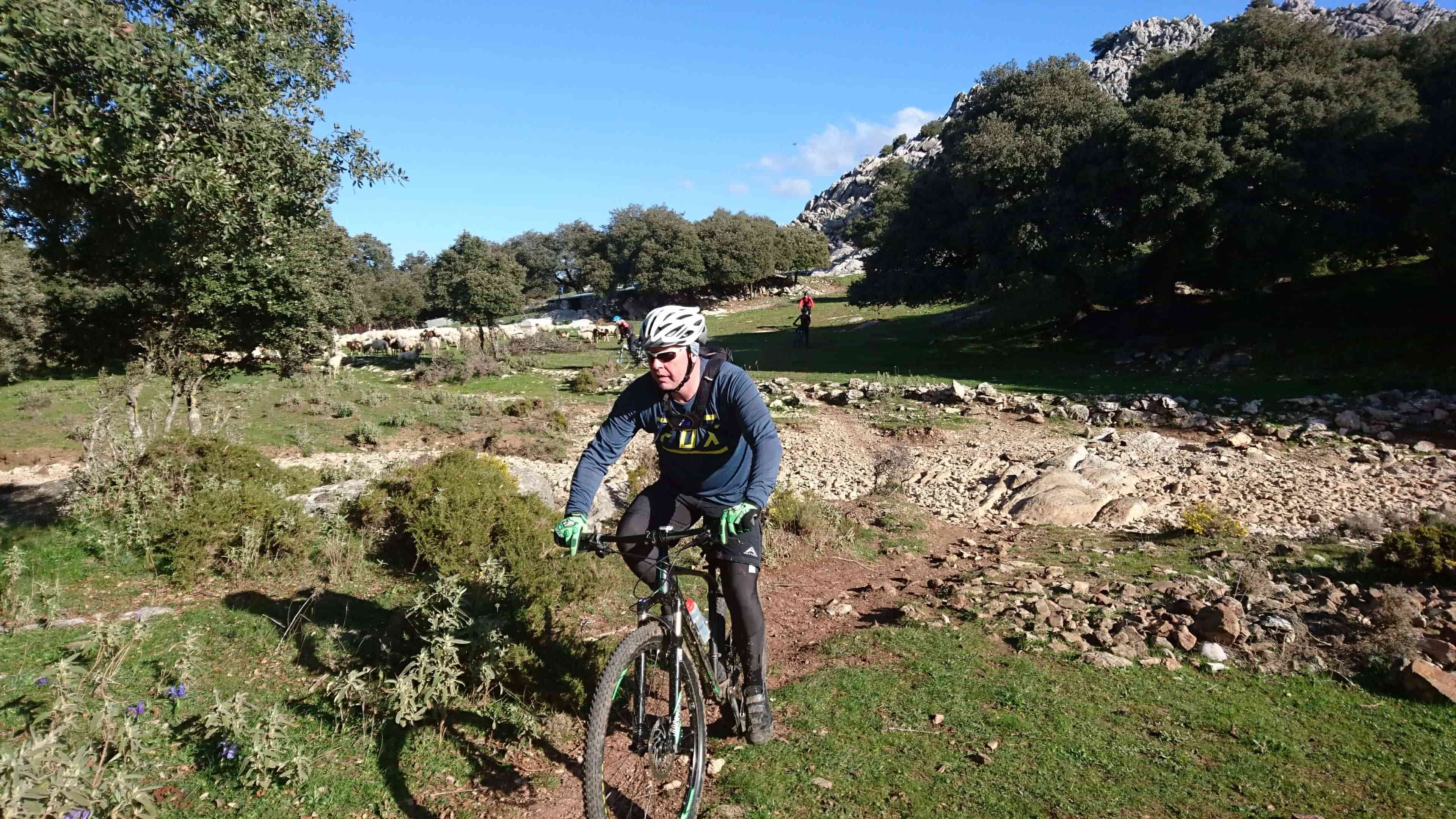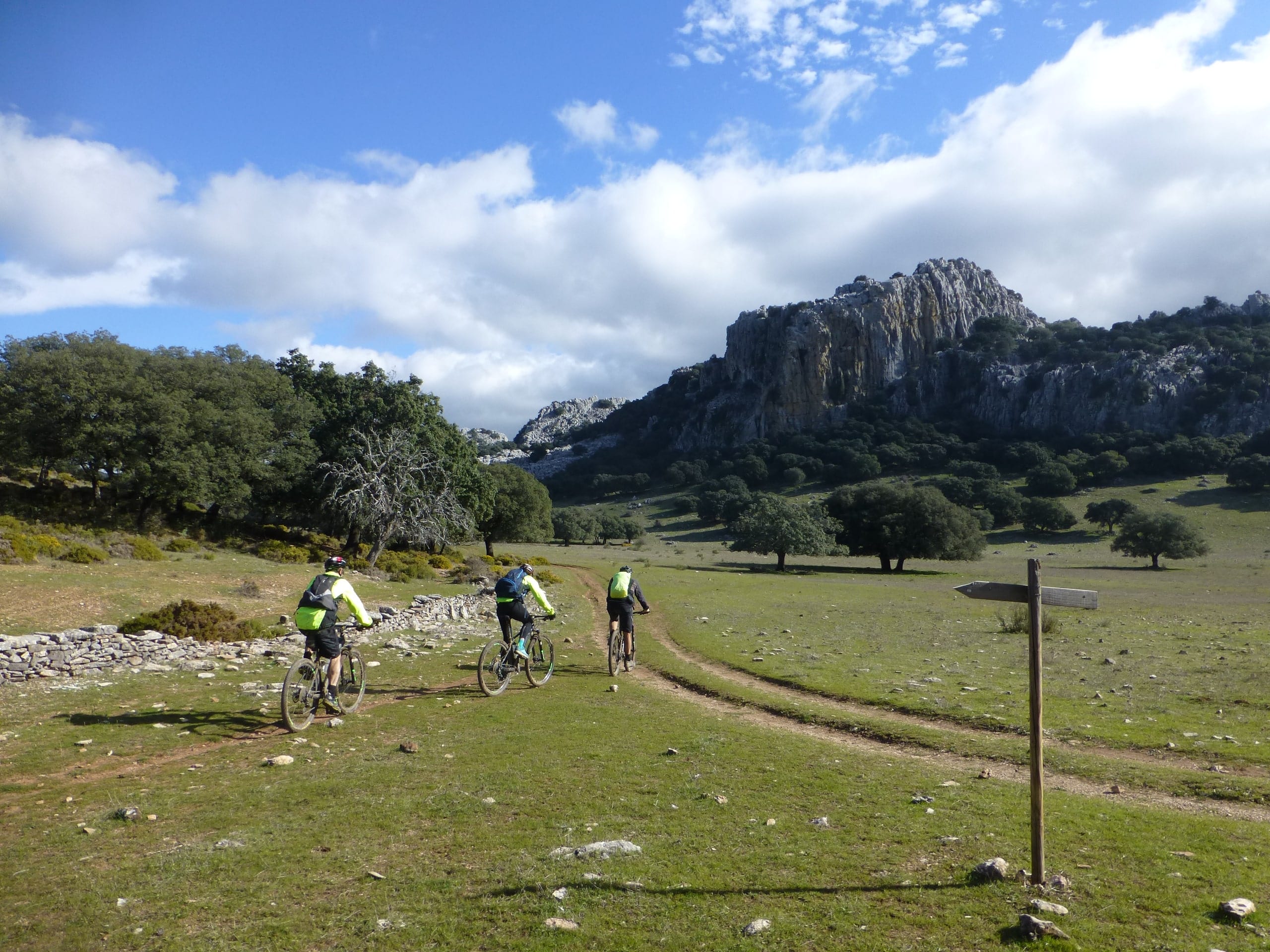 The park is home to many acres of cork oak forests. The bark is sustainably removed each year from sections of the trees and much of it is used by local vineyards for their wine bottle corks. After a refreshment stop in the mountain village of Montejaque, we tackled the climb up the "zigzag path" to enjoy views all the way back to Ronda and the route home.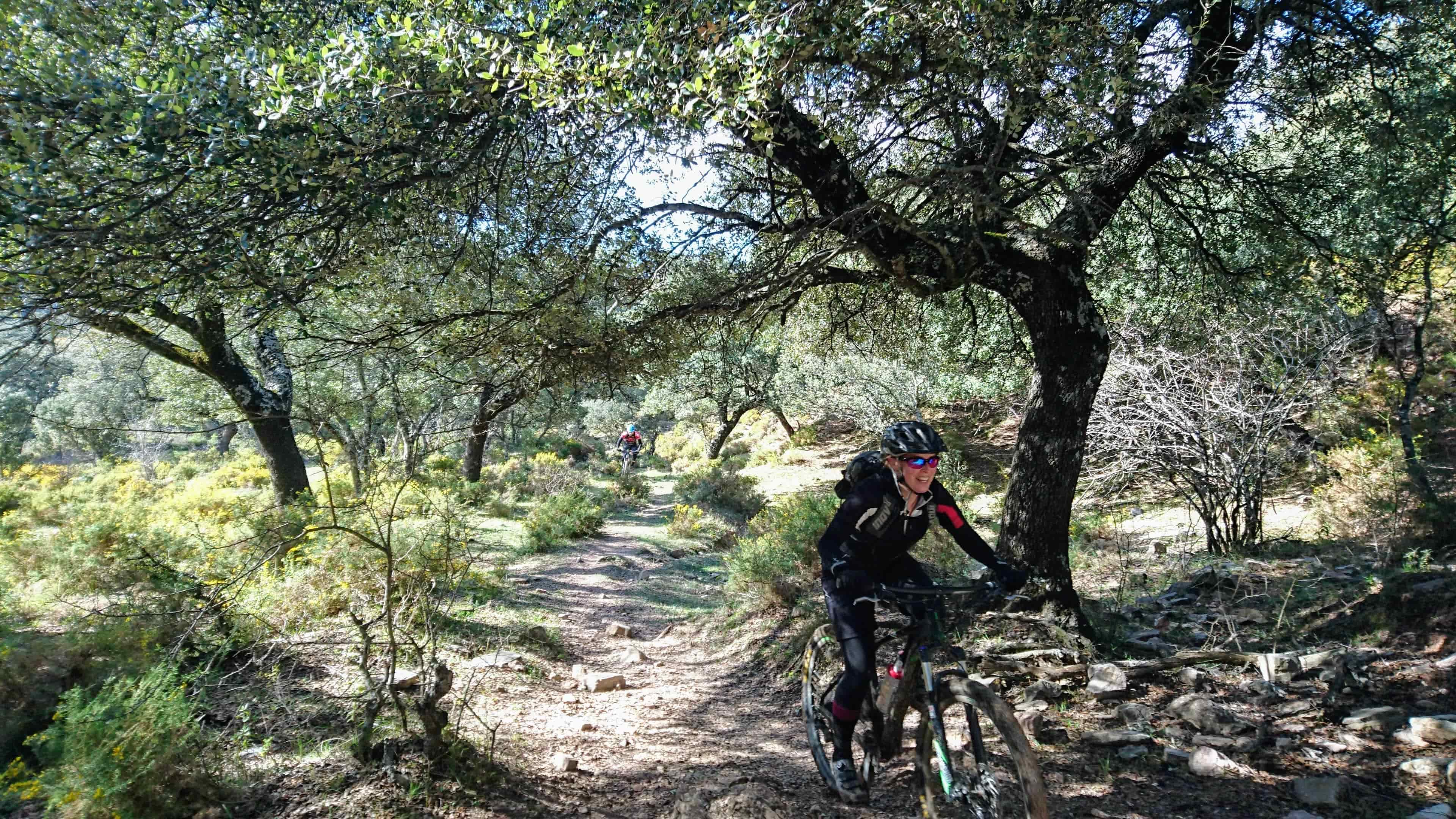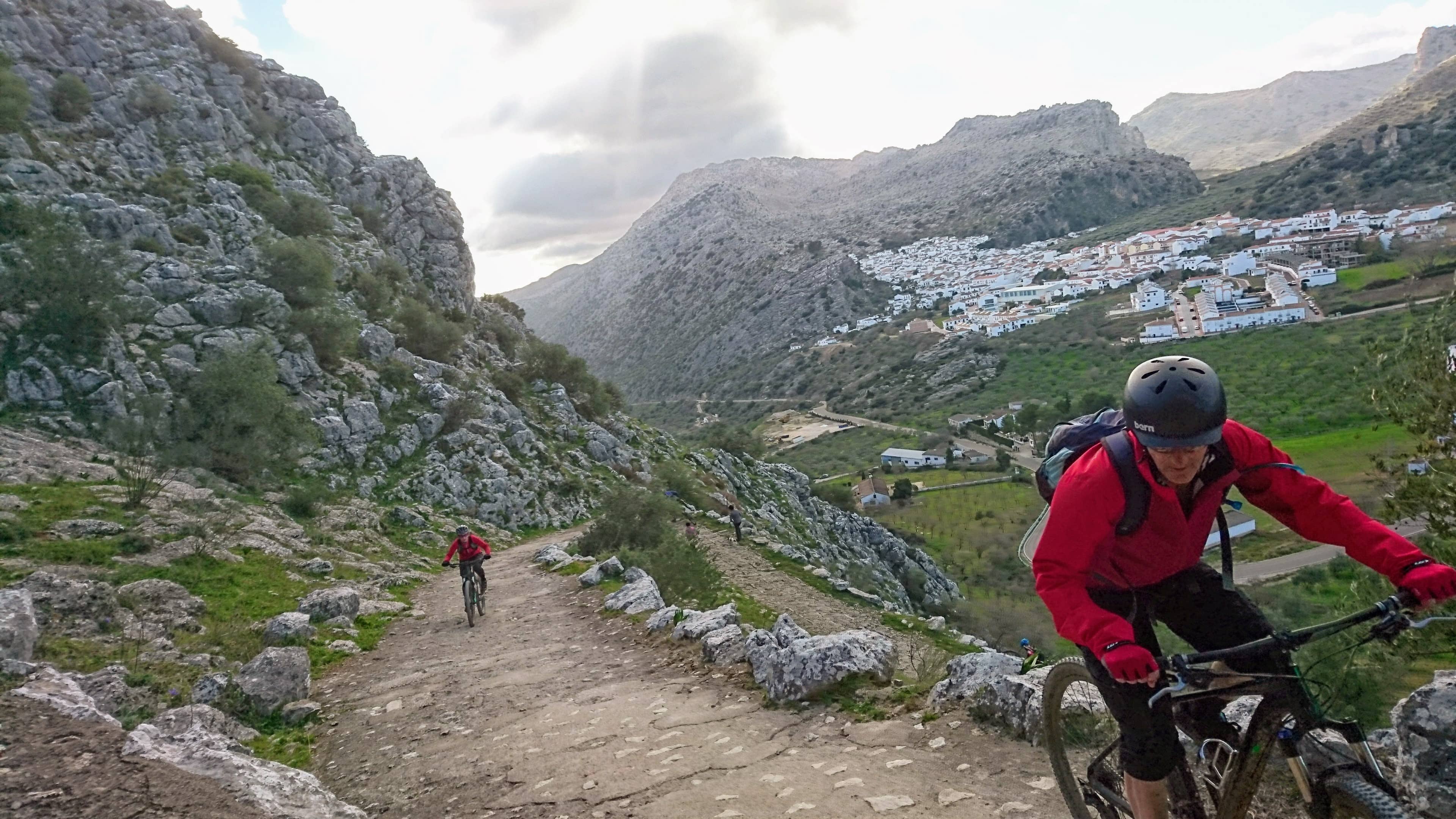 Day 4, Dec 31 – Mountains to the Med
For our third ride we set off in the vehicle to the Sierra de las Nieves Natural Park. The park covers a large area of remote mountains and forests, reaching from east of Ronda right down to the beaches of the Costa del Sol. Our ride is part of an old, well-trodden drovers' route down to the coast, the Puerta Verde de Marbella, but few people use it now.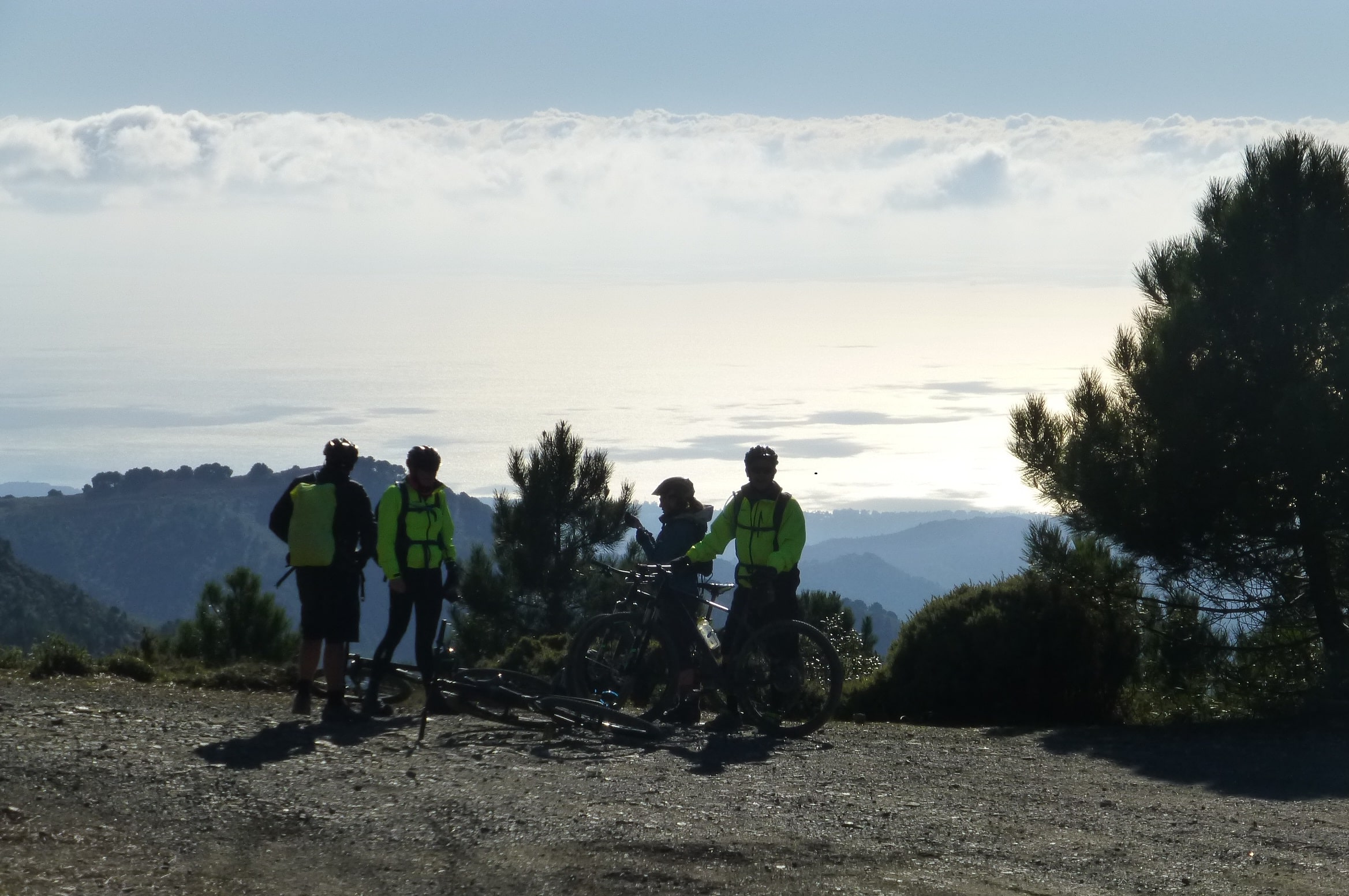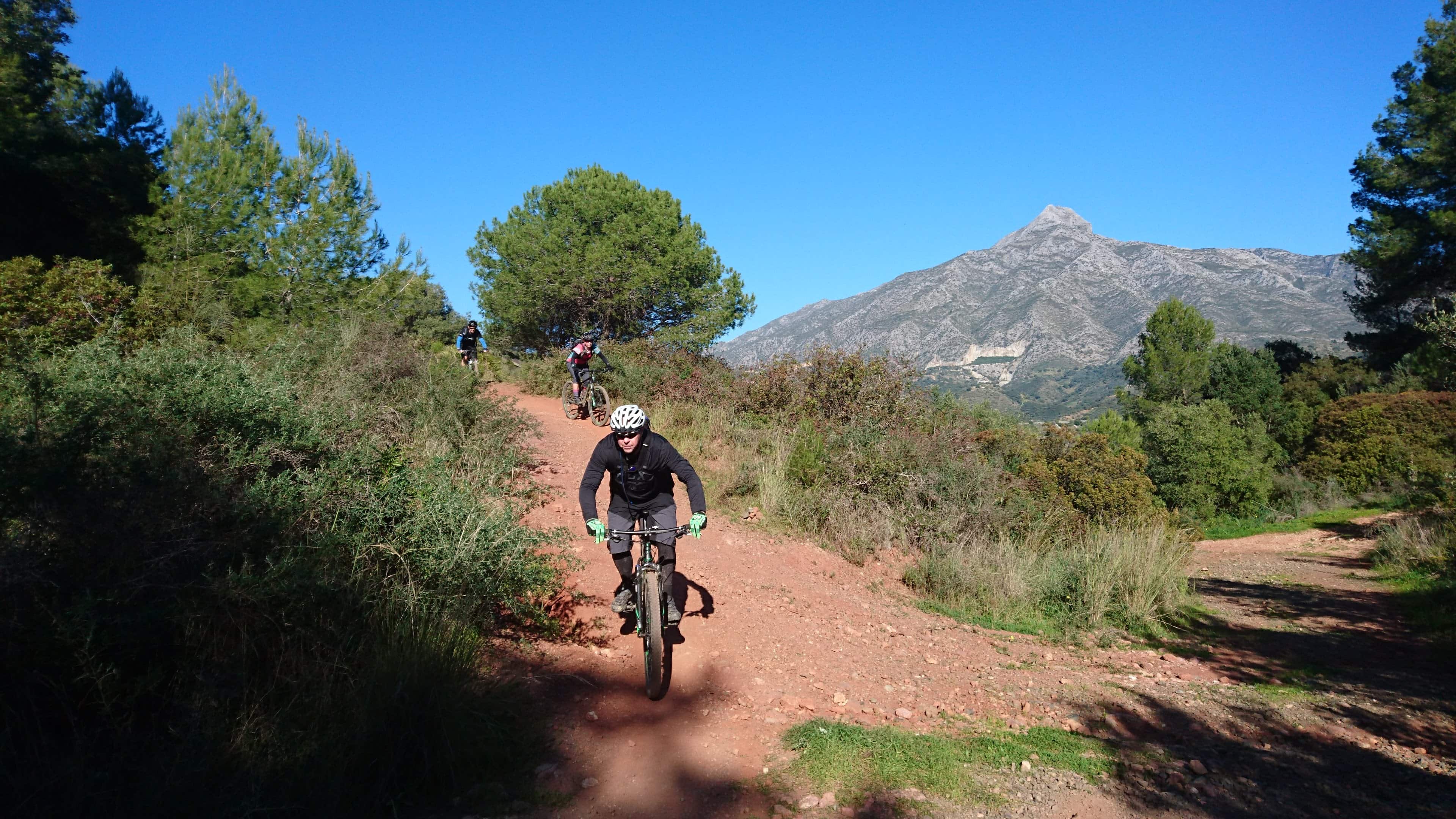 We pass one of the regions' largest reservoirs, enjoy miles of great downhill track and the views throughout are fabulous. The scenery is completely different from the previous two days and we finish among the coastal golf resorts and fancy boats at the harbour in Puerto Banus.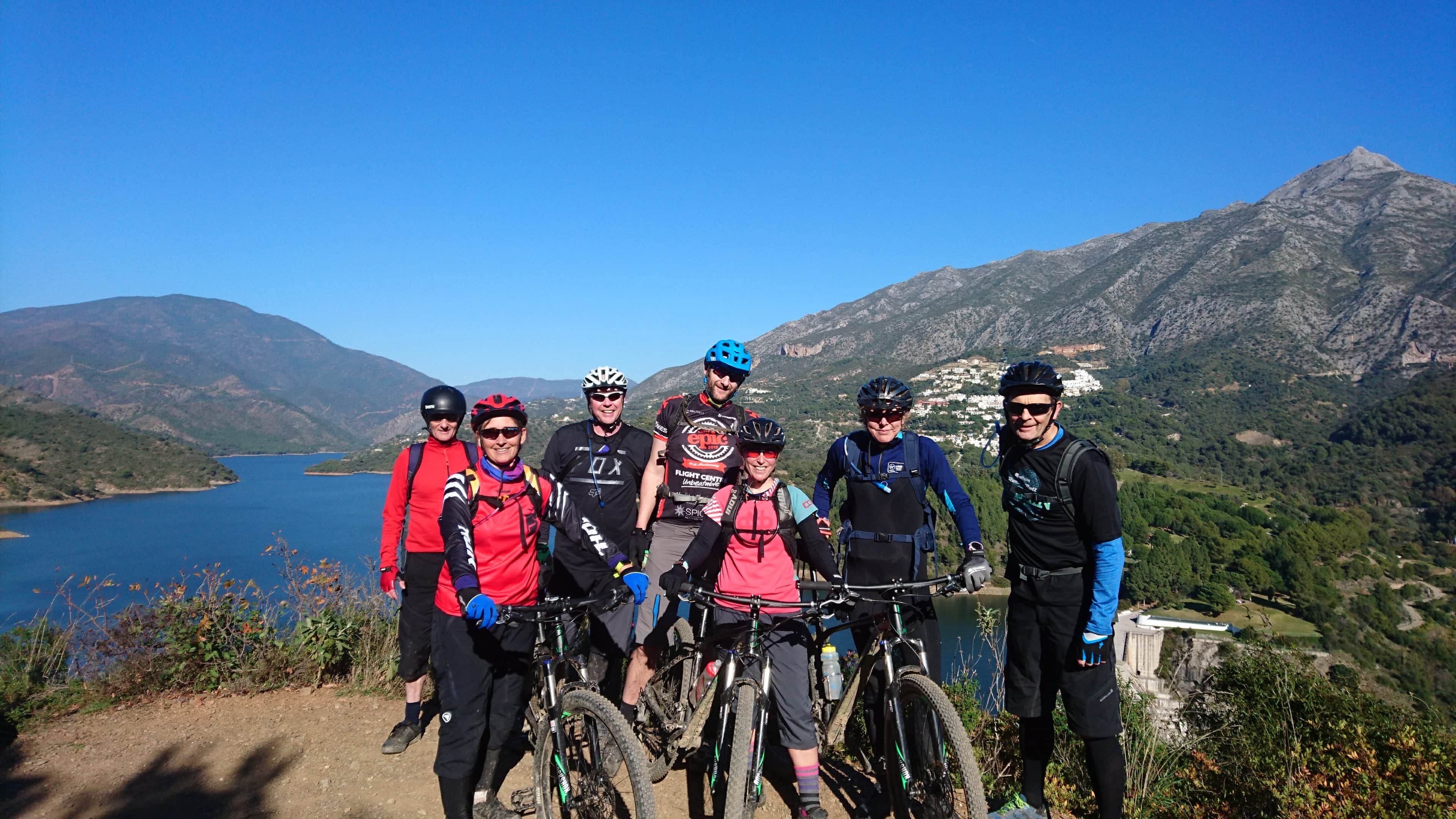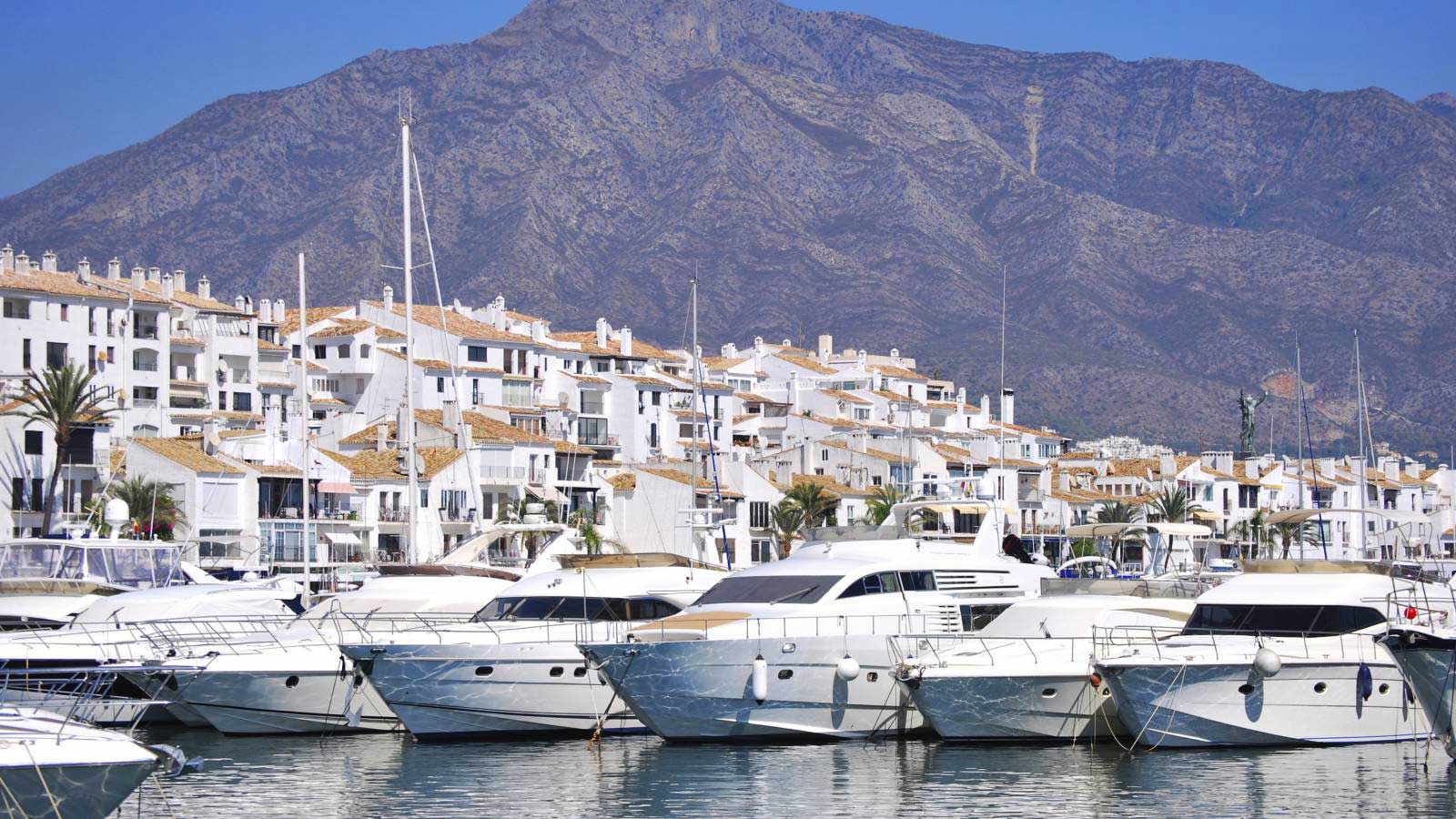 New Years' Eve Dinner
After our ride down to the coast, we returned to Ronda by minibus for a celebratory dinner at one of Ronda's lovliest restaurants. Overlooking the gorge and Puente Nuevo bridge, we enjoyed a delicious 6-course meal including pate, shrimp balls, butternut squash soup, sea bream, tender beef and an indulgent chocolate souffle. Everything was washed down with delicious red and white Spanish wines or beers. And at midnight we celebrated the traditional Spanish way, with a glass of cava and by trying to eat 12 grapes on the 12 "bongs" of the clock – it's harder than it sounds!!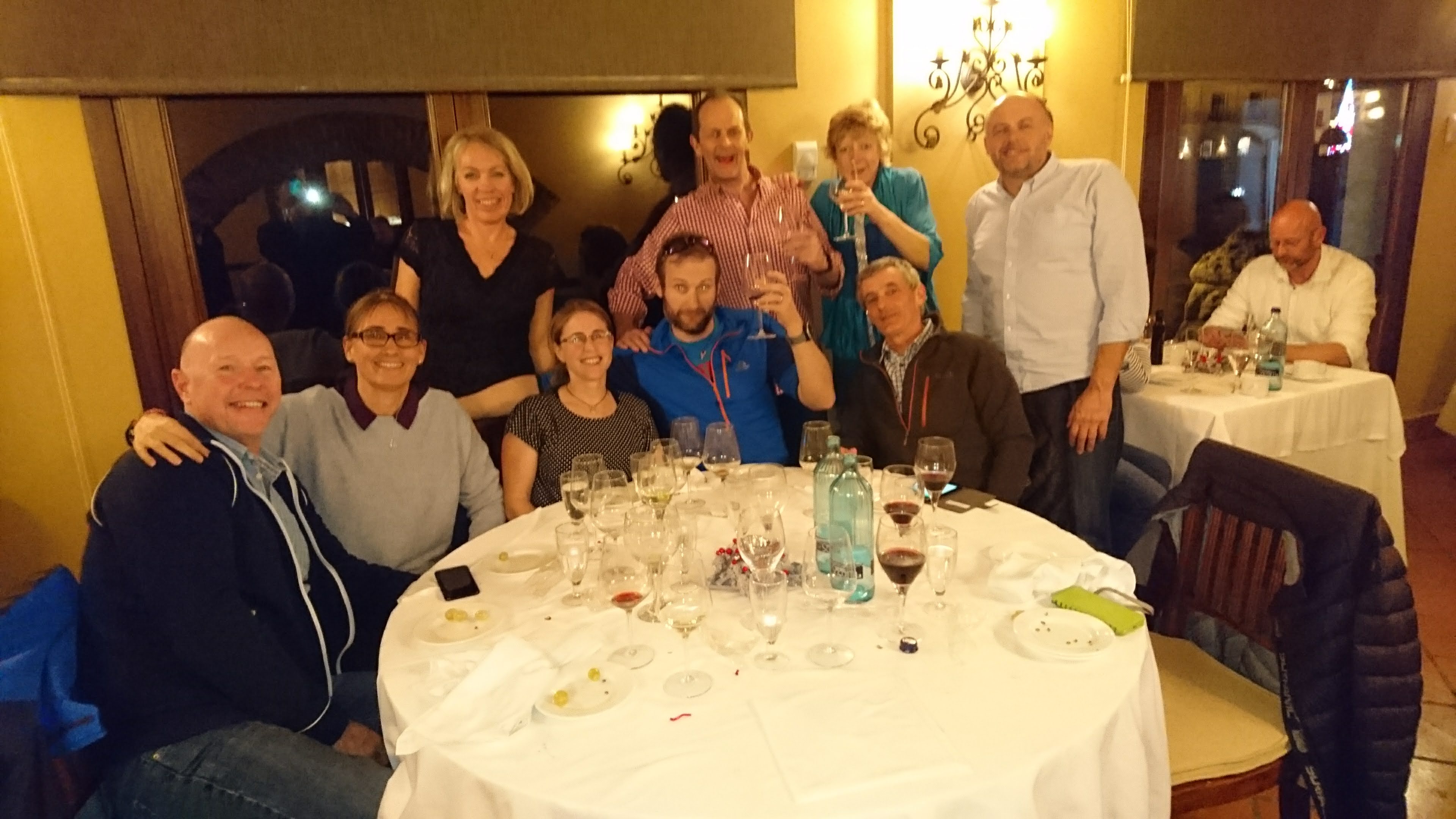 Day 5, Jan 1 – Rest Day, Explore Ronda
After a late night, we keep this day as a rest day to explore the town of Ronda. The restaurants and bars are all bustling and lively and the locals enjoy the first day of the new year in typical fashion – with food, wine and conversation. We particularly recommend the Catalonia Ronda Hotel's rooftop bar, with spectacular views down into the town's famous bullring.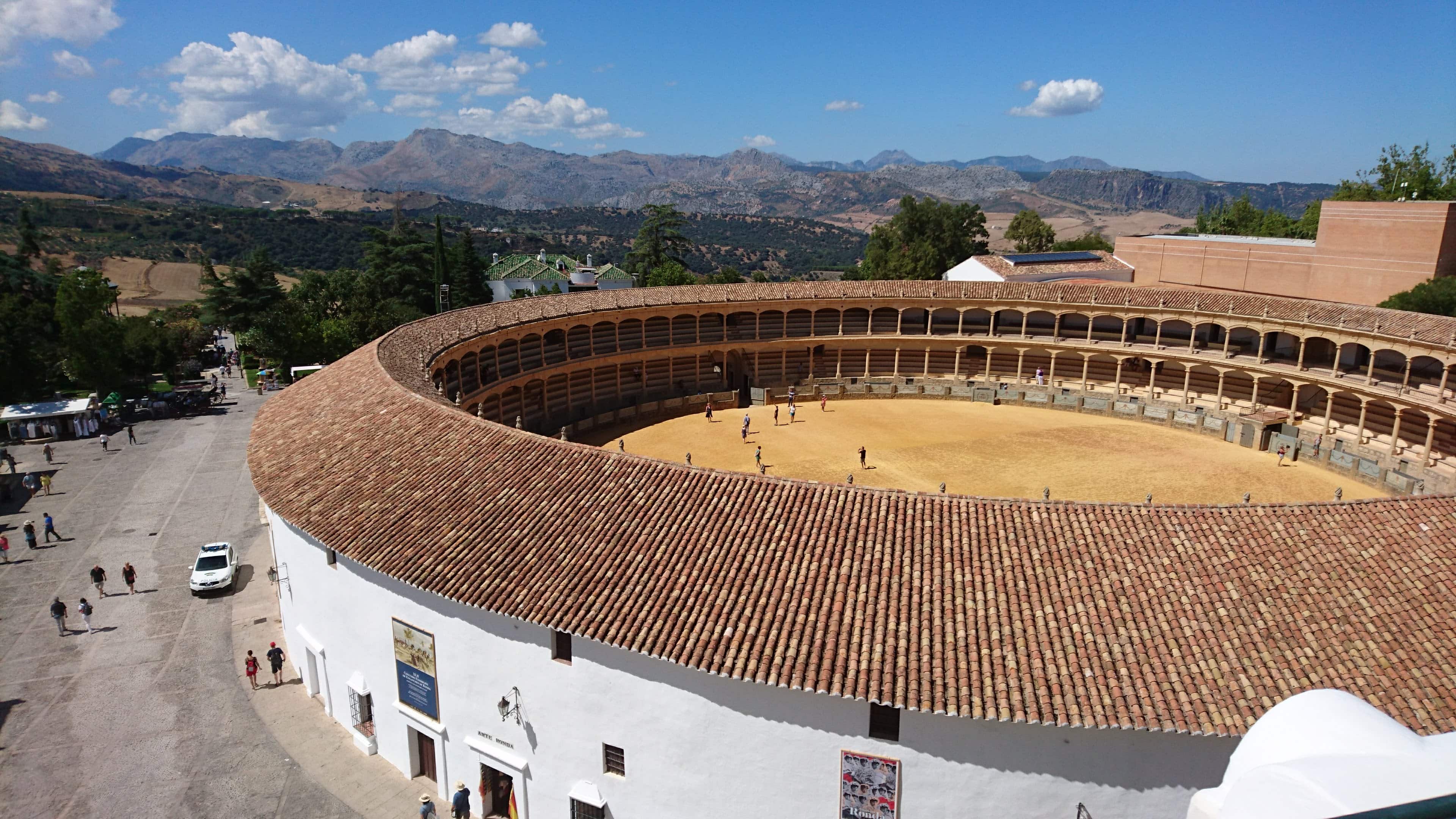 Day 6, Jan 2 – El Chorro
For our final day's ride, we drove up to the northern edge of the Sierra de las Nieves Natural Park and then headed out eastwards towards Malaga province's "lake district". High up in the mountains, wide open trails took us above the olive groves and through pine and oak forest with spectacular views.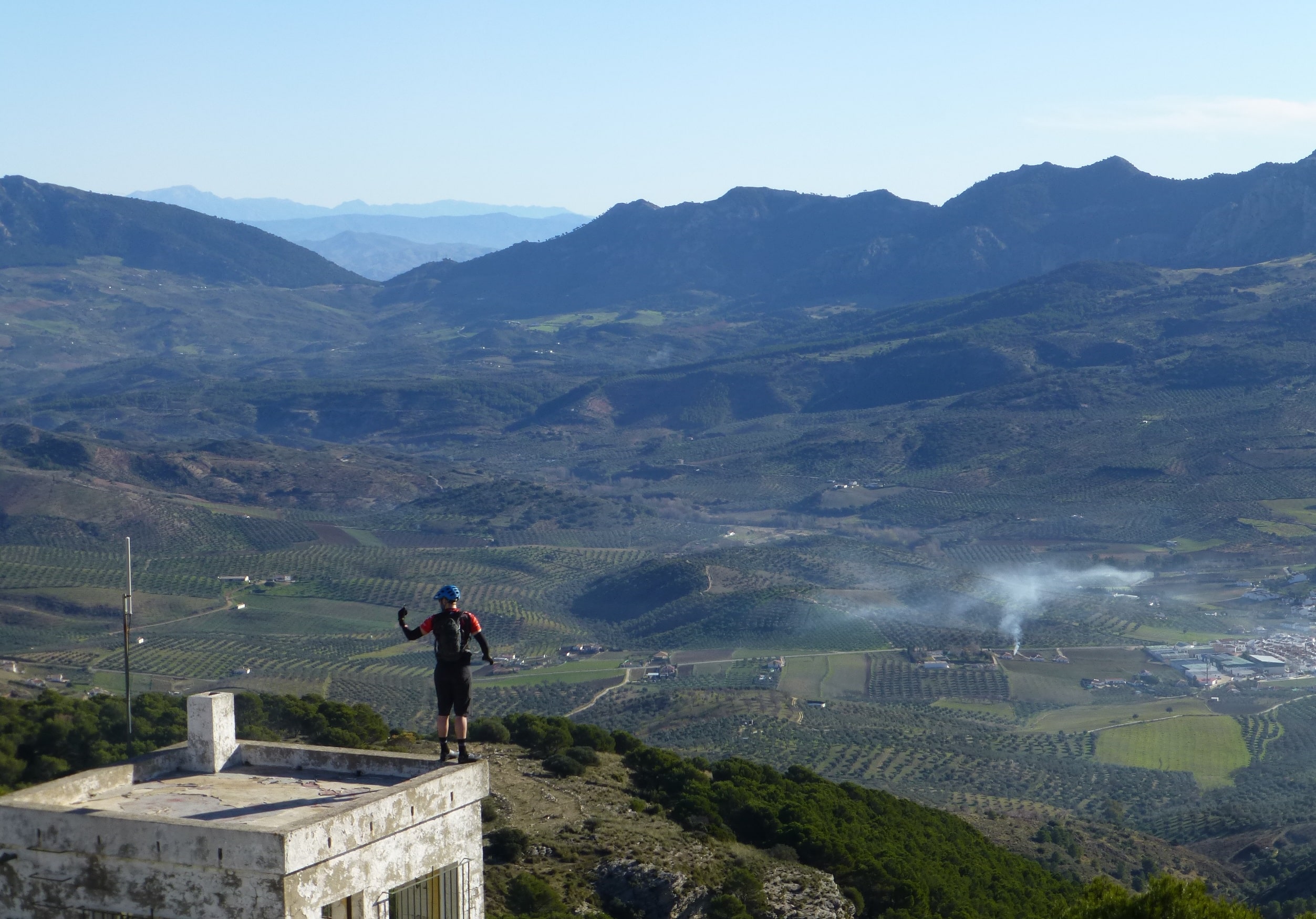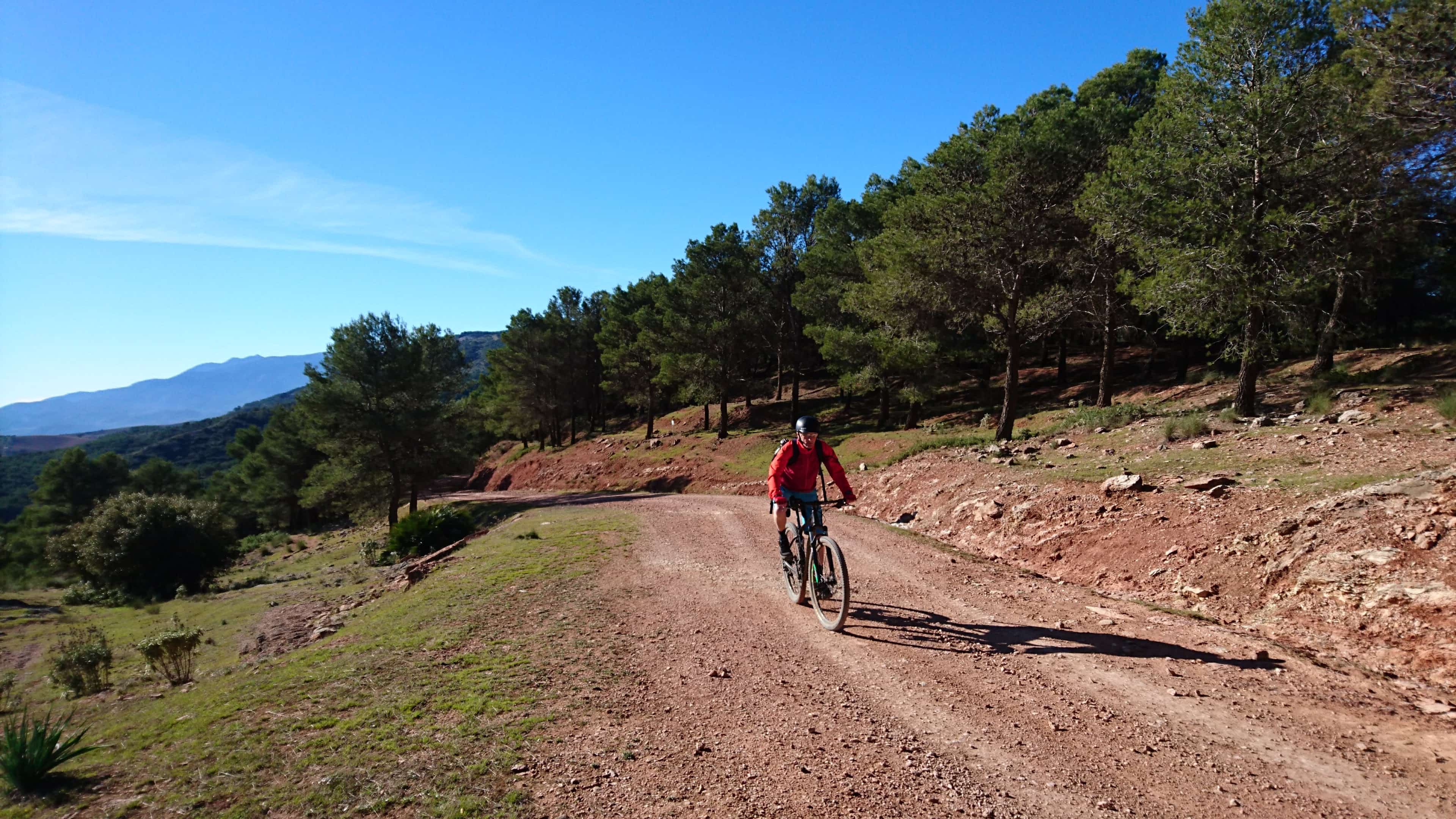 Then we finished with a blast down some twisting roads and another track section through the forest to pop out through a tunnel by the Caminito del Rey, a precipitous walkway (just visible in the photo) suspended 100m above the waters which pass through the narrow channel of El Chorro gorge.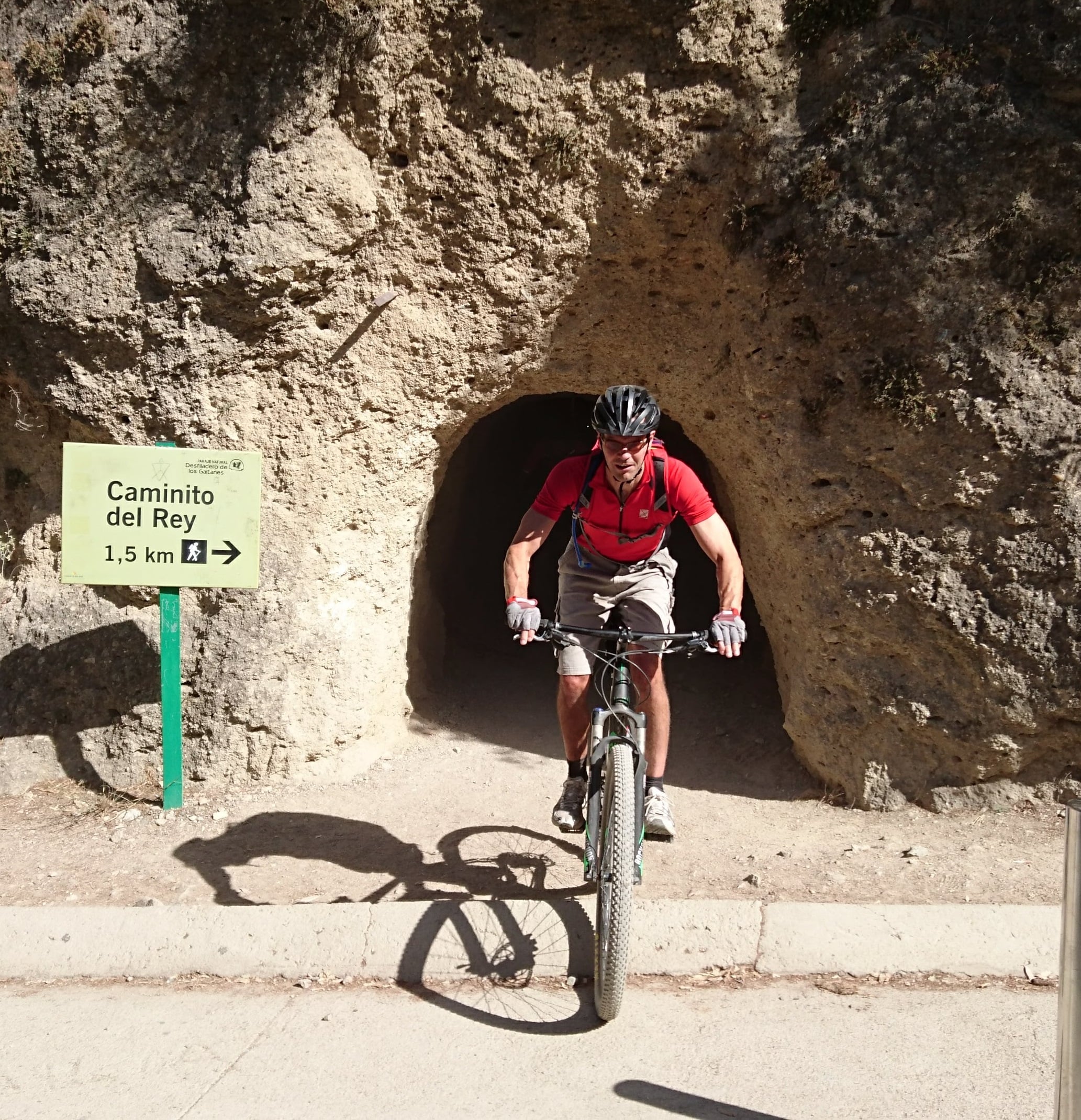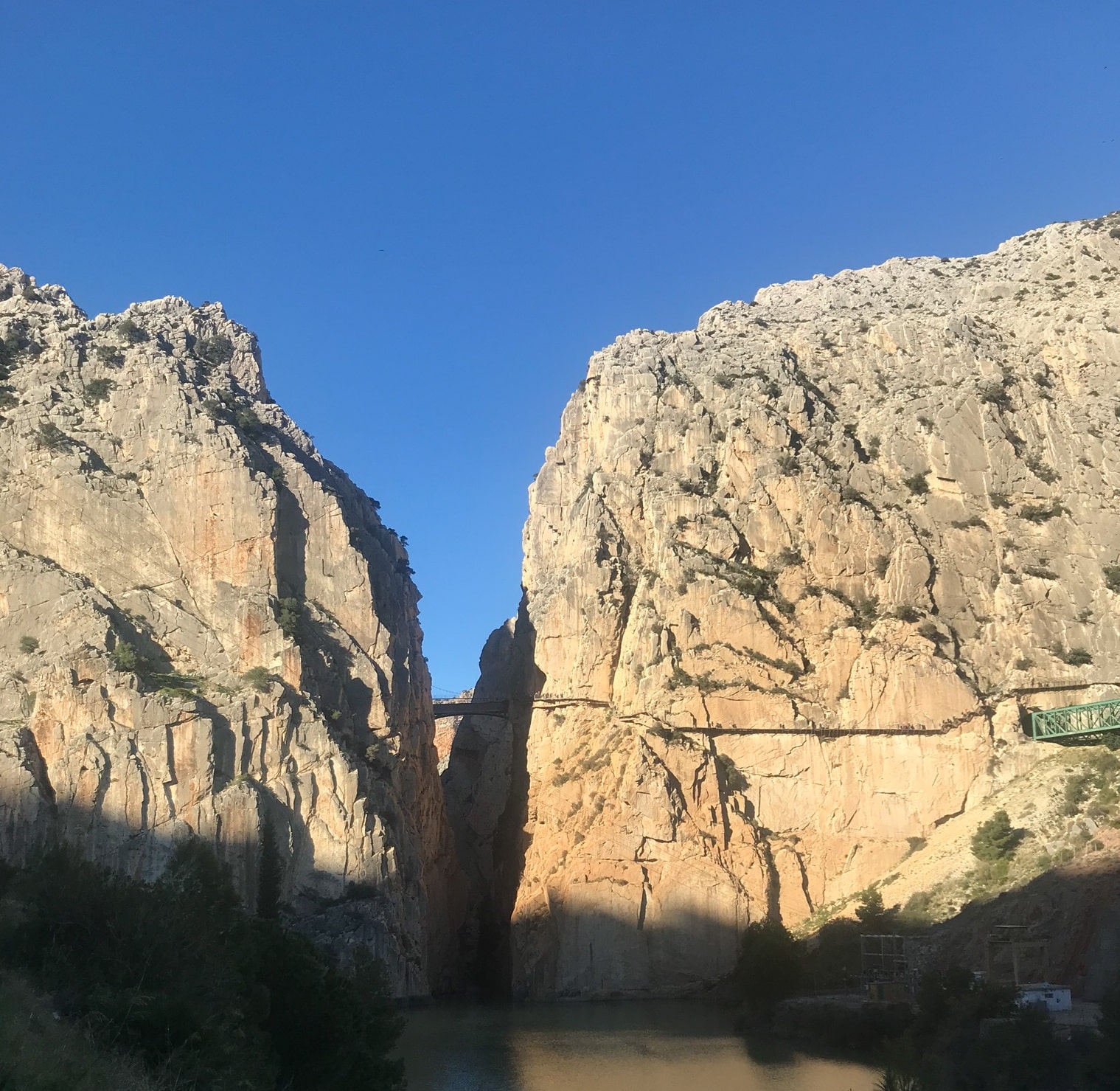 We finished with a drive down to Malaga and a final celebratory dinenr in one of the town's finest restaurants and wine cellar, El Patio de Beates.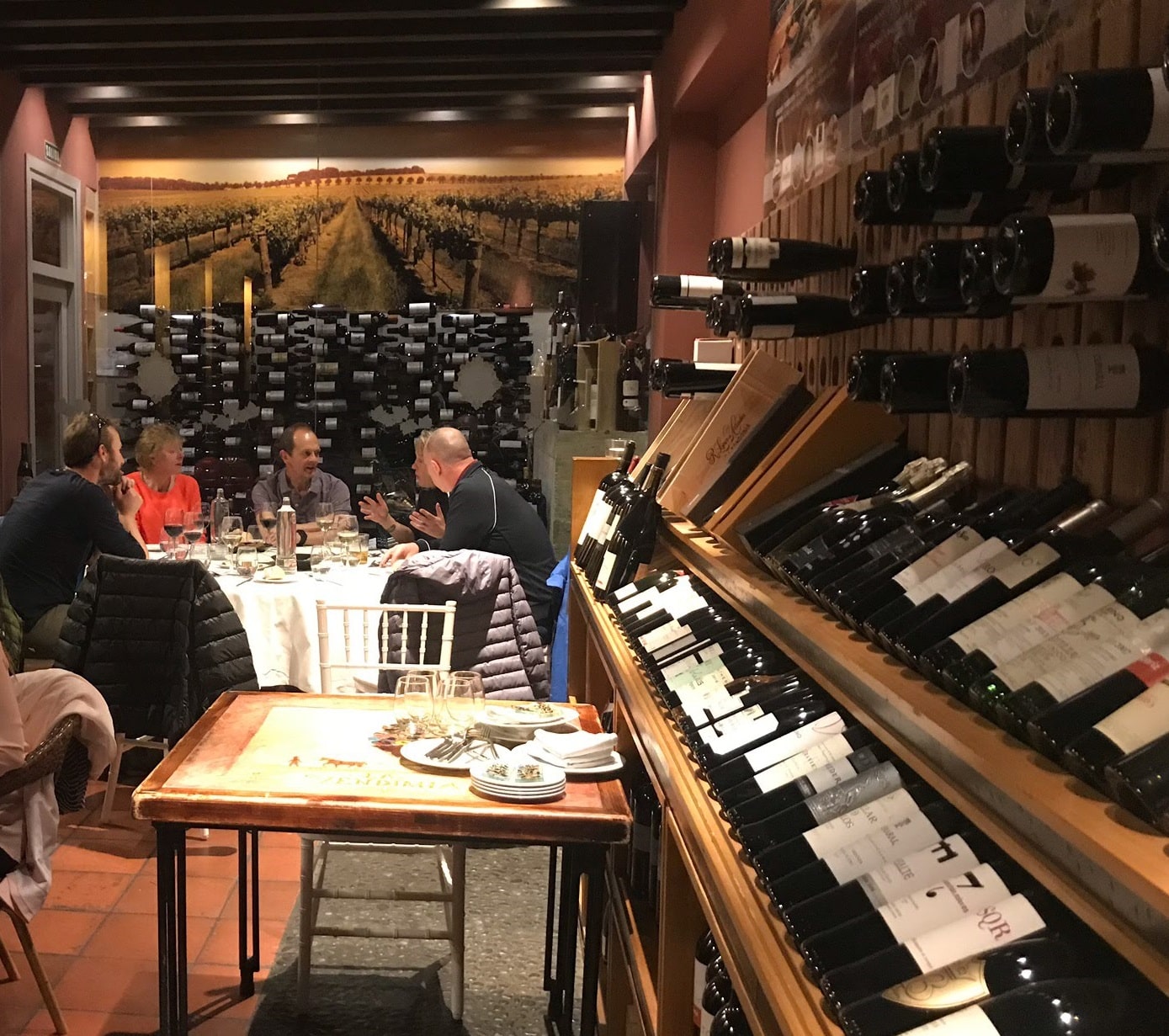 Day 7, Jan 3 – Departure
Our final day meant goodbyes all round. Some guests stayed in Malaga to see more of the town and the rest took the short trip to the airport and their flights home.
Thanks to everyone for the riding, the company, the laughs and also to John Leyland and Tim Cooper for some of the photos included here.
Join us for a New Year MTB Holiday
We run a similar New Year MTB holiday at the end of every year – read more on the link. The level of riding is intermediate, requiring medium level fitness and mtb skills.The group is kept small to ensure a flexible, personal and very enjoyable holiday. Spaces are limited and we would love you to come and join us.
Contact Us for more information and bookings.
Heather Cooper, Hike + Bike the Sierras   09/01/2019