Family Activities in Ronda - Fun Days Out for All the Family
Bike Rides, Walks, Nature Tours, Cave Tours and More ...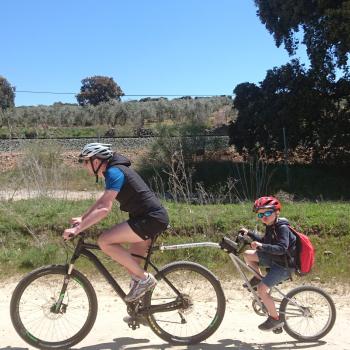 Join us for a family activity day in Ronda and the surrounding countryside. We have a selection of bike rides, walks and minibus tours that are particularly suited to families and kids. They include plenty of interesting sights to ensure your kids have a great day out! Our beautiful mountain location is only an hour away from the Costa del Sol, which makes it an ideal choice for a fun day out with your family.
Our family bike rides and family walks use local tracks and trails, keeping largely off the roads and away from traffic. On our minibus tours, you can take a nature walk in the woods, eat lunch in a forest cabin, explore prehistoric caves, see Roman ruins or visit quaint white villages.
Fun and Safe Family Activities
All our family activities are led by qualified biking guides or accompanied by registered local guides. 
Award Winning Tours & Service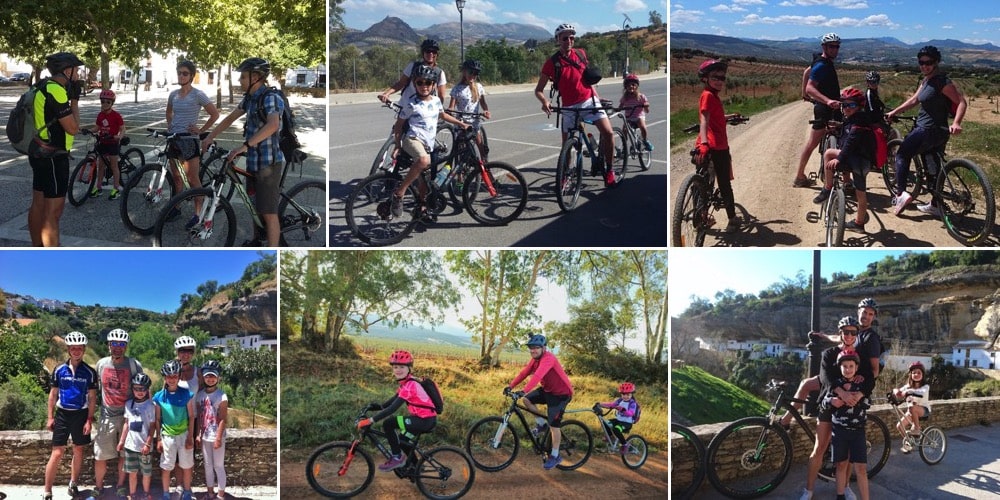 Click on the title links below to read more about each individual tour. 
Family Bike Rides
Via Verde de la Sierra  Easy - 36km  Self-guided family bike ride on a disused railway line, through tunnels, over viaducts and past a vulture colony. The ride is self-guided with a support driver to transport riders to and from Ronda at the start and finish.    

Ronda to Setenil de las Bodegas  Easy or Moderate - 31km  Guided family bike ride via small tracks and trails to the village of Setenil. Step inside ancient "cave houses" built into the overhanging limestone cliffs and still used today as shops, homes and cafes. Minibus return to Ronda.         

Ronda to Cueva del Gato  Easy - 24km  Guided family bike ride along unsurfaced tracks and quiet roads to a local beauty spot with a cave, small waterfall, clear water pool and time for a quick swim at the end. Minibus return to Ronda.       
Bikes for Kids of All Ages
Family Walks
Grazalema Village & Reservoir  Easy - 5km  Enjoy the best views of Grazalema village from the mountains all around. Walk through the forest, past an abandoned church and up to the mountaintop reservoir, before descending back to the village.   

Tajo del Abanico  Easy - 11km  Short circular walk from central Ronda into the countryside. Walk through olive groves, past local farmland and along a medieval cobblestone path to discover the hidden rock formations of the Tajo del Abanico gorge.         

Grazalema Natural Park  Easy - 12km  Guided family walk through the heart of the Grazalema Natural Park to the mountain village of Montejaque. Walk via limestone valleys, cork oak forest and along a mountain streams - you may get to see turtles and frogs. Includes minibus transfers from Ronda.       
Family Minibus Tours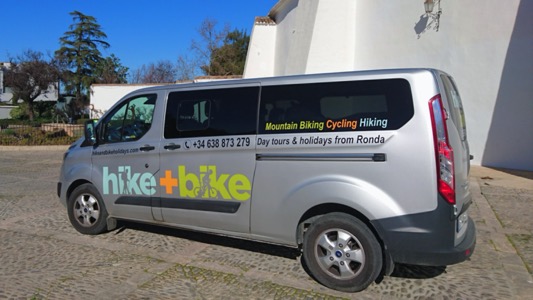 CLICK HERE FOR MORE DETAILS ABOUT THESE MINIBUS TOURS
National Park Tour  We drive from Ronda through the mountains to the unusual village of Juzcar, painted blue (not traditional white) as part of the publicity to launch the first Smurf movie. See hillsides full of chestnut trees before entering the Sierra de las Nieves National Park. Take a nature walk through the forest, which is home to fallow and roe deer, ibex, muflon and wild boar. See the rare 'pinsapo' pine tree, then arrive at a hut built from one single giant pinsapo tree for lunch in the forest.  (Min. 4 adults plus children)

Caves Tour  We drive from Ronda up into the hills to the ruins of the Roman city of Acinipo. Take a walk around the remains, including a huge amphitheater on top of the hill. Stand on the stage and hear how your voice carries easily to the back row of the seats. We continue our drive to the Pileta Cave, to see stalactites, strange rock formations and prehistoric paintings, dating back 25,000 years. Drive on to the 'Cat Cave' to see the cat-shaped cavemouth and its pretty waterfall which cascades into a crystal-clear water pool. The water from inside the cave is freezing cold - dip your toes in if you dare!       

White Villages Tour  From Ronda we drive up into the mountains to the white village of Grazalema, nestled into the craggy limestone rocks. Take a walk around the village, where they still hold annual bull runs and see the giant statue of a bull. We then drive even higher up a twisting mountain road to Las Palomas Pass, a gap through the mountain ranges. Look out for ibex amongst the trees and vultures flying in the skies overhead. Then we drive down the other side of the mountains to the village of Zahara, overlooking a beautiful blue lake. Climb up to the Arab fortress on the top of the hill.