MTB Tour Spain - 'Ronda to Granada'
Andalucian Mountain Bike Tour Highlights
♦ Lakes of El Chorro

♦ Antequera Alcazaba (Moorish fortress)

♦ Fountain of 100 Pipes (Fuente de los Cien Caños)

♦ Alhama de Granada village and gorge

♦ Cacín river canyon

♦ Granada
PHOTO GALLERY

Ronda Gorge and Bridge, El Chorro Lakes, Antequera, Alhama de Granada, Puente Romano, Alhambra of Granada

Antequera Castle above the town

 
Summary

START: 

Ronda

     FINISH: 

Granada

Duration *

7 days

6 nights

5 cycling days

Distance

274 km total

55 km daily avg     (

 max 75km: 

min 36km )

Grading
Moderate-Challenging - Ascent varies from 631m-1046m per day. Riding is mainly on dirt tracks, remote roads, and sections of singletrack. Confidence riding an MTB is required in parts. Daily distances and climbing are significant, so riders need to be prepared for relatively long ascents in the saddle. Although the last day is 75km, after the first 39km the route is mostly downhill and finishes along a flat riverside path into Granada.
Availability **

March to November. Choose the dates which suit you. Start on any day of the week. 

N.B. Supplements may apply during Easter week due to inflated accommodation prices.

Price ***

€1035

  per person based on 2 people sharing a double or twin room (en-suite)     

( 

€1135

 with e-bike 

)

 

WHAT IS INCLUDED IN THE MTB TOUR PRICE?

6 nights of accommodation on a B&B basis 

Luggage transfers

Quality hardtail MTB 

Helmet & water bottle (or bring your own)

Route GPS (phone App with daily routes, profiles and maps, no Data-usage required) or GPX files

Annotated route maps 

Briefing Pack, incl day-by-day route notes

Briefing meeting on arrival  

See our suggested KIT LIST for mountain biking in Spain.

WHERE WILL I BE STAYING ON THE THIS MTB TOUR IN SPAIN?

Your tour goes through a mix of large and small towns and more rural areas, so the accommodation style and standard will vary greatly. In the larger towns, we usually book 4**** or 3*** hotels; outside of these, you will stay in countryside haciendas, boutique B&Bs or traditional-style village hotels. All rooms have en-suite facilities. Our selections are based on clean and comfortable accommodation (if sometimes quite simple), friendly owners and staff, a warm welcome, bike storage and sometimes a swimming pool too.

* N.B. Travellers who wish to spend more time in Granada can request additional sightseeing days at the end of the cycling tour. Visits to the Alhambra must be booked directly via the official website - book as early as possible to avoid disappointment.

** Check out the local annual weather conditions here. 

*** Solo traveler and single occupancy prices are available upon request.

Itinerary

Arrival in Ronda

Check in to your hotel and enjoy the sights and sounds of the beautiful clifftop town of Ronda. Briefing and bike set-up will take place on your first evening

MTB Tour Spain Day 1 - Ronda to Ardales

56km +631m

Leaving Ronda, you are soon on dirt tracks which lead eastwards, via olive groves and holm oak forest. You pass through the village of Cuevas del Becerro (a good lunch-stop) and then via Serrato, a sleepy village, before your only notable climb of the day into pine covered mountains. You then enjoy a terrific descent all the way to Ardales and your overnight accommodation. If you still have some energy, take a walk up to the remains of the hilltop fortress before dinner in one of the cafes or restaurants on the main plaza.

MTB Tour Spain Day 2 - Ardales to Antequera

51km +1046m

Your day begins along some quiet roads to a scenic area of blue lakes known as the Malaga Lake District, here the landscape changes dramatically as the mountains rise up above you. A descent through a beautiful valley brings you to the exit of the el Chorro gorge and famous Caminito del Rey, a suspended walkway through the gorge. Beautiful views abound as you ride out of the valley and onto tracks through remote valleys and up gain towards Antequera. Your day ends with a fun descent into Antequera, a lively town which is dominated by a striking hilltop Moorish fortress, or Alcazaba. Plenty of options in the town for post-ride relaxation and dinner. 

MTB Tour Spain Day 3 - Antequera to Mondron

56km +1001

Exit Anteuquera via a track past abandoned water mills, once the heart of the town's thriving textile industry. The track heads deeper into the countryside, through grazing lands for agile goats and sheep, before joining a mix of old drover routes and riverside tracks to the villages of Villanueva del Rosario and Villanueva del Trabuco, both with many options for lunch. From here you take a steady climb into the mountains to the Fountain of One Hundred Pipes, a delightful spot where rows of spouts gush with water from natural sources in the mountains above. Follow the mountain track up to pass over the mountains to a fun twisting descent. You then pass the oldest roadside inn in Andalucia, the Venta del Alfarnate, said to date from the 13th century. From here the final 10km are pretty much all downhill to Mondron.

MTB Tour Spain Day 4 - Mondron to Alhama de Granada

36km +807m

Today you begin with a long steady climb, passing through the sleepy village of Periana and onto the route of an old railway line which cuts a high track through the hills, with spectacular views of the surrounding countryside. You pass a strange bridge (a suspected folly), ride through a long tunnel and onto an established bike route, with traces of the old railway tracks. Stop for lunch in Ventas de Zafarraya before riding mainly on small tracks through an agricultural plateau, where fields of crops extend in all directions. The final part of the day is on dirt tracks which descend through pine forests to arrive at a small lake and dam. From here you enter the gorge of Alhama de Granada, a dramatic narrow channel through the mountains, formed by the Rio Alhama, where a path takes you to the base of the cliffs upon which sits the village and your overnight accommodation.

MTB Tour Spain Day 5 - Alhama de Granada to Granada

75km +818m

The day starts with you riding back down into the Alhama gorge and onto tracks which take you down to the reservoir de los Bermejales where you ride a really nice single-track path along its shorelone. At the end of the lake you will ride out of the valley and then down along the ridgeline of the little-known but spectacular Cacín river gorge and pass an old bridge known as the Puente Romano. After passing the tiny village of Cacin you ride the second climb of the day.  You then rejoin tracks which head steadily downhill to La Malaha. Another long descent on a road brings you closer to Granda's outer suburbs before joining a riverside path that takes you right into the heart of the city, passing through the old Arabic street market, where metalwork, leather goods and ceramics are still sold from tiny shopfronts before you finish your cycling tour in front of Granada's impressive Cathedral. Enjoy a final evening in this atmospheric city. Extra sightseeing days can be added on request.

Day 6 - Depart Granada

Check out from your hotel and have a safe trip home or to your next destination.

We can provide transfers to your next destination or airports of Sevilla or Malaga. POA

We hope to see you again in the future.

FAQ's

 

WHERE WILL I BE RIDING ON THIS MTB TOUR?

This MTB tour in southern Spain takes you from west to east and you will see a change in the landscape every day.  Lakeside single-track, High mountain forest tracks, Miles of open country with olive groves, rolling hills and many small Andalucian towns and villages.  The riding is not particularly technical but in some places, confidence on a mountain bike is required.  Roads are kept to a minimum.

WILL I BE FIT ENOUGH?

This self-guided mountain bike tour is designed for cross-country mountain biking enthusiasts rather than MTB experts. There are some technical sections and plenty of hills to tackle, so you will need fitness and some MTB skills, but nothing is too extreme. The climbs and descents can be tricky in parts but also great fun. On the longest days, take things steadily and ensure you take plenty of refreshment/snack stops and drink lots of water. 

WILL MY LUGGAGE BE TRANSFERRED?

No need for panniers or trying to pack light and risk leaving important items behind. We transfer your main luggage for you so you just take a few items for each day – water, snacks, sunscreen. We provide an 8-litre capacity rear trunk bag.

CAN I DO THIS MTB TOUR WITH A GUIDE?

We can offer a guided version of this tour with qualified guides and support vehicles or a semi-supported version with a support vehicle and driver who is a qualified guide.  There is a minimum person requirement of 4 to be able to provide this service.  Please do not hesitate to enquire about price and availability.

HOW WILL I NAVIGATE THIS MTB TOUR?

We have 3 options available:

Ride with a GPS application on your mobile phone.  We give free access to the application which can be used in offline mode for each day's ride.  The application shows maps and the route in great detail.  We also supply quality phone holders on the bike to keep your phone safe.
Garmin GPS Device supplied by Hike and Bike.  This is a simple device which shows a breadcrumb trail for each day's ride.  Very reliable and simple to use.
Upload route files to your own GPS device.  We will forward files for each day riding in the format needed for your device.

 

We also provide a large-scale, annotated map, designed specifically for your tour by Hike and Bike, giving you a perspective of where you are at all times.

Route Map
Take a look at some alternative MTB tours in Spain:
Discover the Sierras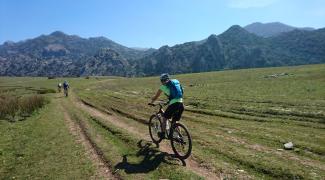 6 nights, 5 days riding MTB Tour
A week-long circular cross-country MTB tour that starts and finishes in Ronda. A great mix of tracks and trails through the Serranía de Ronda and Grazalema Natural Park.
Read more
Ronda to Tarifa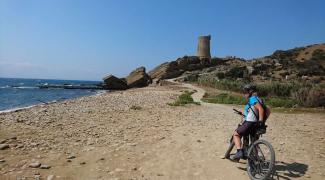 7 nights, 5 days riding MTB Tour
Riding from Ronda in the mountains to Tarifa, the southernmost point of the European continent. Biking through Natural Parks and remote trails with unforgettable views of Africa and the Straits of Gibraltar.
Read more