Local Activities for Family and Friends
Ronda, City Visits Andalucia, Spain, Costa del Sol Beaches
For partners or other family members who don't enjoy walking or cycling and just want to relax, there are many activities in the local area to suit both the adventurous or those more interested in a chill-out holiday.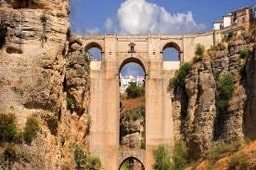 Ronda
The town of Ronda is definitely worth a visit and you can easily spend a couple of days here, visiting the sights and museums or simply enjoying a coffee or tapas in one of the many bars.
The new bridge ("Puente Nuevo"), which joins the old and newer parts of the town, is impressive and the bullring ("Plaza de toros") is the oldest functioning one in Spain. There are also many museums, churches and beautiful old buildings to visit. Or take a walk through the tiny streets and alleys which wind their way through the town. They will lead you to spectacular viewing points overlooking the gorge and valley, to open plazas or simply to a hidden bar or restaurant. Festivals and celebrations take place throughout the year, the highlights being the September Feria, with a Bullfighters' Parade and lively street-life or May's Ronda Romantica, which celebrates the region's romantic era of bandits, gypsies and senoritas.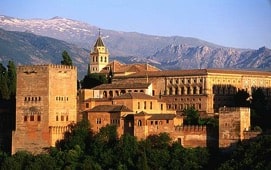 Malaga, Seville, Granada, Jerez, Gibraltar, Cordoba, Madrid
Many of Spain's most beautiful ciites lie within a short distance of Ronda.
Malaga, Seville, Jerez and Granada can all be reached easily by car. They are all filled with cultural, historical and gastronomic delights, so make a great day trip out. Gibraltar offers a different experience altogether but is worth a visit - it is about 2 hours drive away.
Ronda also sits on the main railway line from Granada in the north to Algeciras in the south (the nearest stop to Gibraltar), so it is an easy journey to either city. There is also a direct train to Cordoba, which then carries on to Madrid. The trains are extremely puctual and very modern and comfortable. We can help you with timetables and connections.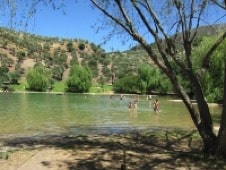 Swimming and Costa del Sol beaches
Many of our reecommended hotels and villas have their own swimming pools and Ronda has both an indoor pool and a summmer-only outdoor pool. There are also plenty of other swimming options in the area:
During the summer months many nearby villages have open air municipal pools. There is also swimming at Zahara Beach, a  recreation and simming area near the lake in Zahara de la Sierra. Or all year round (for the hardy) you can swim at the Cueva del Gato, near the village of Benaojan, 20 minutes from Ronda. 
It is also only a 1 hour drive to the Costa del Sol coast where you can enjoy the many beaches and resorts. We often do bike rides which end up down at the beach, so it's a great way for the cyclists to get a fantastic ride and then meet their partners and family for an afternoon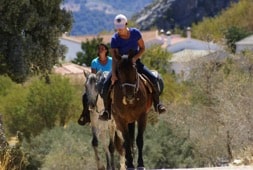 Other Activities
We can also help to arrange local activities such as:
Rock-climbing - lots of challenging areas for experienced climbers who bring their own kit or, for an easier, guided experience, there are a couple of "Via Ferrata" nearby
Kayaking
Horse-riding
Wine-tasting at local bodegas
Off road buggy driving