Ch 4 'A New Life in the Sun'
Hike and Bike the Sierras in Channel Four series 'A New Life in the Sun'
In 2021, the popular Channel Four series "A New Life in the Sun" was busy filming for the seventh series, with its usual content of British expats setting up brand new businesses abroad. But on hearing how covid-19 had ravaged a British-run, Andalucían mountain biking, cycling and walking business, the producers felt the situation provided a new angle to its stories of Brits trying to create successful businesses abroad. Prior to the pandemic, Hike and Bike the Sierras in Ronda had been welcoming guests from around the world for seven years. 'When a business has been growing successfully since its inception, what do you do when the international customer-base disappears overnight and it feels like you have to start from scratch all over again?'
Heather talks here about the filming process and rebuilding Hike and Bike.
Read more about our experiences below or cut straight to viewing the TV footage: A New Life in the Sun, Series 7, episodes 26-30.  Or watch our edited highlights.
2021 began for us with optimism about returning tourists and the resulting opportunity to revive our dented spirits and depleted financial resources. The pandemic had forced us to temporarily close down all activities and reduced our income to zero for many months. We had postponed and then rescheduled holiday and day trip bookings multiple times and were desperate to re-open properly. However, even when we were at last allowed to begin limited movement around our province again, travel restrictions for international visitors meant that we couldn't count on this revenue stream. So, in the short term, we needed to find ways to attract a more local market, which had never played much of a part in our business up until then.
It was about this time that we began speaking with the UK-based production team for "A New Life in the Sun". Our situation was new for the programme but reflected a common phenomenon of the times, where established businesses had taken a massive hit from the pandemic and needed to re-invent themselves for the future. The programme was interested to see how we tackled the challenges ahead.
Filming Begins
After only a brief moment to get our heads around the concept of appearing on UK television, we were thrown quickly into actual filming and met our cameraman, Jamie Templeton. He would become a regular companion over the next few months, lugging his rather cumbersome camera and tripod wherever we went.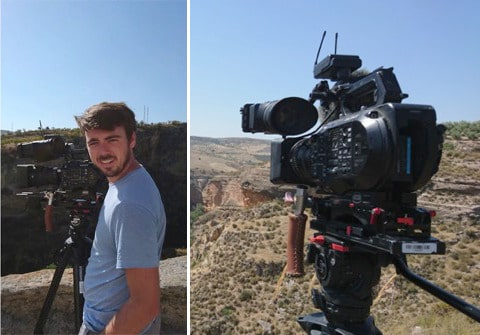 We were surprised (and rather glad) that Jamie was on his own, so filming was kept quite low-key. Much as I liked the idea of a hair-and-make-up team on hand every day, it was less intimidating for us and for our customers to deal with only one crew member in attendance. Jamie directed and filmed everything, constantly on the look-out for conversations, scenes or situations he thought would make engaging footage for the show. He also conducted all his own interviews, chatting and smiling behind the camera to help us relax and draw out interesting or amusing material.
On the first day, he began with an introductory interview at our home, from where we run our business, and then joined us out-and-about on selected customer bookings – mountain biking, family days out and hiking. These were sporadic in the early days but built up over the next couple of months to give a varied picture of what we do. He would film the action and also take a few minutes to ask us on camera what we had just done and why, just to help the viewers understand what our jobs and lives involve.
He also spoke to many of our customers, learning about why they had picked a trip with Hike and Bike, what they expected to get out of the day and then, at the end, how they had enjoyed it. He took care not to intrude into their activity and most people enjoyed being part of the process.
We'd never realised how time-consuming filming could be but every time we started a quick job that we had done hundreds of times before, which felt very humdrum and familiar to us, Jamie wanted to film it and get an explanation on camera. Then he often wanted to record things from a different position, so we had to repeat the task all over again.
Alongside shots of us, our bikes and our customers, he also needed scenic and context shots. Consequently, he was forever jumping out of the car or asking us to stop what we were doing so he could film another olive tree, or vulture or wide shot of the countryside, just in case it was required for possible inclusion.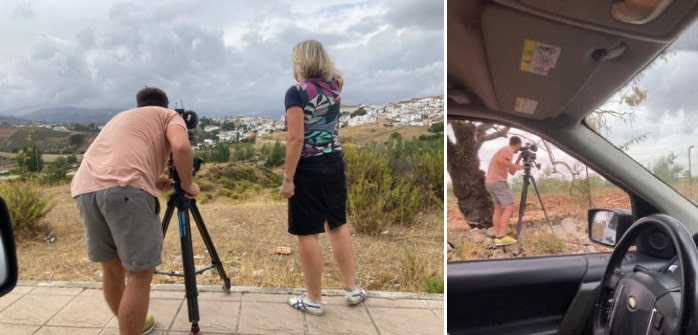 New Ideas for Local Travellers
Over the months of closure, we spent our time planning how to improve our business for when we could finally re-open. We worked on our website to refine both its look and its performance and we mulled over new and different product ideas. By Spring 2021, and a restricted, locals-only market, we focussed our attention on appealing to a new customer-base - expats living in the nearby regions and native Spanish, who were permitted to travel to us in Málaga province.
We speak some Spanish ourselves but needed a fluent Spanish-speaking guide, so we welcomed Chiara to our business. Chiara is Italian, speaks fluent Spanish and English, is a qualified biking guide and loves mountain biking, road cycling and walking. She has a lovely sunny personality and is a perfect addition to our small team. She helps with the Spanish-language pages on our website, looks after any Spanish-speaking guests and is an extra pair of hands (and set of wheels) for when we have multiple biking trips on one day or have larger groups which need two guides.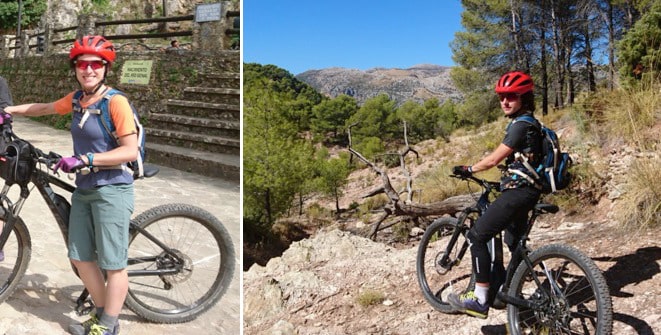 Chiara soon got to meet Jamie and was featured in a number of filmed group activities.
In order to appeal to potential customers who could drive up to Ronda, rather than needing to fly here for a longer holiday, we came up with a new 'Taste of Ronda' Mini-Break: a 2-night mid-week or week-end get-away. It included a walking tour of Ronda town, a bike ride and a bodega tour with wine tasting. This package provoked some positive responses, a couple of new bookings and some more filming opportunities. It was also one of a selection of new collaborations with other local businesses.
Collaborating with Ronda Businesses – 'Ronda Sights' Tour
We already worked with a couple of local Ronda wineries on our 'Bike and Bodega' tour and 'Bodega Minibus Tour' but Wayne had always wanted to find a way for visitors to enjoy the close proximity of Ronda to the surrounding rural countryside. There are many guides who provide excellent walking tours of the town but no-one offers anything which also heads out into the local countryside, so Wayne envisioned some sort of collaboration which would add an easy, local, electric bike ride, suitable for non-bikers, on to a walking tour. Wayne or Chiara could of course lead our biking section but we needed an expert Ronda guide for the town part. One of our friends suggested Leonor Mena, a registered town guide and historian.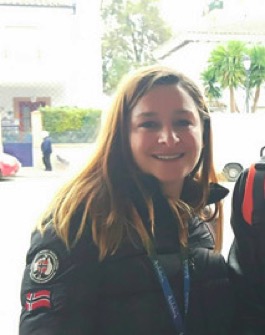 I went out with Leo on one of her walking tours to see what she did, and then we met up to talk through our combined biking and walking idea – and Jamie came along too. She liked the concept and came out for a ride with us on the e-bikes, so she could fully understand our cycling route. She then suggested a fantastic way to link the two halves of the tour: as the biking route heads past an old water course into the town, a natural spring and an aqueduct, she explained to us the historical issues of getting water up to Ronda's clifftop position and the solutions which had been developed through the centuries. She also explained the role of the landscape and the production of crops and livestock which helped the town to flourish. That's not to mention all her snippets of interesting facts about the town, its buildings and its famous fans, like Ernest Hemingway and Orson Welles. Our 'Ronda Sights' tour was born! Now we just needed to test out the whole thing, ensuring the timings all worked, so we recruited some English friends who had come to visit and they did the tour, with Jamie in tow.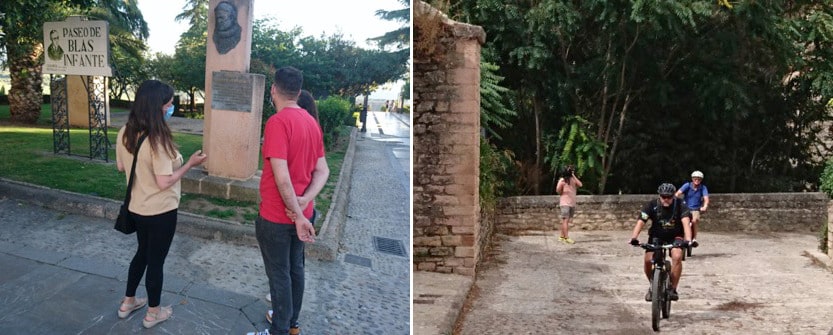 Behind the Scenes of A New Cycling Tour - Ronda to Granada
Jamie also joined us on one of our longer exploratory tours, as we put the finishing touches to a new Leisure Cycling Tour 'Ronda to Granada'. This tour was designed to complement our existing multi-day cycling tours, such as 'Ronda to Cádiz', 'Ronda to Sevilla' and 'Ronda to Tarifa'.
Wayne did the initial route-planning from home, combining his existing knowledge of tracks and quiet roads heading east from Ronda with desk research about possible routes to take our cyclists all the way to Granada. No route is considered customer-ready until we have ridden every kilometre of it ourselves, so we scheduled 3 days to fully explore the region from Antequera, via Alfarnatejo to Alhama de Granada and on to Granada city itself.
We loaded a couple of mountain bikes on to our Land Rover and spent a fantastic few days discovering new and fascinating parts of Andalucía that we had never been to before.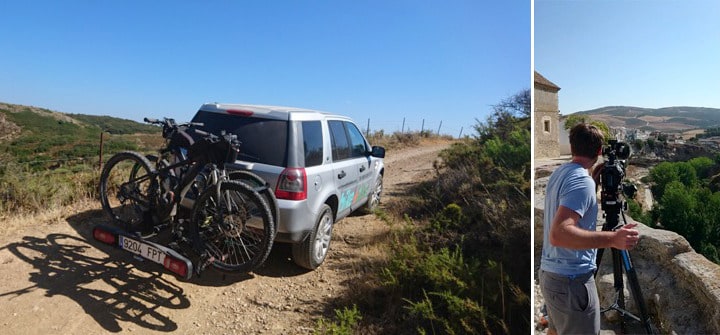 Jamie captured many of our discoveries, including the picturesque village of Alhama de Granada and the stunning Cácin river gorge, a location that was low-key on the maps and we weren't sure if it should be included but, on actually witnessing it, an absolute definite spot for our cycle-touring customers to enjoy.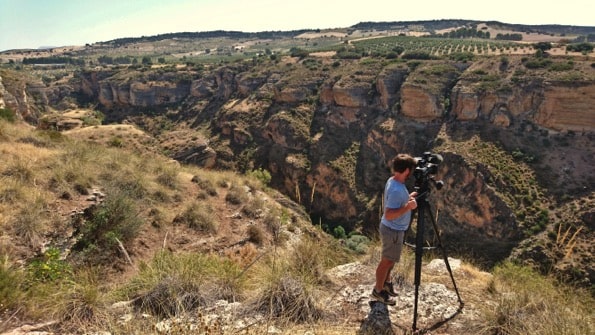 We loved this route and, on returning to base, got busy adding it to our website.
Our Biggest Tour Group Ever
Finally, Jamie joined us for a couple of days of mountain biking with our biggest groups of cyclists ever. A Belgian tour operator had contacted us to design and set up two weeks of guided mountain biking through western Andalucía: firstly, a 5-day tour with 30 riders and then a week based in Ronda, for 20 more.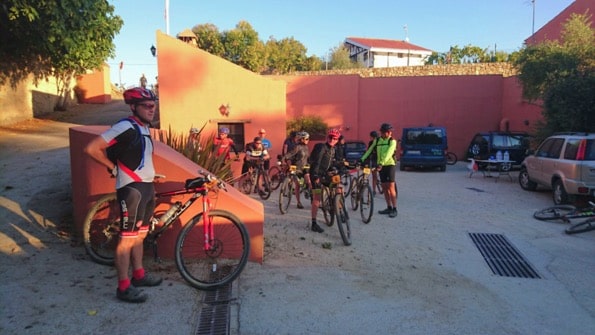 These trips were months in the planning and involved us designing bespoke mountain bike routes at different levels of difficulty, arranging lunches and feed stations, providing mechanical assistance and emergency support, and booking accommodation.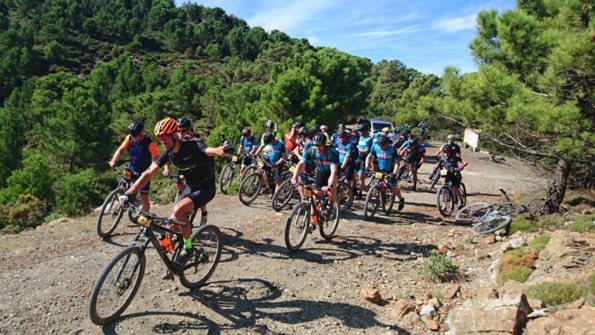 The routes were extremely varied and included pedaling from Malaga up into the mountains, riding through the Sierra de las Nieves National Park, multiple routes in the Serranía de Ronda and biking down to the Costa del Sol.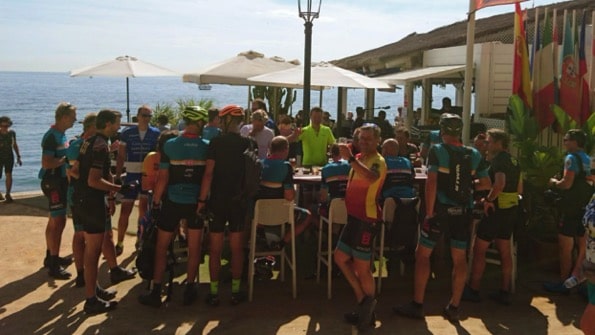 As one can imagine with so many riders and such a huge logistical and biking challenge, there was lots of action, drama, fun and adventure with these groups. We will leave it to the programme directors to see what they include in the final edit.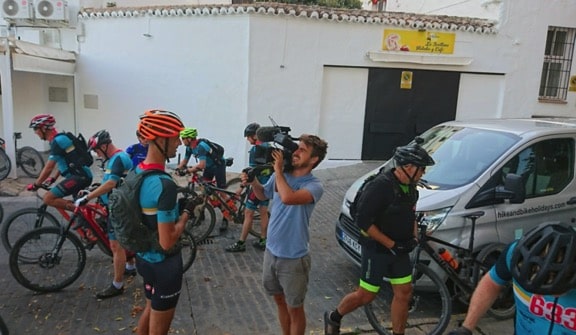 A New Life in the Sun – What an Adventure!
Altogether, Jamie must have absolutely hours of footage. We do not envy the editors' job of turning it all into a compelling piece of television but we hope it shows just a little of the fascinating, fun, sometimes frustrating and certainly variable lives that we lead, since setting up our biking and hiking business in Andalucía.
From the start of filming, when customers were very thin on the ground, to the final weeks, when we were rushed off our feet, our business came a long way. It was wonderful to pick ourselves back up from the lowest points of Covid shut-down to where we finished at the end of 2021.
We haven't seen any of the footage yet ourselves, so we are looking forward to watching the show and seeing how we and our business story come across on film.
Thank you to Jamie for all your many hours of running around after us, loaded up with heavy camera and tripod, and (hopefully!) making us look good on camera.
Thank you to all the team at True North Productions (Piero, Philippa and Phoebe) for helping us through the filming and programme process.
And thank you to all our customers who agreed to participate in our filming days. We appreciate your enthusiasm to join in, your tolerance whenever filming took time and your patience in answering Jamie's on-camera questions about how you were enjoying your day out with us.
To follow our story, watch 'A New Life in the Sun' on Channel 4, which airs every weekday at 4pm from Jan 3 2022. Hike and Bike the Sierras will feature in epidsodes w/c Feb 8, Series 7, episodes 26-30.  Or watch our edited highlights.
Find out more about Hike and Bike the Sierras holidays and tours or contact us direct for bookings and further information.
Heather Cooper, Hike + Bike the Sierras    2/1/2022