Self-Guided Andalucian White Villages Cycle tour
Cycle Touring in Spain
Do you feel nervous at the thought of signing up for a 1 week self guided cycling tour? 
Of course, it's normal. You dont know what it's going to be like or how much you will actually enjoy being on a bike for that long. You worry that you can't cope with the terrain and what to bring with you. You are nervous that you won't be able to find your way each day. And most of all, you wonder if it's worth the effort – wouldn't it be easier to just hire a car and get to travel more distance and so see more of the local area?
We receive lots of questions like this so, in an effort to answer some of them you can read here a brief summary of just one day on our self guided Andalucian White Villages Cycling Tour. It will give you a sense of the style and pace of our tours, it includes some tempting photos of what you will see along the way and also gives some hints and tips on how best to handle the riding. 
We hope it answers some of your burning questions about the best self guided cycle touring in Spain. If not, drop us a line to ask anything else. We are happy to help and believe that a little bit of reassurance can go a long way to removing any worries about cycle touring in Spain and inspire you to get out on two wheels for a fantastic cycling holiday experience.
If you prefer a shorter cycling tour, take a look at our 3-day Cyling Mini Tour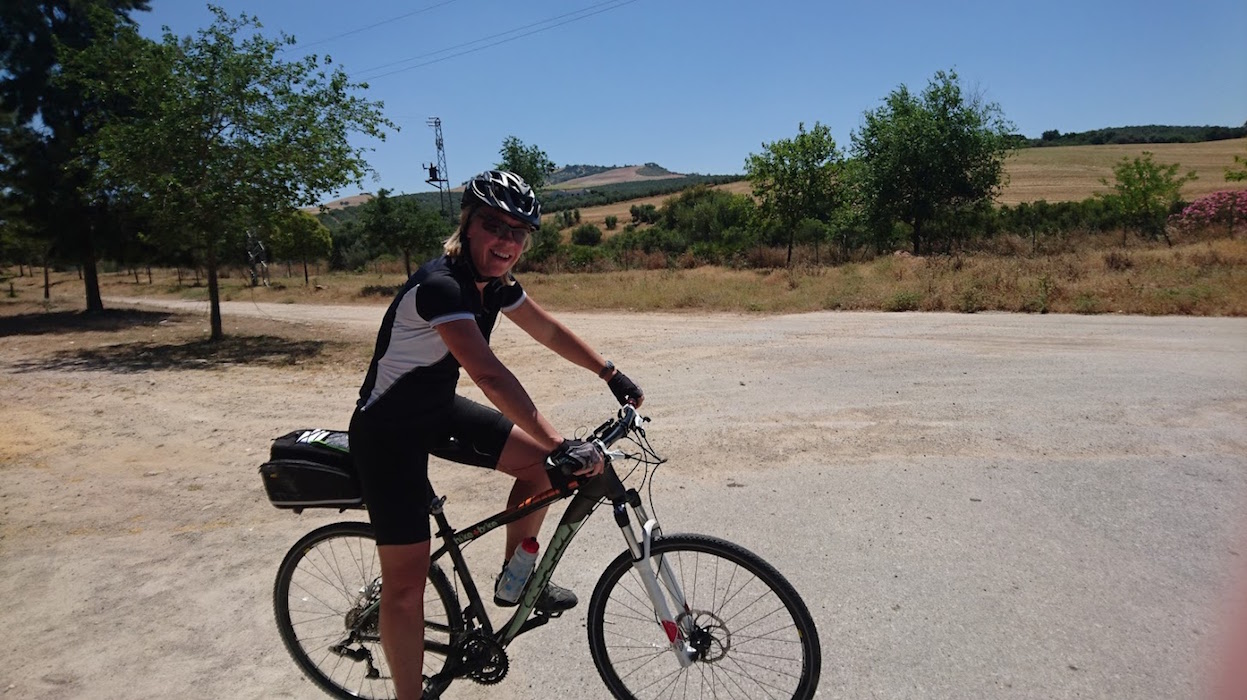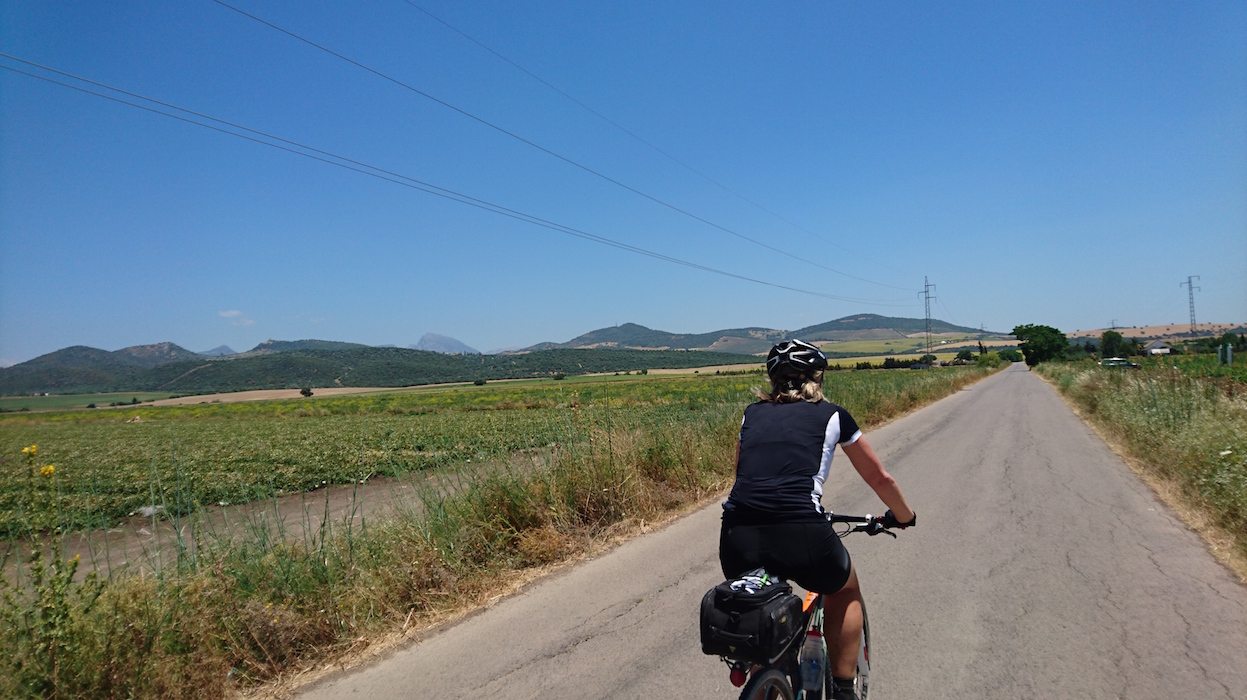 The Facts
The Tour:    White Villages Cycle Tour -  week-long self guided cycling tour Andalucia
Stats:        8 days, 7 nights 
High Road cycling tour – 6 days cycling; total cycling distance - 202km; includes a couple of climbs up to high mountain passes; time in Ronda at start and end of tour
Low Road cycling tour – 5 days cycling; total cycling distance – 191km; full day in Ronda
Note: the day explained below features on both tours – click on the links above to see the full itineraries.
Location:    Andalucia, southern Spain. Tour starts and finishes in the historical town of Ronda and visits a number of small white villages en route.  You will cycle through the protected area of the Grazalema Natural Park and the Serrania de Ronda on a mixture of quiet roads and tracks – the idea is to keep you off the main roads as much as possible.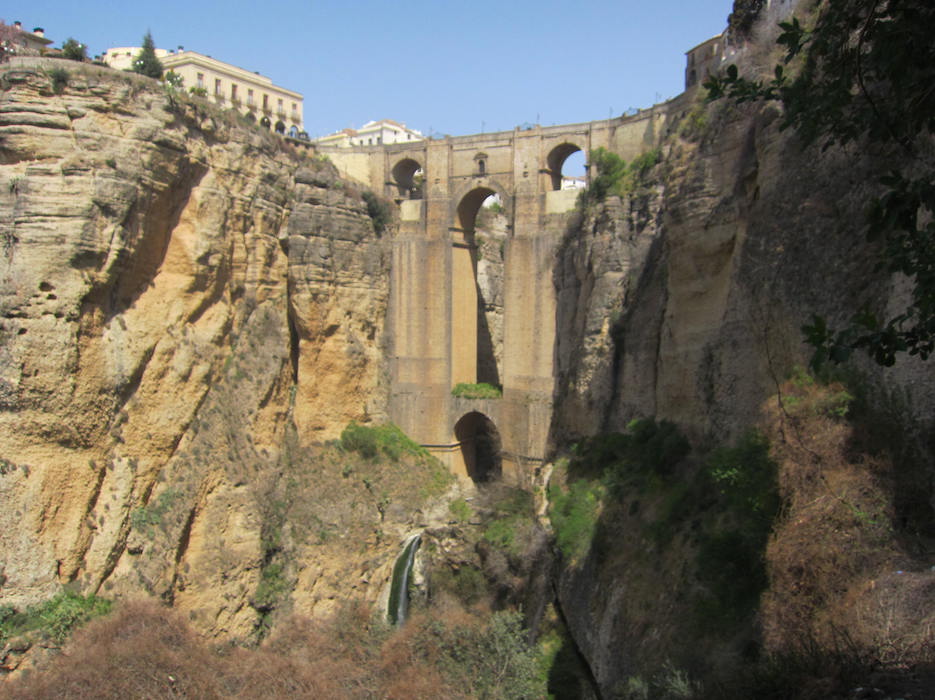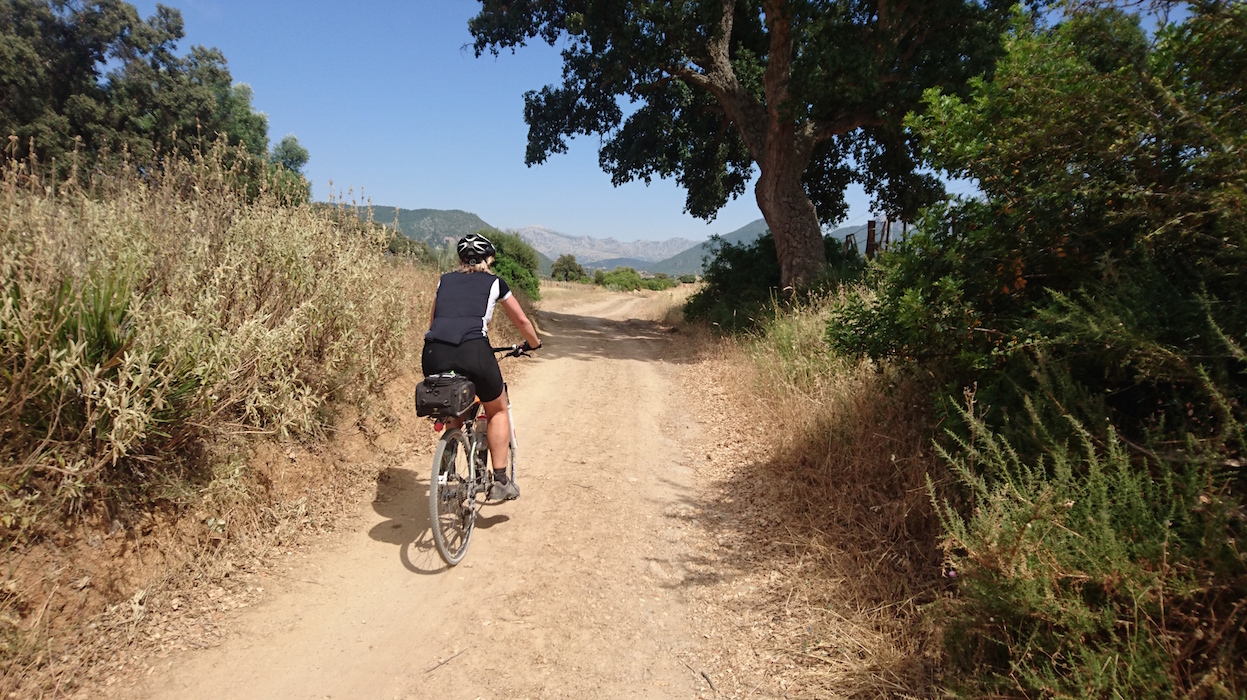 Terrain:         Much of the route is unsurfaced farm tracks which are normally fairly smooth but can suffer some erosion in the winter weather, making them a bit bumpy in parts. It's nothing the bikes can't handle and these routes keep you well away from traffic. Alternative road options are provided for cyclists not wishing to ride the more damaged sections. Pace is relaxed and relatively easy, although there are hills to climb every day.
The Bikes:     29" wheel hybrid bikes with excellent gearing to help with the hill climbs and hydraulic disc brakes. Optional carry-bag on the back and handlbar bag. Main luggage is transferred between overnight accommodation each day.
Accommodation:    Small hotels, country fincas; 4**** hotel in Ronda at start and end of the tour: B&B basis
Other Equipment:     Garmin GPS 200 with pre-loaded daily rides; bespoke route map, showing main route, alternative options, sights and other notable points. Helmet, water bottle, tool kit.
One Day Diary: 
Day 4: Montellano to El Bosque 56km (the longest day of the tour)   Ascent: 634m (about average for this tour)
Starts with a delicious breakfast at the Hacienda La Morena, set amidst rolling hills with beautiful views.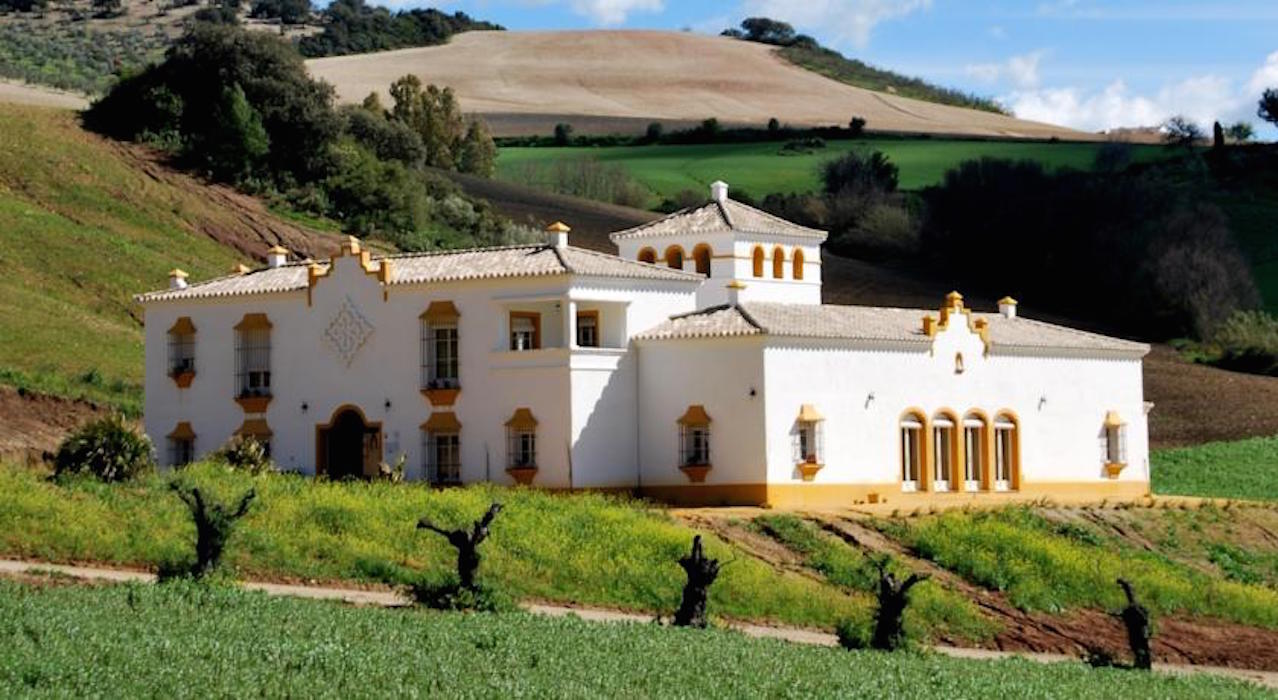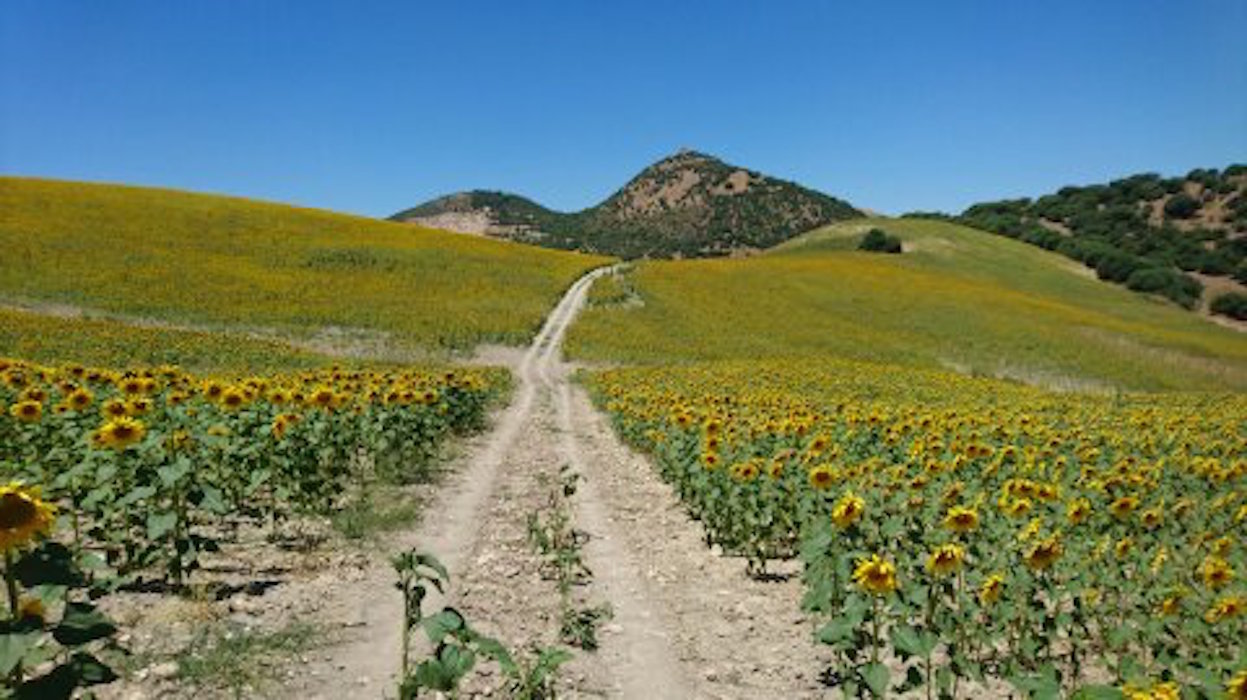 Most of today's cycling is through farmland, where you will see a wide variety of different local crops, depending on the season:
coriander in April-May; creates a beautiful fragrance drifting through the air as you cycle past
wheat and corn in April-May
sunflowers through June and July
canteloupe melons in June
sugar beet harvesting in June
cotton plants in July and August
olives, fat on the trees in October and November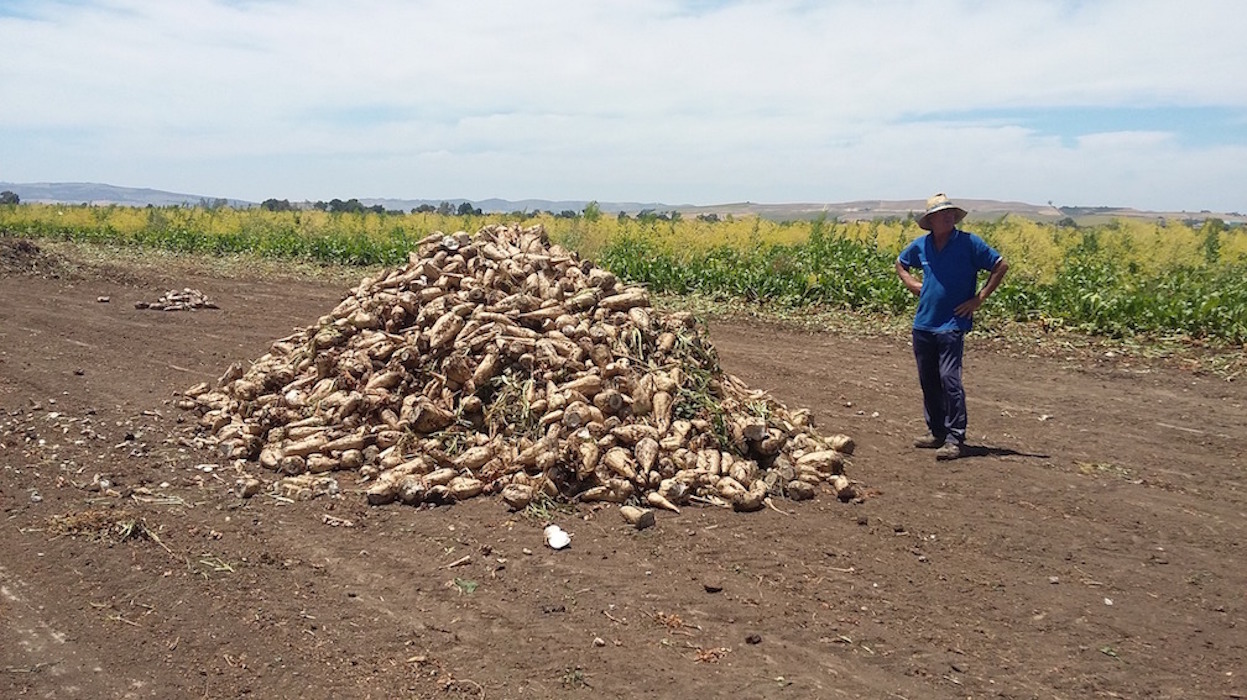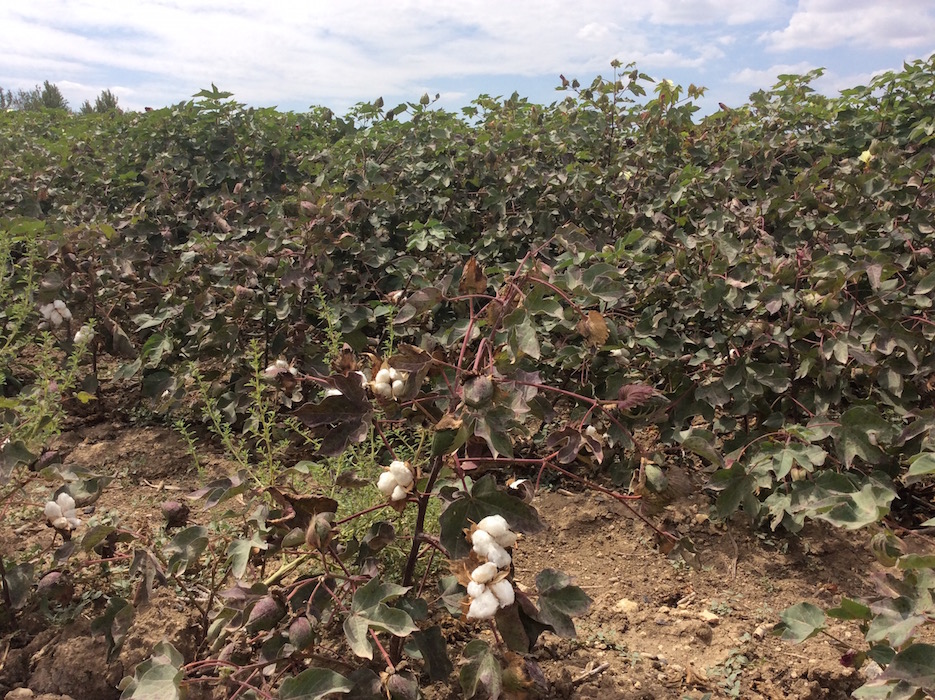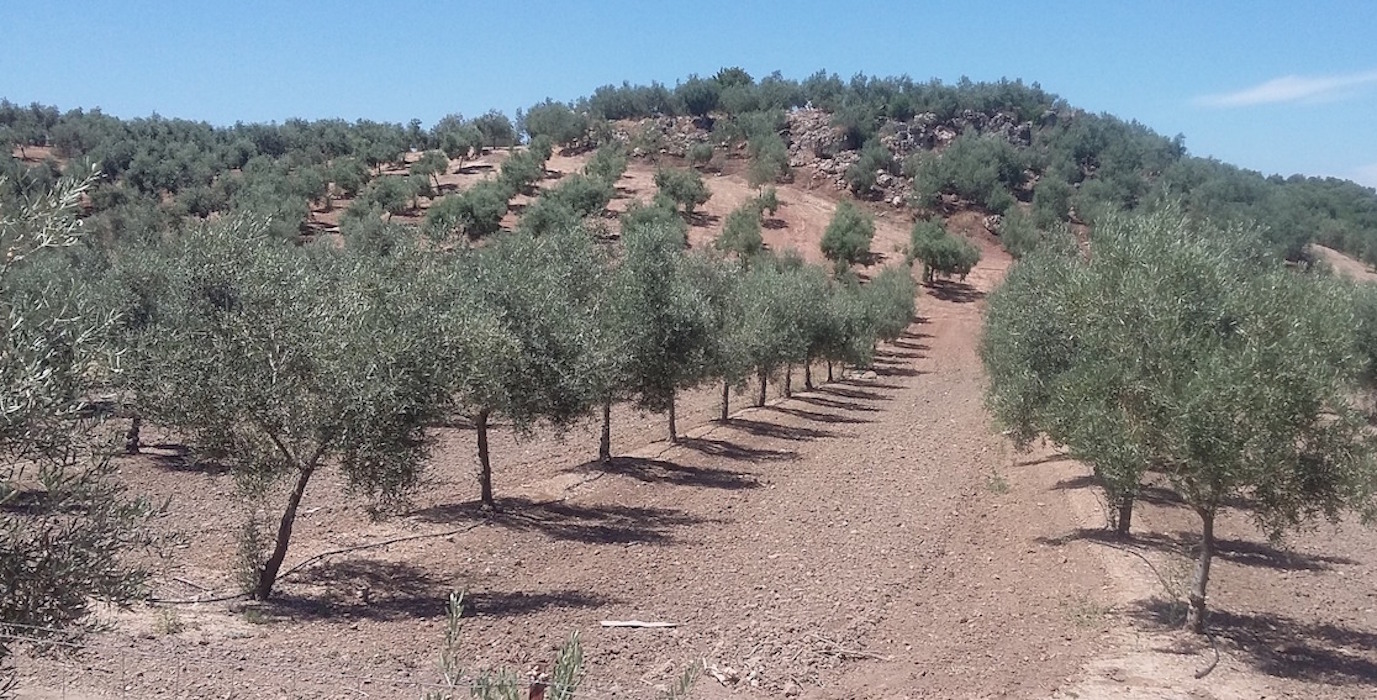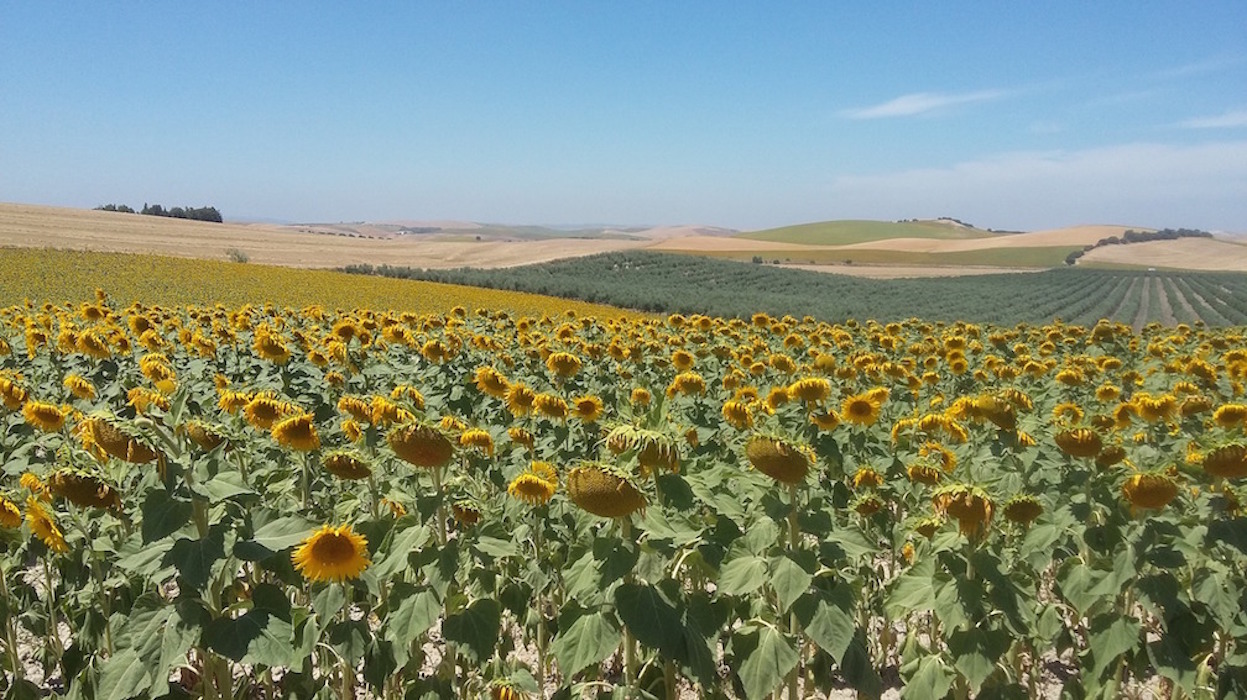 The early part of the route undulates right through the middle of the wheat and sunflower fields. When the sunflowers are at their peak, they create a stunning sight of huge swathes of bright golden yellow as far as the eye can see.  
You also ride a short section at the end of the Via Verde de la Sierra (you get to ride a much longer section on the previous day), finishing at the old station at Puerto Serrano which is a nice early coffee stop. The middle part of the ride is pretty flat, along the small unsurfaced roads which link the crop fields, so it's all very charming and relaxed. Workers in the fields will give you a wave as you cycle past.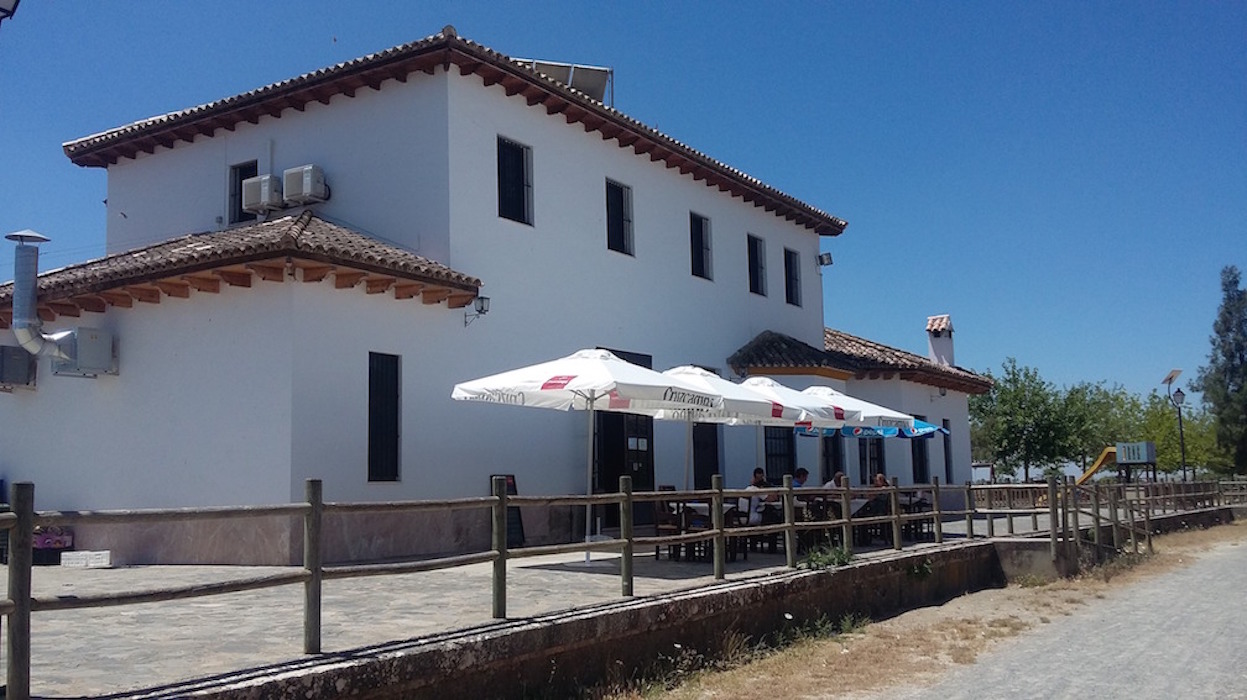 There is one notable hill climb on this day, up to the village of Prado del Rey. You can miss out this climb and the village if you prefer but it is worth it to get to this delightful little spot. The climb up is on smooth tarmac which makes things easier and then you will enter the small steep streets up through the village to the main plaza, with its pretty church and fountain.  It's a quiet and sleepy place for most of the week but on week-ends and festivals or holidays, the streets near the plaza come to life. Dozens of small cafes and bars host bustling tables of locals who gather to chat and catch up on news whilst children play and ride their bikes under the watchful eyes of parents, grandparents, aunts and uncles. 
Stop in the village for a well-earned glass of something cold and refreshing and try some local tapas – our favourites are the stuffed mussels and the anchovies at cafe Paqui Nely, right near the plaza.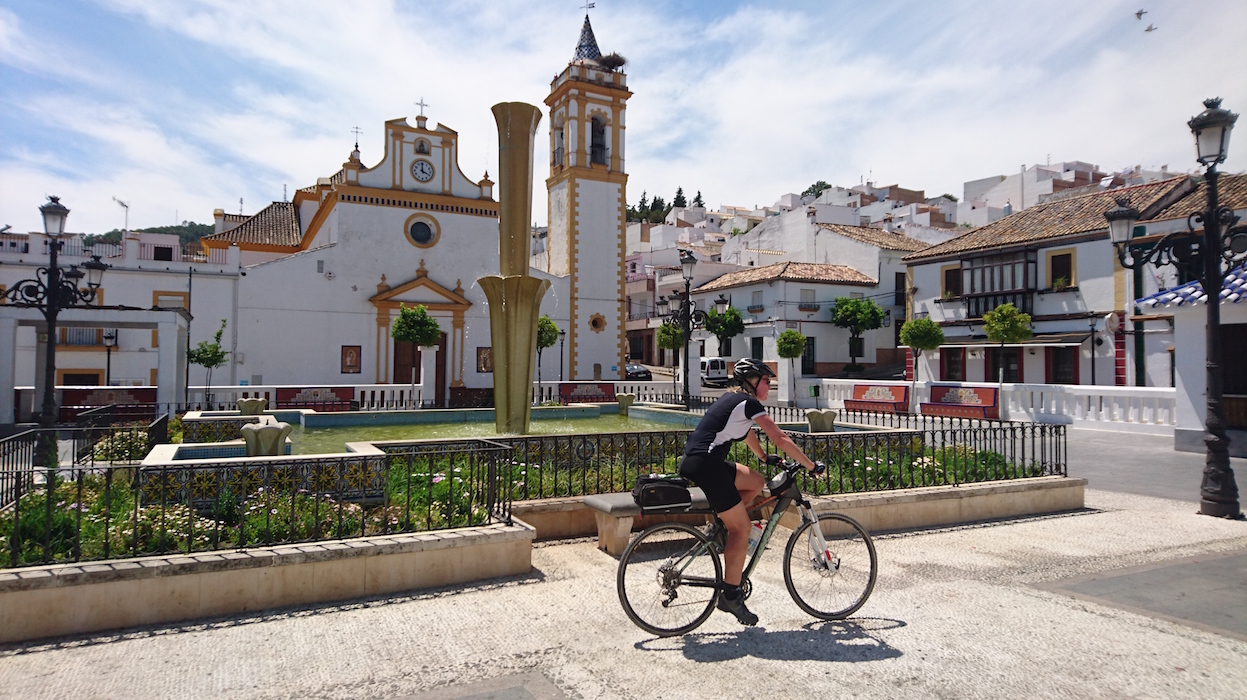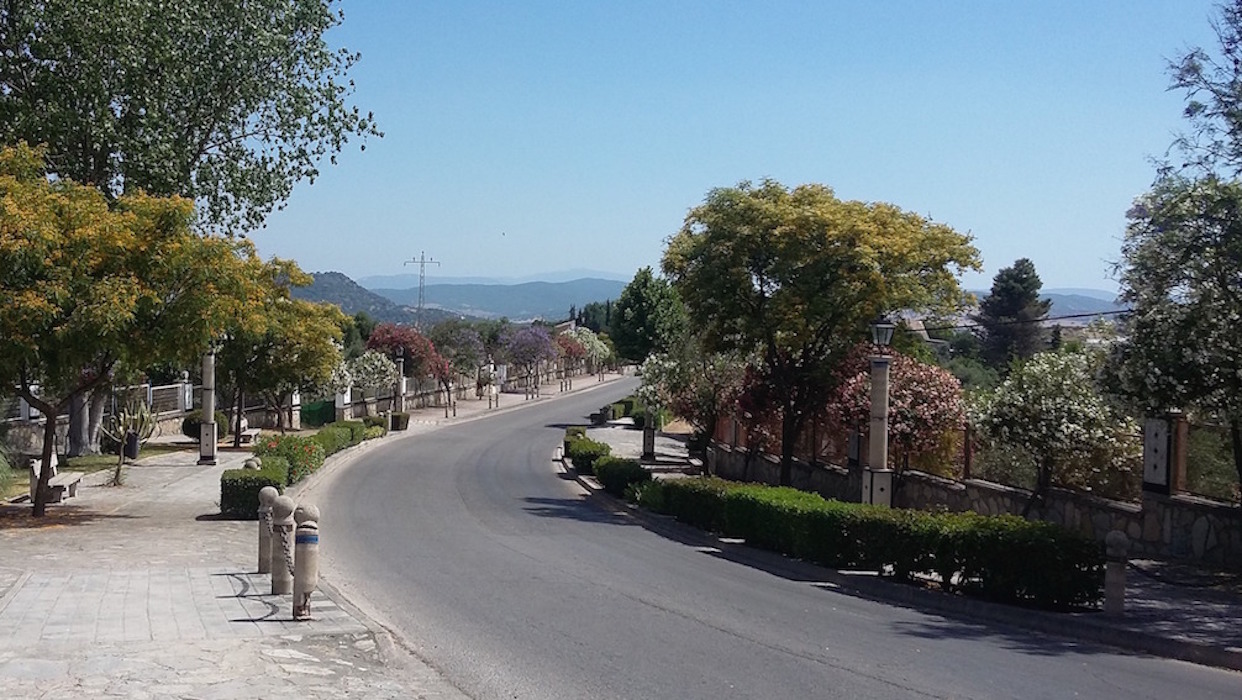 You leave the village via a lovely descent down a tree-lined avenue into a valley where natural salts rise out of the ground along a stream bed. There is a local saltwater swimming pool at the Restuarante Los Molinos but the best place to see this unusual phenomenon is at the restored Roman salt pans of Iptuci.  Here, water rises up continuously from a small spring at a temperature of 25°C  with a saline content of 28 grams per litre and you can follow its short trail through small channels down to the salt pans. White crystals line the edges of the channels and the salt water evaporates from the pans to gradually build thick deposits of natural salt crystal which are harvested with traditional olive wood rakes, brooms and hoes to produce more than 300 tonnes of salt each year.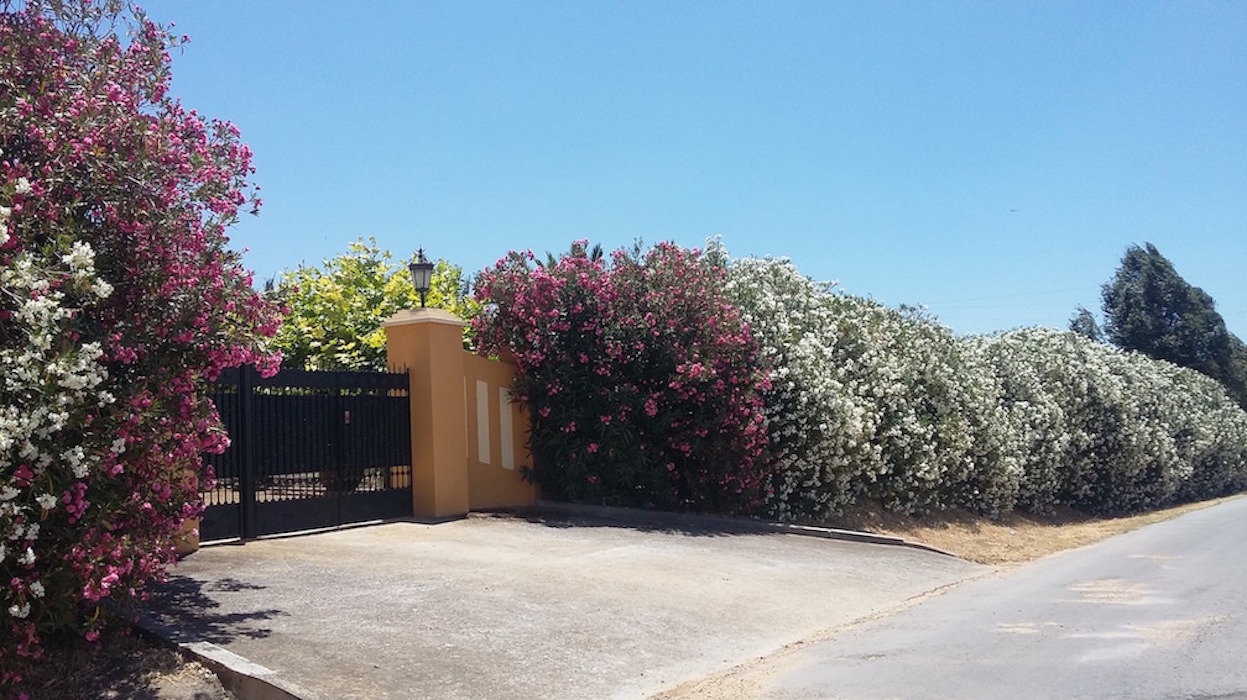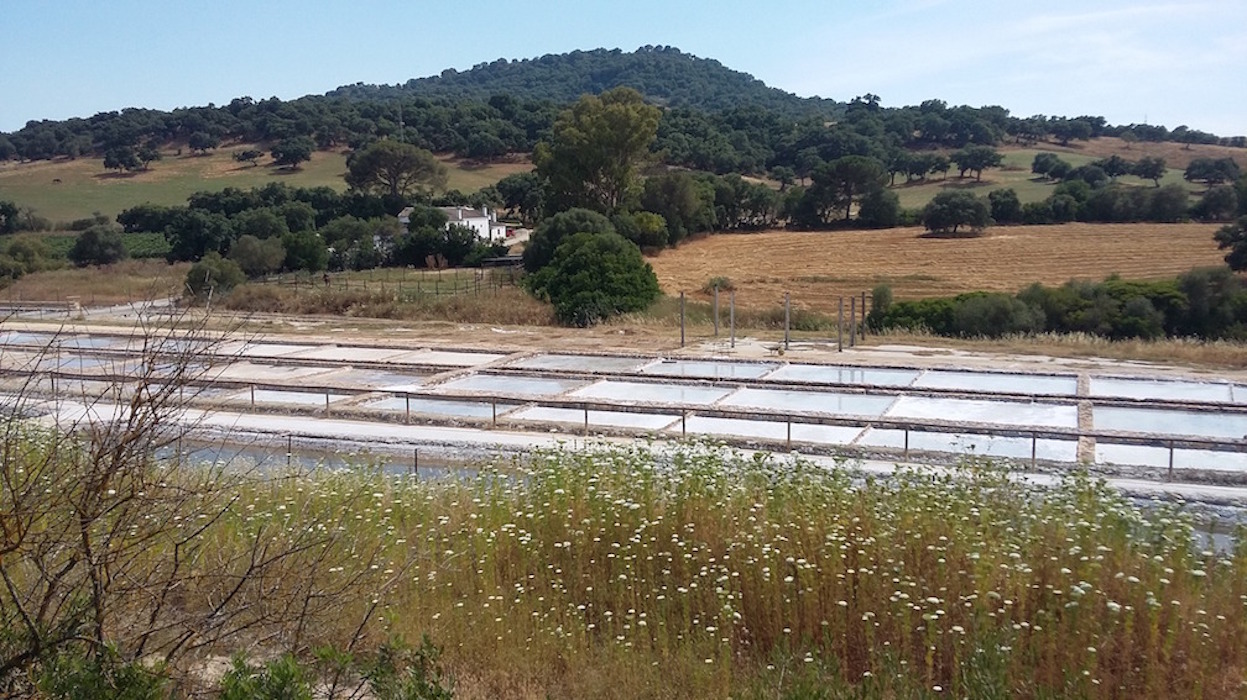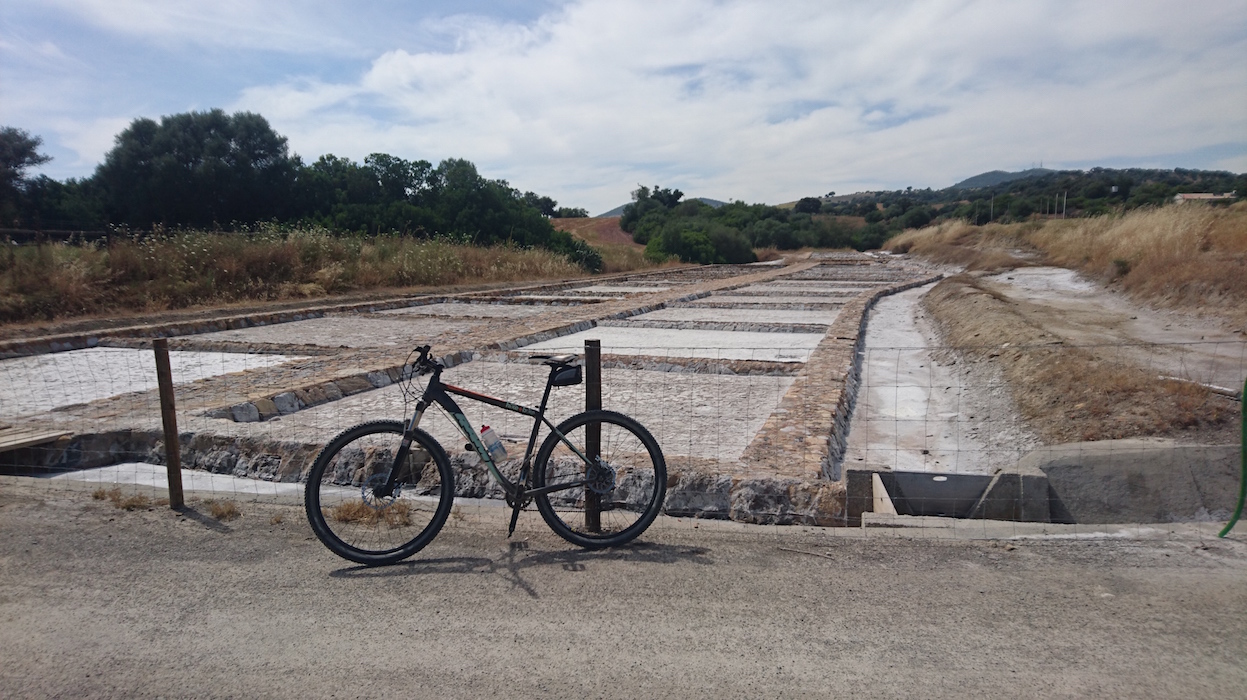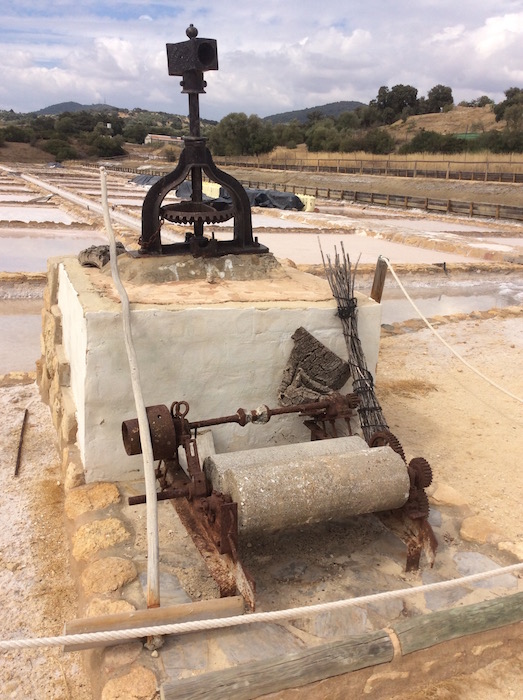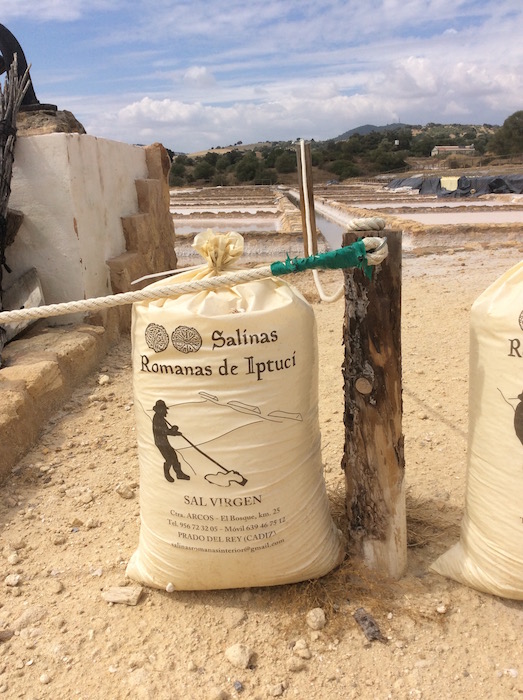 Find out more about the salt pans here: Salinas Romanos de Iptuci 
From here it is a short ride along the final stretch of country tracks to El Bosque and your hotel and pool, where you can relax before heading out for dinner. An old mill wheel dominates the village square and we recommend the Bar Eclipse on the edge of this square, where Mari and Sergio will serve you delicious home-cooked food.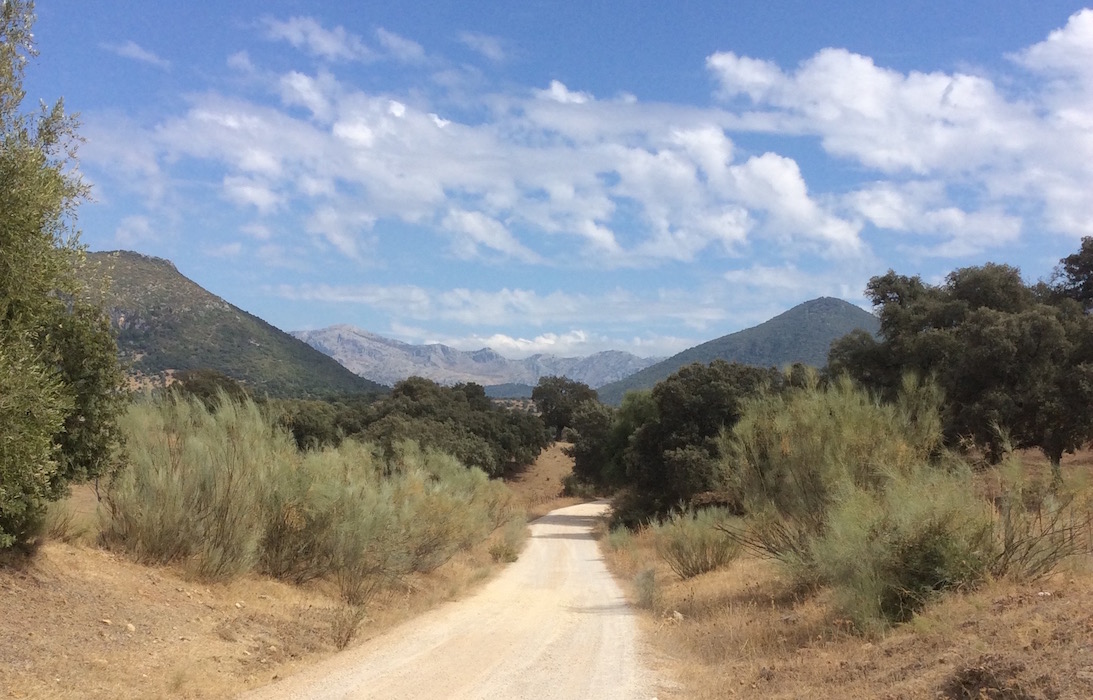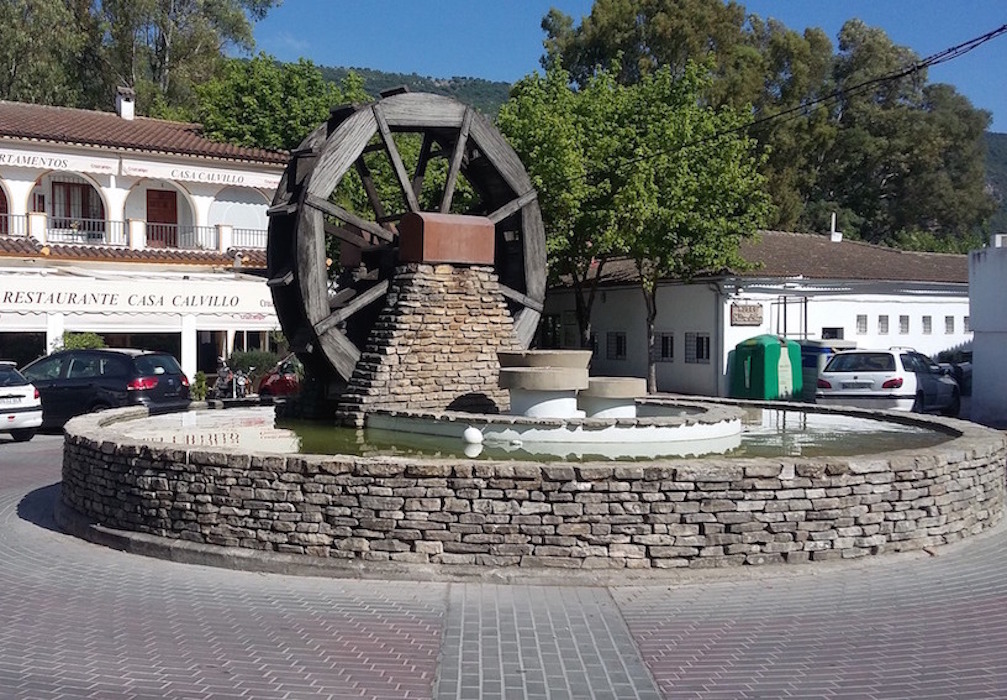 Who Should Do this Cycle Tour in Andalucia? 
Anyone who is reasonably fit and healthy and happy to be out on a bike for 5-6 hours a day, which still allows plenty of time for photo and refreshment stops. You do not, by any means, need to be Chris Froome!
Anyone who enjoys the slow pace of cycling as the best way to experience the true nature of a country. 
Highlights of the Day: 
Prado del Rey village
Salinas Romanos de Iptuci (roman salt pans)
Sunflowers
El Bosque
Hints & Tips:
Travel light during the day, as your main luggage is transported between overnight accommodation each day. Just take lots of water, suncream and a light long-sleeve top for protection (plus light waterproof in the cooler months), plus cameras and a few snacks – nuts and dried fruit are great energy food and not too big or bulky for carrying. Also try the local dried figs and fig cake which are fab!
Daily Cycling Distances and Route Profiles
For further information about these cycling tours, click on the links below:
Take the High Road cycling tour
Take the Low Road cycling tour
You can read more about our other cycling tours and holidays in Spain on the links below:
- Centre-Based Cycling Holidays
Contact Us for any further information and for bookings.
Heather Cooper, Hike + Bike the Sierras    30/7/2017