Hike + Bike Holidays Part 1
Combine Cycling and Hiking Holiday in Spain
'Hike and Bike holidays': a cycling holiday and a hiking holiday in Spain all-in-one.  
Spring is the perfect time to enjoy a hiking holiday, a cycling holiday or a combination hiking and cycling holiday in Spain. In the south of Spain, in Andalucia, this time of year offers fabulous scenery and weather, with the countryside in full bloom. 
Our Hike + Bike holidays offer a mix of walking, cycling or mountain biking activities; these holidays are a fantastic way to explore the unspoiled countryside of our region, the Serrania de Ronda. Holidays can be pitched at different grades to suit different levels of fitness and experience and we offer the option of being guided, self-guided or a mixture of the two. We normally include one rest day in the middle for sight-seeing in the historic town of Ronda. We are flexible on accommodation too; some of our guests stay in the wonderful Hotel Molino del Puente, just outside Ronda, whilst others choose to stay in one of the many good hotels in the centre of town.
This May we arranged a number of combination hiking and cycling holidays and everyone had a fabulous time. The sun shone, the spring flowers were in full colour, the villages were charming and the mountains were stunning! Below is an overview of one of the Hike + Bike holidays which we ran this May for a couple from Australia. In the coming weeks we will give similar information on other recent Hike + Bike holidays to give a taster of just how much variety is available on this type of hiking and biking holiday. 
Easy / Moderate Cycling and Hiking Holiday in Spain, Guided
The Brief: Dom & Lynette wanted to stay in Ronda town and explore a wide variety of scenery with a local guide, who could tell them more about the region, the culture and life in Spain. They didn't have a lot of off-road or mountain biking experience and were not keen on too many hills. They wanted some easy to moderate hikes, as they were prepared for a bit more of a challenge on foot versus on the bikes.
Holiday Itinerary: We have a couple of great easy bike rides which mix road and off-road riding and don't include too many hills or require any real mountain biking experience. For this type of riding we use hybrid bikes, as they are easier and more comfortable to ride than drop-handlebar road bikes and are perfectly suited to leisure cycling. Our guides were with Lynette and Dom every step of the way and we were supported by our minibus, to optimise the route choices and to minimise the amount of hill-climbing in some instances.
Bike Rides:
Via Verde de la Sierra – a scenic, easy ride of 36km on a disused railway line, through tunnels, over viaducts and past a vulture colony, all on a designated cycling/walking route, without traffic – sometimes with accompanying goats!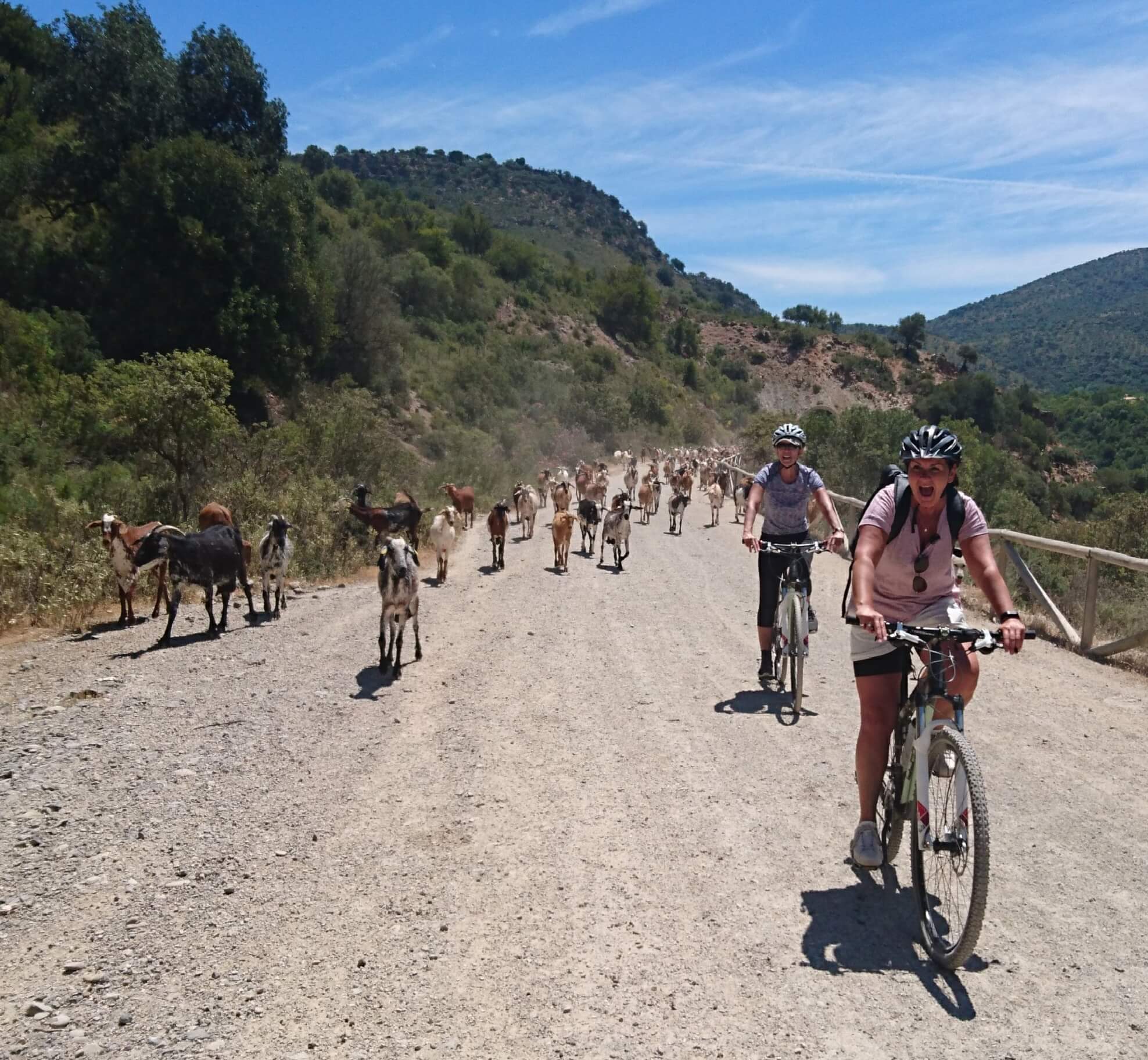 Setenil de las Bodegas -  an easy 30km mtb ride that uses a mix of small tracks, easy trails and some small sections of quiet country road. The ride finishes in an unusual village, where the houses, bars and shops have been built into the overhanging limestone cliffs of a deep river valley.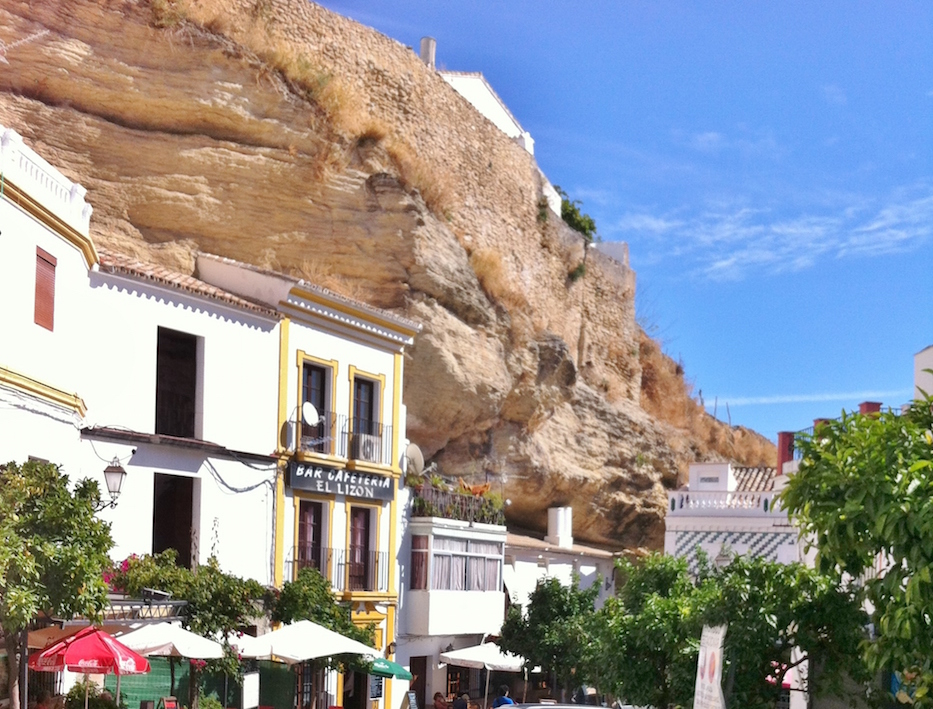 Genal  Valley Views – a 25km road ride heading from Ronda out to into the remote mountains of the Genal Valley. Includes a climb out of Ronda but then a terrific twisting mountain descent to the village of Jimera Estacion where we finish at a local bar, well-renowned for its excellent range of beers, homemade burgers and live music.
Hikes:
Cueva del Gato – a 14km moderate walk on quiet tracks and pathways from Ronda out to a local beauty spot, known as the "Cat Cave", due to the shape of the cave mouth in the mountains. Here, a beautiful waterfall cascades into a crystal clear pool of water. This is a lovely walk which usually finishes just beyond the Cat Cave with a delicious lunch at the Mollino del Santo restaurant.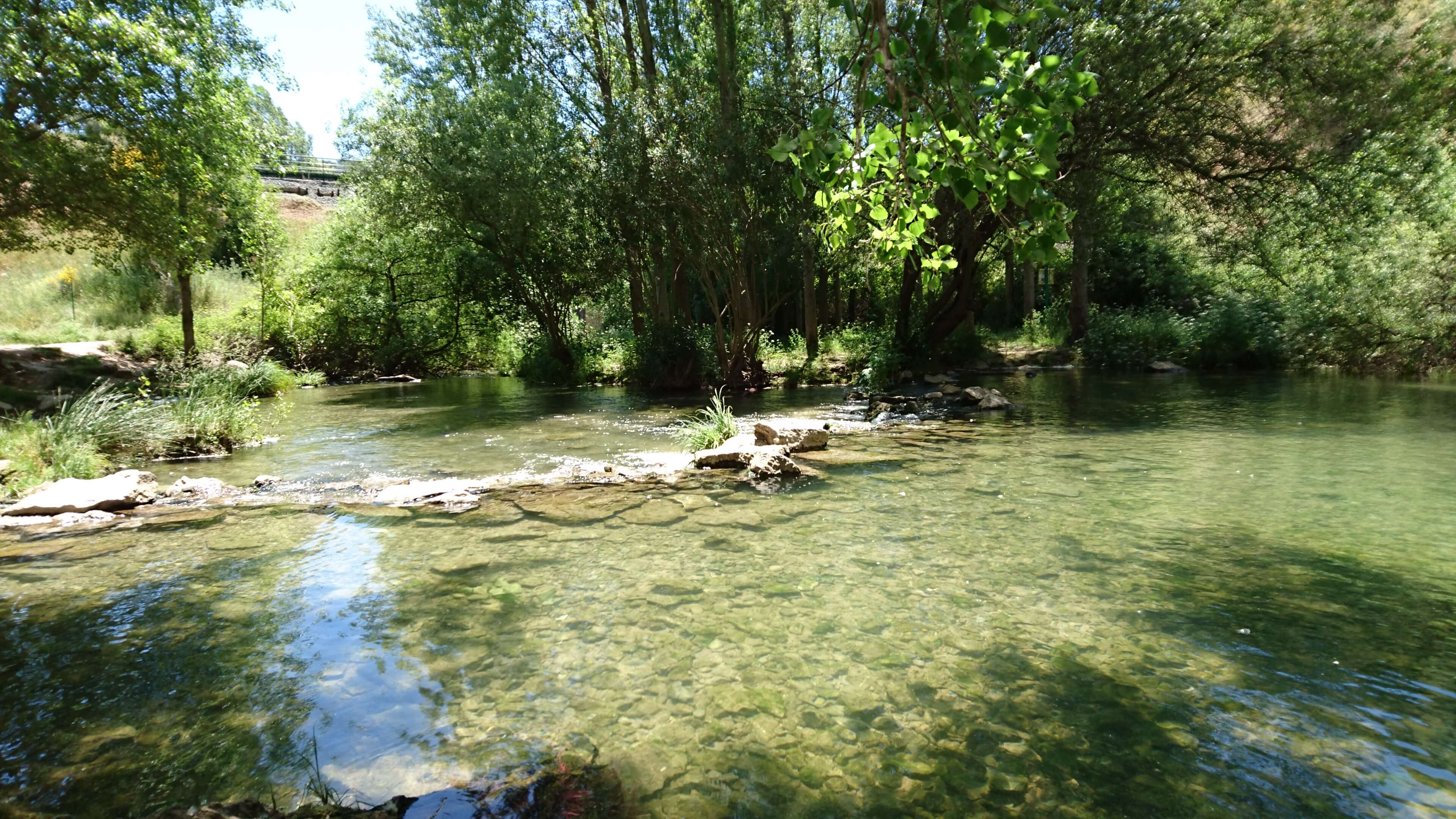 Cartajima to Ronda  - a 13km moderate+ walk (probably the hardest activity this week), heading up on barely used paths through remote countryside, over a dramatic limestone mountain and down directly into Ronda - rocky terrain and stunning views throughout.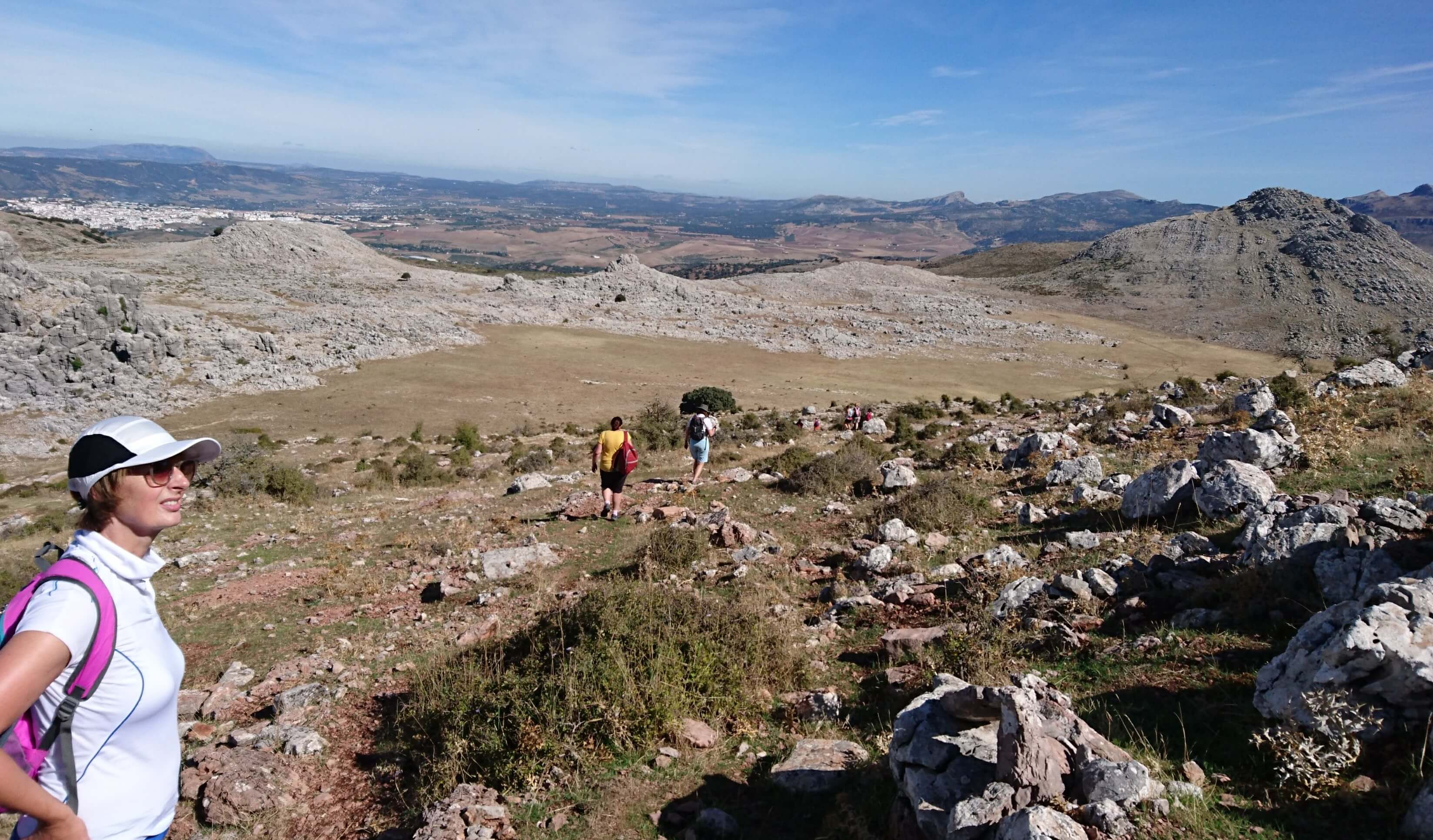 Lynette & Dom loved their week in Ronda. They enjoyed a great mix of stunning scenery and varied terrain, right on the doorstep of Ronda, whilst keeping the difficulty at a moderate level.
---
Whatever your ability, your preferred activity and the amount of time you have to spend, we can create a holiday to suit you. Our goal is to help anyone enjoy hiking and biking in this stunning area of unspoiled, natural beauty.
Centre-Based Hike and Bike holidays are available throughout the year for a minimum of 2 people. 
We also have lots of options for holidays and tours in Spain which are solely biking or hiking.
Heather Cooper, Hike + Bike the Sierras     8/6/2019