Hike + Bike the Sierras - About Us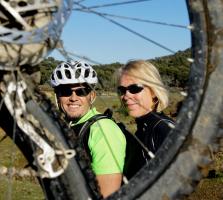 Hike + Bike the Sierras is run by English couple Heather Cooper and Wayne Pickering. 
"We first visited Ronda in 2012 and fell in love with the town and the surrounding countryside. We explored the area a little back then but found a distinct lack of accessible information, reliable maps or marked biking or hiking routes. We realised that there was untapped potential, so we returned to set up our business as guides and holiday hosts. Now we have the pleasure of introducing people to this wonderfully unspoilt landscape and the two protected Natural Parks which extend for many kilometres each side of the town."
Wayne is a fully qualified British Cycling Level 2 Mountain Bike Leader. He loves being out on his bike, both guiding rides or exploring new routes. He has unbeatable knowledge of the unmarked trails around the Serrania de Ronda, Grazalema Natural Park, Sierra de las Nieves Natural Park and down to the Costa del Sol.
Heather has a background in marketing and hospitality. She is British Cycling trained for Mountain Bike rides, assists Wayne on larger group rides and leads our walks. She enjoys building relationships with hotel and accommodation owners and coordinates all the details of our day trips and tours.
Why Hike or Bike with us?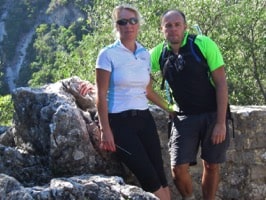 We are the only company in the Serrania de Ronda to provide a complete range of mountain biking, road cycling, e-biking and hiking options.
We have spent many hours exploring the region's varied terrain to find the best hiking and biking routes. These can now be enjoyed by all on our guided day trips and holidays or on self-guided tours. We use our unparalleled local knowledge to create well-thought-out routes and provide our self-guided guests with bespoke topographical maps, showing unmarked pathways, trails and local information. All our maps are supported by downloadable GPX files for GPS devices.
We also have support vehicles on hand to optimise our guided routes and provide back-up on our holidays and tours. 
Our Ethos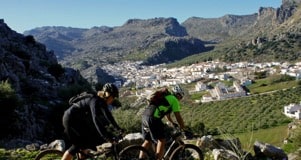 We love this region and it is a pleasure for us to create fantastic holiday experiences here. We believe that there is something for everyone to enjoy in terms of countryside, culture or history.
We also understand that visitors to the area have different levels of ability and experience or simply different goals in terms of the energy they wish to expend. Whatever the preference, we can tailor a tour or holiday to suit.
We can provide everything from easy, enjoyable family fun, to a leisurely-paced tour or a sporting challenge. We combine outdoor actvity with a taste of rural Andalucian life. 

 

Award-Winning Standards

We are proud to have won multiple travel industry awards and receive excellent reviews across all our activities on Tripadvisor. See Testimonials and feedback from our previous clients. We have been featured on the Channel Four TV series 'A New Life in the Sun', which shows many happy clients undertaking various tours and activities with us.

 

Registered and Qualified

Your safety and enjoyment are key to us. We are a fully accredited company, registered in Andalucia with the Spanish tourist authorities: Active Tourism registration No. AT/MA/00221. Our guides are qualified and trained with British Cycling, IMBA (International Mountain Bike Association) or MIAS *Mountain Bike Instructors' Award Scheme). All are certified Outdoor First Aiders.

Hike + Bike Milestones
March 2012 – we come on a 5-week holiday to Andalucia and stay in the village of Montejaque, 20 minutes' drive from Ronda in the heart of the mountains. Spanish lessons in the mornings and hiking or road cycling in the afternoon – what a place! We can see lots of potential mountain biking trails through the countryside but  we can't find any local guides to show us the routes  
April 2012 – we return to our lives in the UK with the germ of an idea to become mountain bike guides in and around Ronda. We train up as qualified British Cycling Mountain Biking guides and do First Aid training.
June 2012 – we set up home in Montejaque and Wayne begins extensive exploration of the local countryside – fun times!
September 2012 – our Hike + Bike website goes live; we begin with biking and hiking day trips and bike hire. 
March 2013 – we welcome our first hiking and biking holiday visitors – they travel to us from Germany, the UK and Australia and love what they see here.
July 2013 – we relocate to central Ronda, to be more convenient for visitors already in the town and to offer more accommodation choices for holiday guests.
June 2015 – the story of starting our new life and setting up our new business is featured in UK magazines, Adventure Travel and Woman's Own.
September 2015 – release of our Mountain Biking Holidays video on youtube
December 2016 – holiday sales double and day trip bookings continue to increase – we have welcomed guests from all corners of the globe and all ages (aged 2 and a half years to 93 years!)
December 2016 – we get married!
March 2017 – we win our first award: iGap Travel Award for Bike Tour Operator of the Year – Spain, 2017
March 2017 – our expanding bike fleet and the need for more space means another relocation, this time to Hacienda los Pinos, just outside Ronda. Mountain bike trails from directly behind the house .
June 2017 – release of our Self-Guided White Village Cycling Tours video on youtube. Helps towards a 121% increase in our holiday sales in the following year.
Autumn 2017 – we add to our awards tally: 
     Luxury Travel Guide Awards – Tour Operator of the Year, Andalucia, Spain 2018
     Travel & Hospitality Awards - Hiking Tour Company of the Year 2018, Spain
April 2018 – we add e-bikes to our bike fleet – a popular choice, as they open up the mountain trails and roads for people who might otherwise feel daunted by the hilly landscape.
October 2019 – although our website has been regularly updated with new tours and experiences, it is time for a full revamp. Our new, brighter website launches, including direct online booking.
2020/2021 - the covid years - the less said about those the better
Feb 2022 - we are featured on national TV in the UK Channel 4 series 'A New Life in the Sun'. Cameras followed us through the second half of 2021 to show how we rebuilt our business after covid shutdowns and the enforced closure of trading. 
You can watch our parts of the tv show on this video: