Mountain Biking, Cycling and Hiking in Andalucia
Active Turismo reg: AT/MA/00221
Discover Ronda in Spain: A Hidden Gem for Hiking and Biking Adventures
Explore Less-Travelled Trails with Hike and Bike Andalucía
Experience the thrill and serenity of hiking and biking in Andalucía with Hike and Bike the Sierras.
We are the foremost experts on biking and walking tours throughout Ronda, Andalucía, and its breathtakingly beautiful surroundings.
Traverse southern Spain's most exquisite cities, charming white villages, and pristeen landscapes that encant every adventurer.
Our Expertise Shines in Our Award-Winning Ronda Tours
Explore Andalucía in the most exhilarating way possible:
Mountain biking, leisure cycling, road cycling, and walking tours

Centre-based holidays and journeying from place-to-place

Guided and self-guided itineraries by our qualified mountain bike guides

Lesser-known routes unearthed by our locally-based specialists with over a decade of experience

Bespoke services that adapt to your preferences – our 'Bespoke comes as Standard' promise

A commitment to safety and enjoyment, fully accredited by the Spanish tourist authorities.
With Hike and Bike the Sierras, your adventure in Ronda, Spain, and Andalucía goes beyond the ordinary, taking you onto the region's less-travelled bike trails and walking routes.
Join us to hike and bike your way through the picturesque landscape that enchants every explorer.
QUICK LINKS FOR FASTER PAGE NAVIGATION:
Mountain Biking in Andalucía - Scenic Trails Far from the Crowds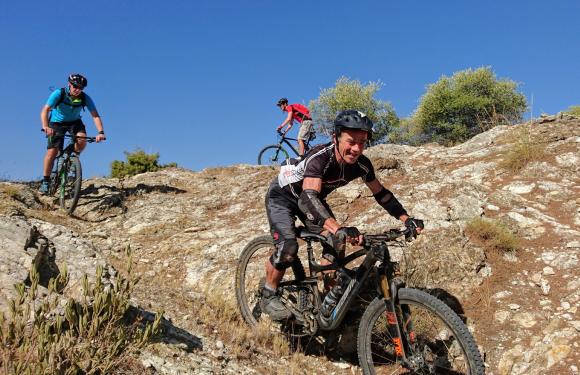 Our Mountain Bike Holidays and Mountain Bike Tours are your passport to the unspoiled natural trails of western Andalucía, a region rich in contrasting, dramatic landscapes.
We offer an enticing blend of single-track and double-track mountain trails, technical riding challenges, and miles of remote tracks through untouched terrain.
Our biking tours cater to intermediate and advanced mountain bikers, with equally rewarding routes for families and novices to off-road mountain biking.
Whether you are considering a mountain bike holiday in Spain, or you are already enjoying the sights and sounds of the Ronda area and fancy a day or two of mountain biking, we have an array of experiences awaiting you.
Leisure and Road Cycling in Andalucia: Traverse Timeless White Villages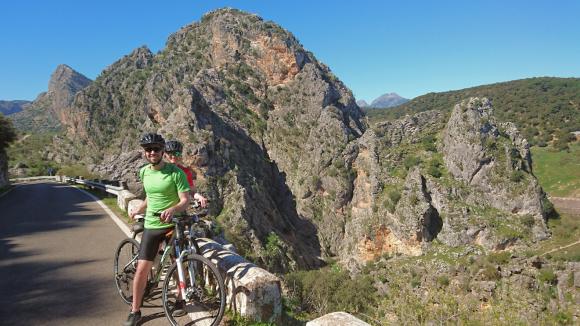 Discover the unspoiled countryside of Andalucia on our Cycling Tours and Cycling Holidays. Meander along country roads that twist and turn through picturesque landscapes, visiting white villages and historic towns, and into the heart of mountains, forests, and open countryside.
Choose from our single-day or multi-day Leisure Cycling Tours, using hybrid bikes designed to handle the hilly terrain with ease.
If you seek a greater challenge, our Road Cycling Tours in Andalucia provide more rigorous rides over multiple days, sure to satiate the adventurous spirit within every road cyclist.
Hiking in Ronda, Spain: Discover Majestic Mountain Trails at a Leisurely Pace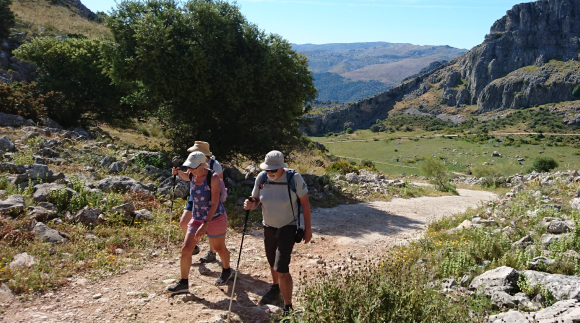 Our Walking Holidays and Walking Tours offer a unique opportunity to discover the untamed beauty of Andalucia's natural landscapes. The Serranía de Ronda and the nearby Natural Parks of Sierra de las Nieves and Sierra de Grazalema provide a tranquil retreat, far from the bustling coastal resorts. If you're looking for unforgettable hikes in Southern Spain, we have the local knowledge and expertise to ensure you have the best possible experience.
Explore these barely-trodden trails on our 1-Day Walking Tours or Multi-Day Walking Tours from Ronda and encounter a side of rural Spain that remains a hidden gem.
For those who enjoy both walking and cycling, our Hike + Bike Holidays blend these activities for a diverse, immersive experience.
E-biking in Spain: Embrace the Adventure with Less Effort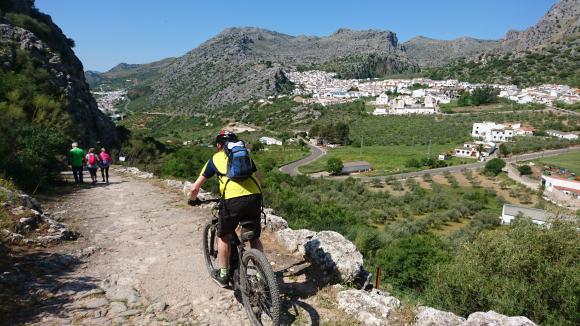 E-bikes present an excellent solution for those who wish to conquer hills and longer rides without sorry. Ideal for everyone, from beginners to experienced riders, our 1-Day Leisure and eMTB Tours are designed to optimize the e-bike experience.
E-bikes can be selected for any of our regular Cycling Holidays, Tours, or MTB Holidays and Tours, offering a more accessible way to explore.
Family Cycling in Ronda, Spain: An Unforgettable Adventure for All Ages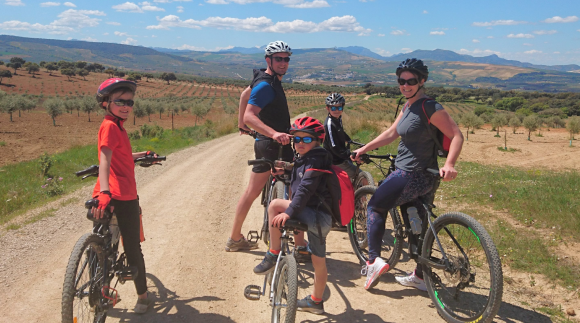 Join us in Ronda for an exciting day of family cycling through the picturesque countryside. With our selection of 1-Day Family Bike Rides that primarily avoid roads and traffic, you can enjoy a fun, safe biking experience with your kids.
Whether you're on a family holiday in Ronda or staying on the Costa del Sol, our family cycling days are an exciting adventure sure to delight the entire family.
We also offer Family Walking Days and Family Minibus Tours, each filled with intriguing sights guaranteed to provide a memorable day out for your kids.
Award Winning Tours & Service

We are proud to have won multiple travel industry awards and receive excellent reviews across all our activities on Tripadvisor. See Testimonials and feedback from our previous clients. We have been featured on the Channel Four TV series 'A New Life in the Sun', which shows many happy clients undertaking various tours and activities with us.

 

Registered and Qualified

Your safety and enjoyment are key to us. We are a fully accredited company, registered in Andalucia with the Spanish tourist authorities: Active Tourism registration No. AT/MA/00221. Our guides are qualified and trained with British Cycling, IMBA (International Mountain Bike Association) or MIAS *Mountain Bike Instructors' Award Scheme). All are certified Outdoor First Aiders.