Last of the Summer Rides
Summer Hiking and Mountain Biking Days in Spain
As the summer holidays draw to a close, we look back on some of the best hiking and mountain bike day trips that visitors to Ronda, Spain have done with us. Couples, families and friends enjoyed guided activities in the summer sun and, when some of our own family came to visit us in Spain, we took them out on a couple of mountain bike rides too  ;-)  
During the hotter summer months, our guided walks and mountain bike day trips take precedence over holidays and tours, so we get to meet lots of different people every day. We have a superb selection of 1-day or half-day tours to choose from, and they make a great addition to any holiday in Ronda, or on the Costa del Sol (only 50 minutes drive away) or if you are taking a longer tour of Andalucia and southern Spain. On these trips we share our unique knowledge of the area's hidden trails and chat with you about all things Andalucían. Read on for a selection of our hiking and mountain bike day trips on offer; click on the links to read more about each individual tour that is mentioned.
Walking the White Villages of Andalucia
At the beginning of the summer, Felipe and his family were touring Spain from the USA and came down from Seville for the day to walk with us – we did the route from the pretty white village of Montejaque to Ronda. The weather was a little on the dull side but it was warm and pleasant for walking. The family loved the tranquillity of the countryside and I enjoyed chatting to Felipe's children about their plans for the future.

School Trip & Family Days Out near Ronda
A few days later we took out a group from a school in the USA who were on an educational tour of Spain with the company Walking Tree Travel. We have worked with Walking Tree a couple of times before and are always happy to look after their groups. We have a well-practised set-up for them on or Ronda to Setenil de las Bodegas mountain bike ride, so had all 18 bikes ready and prepared for them at our base when their bus arrived from Granada. Bike-fitting was quick and straightforward and they were soon off on their adventure.

This Setenil mountain bike route is really flexible and, for larger groups like this, we allocate two guides so that we can split the group at different sections; some riders do an easier route, whilst others take a route with a few more hills and tracks. This way, everyone gets to have a great time.
Setenil is a perennially popular choice for families, and remained so this summer. It's an easy, enjoyable mountain bike ride day ride, and Setenil is an interesting village, with shops, bars and houses built like cavehouses into the limestone rocks. Even when we do some of our rides like this very regularly, every group that we ride with is different and has a different story to tell.  

Caroline and Bert from Belgium have recently bought and renovated a house in Ronda, so they were keen to explore the region beyond the town. We took them on the mountain bikes to Setenil and also on a walk through the Grazalema Natural Park.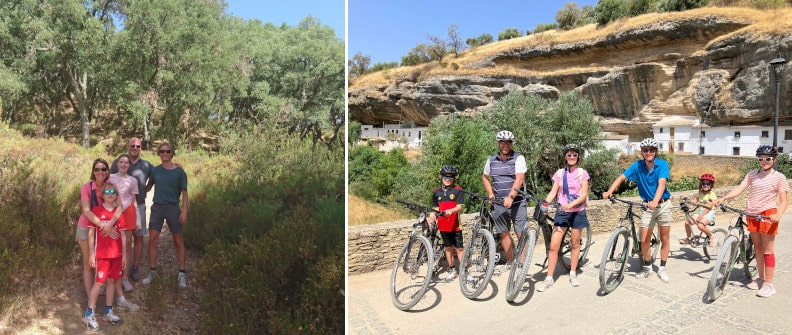 Hiking in the Serrania de Ronda Mountains
In between families and schools, we still have time to take out people who are looking for something a bit more challenging. One of our tougher day hikes was in the remote, rocky mountains between the village of Cartajima and Ronda ...
… and Ryan and Jenny did our more technical mountain bike trail along the  Banks of the Rio Guadiaro. This ride heads through forests near Ronda and then along a 7km section of twisting, undulating single-track above the Rio Guadiaro. It's a great ride for more experienced mountain bikers.

Mountain Biking near the Costa del Sol
We also regularly ride up in the fantastic Sierra de las Nieves National Park. This summer we guided Paul and his family, who were staying on the coast, on a mini eMTB tour and took David and his friends on our ever-popular Mountains to the Med MTB ride, from near Ronda down to the beach in Puerto Banus.

Cycling the Via Verde
Then we were re-joined by three families who were holidaying together near Ronda again. Last year they took part in the filming for Channel 4's 'A New life in the Sun' and this year they were all back and wanted to mountain bike again. So we took them up to the abandoned railway line at the Via Verde de la Sierra, where they enjoyed cycling through tunnels, watching vultures and enjoying riding along the smooth, easy track.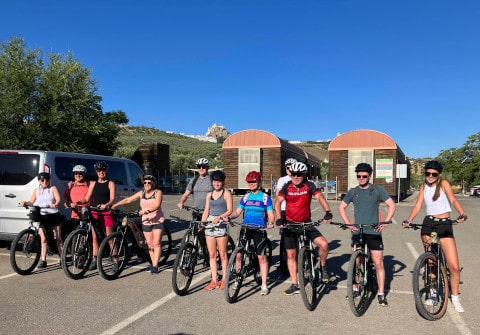 For a change of pace, Wayne took some e-MTBers up to some new trails near Cuevas del Becerro for a little singletrack fun. These routes haven't even been added to our website yet but proved popular with our adventurous mountain bikers, so are available for anyone who is interested in this type of riding.

He also led riders through the forested hills above the Costa del Sol, where they found a nice stream to cool off in…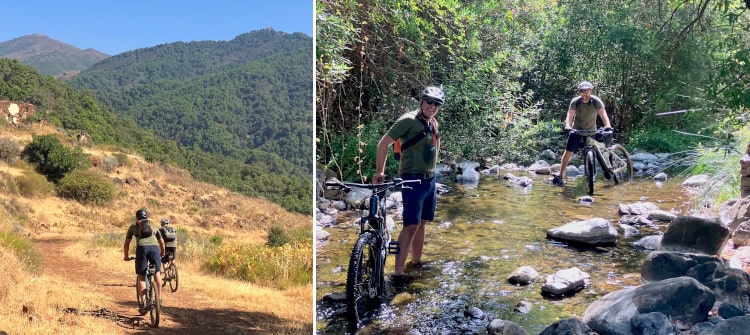 … and then he went off to the Grazalema Natural Park and to the Cueva del Gato with other riders.

When Wayne's daughter, her partner and a friend came to visit, we took them on a tour of Ronda and the immediate countryside. E-bikes were the right choice here, as we rode down into the bottom of Ronda valley, with a long, tough climb back out, but it's worth it for the best views of the Puente Nuevo bridge.

And then we took them on a more 'away from it all' trip, by heading up to El Burgo again.

Our day trips are certainly varied and there is something for every mountain biking or hiking taste.
Walks & Mountain Bike Routes in Spain
We have spent years building our knowledge of the tracks and trails across the region and love the variety of biking and walking that our area offers. On top of the fundamental trail variety, every season brings a changing atmosphere, and even when the weather is hot and the sun is strong, there are shady spots or streams to dip our toes in to cool off. Failing that, there is always a lcoal bar or café where we can sit back with a glass of something refreshing.
As we prepare for the coming Autumn season, we look back with a smile at all the biking and hiking we have done this summer and the customers we have met – thank you all for joining us!
Guided hiking and mountain biking day trips are available throughout the year – find out more about the different options Hike and Bike the Sierras Day Tours  and contact us direct for bookings and further information.
Heather Cooper, Hike + Bike the Sierras    27/8/2022