The 5 Best Cross-Country Mountain Biking Routes in Andalucia
Andalucia is a region in southern Spain that is quickly gaining the reputation it deserves as a haven for outdoor enthusiasts, especially mountain biking enthusiasts. With its diverse landscapes ranging from rugged mountains to picturesque lakes, Andalucia offers exhilarating trails that cater to riders of all levels.
There are countless incredible cycling routes in Andalucia, making the region a mountain biker's paradise. Any list of the 'best' MTB routes will be subjective, but that's not to say that everyone's opinions are equally well-informed… 
That's where we come in!
Here at Hike and Bike the Sierras, we research and ride every single route we offer on our range of MTB Tours in Andalucia. We like nothing more than to feel the routes as real mountain bikers — because that's who we are as a company. We love seeking out and cycling the most interesting routes!
This approach differs from many other companies that plot their routes on GPS maps. We believe that no technology can substitute the experience of riding through the rugged mountainsides of Andalucia, seeing, breathing, and absorbing the atmosphere firsthand. 
This guide is a summary of five of our favourite cross-country rides that cover all levels of mountain biking in Andalucia. Look out for our upcoming blog about multi-day routes, which offer incredible routes that you won't find in any guide book.




If anything here inspires you to explore the sunbaked Andalucian countryside with us, click on one of our tour links and please feel free to

get in touch

if you have any questions.





Cycling Along Via Verde de la Sierra

Located in the province of Cadiz, Via Verde de la Sierra is a former railway line converted into a scenic cycling route. This 36-kilometre trail winds its way through breathtaking landscapes, including deep valleys, limestone cliffs, and olive groves. 
The relatively flat terrain makes it suitable for riders of all abilities, from beginners to experienced cyclists. This makes for a great family ride! There are 20 tunnels and four viaducts — these are the parts children usually like best!
If you'd like to explore this route with us, check out our MTB cycling tour of Via Verde de la Sierra. It lasts around 3.5 hours and you will cover the entire 36 km route. For many guests, the highlight is the griffon vulture colony the route passes through. Keep an eye out for these majestic birds. 
Cycling Setenil de las Bodegas

Nestled within the Sierra de Cadiz mountains, the town of Setenil de las Bodegas (often just shortened to Setenil) is famous for its unique architecture, with houses built into the limestone cliffs.
Setenil is also known for its fantastic countryside tracks that make for excellent mountain biking trails. Setenil provides an almost limitless range of routes, from gentle rides through the surrounding countryside to more challenging trails for seasoned riders. You can explore the area's stunning landscapes, dense forests, and rolling hills, all while immersing yourself in the rich cultural heritage of this historic town.
We have designed an MTB tour Setenil de las Bodegas that is easy enough for most casual riders to enjoy, yet there are also route options for mountain bikers who are looking for a few more rugged trails. This is a very special part of Andalucia and we wanted the most people possible to experience it by mountain bike. It really is the best way to explore the area!
Mountain Biking in Grazalema Natural Park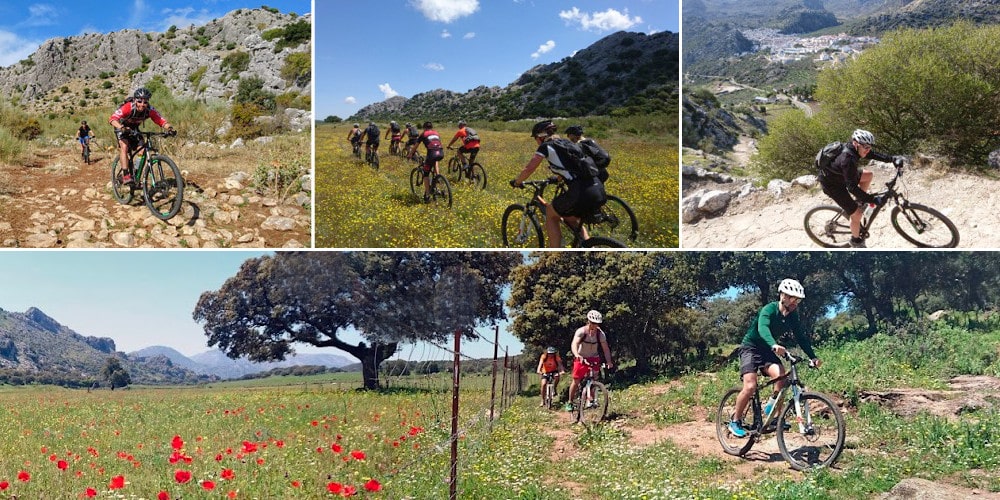 Grazalema Natural Park is located in the province of Cadiz, and it is a mountain biker's paradise. This UNESCO Biosphere Reserve boasts a network of trails that wind through its rugged peaks, deep gorges, and lush green valleys. 
The park offers trails for all skill levels, from leisurely rides to demanding downhill descents. As you navigate the trails, you'll be treated to breathtaking views of limestone cliffs, pristine rivers, and charming Andalusian villages.
Our 3-hour MTB tour of Grazalema Natural Park is designed for beginner mountain bikers who would like to develop a few skills, or we can add in distance and difficulty for more experienced riders who want to get out into this under-explored and little known park.
Cycling the Malaga Lakes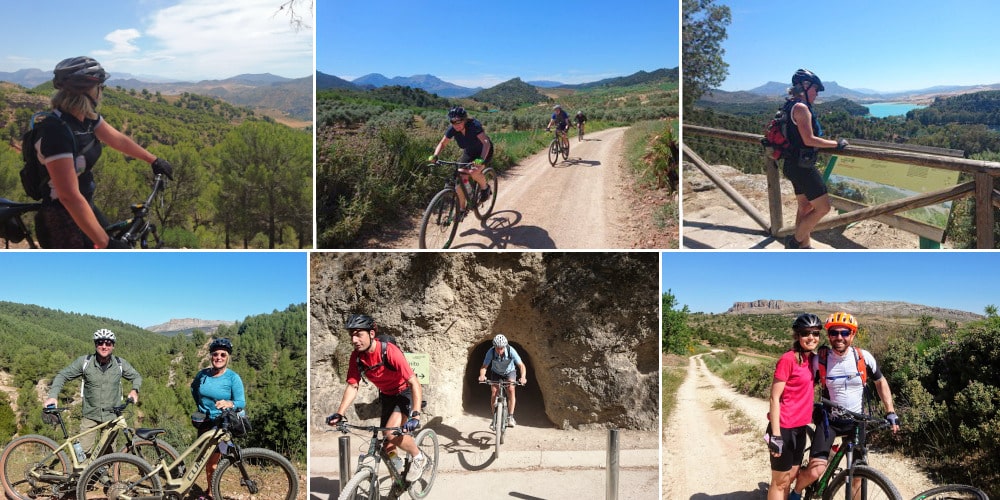 Situated on the skirts of the Sierra de las Nieves Mountains, this region is a hidden gem for mountain biking enthusiasts. This area is known for its crystal-clear lakes, dense pine forests, and magnificent mountain vistas. 
The trails here cater to all abilities, ranging from easy rides along the lakeshores to more challenging routes that traverse the rugged mountain terrain. With its serene ambiance and diverse landscapes, the Malaga Lakes offer an unforgettable mountain biking experience.
This MTB tour of Malaga Lakes and El Chorro ride is a long-distance route that takes guests from near Ronda all the way to the Malaga Lakes. This is the route for you if you want to cover lots of ground and enjoy hilltop views for miles around.
Cycling in Sierra de las Nieves National Park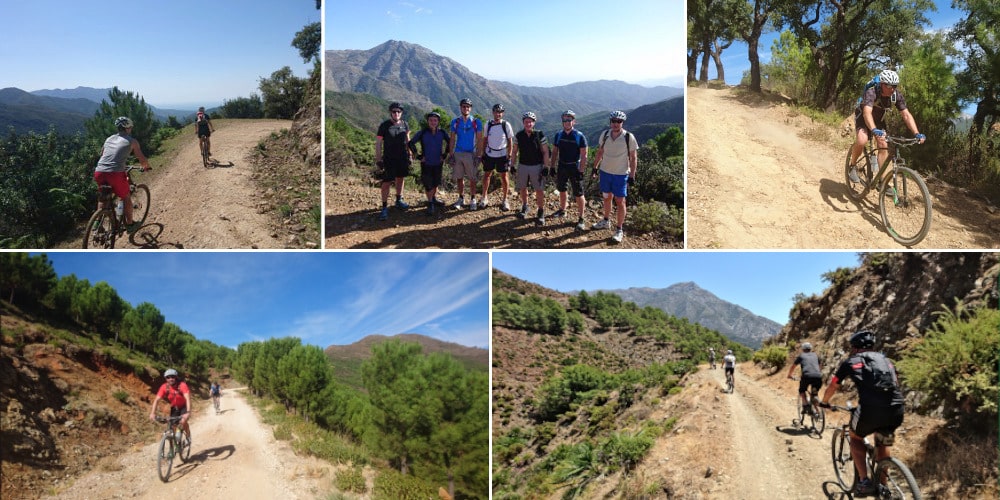 Last but not least, Sierra de las Nieves National Park is a must-visit destination for more experienced mountain bikers looking for a challenge. This protected area, located inland, north of the Costa del Sol and beach resorts. It is home to diverse flora and fauna, including the rare Abies Pinsapo, also known as the Spanish Fir. 
The park offers a range of trails, from smooth forest paths to technical singletracks that will test your skills. As you explore the park, you'll be rewarded with stunning panoramic views and cascading waterfalls.
Our MTB tour through Sierra de las Nieves National Park is 36 km and takes approximately 3 hours. This tour mostly follows an old drover's route through the landscape called Puerta Verde de Marbella. 
The route's difficulty is intermediate but all of the effort is worth it when you arrive at the beaches of the Costa del Sol on the other side. At the highest points on this route, on clear days, you can see Gibraltar and even the distant coastline of Morocco. 
Andalucia's diverse landscapes and consistent climate make it the ultimate destination for mountain biking enthusiasts, whether you're a beginner looking for leisurely rides or an experienced rider looking for good entry-level routes. 
So, gear up, hop on your bike, and get ready to explore the stunning Andalusian countryside on two wheels! And if you have any follow-up questions for us, please don't hesitate to get in touch. We're always happy to help.