Cycling Day Tours - The Best Days Out from Ronda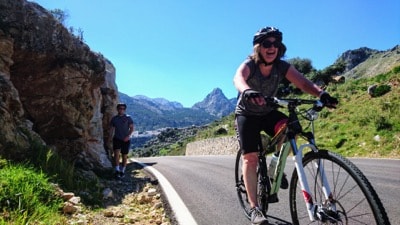 One-Day Bike Tours in Andalucia
Want to explore the sweeping mountain roads and white villages near Ronda by bike? Or cycle to a winery ("bodega") for a vineyard tour and wine tasting? Then join us on a guided cycling day tour. 
Our cycling day tours are designed to be enjoyable and satisfying days out without requiring extensive road riding experience. We use quiet, traffic-free roads as much as possible and the scenery is fabulous. Due to the mountainous terrain in this area, most cycling day tours include some hill climbing but your fully qualified British Cycling / IMBA guide will help you with the hill climbs and ensure you have a safe, enjoyable and fun day out.  

Hybrid Bikes or Electric Bikes
We provide a quality 29" wheel hybrid bike or, if you feel you want some more help on the hills, we can provide e-bikes. Note: We also have tours specifically for e-bikes read more here.
Flexible Booking Schedule for Guided Cycling Tours
Simply let us know the date you wish to ride and your chosen cycling route from those featured below. Not sure which ride to pick? Then let us know the distances/ascent you are used to cycling and we will make a suggestion.
Prefer Self Guided Cycling with  
Look for the GPS symbol for our routes which are adaptable for riding self guided.  You can take yourself off for the day with no need to hurry and plenty of time to enjoy the scenery, local culture and maybe a tapas or two along the way. We don't operate shop hours so you can spend as long as you like on the tour and return the bikes to us when you are finished. For self-guiding we provide a detailed map and we pre-load your chosen route on to one of our easy-to-use Garmin GPS devices so you dont need to worry about finding your way. 
Select any of our Cycling day trip routes below to see more information and photos: