Summer Holiday Days Out
6 Best Days Out - Costa del Sol and Ronda
If you are holidaying in southern Spain or on the Costa del Sol, the town of Ronda is the perfect start-point for activities to suit all interests and tastes; some are fun for all the family, whilst others are more for the 'grown-ups'.
The picturesque white town of Ronda is located less than an hour's drive from the Costa del Sol, perched on a clifftop, surrounded by mountains and acres of unspoiled countryside. From here you can enjoy any number of activities: visit prehistoric caves or go on a bike ride, tour a local winery or visit Roman ruins, take a hike in the forest and much more. Below are some of our favourite suggestions.
1. Family Bike Ride - Via Verde de la Sierra
Enjoy some rural countryside and the fun of riding through floodlight tunnels on an easy bike ride along a disused railway line which has been converted into a safe cycleway. The Via Verde de la Sierra runs for 36km, through 30 tunnels and over 4 viaducts. There is a Griffon vulture colony halfway along, where you can see dozens of huge birds circling in the sky above the track. It's a great day out for all the family.

Hike and Bike the Sierras offer a day trip from Ronda (or other nearby locations) which includes transfers to and from Ronda and bike hire (with helmet and water bottle). Bikes available for adults and kids, plus a tag-along or child-seat for smaller guests. Family discounts apply. See link to read more:
2. Pileta Cave Tour
Marvel at the paintings of prehistoric cave-dwellers in the Pileta Caves. Walk through a mile of tunnels and caverns, surrounded by stalactites, stalagmites and a collection of ancient drawings from 40,000 years ago.

You can visit the Pileta Cave and also the scenic Cueva del Gato ('Cat Cave'), a local beauty spot with a waterfall and clear water pool, on a bike tour or, for the less energetic, a minibus tour. See links to read more:
Pileta Cave & Jimera Cycling Tour
3. Acinipo Roman Ruins & Cavehouse Village
Explore ancient settlements at the ruins of the Roman town of Acinipo and the cavehouse village of Setenil de las Bodegas.
Acinipo, otherwise known as 'old Ronda' was built high on an escarpment more than 2,000 years ago to house retired Roman soldiers. Its 2,000-seat amphitheatre still has great acoustics – stand on the stage and try out your best speech to reach the audience in the gallery.
Wander around the narrow streets of the unusual village of Setenil, where ancient civilisations used the natural, limestone overhangs along the river Trejo to build cavehouses, which are still used today as shops, houses and cafes.

Hike and Bike the Sierras offers road cycling tours that include both sites or, for an easier bike ride which is suitable for all the family, ride through lovely countryside to visit Setenil. Stop in a cavehouse café for refreshments before returning to Ronda by minibus. For anyone who enjoys mountain biking, an alternative route takes in some great off-road trails on the way to Setenil.
Cycling - Acinipo & Setenil Circular
Mountain Biking - Ronda to Setenil 
4. Ronda Winery Tour and Wine Tasting
Visit an organic winery on hillsides near Ronda for a guided tour, wine tasting and optional traditional lunch. The Joaquin Fernandez Bodega is located within easy reach of Ronda and tours of the winery are led by a member of the family who own and run this small, award-winning bodega.

Cycle or walk from Ronda to the bodega:
5. White Villages Minibus Tour
Sit back and relax on guided minibus tours which visit local sights of interest. Take in two of the prettiest white villages of Grazalema and Zahara de la Sierra or visit Acinipo and the Pileta Cave. Visit a bodega or combine a scenic mountain drive with an easy nature walk in Spain's newest National Park, the Sierra de las Nieves.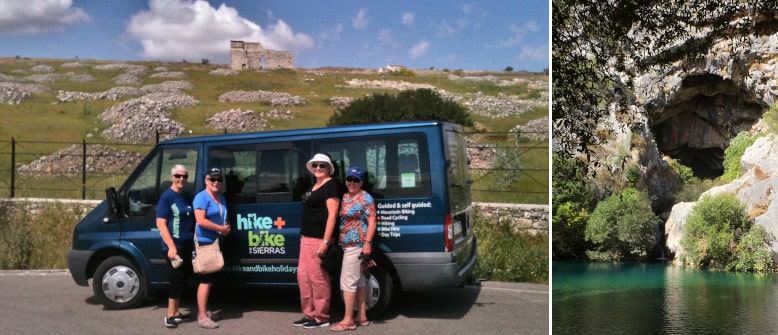 Whichever you choose, you will travel through beautiful scenery and learn about local culture and history in this undiscovered corner of Spain.
6. Mountain Bike Ride or Hike in Grazalema Natural Park
Burn off some energy on a bike ride through the Sierra de Grazalema Natural Park. This area of outstanding natural beauty is peaceful and unspoiled, with miles of tracks through the mountains, valleys and oak forests. It's a great place for improving basic mountain bike skills or simply having a blast on a bike. You will also see hidden areas of countryside that most visitors to the area never get to enjoy.

Hike and Bike the Sierras organise guided mountain bike rides from moderate to challenging level and also easy guided walking trips through the Sierra de Grazalema Natural Park.
Discover more about Hike and Bike the Sierras day tours and holidays or contact us direct for bookings and further information.
Heather Cooper, Hike + Bike the Sierras    17/7/2022