5 Best Walks Around Ronda, Spain
Are you looking for the best walking routes in Serrania de Ronda? Hike+Bike the Sierras is here to help!
We have spent countless hours exploring the region's varied terrain to find the best hiking and cycling routes.
The result is an unrivalled range of walking day tours from Ronda, multi-day walking tours in Andalucia, and an array of biking trails too!
Walks through southern Spain's stunning landscapes, beautiful white villages, and exquisite cities are as thrilling as they are serene.
It's impossible to choose a definitive five best walks around Ronda, so we've picked a handful of our favourites that will appeal to hikers of every level.
So lace up your hiking boots and let's get started! And if you have any questions for us as we go, please don't hesitate to get in touch.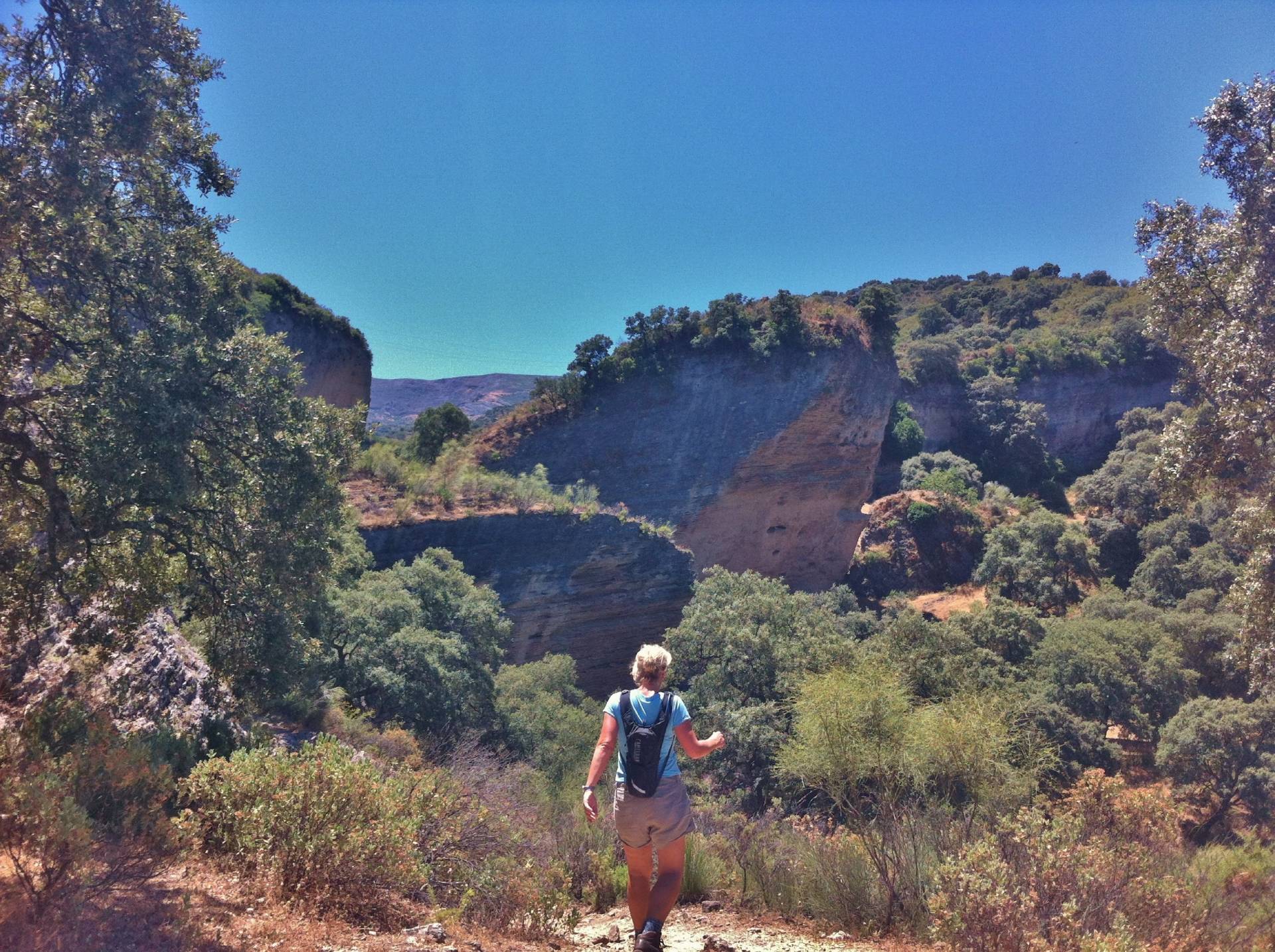 Tajo del Abanico Gorge Day Hike (Easy)
If you're looking for a delightful and leisurely stroll through picturesque Andalucian countryside, the Tajo del Abanico Gorge day hike is the perfect choice. 
This enjoyable circular walk boasts incredible views of the plunging El Tajo Gorge and the iconic Puente Nuevo, a remarkable feat of engineering spanning the gorge itself.
The route starts in Ronda and ventures out into the nearby countryside where you can enjoy scenic views, olive groves, oak forests, and striking limestone formations.
But there's so much more to take in too, including old churches, white-washed houses, wonderful cobbled streets, and mesmerising meandering paths.
The walk has an elevation gain of 281m, and at 8 km in length, it takes between two and three hours to complete.
This is an excellent introduction to the region's beauty and natural wonders.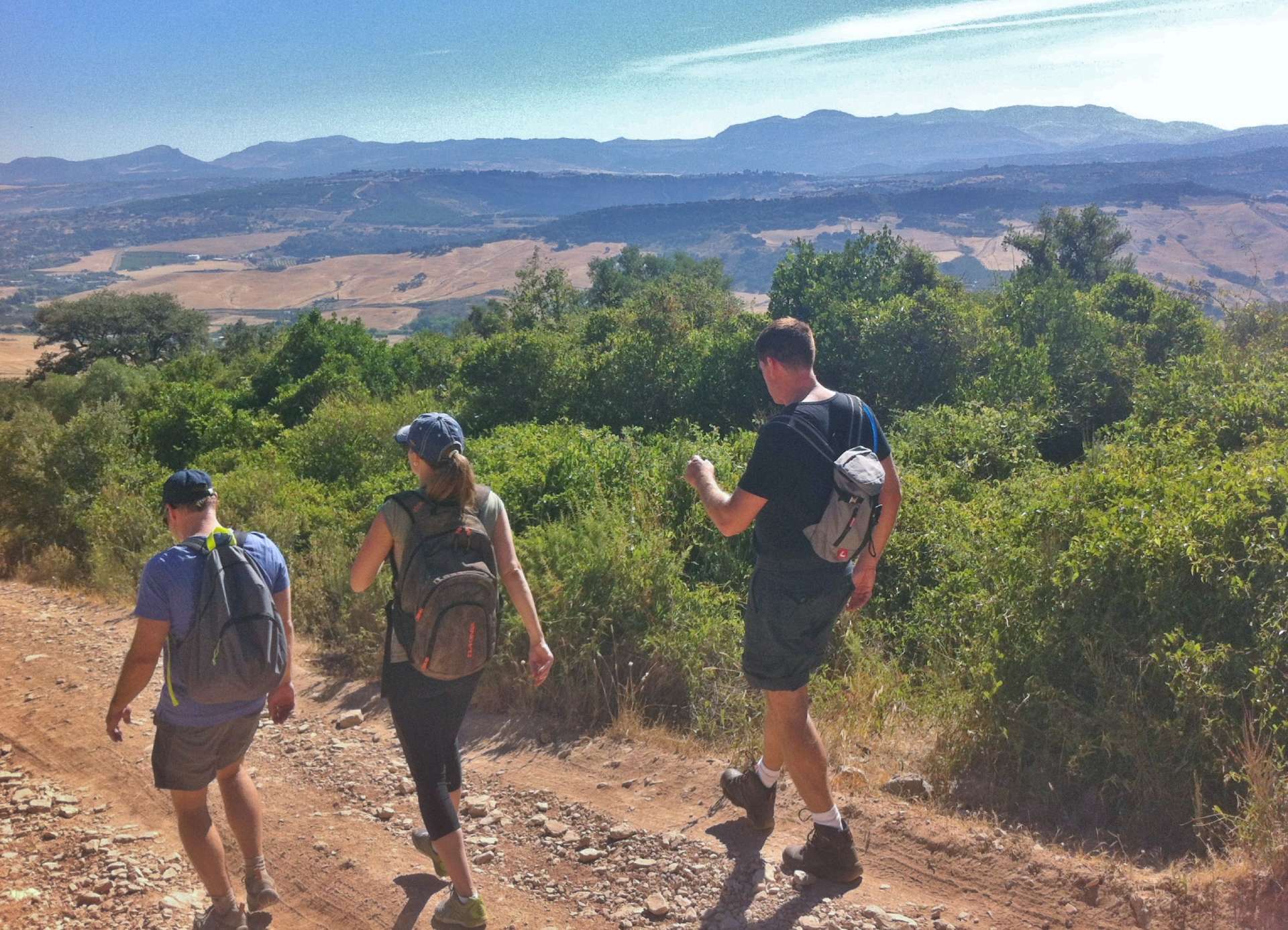 Montejaque to Ronda Day Hike (Moderate)
Looking for a more challenging adventure? Hiking from Montejaque to Ronda is just the ticket. 
Montejaque is a breathtaking white village nestled in the rocky mountain peaks at the edge of the Sierra de Grazalema Natural Park.
And it's in these stunning surroundings where our Montejaque to Ronda day hike begins.
When you join this walk with Hike+Bike the Sierras, we drive out to Montejaque and soak in its atmosphere and picture-perfect sights.
We then follow the same pathways through the mountains that led villagers from Montejaque to Ronda centuries ago.
Along the way, we marvel at the remarkable views of rolling hills and sweeping valleys that have long enchanted adventurers and locals alike.
This route re-enters Ronda at the base of the gorge, providing amazing views of the Puente Nuevo Bridge.
This day hike has an elevation gain of 394m. At 11km long, it takes around three to four hours to finish.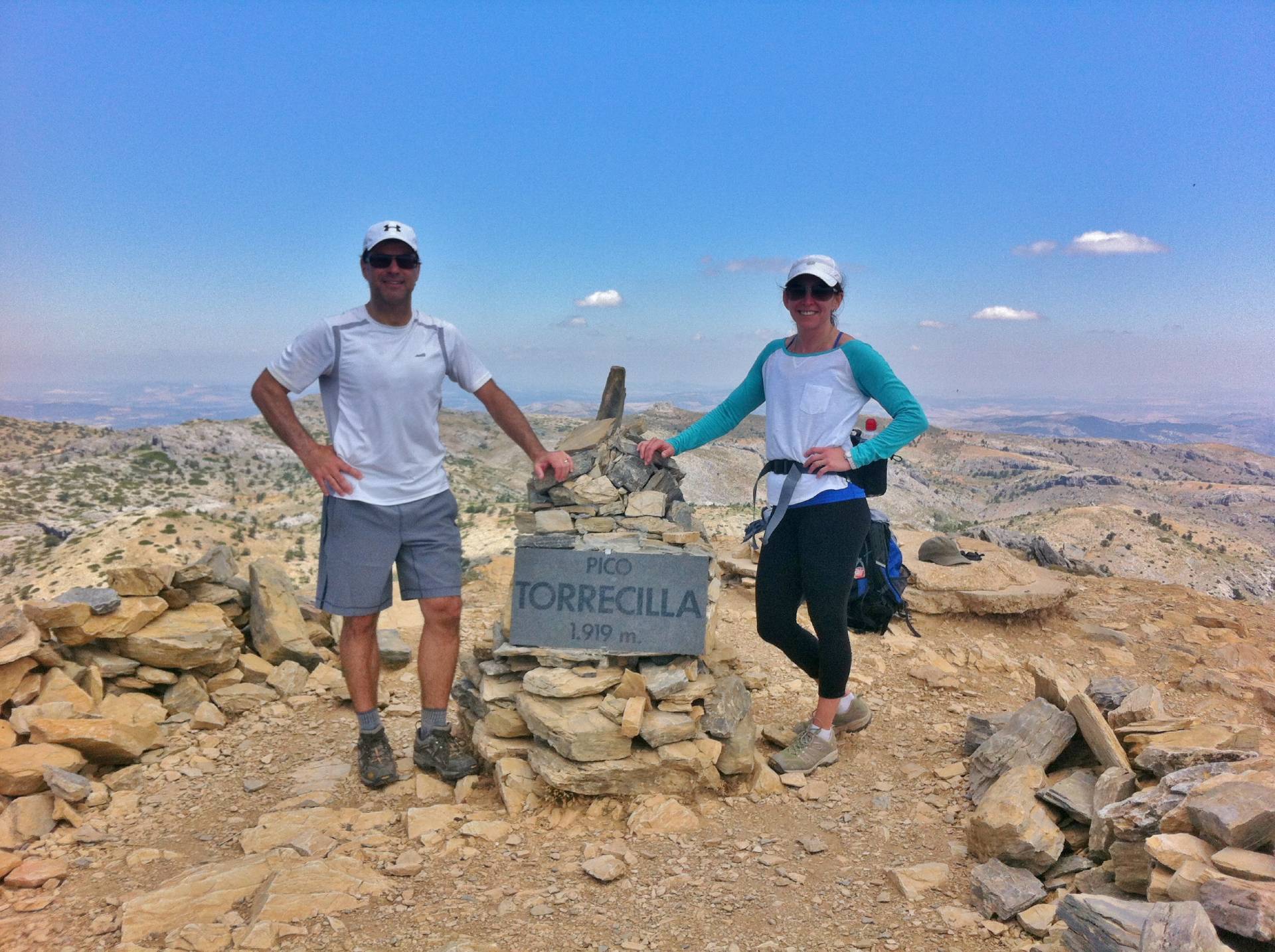 Torrecilla Ascent Day Hike (Challenging)
For seasoned hikers seeking a challenge, the Torrecilla Ascent day hike promises an unforgettable experience. 
Standing at 1,919m, Torrecilla is the highest peak in Western Andalucia.
The overall elevation gain of our route is 823m, so it's much more demanding than the two hikes mentioned above.
The trail to the summit is mostly small paths through a pine forest before reaching a plateau. A final steep ascent then leads to the peak.
But the effort comes with the reward of awe-inspiring views in all directions.
We even recommend bringing a picnic so you can refuel while taking in the panoramas across the Sierra de las Nieves Natural Park, out to the Mediterranean Sea, and even over to Africa.
The Torrecilla Ascent is 16km and takes around four to five hours to complete.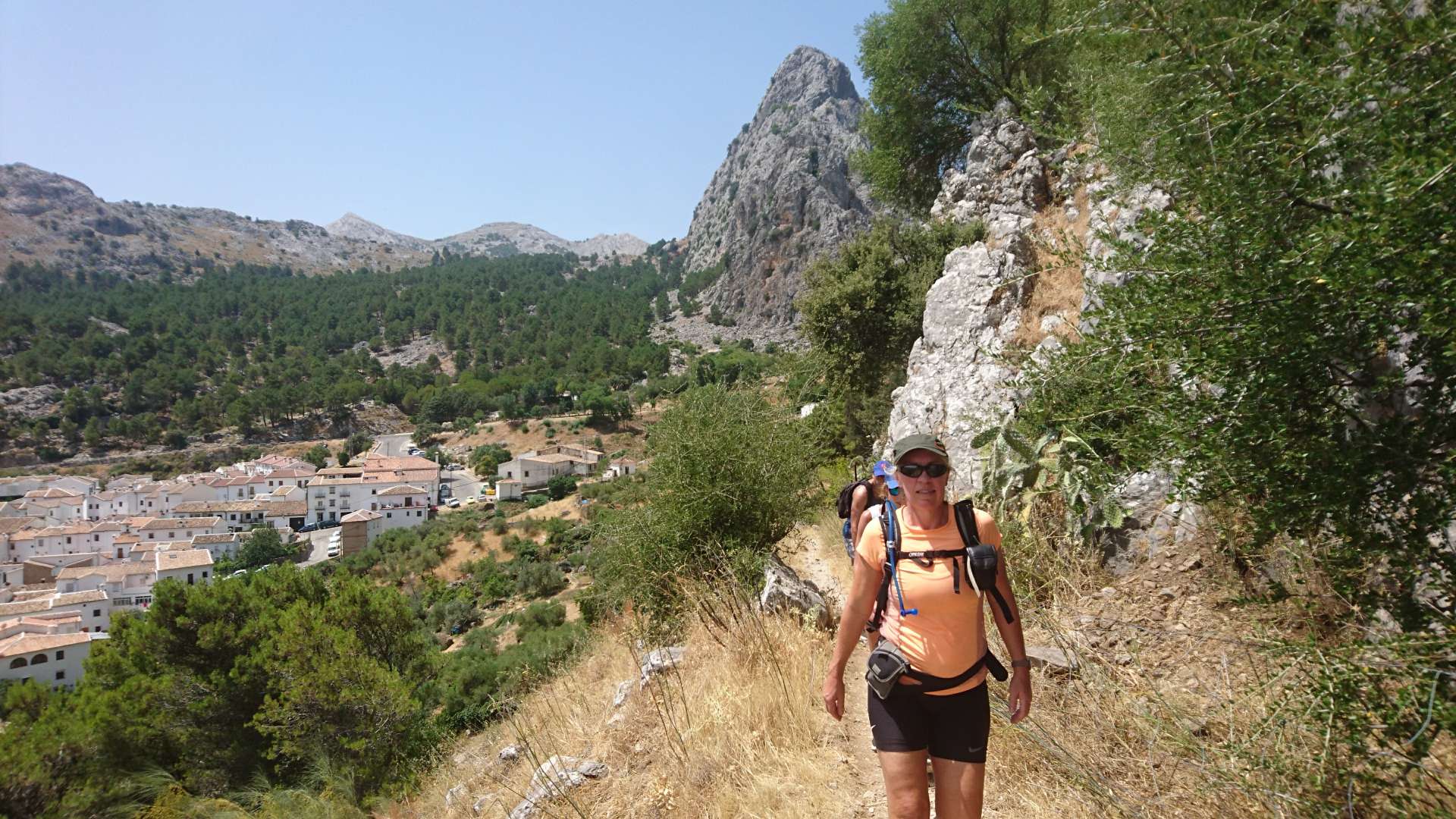 Grazalema Natural Park 5-Day Walking Tour
If you have more time to spend in southern Spain, our multi-day walking holidays are a gateway to discovering the wonders of Ronda and the Andalucian countryside.
For example, our Grazalema Natural Park 5-day walking tour lets you explore one of our region's most popular protected environments.
Day 1: Ronda to Montejaque
You can choose between a 17km or 20km route on day one of this hike.
Highlights include:
Tajo del Abanico (The Fan)

Small mountain streams

Wonderful open pastures

Walking beside the Guadiaro River

Cueva del gato

Montejaque
Day 2: Montejaque to Grazalema
On day two, you will walk a further 16km into the heart of the Sierra de Grazalema Natural Park, a protected area of natural beauty set over a sprawling 52,000 hectares.
Highlights include:
Following historic routes through limestone peaks to remote villages

Passing through a secluded "Hidden Valley" surrounded by oak forests

The opportunity to see Iberian pigs, wild ibex, and deer in their natural habitat

Visiting the village of Grazalema, known for its weaving industry

Grazalema's central square, lined with grand, large porticoed houses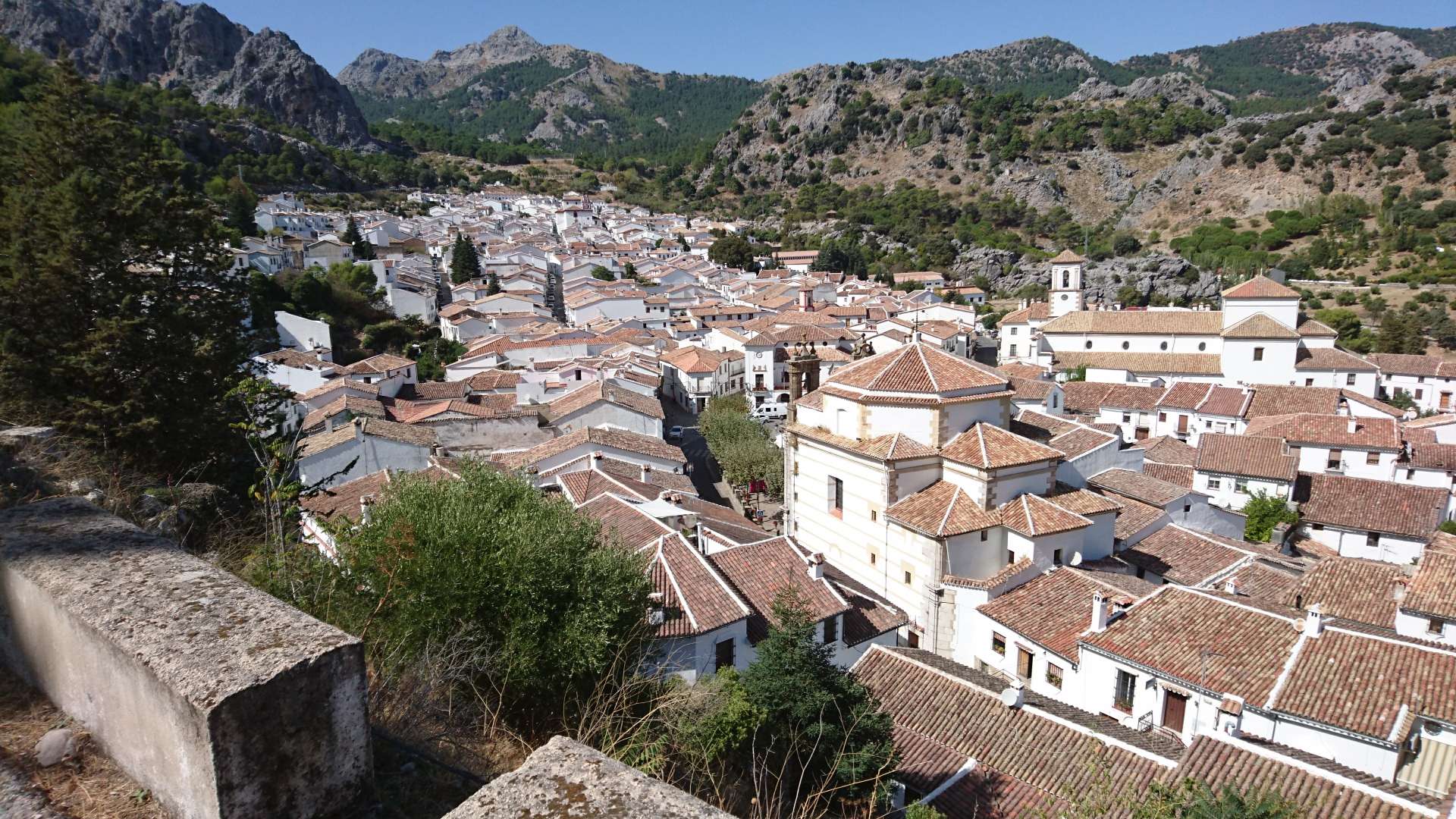 Day 3: Grazalema Circular
At the midpoint, there's a more modest 10 km to tackle!
This circular route ventures up into the mountains overlooking Grazalema to the north and south.
Expect jaw-dropping views of the Grazalema Natural Park before heading to a scenic reservoir.
Day 4: Grazalema to Montejaque
On day four, there's a 16 km route back to Montejaque through the natural park to enjoy.
We pass along trails that typically see very little use. There's ample shade along the way provided by the cork oak forest.
Day 5: Montejaque to Ronda
We complete the Grazalema Natural Park 5-day tour with a further 14 km.
One of the highlights of the final day is walking to the foot of the dry and abandoned Hundidero dam.
Standing in the shadow of the towering wall is a truly unique experience!
After climbing out of the valley, we return to the pleasant countryside outside of Ronda before ending the walk at the base of the town's famous gorge and Puente Nuevo.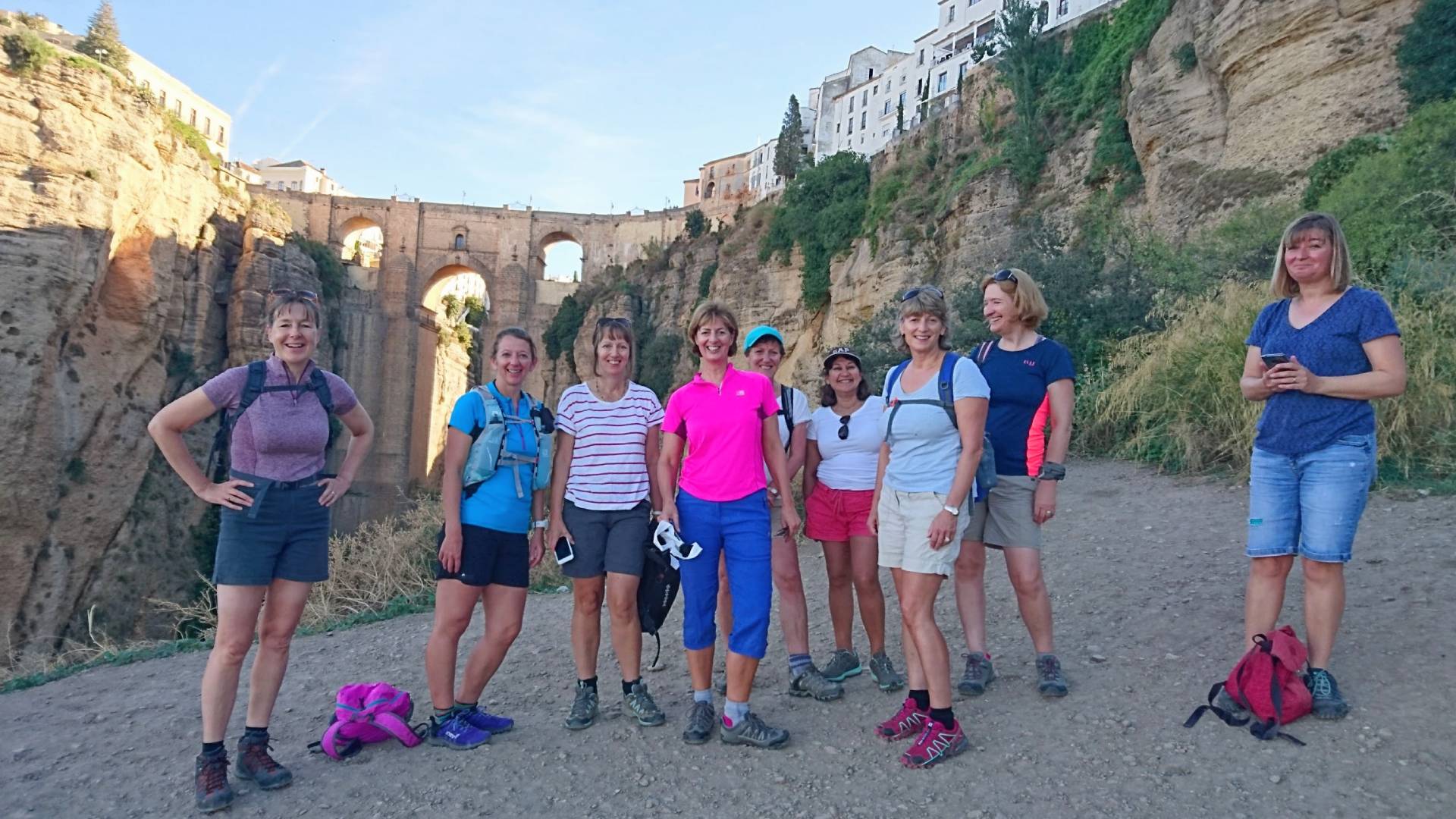 Serrania de Ronda 7-Day Walking Tour
For a full week of Andalucian exploration, look no further than this self-guided adventure:
Day 1:

Algatocin to Gaucin (14km)

Day 2:

Gaucin to Cortes de la Frontera (14km)

Day 3:

Cortes de la Frontera to Montejaque (18km)

Day 4:

Montejaque to Grazalema (16km)

Day 5:

Grazalema Circular (10km)

Day 6:

Grazalema to Montejaque (15km)

Day 7:

Montejaque to Ronda (14km)
Please head to the 7-day Serrania de Ronda walking tour page for a more detailed itinerary.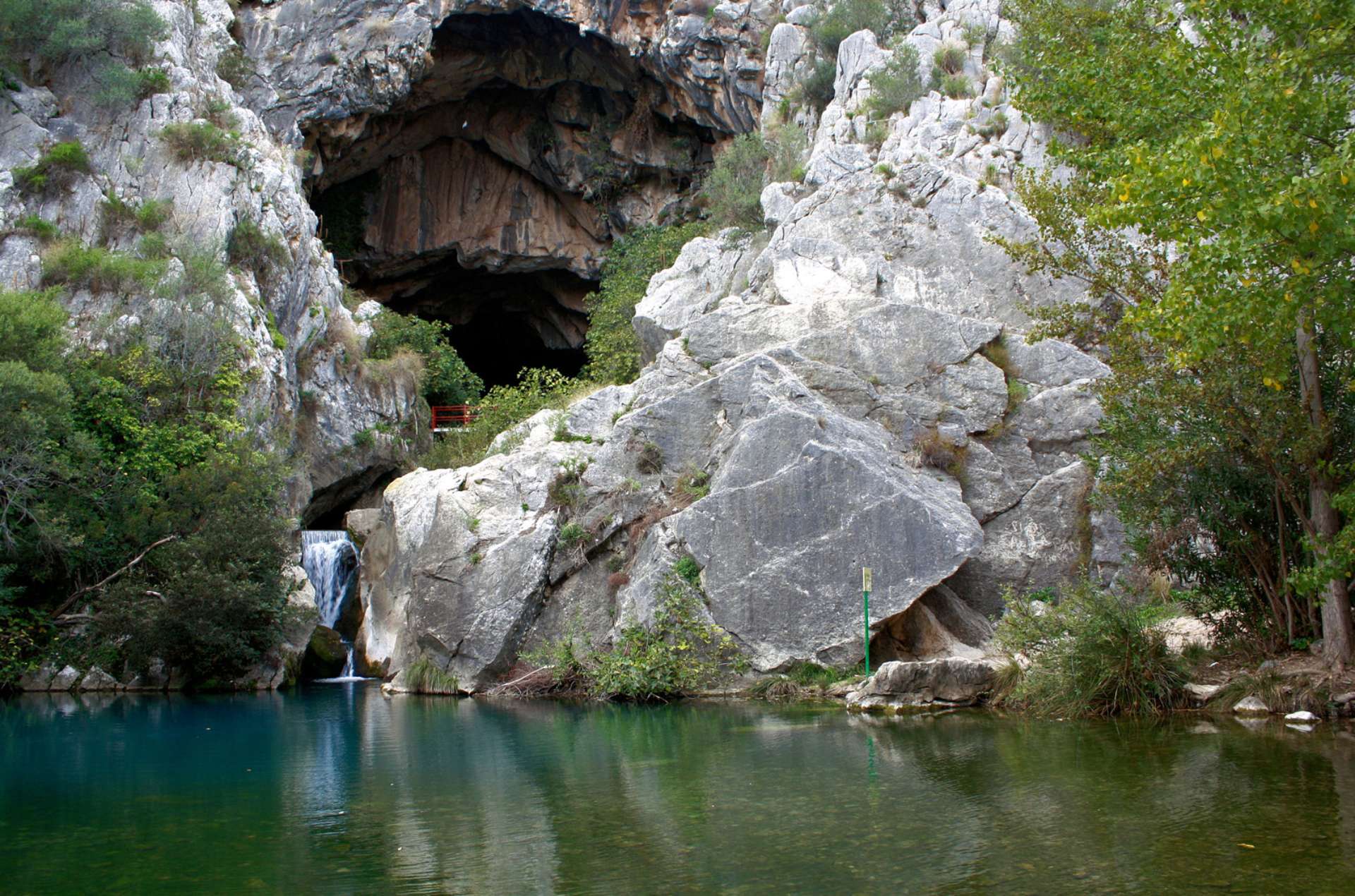 Discover the Best of South Spain on Our Active Tours in Ronda and the Surrounding Areas
Has this list of the 5 best walks around Ronda, Spain, inspired you to visit?
Browse our range of walking day tours from Ronda and our multi-day walking tours in Andalucia to find out more about the adventures waiting for you here.
And don't forget, we also offer mountain bike tours from Ronda and much more!
For more information about any of our excursions, please get in touch.