Walking Day Tours from Ronda - Following Ancient Andalucian Trails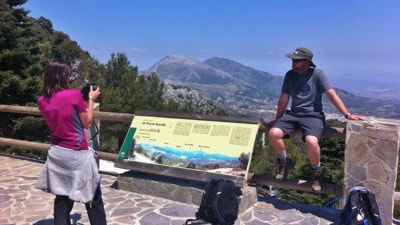 Guided One-Day Walking Tours in Spain
Want to explore the countryside near Ronda on foot? Then join us for a day on a guided walk.
Ronda sits in the heart of the countryside, surrounded by beautiful scenery. The area is filled with tracks and trails, making ideal walking routes between picturesque white villages and unspoiled landscapes. Many of the loveliest routes, recommended by local guidebooks, are linear or point-to-point and cannot be done without vehicle support. We offer this support, together with experienced local guides, to provide the best walking experiences in the area. N.B. this is a hilly region, so all walks will include some hills, even the 'Easy' ones.
Flexible Booking Schedule for Guided Walks 
We are very flexible in our scheduling and don't run set trips on set days - we book on a first come, first served basis for a minimum of 2 people. If you are solo we will try to find a suitable day tour for you to join.  
Select any card below to read more:

Award Winning Tours & Service