Walking Day Tours from Ronda - Following Ancient Andalucian Trails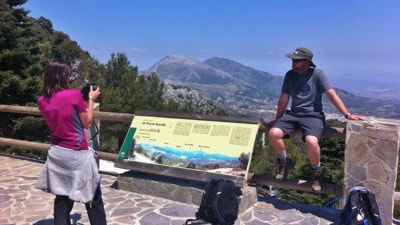 Guided One-Day Walking Tours in Spain
Want to explore the countryside near Ronda on foot? Then join us for a day on a guided walk.
Ronda sits in the heart of the countryside, surrounded by beautiful scenery. The area is filled with tracks and trails which make ideal walking routes between picturesque white villages and through unspoiled landscapes. Many of the loveliest routes, recommended by local guidebooks, are linear or point-to-point and cannot be done without vehicle support. We offer this support, together with experienced local guides, to provide the best walking experiences in the area.

Flexible Booking Schedule for Walking Routes
Totally flexible booking! Simply let us know the date you wish to walk and your chosen hiking route from those featured below. Not sure which route to pick? Then let us know the difficulty/ascent level you are used to doing and we will make a suggestion. 
Prefer Self-Guided Walking?
If you prefer to self-guide, we are happy to provide self-guiding packages which include GPX files, maps and transportation as required (min. 2 routes). Choose from our day tour routes below, request a bespoke route or ask us to support you on a route of your choice.
Select any of our Hiking day trip routes below to see more information and photos:
N.B. The trails in this area are all natural and ungroomed. This means that they can suffer some weather and usage erosion. None of our hiking routes include anything dangerous or requiring climbing equipment but expect stony, rocky and gravelly sections on all hikes and some steep ascents (ask for more details for your route choice). 
Interested in our Mountain Biking or Road Cycling Day Tours ? Click here