MTB, Cycling and Hiking - Holidays & Tours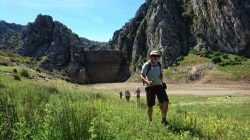 Enjoy fantastic MTB, cycling and hiking holidays or tours in Spain.
We are based in the historic Andalucian town of Ronda in southern Spain, a great area for cycling and hiking. Not only is the town located directly between two beautiful and unspoilt Natural Parks but we also enjoy the best weather in Europe, with over 300 days of sunshine a year. We have lots of great holiday options to choose from: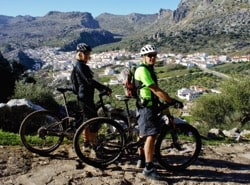 We arrange all the ingredients for a perfect holiday and are flexible in terms of dates, activity, routes and difficulty level. You can be centre-based or tour the regional area. If your dates and requirements coincide, we will match you up with other travellers. Otherwise we will arrange your holiday specifically to suit you.​
Throughout your holiday you will be looked after by expert English guides and hosts who live and work wholly in this area.
"...our week staying in Ronda and doing day cycles or hikes was just fabulous. Wayne and Heather came up with an itinerary that was just perfect, we saw and did so much, it was a great way to see Ronda and surrounding areas. "  Leone & Michael, Australia, October 2016
We are a fully accredited company registered in Andalucia with the Spanish tourist authorities - Activ Turismo registration (AT/MA/00221).
Bespoke Holidays - Personal Packages & Quotations
If you would like us to put together an alternative mountain biking or hiking holiday package, we are extremely flexible and can arrange bespoke cycling or walking holidays and short breaks from 3 days upwards for a minimum of 2 people. Simply send us an email via our Contact Us page with the following information and we will prepare you a peronal quotation.   
  number of people?

  when do you want to travel?

  what activity (mountain biking, cycling or walking)?

  guided or self-guided?

  do you need airport transfer?

  do you need to hire bikes?