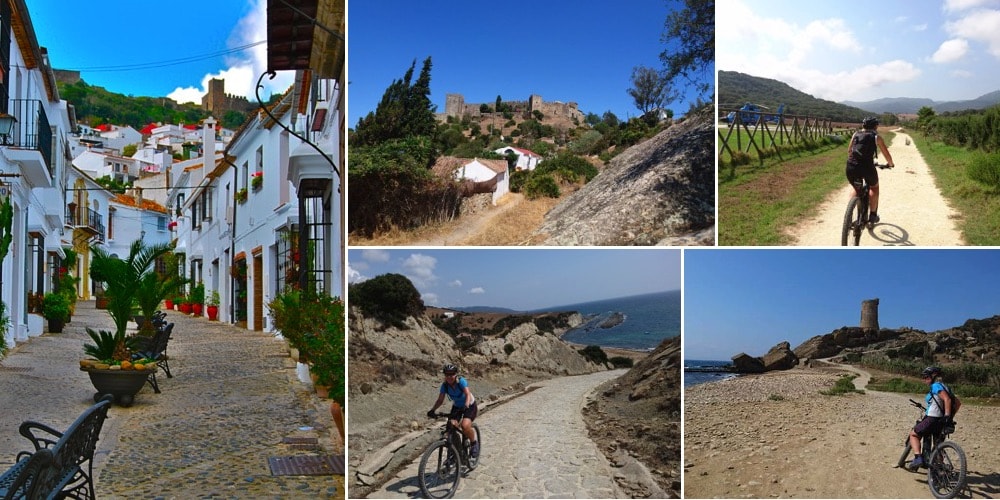 See more photos....

Riding in Ronda

Tarifa old town with Africa in the background
Spain MTB Tour - 'Ronda to Tarifa'
Self-Guided MTB Tour in Spain
XC MTB tour from the Andalucian mountains to the southernmost tip of Europe
This self-guided XC mountain bike tour offers huge scenic and trail variety as it heads from the high mountains of Ronda down to the most southerly tip of Spain and the characterful town of Tarifa.
You will ride high up into pine-covered hillsides and through rural countryside, along rocky limestone gorges and through river valleys. You will pass through small white villages and hilltop towns with Moorish castles. You will finish with a superb trail along the coast above the Mediterranean Sea, ducking and diving through the sea-ravaged cliffs on a mix of rocks, sand and stone. Your ride ends at Tarifa's Guzman castle near the port, overlooking the Straits of Gibraltar.
This is a real MTB adventure, with some great climbs, thrilling descents, stunning views, and quiet remote trails while enjoying delicious local food, wine, beer and hospitality throughout.
Ronda to Tarifa Mountain Bike Tour Highlights
♦ Remote Mountain Biking Trails

♦ Natural Trails and Single Track

♦ Amazing views of Africa

♦ Hilltop Town and Fort of Castellar de la Frontera

♦ Outstanding routes through Natural Parks

♦ Finish at the most southern tip of Europe in Tarifa
Tour Summary

START:  

Ronda

     FINISH:  Tarifa

(This tour can be started in Malaga, adding 2 extra days of riding, Malaga to el Chorro and el Chorro to Ronda) +€375 p.p.

Duration *

8 days

7 nights

5 mountain biking days

Distance

192 km total

38km daily avg     ( max 47km - min 30m )

Grading

Moderate - route includes hills each day (daily average ascent +649 metres). Riding is mainly on unsurfaced tracks and quiet roads with some sections of technical single track. Competent MTB skills are required for some sections.

Availability

March to November. Choose the days which suit you. Start on any day of the week. N.B. Supplements may apply during Easter week and high summer due to inflated accommodation prices.

Price *** 

€1035  per person based on 2 people sharing a double or twin room    ( €1135 with e-bike )

* Tour duration can be extended by adding rest days along the tour; let us know your preferences when you enquire.

*** Solo traveller and single occupancy prices are available upon request.

Day-by-Day Itinerary

Arrival in Ronda

Check in to your hotel and enjoy the sights and sounds of the beautiful clifftop town of Ronda. Briefing and bike set-up will take place on your first evening

 

MTB Tour Spain Day 1 - Ronda to Cortes de la Frontera

36km +924m

The first day's ride heads out of Ronda down limestone cliffs and then on forested single-track down to the Guadiaro River. The rest of the ride explores along and above this river, including a great section of undulating single-track which follows the water as it cuts through a mountainous gorge. You will ride high up into the hills above the river and drop right down to the valley bottom. Lots of ups-and-downs and twisting single-track, with a good refreshment stop mid-way at a small white village in the base of the valley.

MTB Tour Spain Day 2 - Cortes to Jimena de la Frontera

42km +684m

A true rural experience today, riding steadily up into the hills above Cortes and then seeing only forest and countryside for the rest of the route. During the ride, you may come across the odd farmer or landowner but other than that, your only riding companion will be nature. You finish your riding day with a fabulous long descent into the village of Jimena de la Frontera, which sprawls down the slopes of a peaked hill, topped by a large castle.

MTB Tour Spain Day 3 - Jimena to Guadacorte​

47km +503m

Today's ride begins with easy riding through open countryside and farmland, before a short, sharp climb up to the castle town of Old Castellar. The original village was built within a castle which was surrounded by high mediaeval battlements. The resulting fortified town is no longer lived in (the villagers were moved to New Castellar, closer to the coast, in the 1970s) but is still an impressive structure. The descent from the town is a fast, twisting country road which heads into the forest near the bottom, then it's more countryside and a couple of minor climbs to reach your overnight location.

MTB Tour Spain Day 4 - Guadacorte to El Bujeo

35km +725m

Another nice easy, flattish start to the day but you then need to get your climbing legs in order for a long steady ascent up through acres of pine and oak forest, up into the mountains behind the busy seaport of Algeciras. This route enjoys beautiful mountain peace and quiet, well away from the hustle and bustle of the coast. The views from the top across the Mediterranean Sea are spectacular and your climbing efforts are rewarded with a great descent to finish the day.

MTB Tour Spain Day 5 - El Bujeo to Tarifa

30km +412m

Today's final section opens by climbing upwards to the ranks of wind turbines which sit on the hilltop, overlooking the Straits of Gibraltar. Silently turning under the power of the coastal winds, these huge structures provide a hint of why this region is a hub for kite surfers. The route passes through a long-abandoned military site and down to the coast, where you will enjoy a spectacular section of twisting coastal pathways all the way to Tarifa.

Day 5 - Chill-out in Tarifa

Take a well-deserved rest and explore the seaside town of Tarifa. Walk through the old town, exploring the ancient maritime and Moorish history of this important seaport. Check out the chill vibe in bars and clubs or simply sit at a cafe with some tapas and a chilled beer or glass of wine and watch the local life go by. 

Or swap continents and take a ferry over to Tangier for a day out in Morocco.

Day 7 - Depart Tarifa

Check out from your hotel and have a safe trip home or to your next destination.

We can provide transfers to your next destination or airports of Sevilla or Malaga. POA

We hope to see you again in the future.

What's Included?

WHAT IS INCLUDED IN THE MTB TOUR PRICE?

7 nights of accommodation on a B&B basis 

Quality Hardtail MTB

Helmet & water bottle (or bring your own)

Route GPS (phone App with daily routes, profiles and maps, no Data-usage required) or GPX files

Luggage transfers

Annotated route maps 

Briefing Pack, incl day-by-day route notes

Briefing meeting on arrival  

See our suggested KIT LIST for mountain biking in Spain.

WHERE WILL I BE STAYING?

Your tour goes through a mix of large and small towns and more rural areas, so the accommodation style and standard will vary greatly. In the larger towns, we usually book 4**** or 3*** hotels; outside of these, you will stay in countryside haciendas, boutique B&Bs or traditional-style village hotels. All rooms have en-suite facilities. Our selections are based on clean and comfortable accommodation (if sometimes quite simple), friendly owners and staff, a warm welcome, bike storage and sometimes a swimming pool too.

FAQ's

 

WHERE WILL I BE RIDING?

This MTB tour in southern Spain uses a mixture of single-track paths, forest tracks and in part a cycleway.  The single-track is not groomed for mountain biking so the technical requirements vary throughout each section.  You will be riding in remote areas.  This part of Spain is an unspoilt area of outstanding natural beauty.

WILL I BE FIT ENOUGH?

This self-guided mountain bike tour is designed for cross-country mountain biking enthusiasts rather than MTB experts. There are some technical sections and plenty of hills to tackle, so you will need fitness and some MTB skills, but nothing is too extreme. The climbs and descents can be tricky in parts but also great fun. On the longest days, take things steadily and ensure you take plenty of refreshment/snack stops and drink lots of water. 

WILL MY LUGGAGE BE TRANSFERRED?

No need for panniers or trying to pack light and risk leaving important items behind. We transfer your main luggage for you so you just take a few items for each day – water, snacks, sunscreen. We provide an 8-litre capacity rear trunk bag.

CAN I DO THIS MTB TOUR WITH A GUIDE?

We can offer a guided version of this tour with qualified guides and support vehicles or a semi-supported version with a support vehicle and driver who is a qualified guide.  There is a minimum person requirement of 4 to be able to provide this service.  Please do not hesitate to enquire about price and availability.

HOW WILL I NAVIGATE THE MTB TOUR?

We have 3 options available:

Ride with a GPS application on your mobile phone.  We give free access to the application which can be used in offline mode for each day's ride.  The application shows maps and the route in great detail.  We also supply quality phone holders on the bike to keep your phone safe.
Garmin GPS Device supplied by Hike and Bike.  This is a simple device which shows a breadcrumb trail for each day's ride.  Very reliable and simple to use.
Upload route files to your own GPS device.  We will forward files for each day riding in the format needed for your device.

We also provide a large-scale, annotated map, designed specifically for your tour by Hike and Bike, giving you a perspective of where you are at all times.
Award Winning Tours & Service

Take a look at some alternative MTB tours in Spain:
Discover the Sierras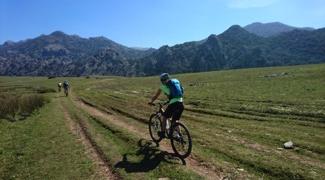 MTB Tour Spain
A week-long circular cross-country MTB tour that starts and finishes in Ronda. A great mix of tracks and trails through the Serranía de Ronda and Grazalema Natural Park.
Read more
Malaga to Sevilla via Ronda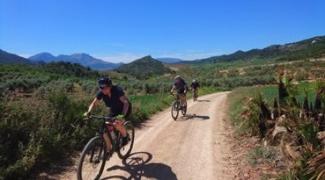 MTB Tour in Spain
Ride cross country from Malaga to Sevilla on our classic MTB Tour. You will visit many of our favourite white villages and towns using old by-ways, drover's routes and hidden pathways in Western Andalucia.
Read more