National Award Win - Bike Tour Operator of the Year
Hike + Bike the Sierras Wins iGap Travel Award
We are very excited to announce that HIke + Bike the Sierras have been awarded the prestigious title of iGap travelguide 2017 Bike Tour Operator of the Year for Spain.
These Global Awards "celebrate the achievement of the very best hostels, accommodation providers and tour opeators in Europe, The Americas, Asia and Australasia, and Africa & Middle East". The winners were voted for by the independent judging panel of the iGap Guides, based on asssessment of all the entrants' websites, customer information and service support, affordability and proof of local knowledge, together with customer feedback and reviews - so we are particularly grateful for all the people who have submitted fantastic TripAdvisor reviews for us. We know that one of the other local providers of cycling holidays in this area has won the smaller regional category so we are particularly pleased to have come out on top when compared against the whole of Spain's providers of biking tours!
We believe that our pretty much unique combination of offering both day trips and holidays was part of the key to our success. This means that whether travellers have a full week to spend on their biking, just a few days or even only one day, we can provide the perfect bike tour to suit their timescales and ability levels.
If you haven't yet had a chance to see our videos which give a taster of what you can experience cycling with us near Ronda, click on the links below:
Video - Self Guided Cycling Tours in Andalucia
Video - Mountain Biking Holidays and Day Trips in Andalucia
The iGap travel guide Global Awards guide 2017 will be published later in the year and distributed to over 500,000 travellers, students, professionals and businesses, so this is a great way for our name to be spread far and wide amongst young travellers throughout the world. .
Thanks again to everyone who has helped us win this award.
If you'd like to find out more about our different offers, click on the folowing links:
Mountain Bike Holidays, Day Trips and Tours
Leisure Cycling Holidays, Day Trips and Tours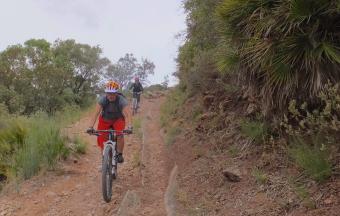 Heaether Cooper, Hike + Bike the Sierras  29/7/2017