Tajo del Abanico
Hiking - Easy
This is an easy, circular walk from the southern, old part of Ronda town. The Tajo del Abanico is a hidden gem - a limestone rock gorge which ends at a towering rock named "The Fan" due to its unusual shape, formed from many centuries of wind and rain erosion of the limestone rock cliffs.
The route takes us down past farmland, olive groves and almond trees. We enter holm oak forest and drop down to cross a small stream. A short climb brings us to the remains of a mediaeval cobblestone pathway, now seemingly "in the middle of nowhere". The pathway leads us into the valley gorge, where we find a low cave and the huge, fan-shaped rock which gives the gorge its name. We return through the quiet valley and past beautiful rock formations to re-enter Ronda via one of its oldest districts, the Barrio San Francisco. Here we find a bustling plaza, the mediaeval Almocobar Gate and church of Espirtitu Santu.
Note: Much of this route is on quiet and unsurfaced roads so easy underfoot. The stream is normally dry so easy to cross. From here the path has some steeper or eroded sections but nothing too difficult. The final section into Ronda is a steady climb; less able walkers can request a different start point to reduce the total distance and remove this climb.​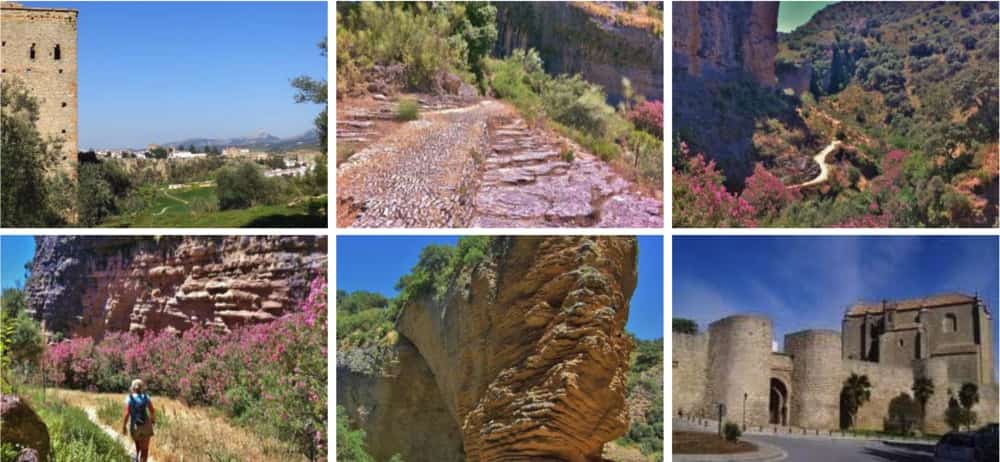 Distance: 

11km (8km)

Hike Time: 

2-3 hours

Ascent: 

281m ⬆︎

Descent: 

265m ⬇︎

Start:

RONDA

Finish:

RONDA

PRICE:

Min. 2 people: €35 per person

3-7 People:    €30 p.p

Includes:
Tel: 0034 638 873 279
Activ Turismo No. AT/MA/00221