Torrecilla Ascent
Hiking - Challenging
The mountain of Torrecilla is located at the heart of the Sierra de las Nieves Natural Park and is the highest peak in Western Andalucia at 1,919 metres above sea level. This is a challenging hike but the views are amazing and you will feel like you are on top of the world.
We drive from Ronda into the Sierra de las Nieves, taking us far from civilisation and into this protected region of unspoiled and dramatic limestone mountains. We begin walking in the pine-forested lower levels of the mountains and head up steeply, gaining height quickly. Then we catch sight of Torrecilla in the distance and the route flattens out into stony scrubland, dotted with isolated holm oaks. We take a quick breather at a natural spring at the base of the final ascent. This is a steep but relatively short climb and all of a sudden we find ourselves up at the top of Torrecilla, proudly signing our names in the visitors' book, stored in the trig point at the top. From up here we can see for miles in every direction - south to the Costa del Sol, the Rock of Gibraltar and over the Mediterranean Sea, inland to the Sierra Nevada and back "home" to the Serrania de Ronda.
We recommend that you bring a picnic to enjoy at the top (watch out for the odd rambling goat!) and then we return back the way we came.
Note: This route is wholely through uninhabited countryside and is mainly on small paths and trails. Some of the paths are in good condition but there are eroded sections. The final ascent is steep and rocky but does not involve rope climbing or similar. Hikers need to be confident on uneven surfaces and good walking shoes/boots are highly recommended.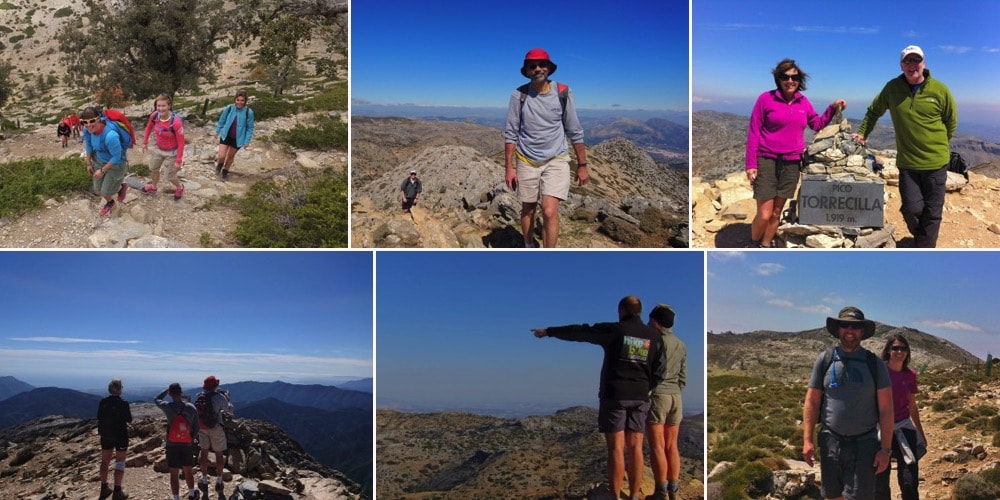 ​
Distance: 

16km

Hike Time: 

4-5 hours

Ascent: 

823m ⬆︎

Descent: 

823m ⬇︎

Start:

SIERRA DE LAS NIEVES

Finish:

SIERRA DE LAS NIEVES

PRICE:

Min. 2 people: €55 per person

Additional People: €20 p.p

Includes:

English speaking guide
Transport from Ronda to startpoint in the Sierra de las Nieves and return to Ronda
Tel: 0034 638 873 279
Activ Turismo No. AT/MA/00221