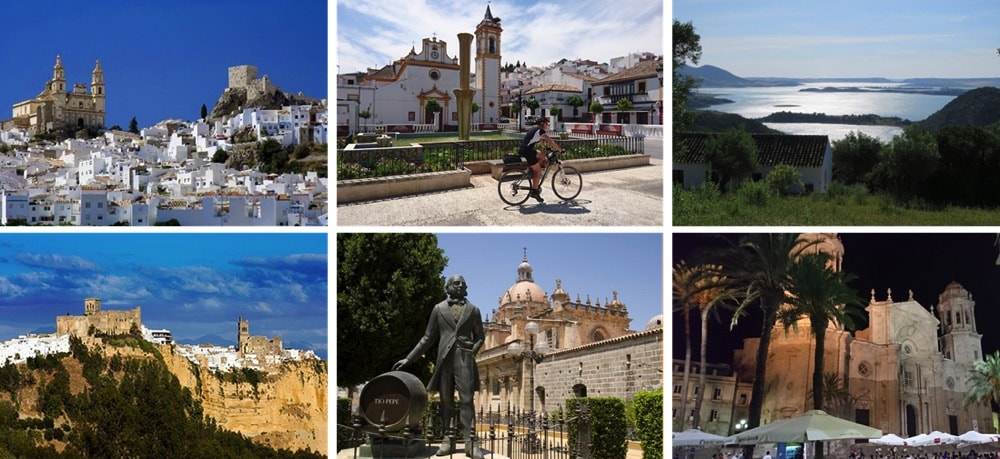 Ronda to Cadiz - Leisure Cycling Tour in Spain
Self-guided Cycling Tour in Andalucia
Take a self-guided cycling tour through western Andalucia. Cycle from the mountains of Ronda via a cycle track along a disused railway (Via Verde de la Sierra), to visit Arcos de la Frontera and Jerez, then through the Sherry Triangle to the Atlantic coast and historic city of Cadiz. 
On this bike tour, you will cycle through beautiful and unspoiled countryside, mainly on quiet roads and unsurfaced tracks. The landscape varies from arable fields, vineyards and olive groves, through rolling hills, lakes and finally to the sea. You will pass through charming and traditional white villages, many perched on rocky hillsides. You will see strange cave-houses carved into the rocks, grand Renaissance churches and Arab fortresses. Every day of this week-long cycle tour offers something special.
Our Andalucian cycling tour routes always take the less-travelled path. We avoid the easy-to-find roads in favour of more scenic, lesser-known minor roads nd country tacks, to give you a truly unique experience of the real Spain. The cycling on this tour ends in Puerto de Santa Maria, so you do not ride the busy roads and bridge into Cadiz. Instead, you will take the ferry across the bay for a full day to explore this ancient port town. 
Award Winning Tours & Service

Andalucia Cycling Tour Highlights
Culture & History

Ronda 'City of Dreams' - Puente Nuevo bridge and 120m gorge

Setenil de las Bodegas - village of the cave houses

Arcos de la Frontera - clifftop town

Jerez - Cathedral, Alcazar, and sherry!

Cadiz - historic seafront city

Cycling Highlights

Ride on quiet roads and easy unsurfaced tracks, away from traffic

Take the less-traveled routes, that tourists rarely discover

Via Verde de la Sierra - disused railway track with tunnels and viaducts

 
Summary

START:  

Ronda

     FINISH:  Cadiz

(This tour can be started in Malaga, adding 2 extra days of riding, Malaga to el Chorro and el Chorro to Ronda) +€375 p.p.

Duration *

8 days

7 nights

5 cycling days

Distance

180 km total

36 km daily avg     (

 max 60km: 

min 18m )

Grading
Moderate - route includes some hills each day (109-558m per day). N.B. there is one long-distance day of 60km although this is generally downhill the whole day. This route uses a mix of quiet roads, unsurfaced roads, and tracks to keep you away from traffic as far as possible. 
Availability **

March-November. Choose the dates which suit you. Start on any day of the week. 

N.B. Supplements may apply during Easter week due to inflated accommodation prices.

Price ***

From €1045

  per person based on 2 people sharing a double or twin room with breakfast

(with 1 night in a self-catering apartment) 

   ( 

€1145

  with e-bike )

  * Tour duration can be extended by adding rest days along the tour; let us know your preferences when you enquire.

** Check out the local annual temperature and rainfall here. 

*** Solo traveler and single occupancy prices are available upon request.

WHAT'S INCLUDED? 

7 nights of accommodation on a B&B basis 

Luggage transfers

Quality hybrid bike or e-bike

Optional seat-post rear bag and/or handlebar bag for your daily needs (we recommend traveling light)

Helmet & water bottle (or bring your own)

Route GPS (phone App with daily routes, profiles, and maps, no Data-usage required) or GPX files

Annotated route maps 

Briefing Pack, incl advice, tips, and day-by-day route notes

Briefing meeting on arrival  

See our suggested KIT LIST for cycle touring in Spain.

ACCOMMODATION

Your tour goes through a mix of large and small towns and more rural areas, so the accommodation style and standard will vary greatly. In the larger towns, we usually book 4**** or 3*** hotels; outside of these, you will stay in countryside haciendas, boutique B&Bs or traditional-style village hotels. On this tour there is one night in a self-catering apartment (much nicer than the village's only hostal, with breakfast cafes close by). All rooms have en-suite facilities. Our selections are based on clean and comfortable accommodation (if sometimes quite simple), friendly owners and staff, a warm welcome, bike storage, and sometimes a swimming pool too.

 

 

Day-by-Day Itinerary

Arrival in Ronda

Check in to your hotel and enjoy the sights and sounds of the beautiful clifftop town of Ronda. Briefing and bike set-up will take place on your first evening.

 

Bike Tour Day 1 - Ronda to Olvera

35km +461

From Ronda, you cycle northwards, past vineyards and olive groves. Lunch in Setenil de las Bodegas, under huge overhanging limestone cliffs. Ancient "cave houses" built into the rock form the basis of many village houses, shops, and cafes. Cycle on through limestone gorge and farmland, up into Torre Alhaquime village, with great views across to Olvera's striking skyline of Arab fortress and twin-towered Renaissance church. A final section through the olives brings you to your overnight accommodation in a traditional Andalucian-style hotel.

Bike tour Day 2 - Olvera to Bornos

60km +588m

Today you ride along the Via Verde de la Sierra, a disused railway line through the mountains and olive groves, with long tunnels (automatic lighting), viaducts, and a griffon vulture colony, perched high up on the rocks above the track. Lunch at one of the old station buildings before continuing through seasonal farmlands known for the sunflowers and cotton crops. Your final stop is at the lakeside town of Bornos. Tonight's accommodation is in a self-catering apartment in the centre of the town, rather than the usual hotel with breakfast. The apartments are very nice and we use them because the only hotel is more of a hostal on the edge of town, so not what we would choose ourselves. There are corner stores and cafes which serve very good value breakfast very close to the apartment or a larger grocery store 5 mins walk away.

Bike Tour Day 3 - Bornos to Arcos de la Frontera

23km +409m

A short day with a few "ups and downs". The route is very quiet and rural, passing through endless rolling hills you soon find yourself gaining height as you enter the town of Arcos de la Frontera. Arcos is positioned on the top of a large hill with one side of the town being a cliff edge. You will stay in the heart of the old town – the short ride today allows you longer to explore the steep narrow streets on foot; see the church of Santa Maria (with its unfinished tower, where the church guardian still lives) and, on the opposite side of the church plaza, a balcony with views from the top of the cliff down to the river.

Bike Tour Day 4 - Arcos de la Frontera to Jerez de la Frontera

44km +349m

Descending into the countryside below Arcos gives fantastic views of the clifftop town and makes for an easy 38km start to the day with only one hill before you head into Jerez. Take some time for a late lunch in this historic town, maybe visit the cathedral, the Alcazar or try some of the famous locally produced sherry.

Note: an extra night can be added in Jerez to give you more time to explore the town.

Bike Tour Day 5 - Jerez de la Frontera to Puerto de Santa Maria

18km +109m

Your last day's ride is a short distance through the countryside to the seaside town of Puerto de Santa Maria. Therefore, we recommend spending the morning in Jerez, as there is a lot to see in the town, before heading off to Santa Maria in the afternoon. Alternatively, you could take the opportunity for some extra time to visit Cadiz in the afternoon before your full day of exploration tomorrow.

Day 6 - Sightseeing in Cadiz

Historical Sights of Cadiz

From Puerto de Santa Maria you will use the ferry to visit Cadiz. The city is famous for its long maritime history, having been founded by the Phoenicians in 1100 and being the main port of the Catholic Kings at the time of the discovery of America and the New World. The cathedral is hugely impressive, with twin towers and a huge yellow-tiled, Moorish-style dome, with a lovely plaza in front. The Museo de Las Cortes has many interesting artefacts and views of the changing size and shape of the city over the centuries. The botanic gardens overlooking the sea contain species brought back from travels all over the world. Soak up the atmosphere in the old towns' narrow streets or at the seafront fort or simply go to the beach – this city has something for everyone!

Day 7 - Depart Puerto de Santa Maria/Cadiz

Check out from your hotel and have a safe trip home or to your next destination.

We can provide transfers to your next destination or airports of Sevilla or Malaga. POA

We hope to see you again in the future.

 

FAQ's

WHERE WILL I BE RIDING?

Our cycling tour routes take you on a scenic journey away from traffic as far as possible. You will cycle mainly on quiet country roads and unsurfaced tracks. Daily distances vary according to the tour you select. We design all our routes so that you will have time after your cycling to relax and enjoy each overnight location.

WILL I BE FIT ENOUGH?

Our self-guided tours are designed for leisure cyclists rather than cycling experts or people looking for large daily mileage. There are hills throughout the region that will need to be tackled but we keep daily distances manageable, particularly on days with more hills. On the longest days, take things steadily and ensure you take plenty of refreshment/snack stops and drink lots of water. 

WILL MY LUGGAGE BE TRANSFERRED?

No need for panniers or trying to pack light and risk leaving important items behind. We transfer your main luggage for you so you just take a few items for each day – water, snacks, and sunscreen. We provide an 8-liter capacity rear trunk bag.

CAN I DO THIS LEISURE CYCLING TOUR WITH A GUIDE?

We can offer a guided version of this tour with qualified guides and support vehicles or a semi-supported version with a support vehicle and driver who is a qualified guide.  There is a minimum requirement of 6 people to be able to provide this service.  Please do not hesitate to enquire about price and availability.

HOW WILL I NAVIGATE THE TOUR?

 

For self-guided cycling, we provide a GPS application on your mobile phone.  We give free access to the application which can be used in offline mode for each day's ride. The application shows maps and the route in great detail.  We also supply quality phone holders on the bike to keep your phone safe.

We also provide a large-scale, annotated map, designed specifically for your tour by Hike and Bike, giving you a perspective of where you are at all times.

Route Map
Take a look at some alternative cycling tours in Spain:
ANDALUCIA FROM RONDA TO SEVILLA CYCLING TOUR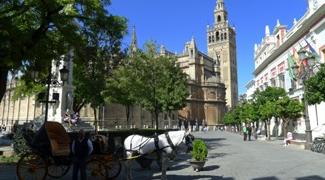 White villages and Historic sights of Andalucia
5 days cycling  Ride through unspoilt white villages which have barely changed in centuries. This bike tour follows part of the ancient Roman Via Serrana route, dotted with castle remains and churches of Santiago to finish in the vibrant city of Sevilla.
Read more
ANDALUCIA LUXURY SPA CYCLING & WALKING TOUR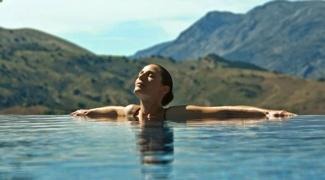 Cycling, Walking & Spa Tour in Andalucia, Spain
3 days cycling and 1 walk Exercise your body and indulge your senses with a combined luxurious bike tour and walking tour visiting spa hotels in the beautiful countryside of Andalucia. Begins with 4 nights in Ronda. This luxury holiday is sure to invigorate and refresh you.
Read more