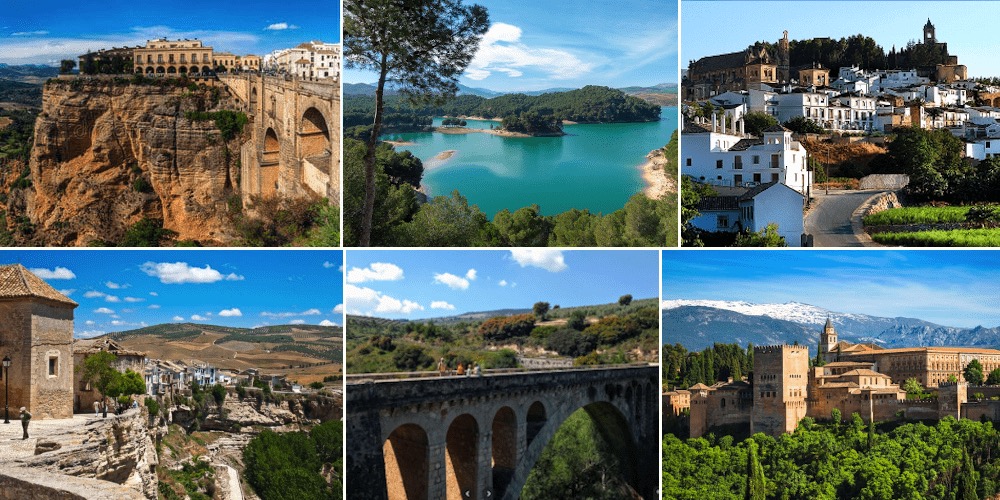 Ronda to Granada
Self-Guided Cycling Tour in Andalucia
Enjoy a self-guided cycle tour in Spain's loveliest region. Cycle at your own pace through beautiful, unspoiled countryside between two of Andalucía's most iconic towns. Experience the charm and character of Ronda, then ride through pretty white villages and hilltop towns before finishing in Granada, the must-see city of Andalucía.
Read more.....

Ronda is set on a clifftop above a dramatic gorge, spanned by a 120-meter-high bridge. It is surrounded by olive groves, oak forests and vineyards and is a rural idyll with a truly Spanish feel. Riding eastwards, you pass through the towns of Antequera and Alhama de Granada before arriving at your final destination, Granada, UNESCO World Heritage Site and the last Muslim city to fall to Queen Isabel and the Christians in 1492. Its most famous sight is, of course, the Alhambra but there is much more to enjoy here - the Cathedral, the Moorish quarter, the Sacromonte gipsy caves, the bustling city centre, dramatic views of the Sierra Nevada mountains and free tapa with every drink!

Our Andalucian cycling tour routes always take the less-travelled path. We avoid the easy-to-find roads in favour of more scenic, lesser-known minor roads and country tracks, to give you a truly unique experience of the real Spain. Your cycling tour will be filled with beautiful scenery, stunning views, hidden canyons, traditional pueblos blancos and historic sights. Along the way, you will have time to try out the delicious local food and drink, to give you a delightful experience of all aspects of Andalucian life and culture. 
Details

 

START: 

Ronda

     FINISH: 

Granada

Price

From

 

€1095 p.p.

 

based on 2 people sharing a double or twin room with breakfast 

Duration

7 days

6 nights

5 cycling d

ays

Distance

259 km total

52 km daily avg     (

 max 62km - 

min 45km )

Difficulty
Moderate -

 This tour has been designed to follow the 'less travelled path' cycling on a mix of quiet roads, unsurfaced roads and tracks. 

There are hills throughout the region but this tour is aimed at leisure cyclists, so we keep daily distances manageable, particularly on days with more hills.

Availability
March to November.

Choose the dates which suit you. Start on any day of the week.

Note: Supplements may apply during Easter week due to inflated accommodation prices.

 

Ronda to Granada Cycling Tour Highlights

Culture & History

Ronda 'City of Dreams' - Puente Nuevo bridge and 120m gorge

Antequera - Alcazaba (Moorish fortress)

Alhama de Granada cliff top town

Granada

Optional upgrade to stay at one of the Leading Hotels of the World "La Bobadilla" Royal hideaway hotel.

Scenery & Cycling

Ride on quiet roads and easy unsurfaced tracks, away from traffic

Take less-travelled routes, that tourists rarely discover

Lakes of Malaga

River gorge near Alhama de Granada 

Cacín river canyon and 'Roman' bridge

 
 

Itinerary

 

Arrival Day in Ronda

Extra sightseeing days can be added on request

Check in to your hotel in Ronda and enjoy the sights and sounds of the beautiful clifftop town. Briefing and bike set-up will take place on your first evening.

 

Cycling Day 1 - Ronda to Ardales

54km +648m

Leaving Ronda, you are soon on easy tracks which lead eastwards, via olive groves and holm oak forest. You pass through the village of Cuevas del Becerro (a good lunch stop) and then via Serrato, a sleepy village, before your only notable climb of the day. You then enjoy a terrific descent all the way to Ardales. If you still have some energy, take a walk up to the remains of the hilltop fortress before dinner in one of the cafes or restaurants on the main plaza. 

Cycing Day 2 - Ardales to Antequera

46km +610m

Your day begins with an undulating road ride that heads up to a scenic area of blue lakes. You will ride across the historic King's Dam, opened in 1921 by King Alfonso XII, before climbing steadily up along lakes and across the second dam into the hills. Beautiful views abound as you ride on tracks through remote, landscapes. We recommend you take a picnic lunch today, after the dam and you can make the most of the peaceful environment. Your day ends with a pleasant ride into Antequera, a lively town which is dominated by a striking hilltop Moorish fortress, or Alcazaba. Plenty of options in the town for post-ride relaxation and dinner. 

Cycling Day 3 - Antequera to Sierra de Loja

45km +821m

Exit Anteuquera to the north along tracks and quiet roads that head deeper into the countryside, through miles of olive groves to the villages of Villanueva de Algaidas with options for lunch. From here you can take a look at the remains of the abandoned Convent de Nuestra Señora de la Consolación. Follow the road steadily up over the hills passing through Villanueva de Tapa and on to your country hotel.  For tonights stay you can upgrade your hotel (€100 p.p.) to one of the Leading Hotels of the World "La Bobadilla" Royal Hideaway Hotel

Cycling Day 4 - Sierra de Loja to Alhama de Granada

52km + 825m

Todays ride takes you through a mountenous region with great vistas.  The riding is mostly remote with very few built up areas. You pass near to by Zafarraya, a farming town where you could divert to for lunch. From here you ride to the clifftop town of Alhama de Granada. Your accomodation is perched on the cliff edge overlooking the deep gorge. Before dinner a walk into the gorge below the town gives a great perspective of this unique towns location.

Cycling Day 5 - Alhama de Granada to Granada

62km + 712m

Take a steady climb out of the village to look back down into the Alhama gorge. Then freewheel a 10km descent which takes you along the ridgeline of the little-known but spectacular Cacín river gorge. You pass the Roman bridge which spans the gorge before riding through the tiny village of Cacin and onto the second climb of the day.  You rejoin tracks which head steadily downhill to La Malaha. Another long descent on a road brings you closer to Granda's outer suburbs before joining a riverside path that takes you right into the heart of the city, passing through the old Arabic street market, where metalwork, leather goods and ceramics are still sold from tiny shopfronts before you finish your cycling tour in front of Granada's impressive Cathedral. Enjoy a final evening in this atmospheric city.

Departure Day

Extra sightseeing days can be added on request

Check out from your hotel and have a safe trip home or to your next destination.

We can provide transfers to your next destination or airports of Sevilla or Malaga. POA

We hope to see you again in the future.

What's Included

 

WHAT'S INCLUDED

6 nights accommodation on a B&B basis 

Luggage transfers

Quality hybrid bike (or e-bike, supplement applies) 

Optional seat-post rear bag and/or handlebar bag for your daily needs (we recommend travelling light)

Helmet & water bottle (or bring your own)

Route GPS (phone App with daily routes, profiles and maps, no Data-usage required) or GPX files

Annotated route maps 

Briefing Pack, incl tips, advice and day-by-day route notes

Briefing meeting on arrival  

Bike collection from Granada

 

ACCOMMODATION

This tour goes through a mix of large and small towns and more rural areas, so the accommodation style and standard varies but we have personally selected every overnight venue. We select the best available options in the smaller towns and villages and base our choices on clean and comfortable accommodation (if sometimes quite simple), bike storage, friendly owners, welcoming staff and, where possible, a swimming pool. 

On day 3 of this tour it is possible to upgrade for a night of luxury at 5-star "La Bobadilla" Royal Hideaway Hotel +€100 p.p.

ROUTE NAVIGATION

For self-guided cycling, we provide a GPS application on your mobile phone.  We give free access to the application which can be used in offline mode for each day's ride. 

The app. shows maps and the route in great detail. We supply a quality phone holder on the bike to keep your phone safe.

We also provide a large-scale, annotated map, designed specifically for your tour by Hike and Bike, giving you a perspective of where you are at all times.

 

FAQs

 

IS THERE A LOT OF TRAFFIC ON THE ROUTE?

All our Leisure Cycling Tours are designed to follow the 'less travelled path'. The routes avoid traffic as much as possible, cycling on a mix of quiet country roads and unsurfaced tracks, so are perfect for cyclists on our hybrid bikes (or e-bikes). Drivers in Andalucia are generally very considerate to cyclists.

 

HOW FIT DO I NEED TO BE?

All our Leisure Cycling Tours are graded at a 'Moderate' level with daily distances from 20-55km, depending on the specific tour. There are hills in every tour but we keep daily distances manageable, particularly on days with more hills. These tours are designed for leisure cyclists who are reasonably fit and happy to be on a bike for 3-5 hours a day. Check the individual tour Itinerary for a daily breakdown of distance and ascent.

 

WHAT'S THE WEATHER LIKE?

Our cycling and walking tours run from March through to November, with the best weather from March to June and from September to November. Most routes are also possible during the summer months but we recommend an earlier start to beat the main heat of the day, and don't forget to carry plenty of water.

 

WHAT HAPPENS TO MY LUGGAGE?

We transfer all your main luggage for you. We provide a rear seat trunk bag or small side pannier and a handlebar bag (per couple) to carry a few essential items with you each day e.g. water, snacks, sunscreen, but we recommend you travel light.

 

HOW DO I NAVIGATE EACH DAY?

Navigation on this tour is very easy with our phone app. RidewithGPS. We provide personalised daily routes from door-to-door of each day's accommodation. The app shows maps and daily routes in great detail, with distances and route profiles, so you always know what is coming up. The app is used in offline mode so you do not need to use Data on your phone and can still navigate in areas where there is no phone signal.

 

WHAT HAPPENS IF I HAVE A PUNCTURE OR PROBLEM WITH MY BIKE?

On this self-guided tour we provide all the necessary kit on your bikes for you to fix your own flat tyres or deal with minor mechanical issues (e.g. broken chain). If you do not know how, ask a bike mechanic at home to show you before your holiday or check our Bike Repair notes at the bottom of every webage. If you need our assistance, you can call us on the number provided and we will help as much as possible on the phone; we may be able to attend minor mechanical issues but this may be subject to a charge. In the case of a more major mechanical issue, we we will come to repair the bike or bring a replacement.

 

WHAT MEALS ARE INCLUDED?

All accommodation includes breakfast (unless specifically stated). Lunch and dinner are not included, so you are free to eat when and where you wish. We mark up your map with suggested lunch locations. Your hosts can recommend dining options, or sometimes they will serve dinner – this information will be included in your daily route notes.

 

IS THIS TOUR AVAILABLE WITH A GUIDE / SUPPORT?

We can offer a guided version of this tour with qualified guides and support vehicles or a semi-supported version with a support vehicle and driver/mechanic. There is a minimum requirement of 6 people to be able to provide this service. Please do not hesitate to enquire about price and availability.

 

WHAT IF I NEED TO CANCEL OR CHANGE MY BOOKING?

If you need to cancel or change the dates of a booking, we have a scaled set of charges based on the work already completed and any costs already incurred which we cannot get back. If you re-book a holiday with us within 12 months of a cancellation which has incurred charges, we will credit up to 50% of the retained amount to the new holiday. Our full cancellation policy can be found here