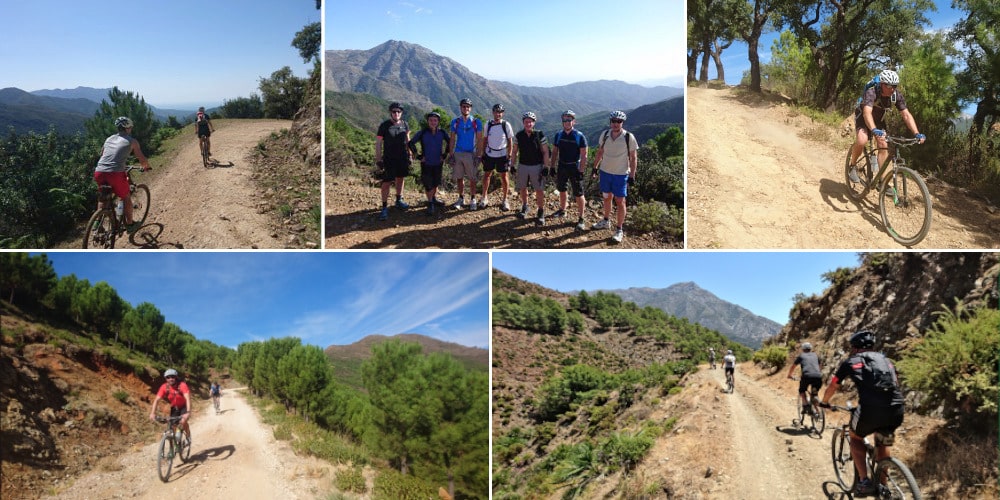 Mountains to the Mediterranean
Mountain Bike Ride - Moderate
DESCRIPTION

This exhilarating ride explores the heart of the protected Sierra de las Nieves Natural Park. It largely follows the original route through the mountains, the Puerta Verde de Marbella, and takes us down by the beaches of the costa del sol and San Pedro de Alcantara. This route provides spectacular views all the way, firstly across the pine forests and mountains and down to the Costa del Sol, Mediterranean Sea, Gibraltar and way over to the distant coastline of North Africa.

Read more.....

We take a short drive out from Ronda to the edge of the Sierra de las Nieves Park, where we begin our ride with 7km of steadily *ascending track, to the highest point of the ride at 1280m. From here, you are at the highest point of the ride and will begin a 33km descent that twists through the mountains to the coast. There are a few short ascents before we reach the end but they make up a relatively small part of the ride. At the base of the mountains, we ride through the suburbs of Nueva de Andalucia to reach the beach and ride to a beachfront bar for a celebratory drink.

 

*If you do not want to ride the first 7km ascent we can start the ride at the highest point, this gives an easier start to the ride without missing the best parts of this MTB tour.

TOUR DETAILS

Distance: 36km

Ride Time: 3 hours

Ascent: 396m ⬆︎

Descent: 1450m ⬇︎

Meeting Point: RONDA

Start: SIERRA DE LAS NIEVES NP

Finish: SAN PEDRO

INCLUDES

British Cycling Qualified Guide
Bike
Water Bottle
Helmet
Transport from Ronda to the start point and return to Ronda

PRICE:

Min. 2 people: €90 per person

3-7 people:     €75 p.p.
Note: This ride requires some MTB experience and is only suitable for riders who are confident descending on gravel surfaces and moderately rough terrain. The route includes a notable uphill section at the beginning. Unseasoned riders may find it unnerving whereas intermediate mountain bikers will love it. This route is in a remote area, so bring extra water and snacks to keep you going.
Award Winning Tours & Service

Activ Turismo No. AT/MA/00221