How to get a Spanish TIE card
Application process for Spanish TIE Residency Card
The TIE (Tarjeta de Identidad de Extranjero) is a Foreigners ID Card which is issued to non-EU residents in Spain. After Brexit, this will be a key document for UK nationals residing in Spain.
This article relates to applications for TIE cards for UK Nationals and their family who are residing legally in Spain prior to December 31 2020. If you are not already residing legally in Spain by this date, other procedures will be required that will be established in the final Brexit Withdrawal Agreement and are not covered in this article.
Applying for the new Spanish TIE residency card can feel like a daunting process and we struggled a bit with the process ourselves due to inconsistent information on the internet and imperfect Spanish language skills. Now we have completed the process it is actually quite straightforward, so I have written this easy step-by-step guide for people in the same situation as ourselves. If it looks like a long blog, it is because I have included translation of all the sections of the forms which need to be completed, a step which was missing from every other online guidance that I found.
TIE Residency Card for UK Nationals Who are Already Residing in Spain
To be residing legally in Spain, you will already have an NIE (Número de Identidad de Extranjero) green card and/or green A4 residency certificate. Your NIE will either be temporary (usually if you have lived in Spain for less than 5 years) or permanent. First and foremost, both these cards/certificates are valid to prove your residence status and your rights under the Withdrawal Agreement after the end of the Brexit transition period on Dec 31 2020.
Applying for the TIE is therefore optional but the reasons in favour of getting the TIE are:
-       More durable and easy to carry plasticised card
-       Contains biometric elements for security
-       Will facilitate admin. procedures with Spanish authorities
-       Will make crossing external borders within the EU easier
There is no deadline for changing your NIE to a TIE and the process for a changeover will not alter after the end of the transition period – so if your local office is very busy and you are struggling to get an appointment for a TIE, do not worry. If you are already resident in Spain you can apply for the TIE after Dec 31 2020, when any rush for certificates before the end of the transition period has died down because non-residents will no longer be able to apply for a new TIE in the same way.
The basic process for getting the card is:
i)               An in-person appointment at your local police station (CNP- commisaria nacional de policía), where you will hand over:
a.     competed application form EX-23 (see below)
b.     completed form Modelo 790 (see below) and confirmation of payment
c.     copies of specified documents (see below)
d.     a recent passport photo
ii)             Your original passport, NIE and Empadronamiento certificate (town registration certificate) will be checked and your finger-prints will be taken. Then you will receive a stamped, signed certificate from the Ministerio del Interior, confirming your details and that your TIE application has been received.
iii)            A second appointment at the police station to collect your TIE card.
How to Make your In-Person Appointment at the Local Police Station
This is done via a website or by phoning 952 1612 27. Unless your Spanish is very good, we strongly recommend the online application, as follows.
1.     Copy the below website address into your search engine: https://sede.administracionespublicas.gob.es/pagina/index/directorio/icpplus
N.B. Ignore the warning about privacy and continue on to the Advanced set up which takes you to the page: 'Cita previa de extranjería'
2.     Proceed down the page to the red box 'Acceder al Procedimiento' and click on this which take you to the page:  INTERNET CITA PREVIA
3.     Click on the drop-down menu PROVINCIAS DISPONIBLES and click on the province where you reside. Then click on the red box 'Aceptar'
Your page will still be titled INTERNET CITA PREVIA and may have some comments in Spanish related to your local office which should just be confirming that all appointments must be made in advance.
4.     Go to the drop-down menu TRÁMITES CUERPO NACIONAL POLICÍA and select the option 'POLICÍA – EXP. TARJETA ….. BRITANICOS Y SUS FAMILARES (BREXIT).  Then click on the red box 'Aceptar'
5.     Scroll down the page and click on the red box 'Entrar'
6.     Now there are two options to identify yourself: NIE or passport number. NIE is likely the default selection and is easiest to use. Insert your NIE number in the box below and your Forename and Surname (Nombre y apellidos) in the second box. N.B. Spanish names generally include two surnames but if you only have one, just insert this and the system will still work. If you have two forenames, we recommend that you omit the second one, as Spanish people will identify this incorrectly as your first surname.
7.     A security Captcha box will appear to confirm you are not making a spam application. Click on the box 'No soy un robot' then, when the tickmark appears, click on the red box 'Aceptar'
8.     Your NIE number and name will now appear – check that these are correct.
9.     Below this are four boxes: 'Solicitar Cita' (Request an appointment); 'Consultar Citas Confimadas' (Check confirmed appointments); 'Anular Cita' (Cancel appointment); 'Salir' (Leave page)                                        
For making your first appointment to apply for your TIE, click on Solicitar Cita
10.  You may be asked again to click the 'No soy un robot' box.
11.  Now you need to select from the drop-down menu which police station you want to apply at i.e. the nearest to where you reside in Spain. N.B. all offices begin with CNP (Cuerpo Nacional de Policiía) and then the town where they are located. As long as your current NIE is registered in the correct locality, an office close to you will appear.
12.  Then click the red box 'Siguiente'
13.  You will now be asked for personal contact details which you need to complete in the appropriate boxes: Teléfono (mobile or landline number), e-Mail and then confirmation of your e-Mail address.
14.  Scroll down the page and click on the red box 'Siguiente'
15.  Now you will see 3 boxes with proposed appointment dates and times (Citas). Click on the date/time that best suits you, then on the red box 'Siguiente'. N.B. Each appointment is for one person only, so a couple will need two separate appointments, one each for the individual names and NIE numbers. If you want to get two consecutive appointments, you can book one and then quickly go through the process again or, even better, use two separate computers and apply concurrently.
16.  Your appointment will be confirmed on the screen, with a unique appointment number. Check again all the information regarding name, NIE, telephone, email, appointment office, date and time. Print this and take it with you to the Police Station when you go for your appointment, along with all the required documents (see below).
Application form EX-23
Click on the following link to download form EX-23 and complete it by hand (black ink, upper case is best).
If you are applying for yourselves, you only need to complete section 1) Datos del Solicitante. Sections 2), 3) and 4) are only relevant if you are using a gestor or intermediary for your application – who can fill the whole thing in for you.
The information required are, in order:
Passport number
NIE
First surname
Second surname (if you have one)
Forename (use first one only)
Gender: H = Male (Hombre) M = Female (Mujer)
Date of Birth:  day/month/year
Place of birth: (town, as per your passport)
Country of birth
Nationality: (as per your passport)
Marital Status: S= single (soltero), C = married (casado), V = widowed (viudo), D = divorced (divorciado), Sp = separated (separado)
Father's Name
Mother's Name
Address in Spain: Street name
No. : House or building number
Piso: Apartment number (if relevant)
Localidad: Town
C.P (codigo postal): 5-digit postal code
Province
Mobile phone number
DNI/NIE/PAS: NIE number
Titulo: e.g. Dr.
On p.2, complete your name and date at the top (Nombre y apellidos del titular) and sign in the box to the right of the barcode. You can add the date in the line above your signature:
…Town…, a … day… de …month… de …year…
e.g. Ronda, a 31 de octubre de 2020
Make a photocopy of your completed form for your own records.
Payment Modelo 790
A TIE application costs €12 and must be paid before your appointment at the police station.
Click on the following link for Modelo 790 and complete the form online with the following information:
NIE
First surname and then forename  
Type of road; (e.g. calle, plaza, travesia)
Name of calle/plaza etc.
Numero: House or building number
Escalera: Floor (if relevant)
Piso: Apartment number (if relevant)
Puerta: Door number (if relevant)
Mobile phone number
Municipio: Town
Provincia: province
Codigo Postal: 5-digit postal code
Scroll down the form to the list of options with a selection button.
Under: Tarjetas de identidad de extranjeros (TIE) y certificados de registro de residents comunitarios
click on the bottom button to select:
Certificado de registro de residente comunitario o Tarjeta de residencia de familiar de un ciudadano de la Union.
Scroll down to the box titled DECLARANTE. Type in the town where you live and the date.
In the box titled INGRESO, check the amount (Importe euros) is 12.00€. If not, double-check that you have selected the correct option above, as different applications cost different amounts.
Select the option: En efectivo (in cash).
Type in the empty box the letters you see on the left (spam-checker) and press the button 'Descargar impreso rellenado' to download the completed form.
Print out your form and take it to the bank to pay. Modern cashpoint machines will enable you to pay directly from your bank account by scanning the barcode on the Modelo 790 form. Otherwise you can pay over the counter in cash. Whichever method you use, you must get a payment receipt which you will need to hand over at your police station appointment.
Document Copies
Along with your completed EX-23 form, Modelo 790 and payment receipt, at your appointment you will need to hand over the following document copies:
-       NIE certificate or card
-       Passport cover and passport pages with your photo and personal details
-       Empadronamiento certificate (stamped and signed certificate of residence issued by your town or city hall. N.B. It may be electronically signed, so will bear a barcode, rather than an obvious human signature)
Don't forget the originals of your NIE, passport and Empadronamiento, print-out of your appointment confirmation and your recent passport-sized photo too. Photos must satisfy passport requirements (re. background colour, size, non-smiling etc.) or they will be rejected and you will have to make another appointment.
Appointment Day
Arrive at the police station in good time for your appointment and find the oficina de extranjeros. There may be very specific queueing regulations due to Covid-19 so follow what you are instructed to do. When you are asked to hand over your appointment confirmation, you will be taken to a desk where an attendant will carefully go through all your paperwork, copies and original documents.
You will then be asked to give fingerprints via a digital machine (so no messy ink), normally flat and rolling prints of both index fingers.
The whole process takes about 10 minutes and, once they are happy with everything, the attendant will give you a stamped and signed piece of paper to confirm that your application has been accepted and is now in process. They will advise approximately how many days later your card will be ready (anywhere between 21 and 45 days).
Collecting your new TIE card
You will need to make another online appointment via the same website that you made your first appointment. Your appointment will need to be close to the timing advised in your first appointment but appointment times are not released very far so you probably need to wait until around 10 days before your advised date to make the appointment. Go through the same initial steps as for your first appointment (see above)but this time, when you get to Step 4. TRÁMITES CUERPO NACIONAL POLICÍA, you need to click the second option, RECOGIDA DE TARJETA DE IDENTIDAD EXTRANJERO (TIE).
Then continue as before, making a new appointment, which will be just 5 minutes long.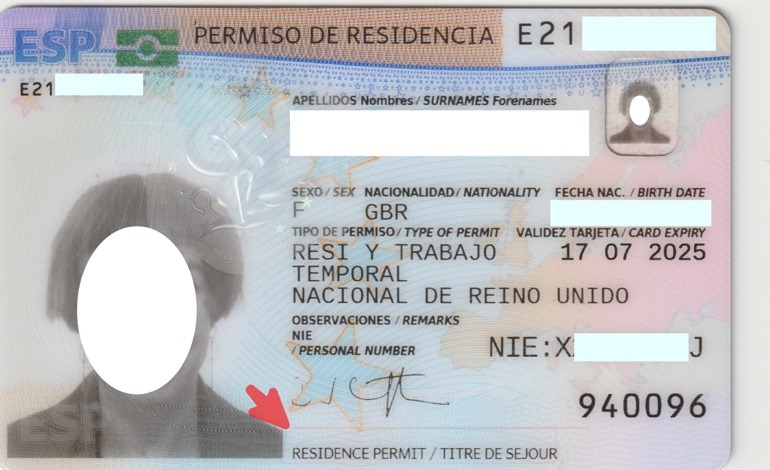 N.B. when you collect you card, check that all the details on it are correct before you leave the police station.
The two main mistakes which has been picked up are that
i)               the wording at the bottom which should say: RESIDENCE PERMIT / TITRE DE SEJOUR says something else, e.g. family member of EU citizen
ii)             Card Expiry date is wrong. The card should last for 10 years from date of issue but some have only been given 5 years
If your TIE card has any mistakes on it, notify the attendant immediately. The card will still be valid but you will need to exchange it. We are advised that the details of how to do this will be published by the Spanish authorities in the near future. We will let you know.
I hope that this step-by-step guide has been helpful and has clarified any steps which you may have found confusing or unclear. I hope that you are able to complete the whole process painlessly so that you can continue residing in Spain with confidence about your future rights.
If you have found it useful, please share with other people who you think might appreciate the help or share on your Facebook page. 
Heather Cooper, Hike + Bike    31/10/2020