Road Cycling Tours in Andalucia - Spain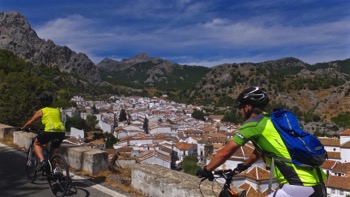 Our self-guided road cycling tours are a great way to explore the miles of superb mountain roads which twist and turn through the unspoiled countryside of western Andalucia. Along the way, you will visit pretty, white Andalucian villages and enjoy Spain's renowned warmth and hospitality.
Road Cycling Tours
If you enjoy road cycling, this area of Andalucia offers fantastic options on quiet mountain roads. Our self-guided Road Cycling Tours use carbon framed road bikes and range from moderate to challenging, with average daily distances from 42km to 70km and more than 1000m of ascent every day. The ascents can be long and tough in parts but you are always rewarded with spectacular descents, which twist and turn through stunning mountain scenery. Click on the large picture thumbnails below to read detailed Fact Sheets about each of our Sport Road Cycling Tours.
Booking your Road Cycling Tour
We operate a completely flexible booking calendar for our road cycling tours. Pick the best dates to suit you - start on any day of the week - and we will schedule your tour accordingly. If you wish to add rest days along the route, just let us know at the time of your enquiry.
Wondering if a Self Guided Road Cycling Tour is suitable for You?
Click on the thumbnails below to read our Road Cycling Tour Fact Sheets: