e-MTB Tours from Ronda, Andalucia, Spain
Electric MTB Rides in Ronda, Spain - Extend Your Limits
Our e-MTB rides are specifically designed to maximise the benefits of e-MTBs. They range in difficulty level so that everyone can enjoy off-road e-biking. Some critics seem to think that e-biking requires no effort and is only for lazy or unfit people who don't want to do any exercise. WE DISAGREE! The e-MTBs simply allow any rider to ride further and tackle more hills than they could on a normal MTB. The e-MTBs are superb fun and simply open up the route choices for everyone.
Our easy to moderate routes, which require low-level MTB skills, are perfect for less experienced riders. More experienced riders can select intermediate or challenging routes, including varying levels of technical climbing. The e-MTBS are also a great tool for practicing and improving your MTB skills - the e-bike takes the strain on difficult climbs so that you can focus on your technique. We guarantee that even fit and strong mountain bikers will find something to challenge them on our guided e-MTB rides. 

Guided e-MTB Tours
Explore the uncharted tracks and trails of western Andalucia with an experienced British Cycling qualified guide with expert knowledge of the local area. All our guided e-MTB rides are graded according to fitness/effort level and technical MTB skills requirement. Some routes start from Ronda whilst others explore the mountains behind the Costa del Sol near Marbella and Puerto Banus, so are perfect for guests staying on the coast.
Self-Guided e-MTB Routes 
Look for the GPS symbol for our routes which are adaptable for riding self guided. You can take yourself off for the day and take your time to enjoy the scenery, local culture and maybe a tapas or two along the way. We don't operate shop hours so you can spend as long as you like on the tour and return the bikes to us when you are finished. For self-guiding, we provide a detailed map and we pre-load your chosen route onto one of our easy-to-use Garmin GPS devices so you don't need to worry about finding your way. 
e-MTB Rides from Ronda - click on the thumbnail for more information on each tour
e-MTB Routes on the Costa del Sol - click on the thumbnail to Contact us
Sierra de las Nieves XC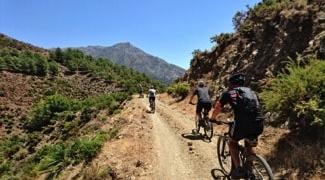 Explore the Mountain trails near Marbella
A great eMTB ride into the National Park above the Costa del Sol. Enjoy the mountain forest trails and views down to the coast. 
40km  1415m ⬆︎
Fitness - Moderate 
Skill Level - Intermediate 
Min. 2 people: €90 per person
3-7 people:      €75 p.p.
Read more
Benahavis River and Mountain XC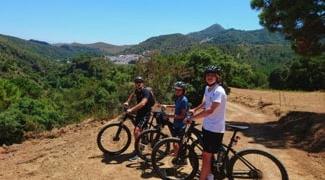 Ride into the hills behind the popular village of Benahavis
Explore the mountains and forests just above the village of Benahavis. Miles of dirt tracks and short single track sections. Lots of ascent and descent with technical and steep sections.
31km  1069m ⬆︎
Fitness - Moderate 
Skill Level - Intermediate 
Min. 2 people: €90 per person
3-7 people:     €75 p.p.
Read more
Looking for Leisure e-bike Rides?
If you are less of a mountain biker but still want to enjoy e-biking, take a look at our Leisure e-bike Rides page.