The London Bike Show
Hike and Bike the Sierras at the London Bike Show 2013
What a great experience for Hike + Bike - our first stand at the London Bike Show!
We were delighted to get to speak to so many enthusiastic cyclists. Many had been on cycling trips abroad before but we were on a mission to encourage them to join us in beautiful Ronda. We don't run high level training camps (of which there were many great ones exhibiting at the show) but we do run holidays for people who love cycling, love exploring the countryside and who are tempted by the prospect of challenging mountain climbs, glorious views and fun descents.
Many people have found their UK cycling curtailed in recent weeks by the terrible weather - Sunday road riding clubs who have found every one of their regular cycling routes closed for weeks due to flooding or collapsed bridges; mountain bikers who are simply fed up with sinking into the mud wherever they go; leisure riders who fear being blown of their bikes by the regular high winds. It has all helped to make the idea of escaping from England's wet and rainy landscape for a while that bit more appealing.
So we were happy to talk about the sunshine, the miles of almost traffic-roads and the dusty trails which abound in our part of Andalucia. We hope we can welcome many of the people we spoke to over to Spain very soon.
And for 2 lucky people, we are offering a FREE prize draw competition to win a 4 day cycling or walking holiday with us. Simply go to our Quick Links and click on Spring Competiton 2014 for a chance to win. Here's Heather at our stand, just checking that our Competiton entry forms were all live and ready to go at the start of the show.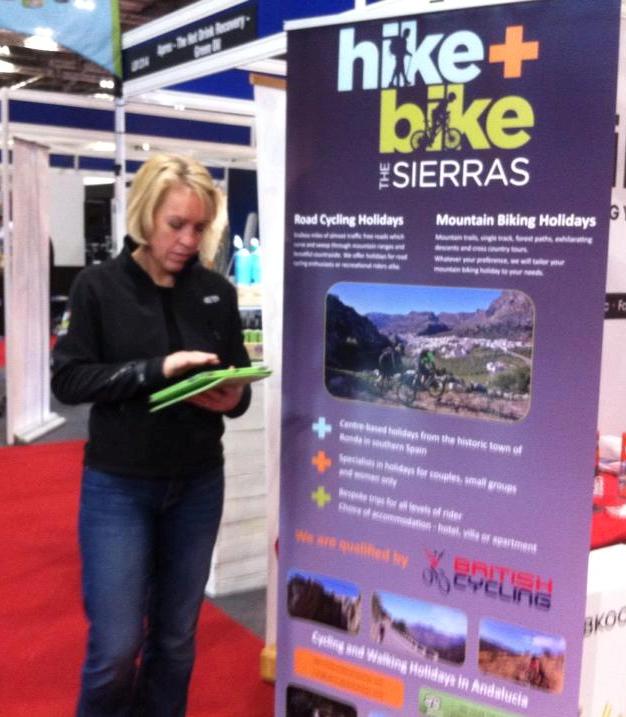 Good Luck everyone!