Grazalema Natural Park MTB circular
MTB Route in Grazalema Natural Park
Yesterday we were on a mission to identify a good circular mountain bike route in the countryside between the villages of Grazalema and Villaluenga, in the Sierra de Grazalema Natural Park.
Wayne has often ridden in this area and knows it very well but this particular loop had been thwarted on previous occasions by the presence of miles of uncrossable fences, even though most of the route is using recognised Cañadas Reales.  These are old drovers' routes which work a little like Britain's public rights of way.  Located on a mixture of public and private land, landowners are obliged to keep them open for access to walkers and bike riders, with any fences including clear gates and access points.  It doesn't matter what you build your gate with - they are not all stylish affairs and many around here seem to be constructed out of old bed frames!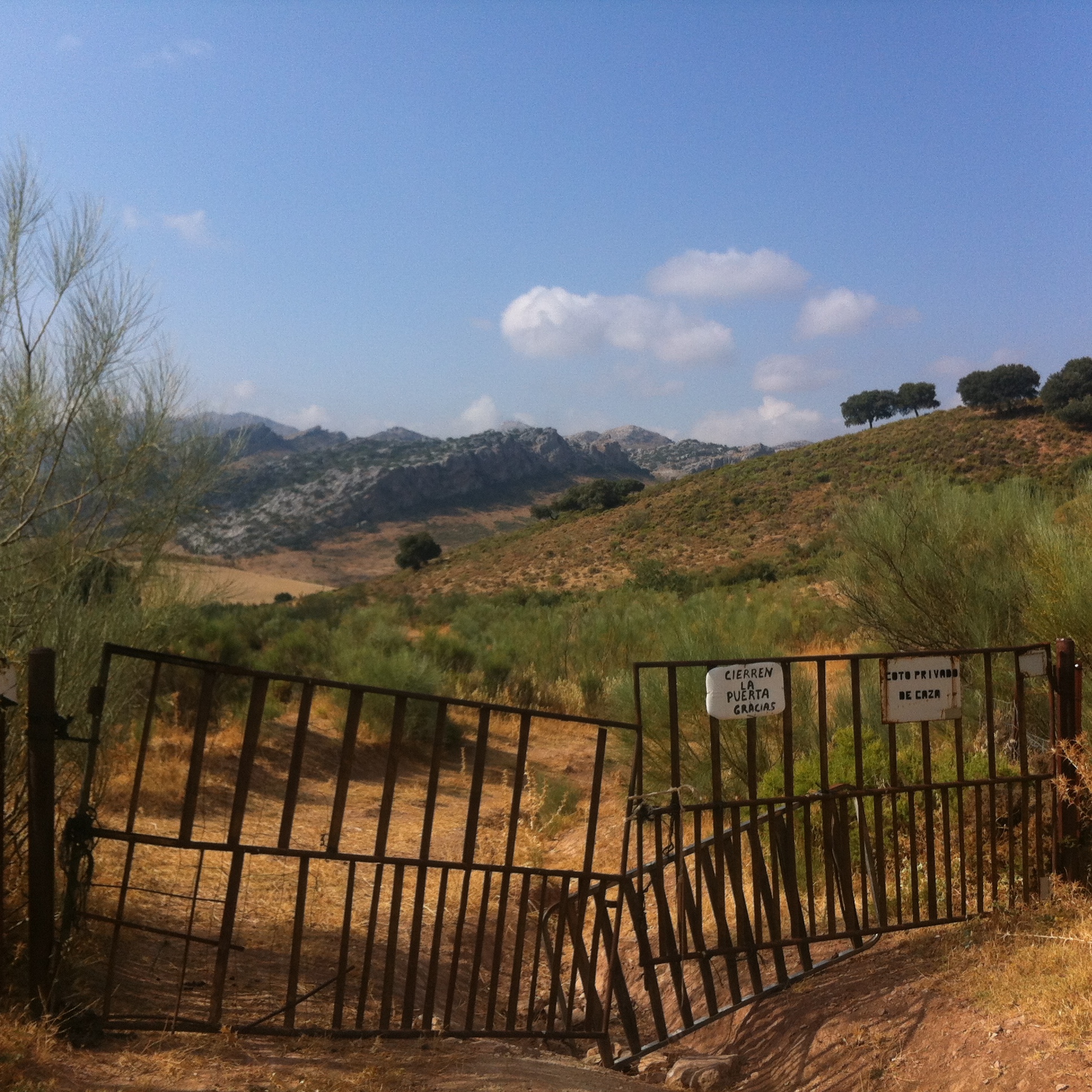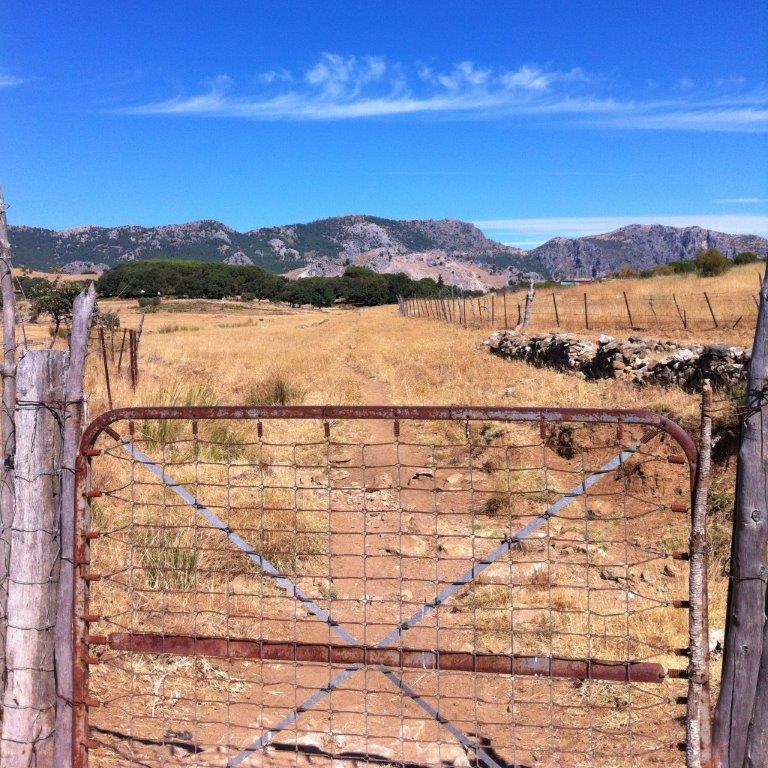 Whilst most farmers stick to the rules and make good use of their old beds, a few prefer to erect fences with no gates or clear ways through, which has sometimes resulted in huge detours or back-tracking – not something which we want to encounter when we have guests with us.
So we were back in a familiar Natural Park area but with new routes on our mind.  
Having left our vehicle just outside Grazalema, we headed out into the open countryside.  This is a rugged but beautiful and unspoilt area, where we rarely meet a soul and can ride for miles.  The views are vast, the mountains forbidding and the streams full of turtles and frogs.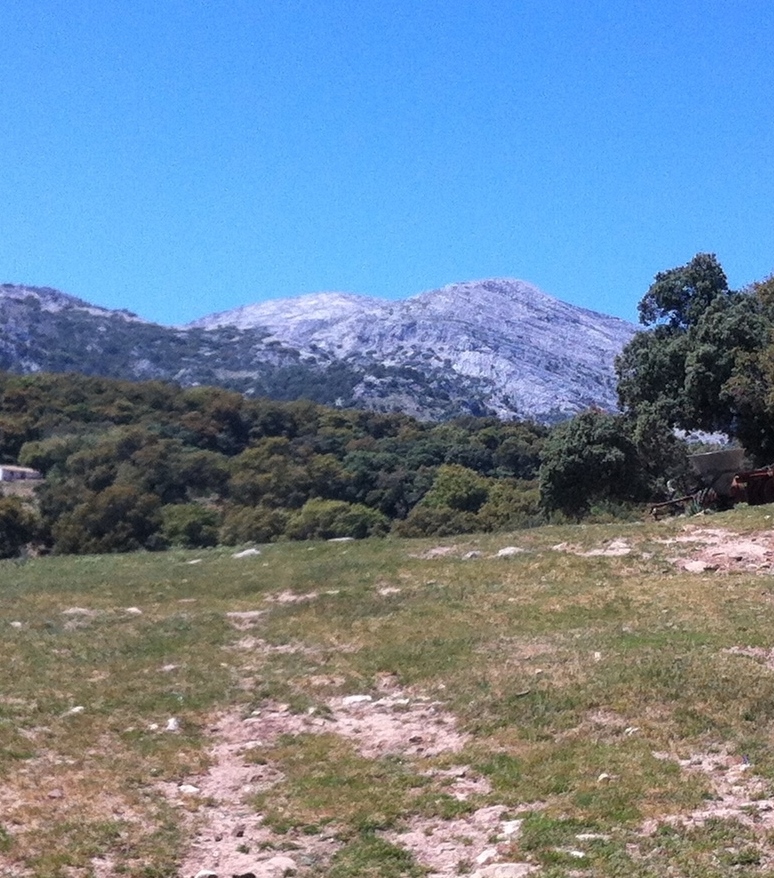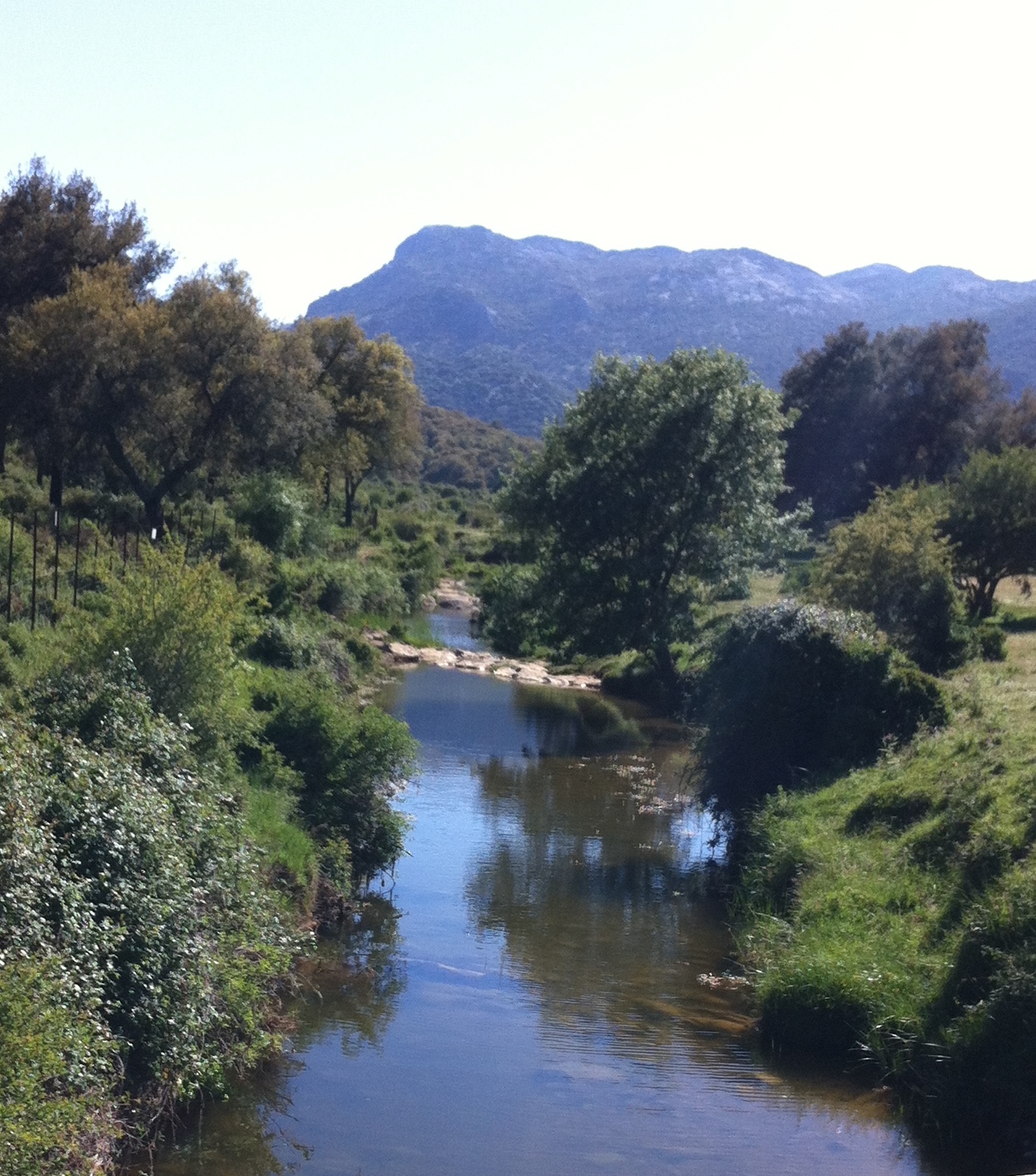 After a few kilometres, we found ourselves in what is called a polje or karstic plain.  This is a large, flat-floored plain which is often formed in mountain areas where the rock base is soluble - in this case, limestone.  When it rains, the water does not run off the surface but runs down through the rocks through cracks and sinkholes because this is the easiest drainage path through the porous ground.  Over time, this can lead to the creation of vast underground caves and waterways .....pretty much a pot-holers' paradise.  As the cave system below grows bigger and sinkholes expand and join up, large areas of surface rock are weakened and can collapse into the underground chasms, eventually leaving a flat floored plain with steep rocky mountains all around. Surface rain washes down rocks, soil and organic debris from the mountains into the plain, before the water runs away through the floor of the plain.  The plains are therefore generally very fertile and arable, surrounded by rocky slopes and a sparse covering of trees and scrub..... which makes for great cross country mountain biking.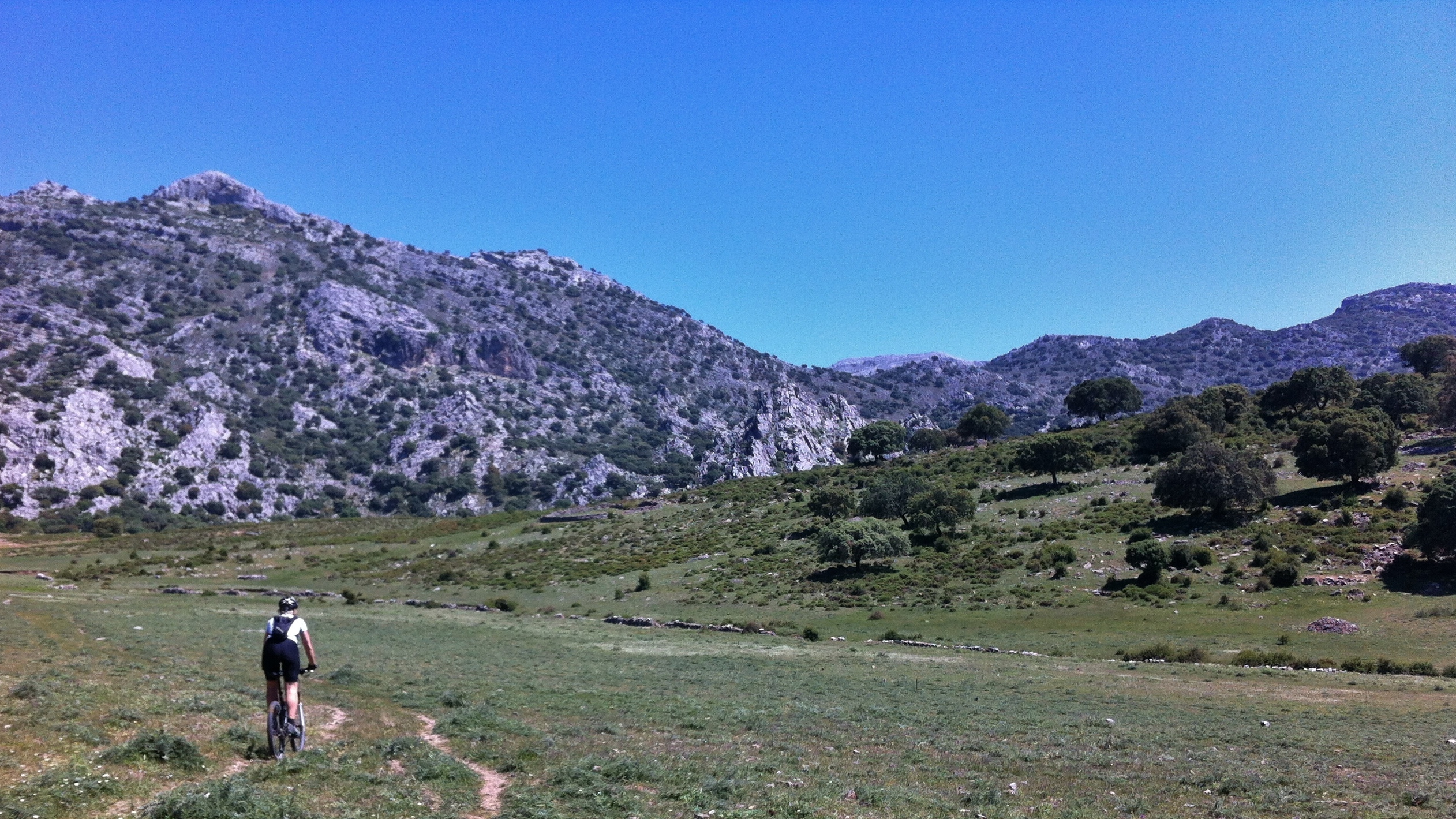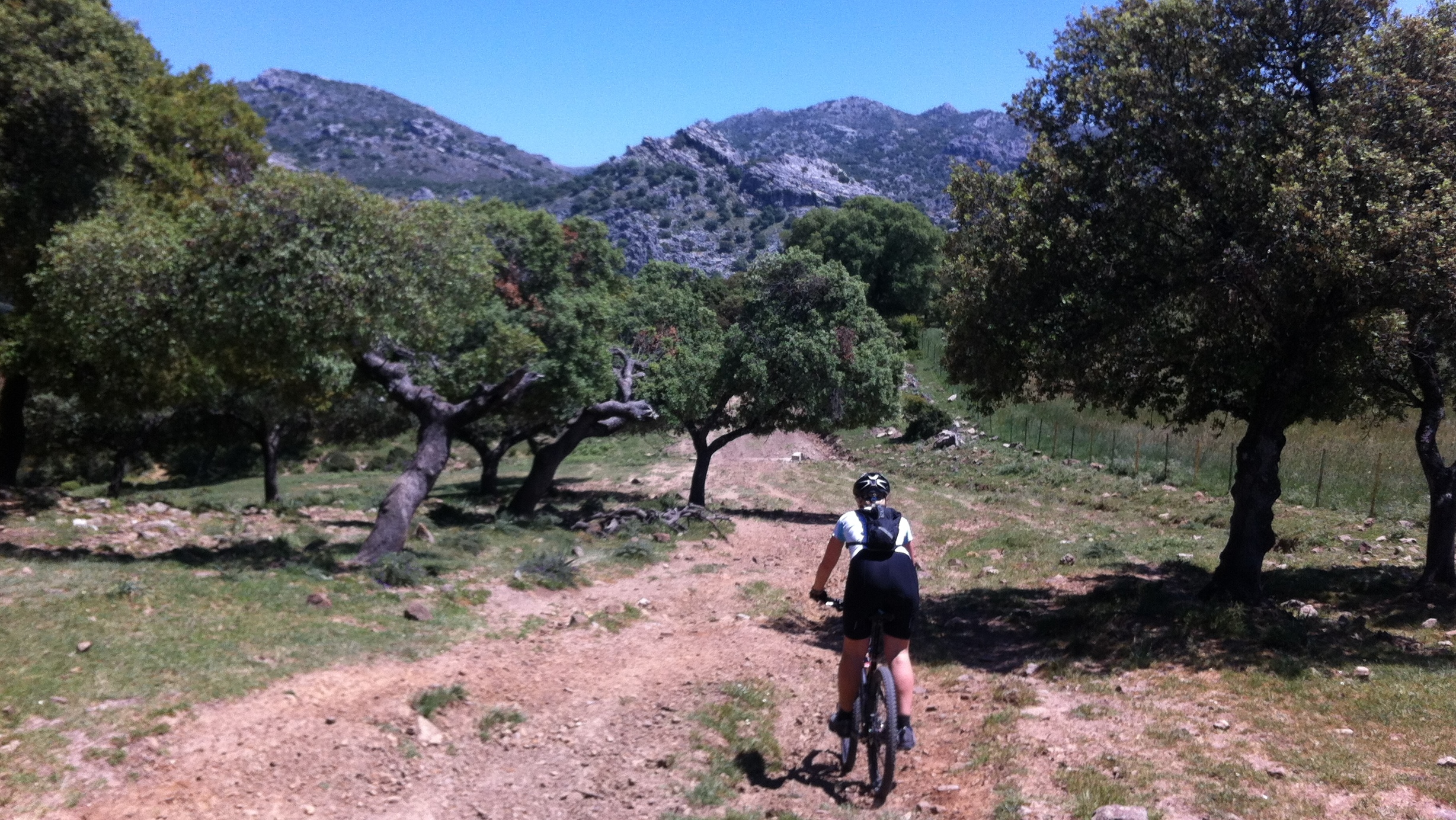 The good soil and natural water flow (if you stop what comes off the mountains running away through the ground) means it is perfect land for raising livestock, so the farming which we see here is completely different from nearer to Ronda.  Ronda is surrounded by mainly arable land, with fields of barley, olive groves, vineyards and many market gardens.  Here, between Villaluenga and Grazalema we saw almost no crops.  Instead we saw plenty of happily feeding sheep and goats, a large, very healthy-looking herd of cattle, including quite a few small, slightly wobbly and directionally-confused calves and a fantastic pig farm, with dozens of noisy, snuffling and snorting black Iberian pigs.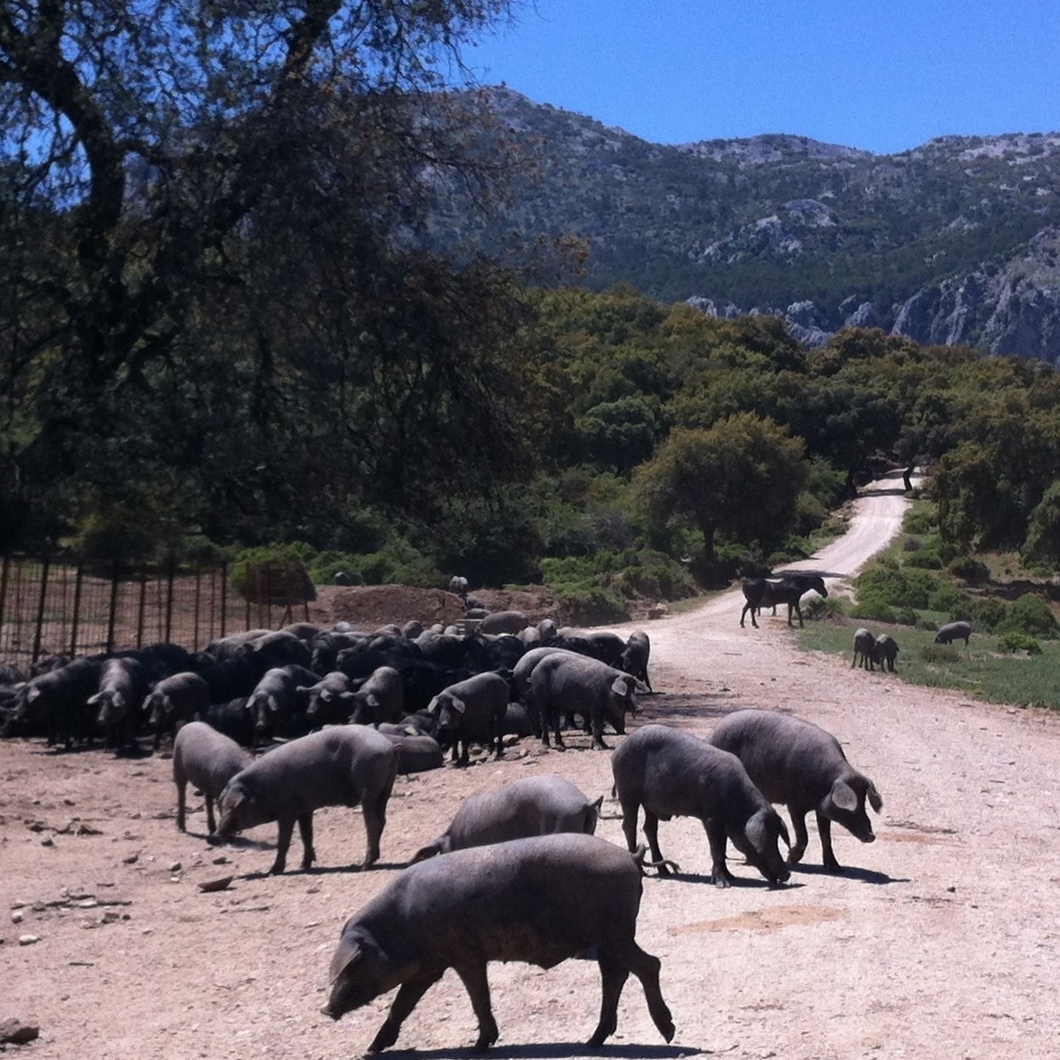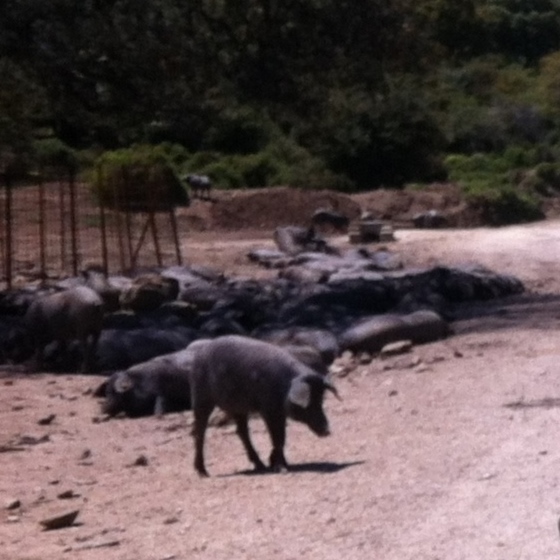 If I have ever felt sorry for farmed pigs when I see pictures of them in apparently small pig pens, all lying so closely together, without an inch to spare between them, I will now be less quick to bemoan the state of overcrowded factory farms. These truly free-range pigs were surrounded by large expanses of open ground and yummy-looking oak trees but they still all lay snuggled up together, practically on top of each other like one enormous blanket of pigs! 
So whilst enjoying a view of farming life in these parts, we got to do some fantastic mountain biking.  The vast plain gives a chance for some unusually flat riding for this part of Spain but you had to keep your wits about you, as the ground was often littered with large boulders and hidden rocks.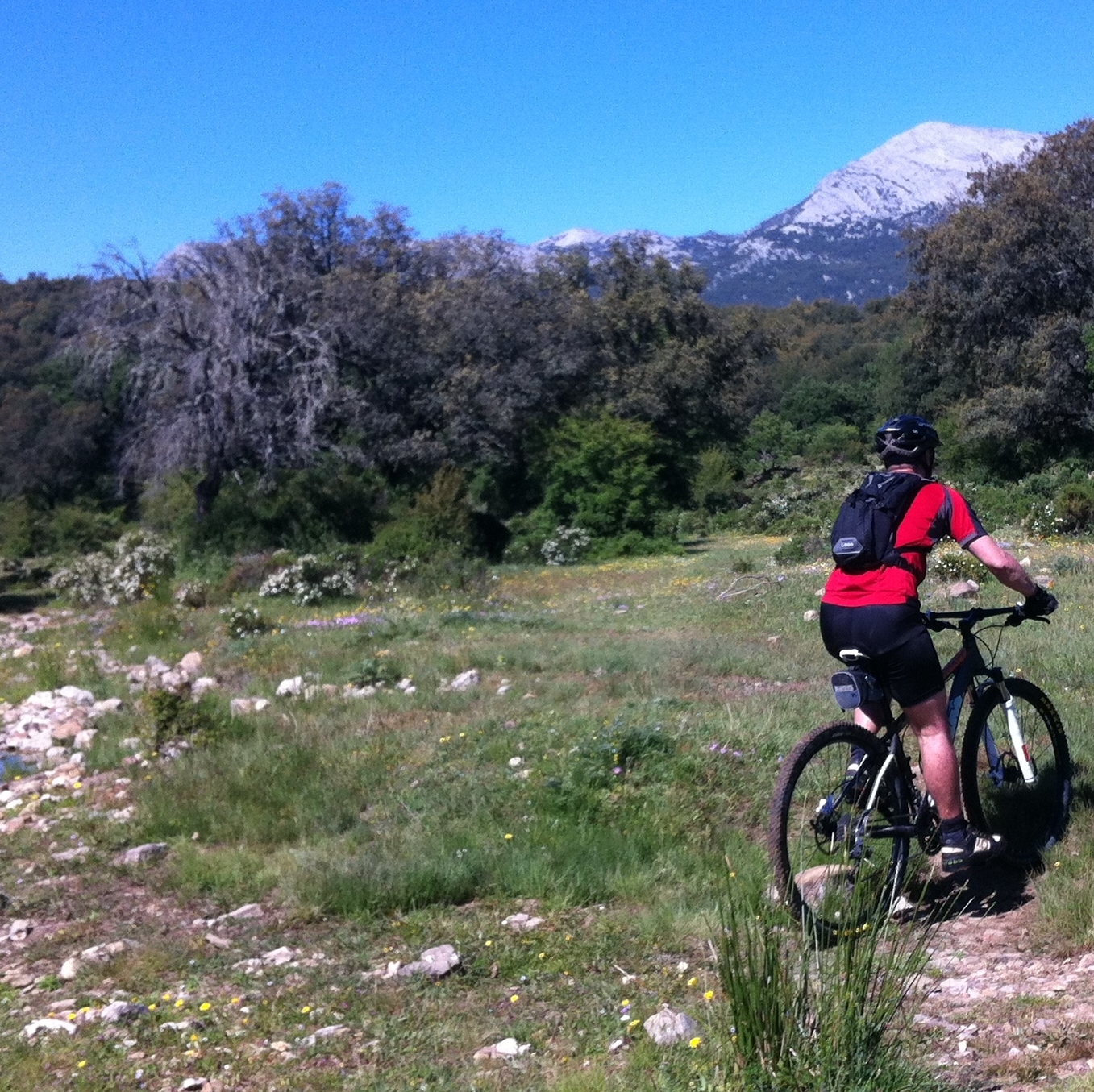 There were still a few climbs and corresponding descents involved, often negotiating rocks and obstacles along the way.  And we were lucky with the time of year to stumble across some huge expanses of wildflowers, which made a nice change from rocks.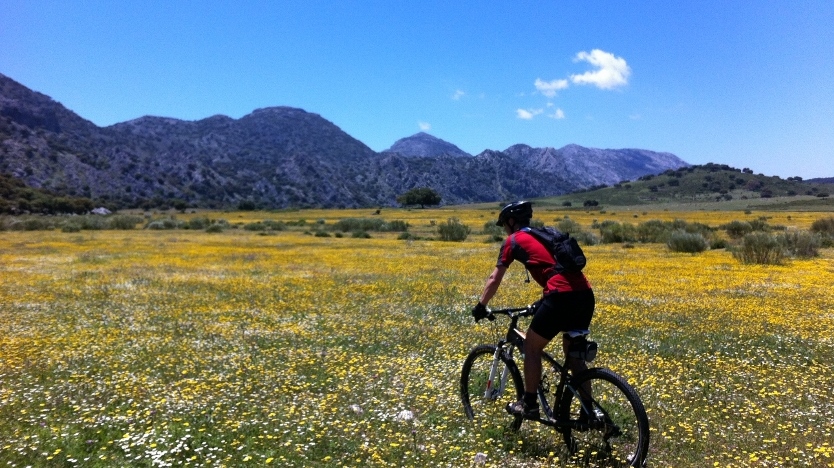 Another special part of this route is seeing one of the large caves which is the entrance to a huge cave system called the "Sima del Republicano" and, just infront of it, a deep sinkhole.  We don't recommend you get too close if you are not confident with a bit of rocky scrambling but you still get a sense of the water flow even from a distance.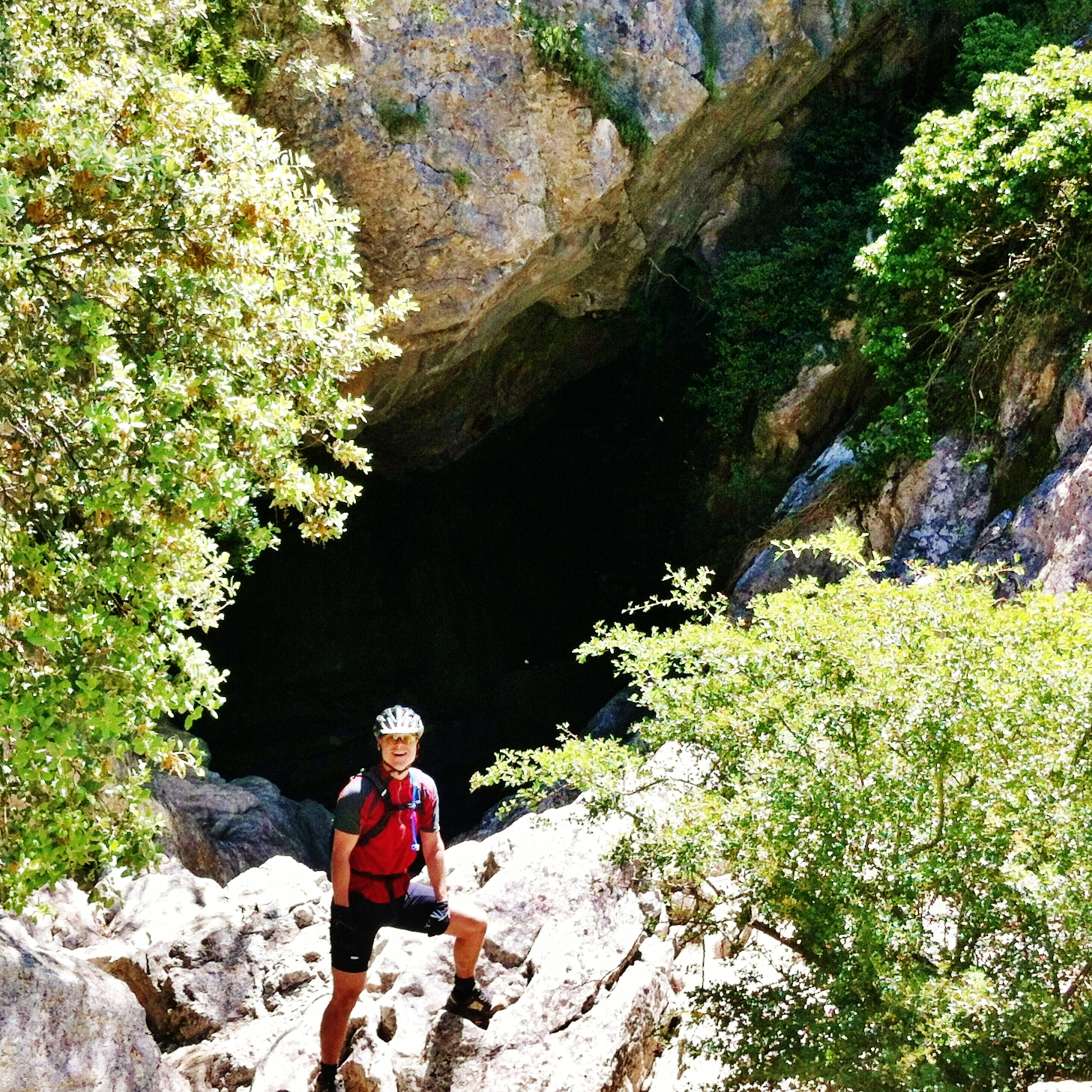 After the cave, we finally found a great new way back, without having to backtrack.  Mission accomplished!  Even though the gate we found to achieve it was another interesting bedframe, hidden on an outcrop of rocks!
A total distance of 27km means that this isn't a hugely long or arduous ride but you get to see some varied sights. And if you fancy going further, this ride is of course in the middle of some of our favourite riding areas, so we can extend this route by heading back through woodland to Montejaque, Benaojan or even along to Jimera.  Too many choices!
You can read more about our Grazalema Natural Park ride on this link. Or for riders who want to take on a longer and slightly tougher challenge, take a look at our Grazalema Grand Tour.
Contact Us to book either of these rides or browse other MTB Day tours here.
Heather Cooper, Hike + Bike the Sierras    05/06/2013