Andalucian Walking Holidays - in the Footsteps of Spain's Bandoleros
Discover Ancient Trails on Walking Holidays in Spain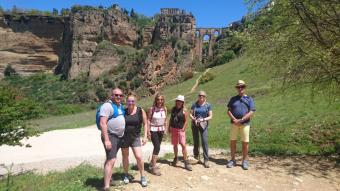 Leave the crowds behind on an Andalucían walking holiday or tour, through the unspoiled rural countryside of southern Spain. We are based in Ronda, surrounded by protected Natural Parks and a mix of high mountain peaks, pretty white villages and cork oak forests. We are just an hour's drive from the Costa del Sol but this region of outstanding natural beauty feels like a world away. Our Spanish walking holidays and tours offer stunning vistas and wonderful countryside experiences at every turn.
We specialise in finding the less-travelled path, which most tourists would never find for themselves. Our routes follow ancient drovers' trails and many of the hidden tracks that were used by Andalucía's romantic 'bandoleros' or bandits. Whilst the bandits are now gone, the landscape they roamed remains largely unchanged.
If you enjoy cycling too, we also offer holidays which combine a mix of walking days and cycling days, for maximum enjoyment of the area.
Flexible booking arrangements mean that you can pick your holiday start and finish dates exactly to suit you - come for a week or just a long weekend. If you are already holidaying in the area, join us for just a day or two of walking. 

QUICK LINKS FOR FASTER PAGE NAVIGATION
Award Winning Tours & Service

QUICK LINKS FOR FASTER PAGE NAVIGATION:
Our walking holidays in Spain explore the region of the Serranía de Ronda, in Andalucia, southern Spain and the two Natural Parks close by. The area is criss-crossed by a network of un-marked pathways and trails which are ideal for exploring on a walking holiday. Most of our walking holidays are led by local guides who know the area and the best trails very well. They will ensure you never lose your way, will point out interesting sights and talk about life and culture in this part of Spain. We include vehicle support on all our guided walking holidays, so we can start and finish walks in some of the more distant white villages, helping you to make the most of the trails across a wider region.
Some routes are also available for self-guided walking, so if you prefer to take your hiking at your own pace and go-it-alone, you can choose a self-guided walking holiday. We can provide a hiking GPS device with pre-loaded routes, along with our bespoke maps showing highlighted routes from our base in Ronda.
Our self-guided walking tours are created for hikers who prefer to walk to new locations each day. Our walking tours are multi-day hikes between traditional Andalucian white villages, designed to follow the most scenic and interesting routes. On these walking tours, you can Immerse yourself in Spain's diverse countryside, enjoying stunning scenery and empty trails. Spend a few days in the Grazalema Natural Park or make a wide circuit of multiple villages across the Genal Valley, Serrania de Ronda and Grazalema Natural Park. Your luggage is transported for you each day and GPS routes are uploaded for you. All that's left for you to do is enjoy the scenery and the trails on each day of your walking tour in Spain.
We offer an extensive range of guided walking day tours, so whatever your fitness level or the type of walking you are used to, we have a walking day tour for you. We grade all our walking day tours to help you find a distance and difficulty level to suit you. Our easy day walks are relatively short, use mainly smooth tracks and minimise the amount of ascent. They are suitable for anyone who is used to a couple of hours of walking. Our moderate day-walking tours tend to be longer or have a few more hills or notable climbs. They may include sections of uneven or rocky trails. Our challenging day-hikes are long and demanding, requiring good fitness and confidence walking on rougher surfaces or steep inclines - but there is nothing requiring climbing equipment. All our walking routes are designed to give you an unforgettable day out in fabulous scenery.
Our Hike and Bike holidays uniquely offer a mix of walking and cycling - perfect for walkers who want to have a day or two out on a bike or for cyclists who occasionally like to swap their bikes for boots. Choose how many days of each activity you would like to do and also whether your biking days are mountain biking, road cycling or e-biking. Alternatively, If you enjoy a touch of luxury during your walking and cycling holiday, try our Luxury Cycling, Walking & Spa Tour, with a mix of cycling and walking days, staying in luxury hotels, with spa circuits and massages included.