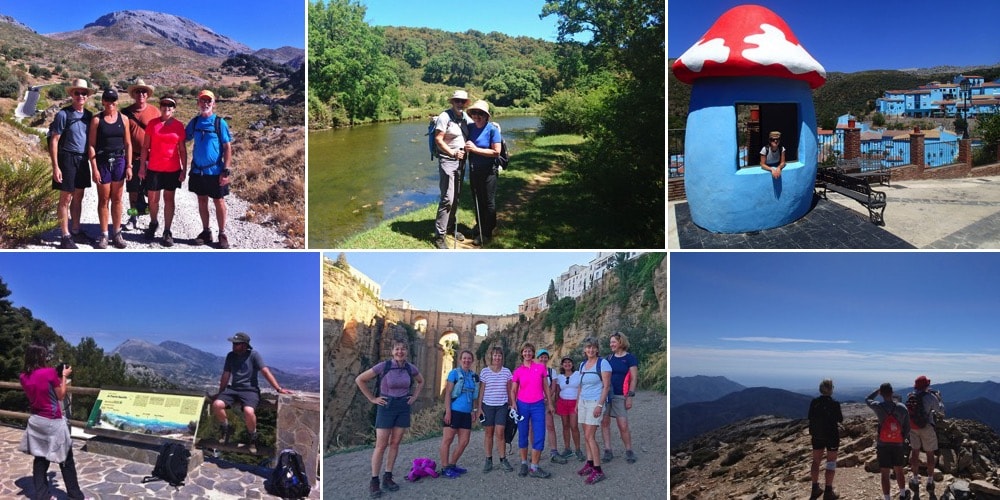 Cartajima Hills - Grazalema Natural Park - Juzcar, blue village - Sierra de las Nieves National Park - Ronda gorge and Puente Nuevo Bridge - Torrecilla peak 
Walking Holidays in Spain
Guided or Self-Guided Walking Holidays in Andalucia, Spain
Enjoy a guided or self-guided walking holiday in the mountains and unspoiled countryside of Andalucia. For this holiday you will be based in Ronda, in the heart of fabulous walking country. The town is ideally located between one National and one Natural Park and is surrounded by dramatic mountains, rolling hills, areas of rich forest, open countryside, vineyards and olive groves. Walkers can enjoy quiet trails throughout the region, walking along old drovers' routes, secret mountain pathways between villages, hillside goat tracks, undulating valley trails and unsurfaced farm lanes.
Read more.....

On our guided holidays, our guides will lead you through the local area, exploring hidden pathways which crisscross the countryside. On our self-guided holidays, we provide easy-to-use GPS equipment and annotated maps so you can explore the area on your own. 

Walking through this quiet and unspoiled region will allow you to experience Andalucian rural life, which appears to have changed little for hundreds of years.
Details

 

Price

Self-Guided from €665 p.p. based on 2 people sharing a double or twin room with breakfast 

Guided from €795 p.p. based on 2 people sharing a double or twin room with breakfast 

Duration

7 days

6 nights

5 walking d

ays

Distance

13km per day average

Ascent +450 per day average

Difficulty
Easy - Moderate -

 

Challenging - 

walks are available at all levels, though the area is hilly and trails are not groomed so all walks will include ascent and stony, uneven sections. Some walks inclu

de notable hill climbs, with

steep descents and ascents and sections on loose or rocky surfaces

.

Availability
March to November.

 The duration and pricing above is only a suggestion. 

Choose the dates and duration which suit you, start on any day of the week, alternative pricing on request. Note: Supplements may apply during Easter week due to inflated accommodation prices.

 

Ronda Walking Holiday Highlights

Walking Highlights

Amazing unspoiled landscapes – mountains, valleys and forests  

Breath-taking scenery in the Sierra de Grazalema Natural Park and Sierra de las Nieves National Park

Walking 'the less travelled path' – routes which explore where other visitors to the area don't get to see

Ronda, the City of Dreams - a cliff-top town separated in two by a 120m-deep gorge with an awe-inspiring, 18th century, arched bridge

White villages - nestled in the valleys and mountains and unchanged for centuries

Best weather in Europe – 300+ days of sunshine per year for optimal walking conditions

Warm Andalucian hospitality, local culture and cuisine

Flexible Planning

Flexible booking schedule - pick the dates you want to travel and the length of your holiday

Choice of hotel - Boutique countryside hotel or Ronda town centre hotel 

Half-board or B&B options - all offering superb hospitality

Choose guided or self-guided walking – qualified local guides or phone GS navigation App

Bespoke routes and itinerary 

Choice of difficulty and distance

 
 

 

Itinerary

 

A TYPICAL GUIDED WEEK

: 

Sunday - Arrival Day

Transfer to Ronda and settle into your hotel. 

Monday - Montejaque to Ronda 

12km +376m    

From a small mountain village, we walk back to Ronda, including spectacular views of Ronda Gorge and bridge.

Tuesday - Torrecilla Ascent

16km +823m   

Cross the Sierra de las Nieves Natural Park to the summit of the highest peak in Western Andalucia. Amazing views! 

Wednesday - Grazalema to Ronda

17km +264m    

Walk from one white village to another through the heart of the Grazalema Natural Park.

Thursday - Tajo del Abanico to Benaojan

15km +264m   

Visit a striking limestone gorge then head into the hills and to a local beauty spot with a waterfall and clear water pool.

Friday - Cartajima to Ronda

13km +463m    

From a small white village, follow an ancient drover's trail over the mountains to Ronda.

Saturday - Departure Day

Return to Malaga airport for your flight home or take onward travel elsewhere if you are staying in Spain. We can help with airport or other transfer arrangements if required.

A TYPICAL DAY: (based on Country Hotel)

09:00 - Enjoy a hearty breakfast ready for the day ahead

10:00 - Head out into the countryside on your first hike

14:00 - Finish at a local bar or cafe for refreshments or light lunch. If we finish outside Ronda, minibus return to your hotel. 

16:00 - Chill-out by the pool. Afternoon tea and cakes provided.  

19:00 - Drinks in the bar

20:00 - Enjoy a well-deserved 3-course meal on the hotel restaurant's terrace.

21:30 - Relax with a nightcap before getting a good night's sleep, ready for tomorrow's adventure

 

What's Included

  

Over the years we have seen how our guests have different requirements for their accommodation, just like they do with their riding preferences. 

For this reason, we offer 3 excellent choices of accommodation to suit everybody's needs. All our hotels have excellent reviews, facilities, hospitality and location. Choice of accommodation does not affect where you ride or walk each day, the Ronda hotels are very close to each other and the country hotel is less than 10 minutes from the town.

Prices below are per person, sharing a double or twin room for a 7-day, 6-night holiday but we can cater for anything from a single day of walking and riding through to a full week.

COUNTRY HOTEL: Half Board

Relax in a boutique countryside hotel just outside Ronda with a pool, gardens and restaurant.

Guided: from €945

Self-Guided: from €815

Includes:

6 nights' en-suite accommodation with breakfast

4 nights' dinner, incl drinks

Afternoon tea & cakes

5 day's guided walking with a qualified guide

Transfers from Ronda to the hotel on arrival and departure days

Self-guided walkers receive route maps, local information and GPS phone app/GPX files, and selected drop-off/pick-up days to optimise route choice

 

RONDA HOTEL: B&B

Enjoy one of Ronda's popular hotels right in the centre of town, usually the 4**** Hotel Maestranza. (Subject to availability)

Guided: from €795

Self-Guided: from €665

Includes:

6 nights' en-suite accommodation with breakfast

5 day's guided walking with a qualified guide 

Self-guided walkers receive route maps, local information and GPS phone app/GPX files, and selected drop-off/pick-up days to optimise route choice

 

SUPERIOR RONDA HOTEL:  B&B

Indulge in one of Ronda's finest 4-star hotels with a pool, spa, gardens and wonderful views over the famous cliffs. This hotel is also close to the town centre.

Guided: from €1095

Self-Guided: from €965

Includes:

6 nights' luxury en-suite accommodation with balcony/terrace

Breakfast buffet

5 day's guided walking with a qualified guide 

Self-guided walkers receive route maps, local information and GPS phone app/GPX files, and selected drop-off/pick-up days to optimise route choice 

 

NOT INCLUDED:

Flights

Airport transfers - Malaga transfers available on request

Meals not stated above

Single room - price available on request

Travel Insurance

Personal expenditures e.g. bar bills, hotel extras

Trail Options

 

 

Ronda-Based Walking Holiday

Our most popular walking holidays are at a moderate level of difficulty. This region is mountainous so all walks will include some level of ascent and descent. Climbs can sometimes be steep or with a drop to the side but no special equipment is required and they are perfectly do-able by any reasonably fit and able hiker. We can include more mountainous climbs and longer distances if you would like more challenging walking options.

Please note, we can include one or two easy walks as part of a walking holiday itinerary but this area is not suitable as a holiday base for walkers who are looking only for smooth, easy or groomed walking trails. 

Guided holidays include vehicle support throughout. 

N.B. Self-guided centre-based walking holidays include some days with transport drop-offs/pick-ups. The countryside hotel is not available for 100% self-guided walking holidays, though we can offer a mix of guided and self-guided walks if you would like to stay in this country hotel.

 

EASY ROUTES

Easy walks include minimal ascent and range from 8-10km. Trails may still include some short steep sections and stony ground but not for extended distances.  

 

 

 

 

 

MODERATE ROUTES

Moderate-level walking will require a good level of overall fitness, together with the ability to walk on trails which are mainly untended and not well-maintained. We walk on all-natural trails, so routes can be weather-eroded with stony, gravelly or uneven surfaces and some sections take us through unmarked ground, with no obvious pathway at all. 

 

 

 

 

CHALLENGING ROUTES

Walking routes with more ascent or very rough trails, often no trail at all, so you could be walking through rocky open ground or along river beds or up steep narrower paths.