Hiking Routes from Ronda, Andalucia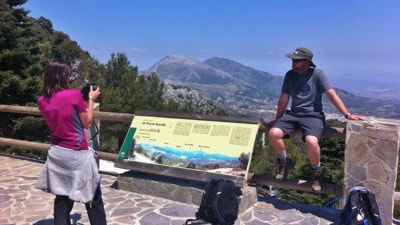 Want to explore the countryside near Ronda on foot? Then join us for a day on a guided hike or we can supply GPX files for local self guided hiking routes.
Guided or Self Guided Hiking Routes
Our guided point-to-point hikes offer walks that you could not do alone. We include vehicle drop off or pick up so that we are not restricted to circular hiking routes. We can get further afield and explore areas with no public transport services.
If you prefer to self guide, there are some circular walks local to Ronda for which we can provide GPX files for a very small charge. Some of these walks are also available with a guide. Contact us for more details.
Booking Schedule for Hiking Routes
Totally flexible booking! Simply let us know the date you wish to walk and your chosen hiking route from those featured below. Not sure which route to pick? Then let us know the difficulty/ascent level you are used to doing and we will make a suggestion. 
N.B. The trails in this area are all natural and ungroomed. This means that they can suffer some weather and usage erosion. None of our hiking routes include anything dangerous or requiring climbing equipment but expect stony, rocky and gravelly sections on all hikes and some steep ascents (ask for more details for your route choice). 
Select any of our Hiking day trip routes below to see more information and photos:
What to Bring:
Footwear - Comfortable walking boots, trainers or sturdy worn-in shoes. Thicker soles are best. Trekking sandals only suitable on some routes, as most have sections of loose, stony ground and there are sometimes vicious bushes and thistles!  No flip flops. 
Clothing - Loose, comfortable clothing or sportswear.In cooler weather, bring a couple of thin layers rather than one thick top as they are easier to remove if you get warm. A thin windproof jacket is advisable on higher altitude hikes (see individual walk details)
Walking Poles - not essential but if you are used to walking with them, then best to bring. Good for stability on loose descents.
Water - Bring plenty of water (allow 1/2 a litre per person per 5km in the hottest months).
Snacks - Bring snacks to keep you going during the walk, as most route sare in remote countryside and we do not pass anywhere to buy anything until the end. 
Rucksacks - The best way to carry spare water, snacks, clothes, sun screen etc. 
Other - sunglasses, sunscreen and a hat or cap in the hottest months
Interested in our Mountain Biking or Road Cycling Day Tours ? Click here