Cycling Holidays and Day Tours in Andalucia, Spain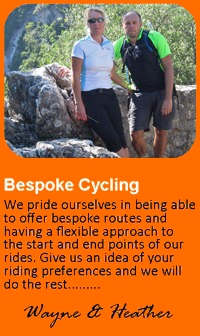 Our cycling holidays and day tours are the perfect way to explore the unspoilt countryside around the town of Ronda in Andalucia. Peaceful, largely traffic-free roads twist and turn through the stunning landscape, passing rural villages and historic towns, via mountains, forests and farmland. We use hybrid bikes for most of our road riding, with excellent gearing to help with the hill climbs. The hybrid bikes have disc brakes and are easy to handle on the descents. They are superbly adaptable too, so we can mix the routes up with some riding on easy tracks.
For anyone who feels they may need a bit more help with the hills, we also have e-bikes available. Road bikes are also available for some tours.
So, whether you are planning a cycling holiday or are already in the area and wish to do a day or two of cycling, we have something suitable for you. We will help you select the rides which suit your fitness, experience and the hours you like to be on a bike.
Choose Guided or Self Guided 
Our British Cycling / IMBA-qualified guides will take you on a scenic tour and show you the best sights as you ride. They also provide the reassurance of mechanical support for the bikes along the way and we include vehicle support on all our guided cycling.
If you are confident to go-it-alone, hybrid bike hire without a guide is also available. For self guided road riding we can provide a GPS device with pre-loaded routes or bespoke maps with marked up routes.
Choose Leisure or More Challenging Road Cycling
Our Cycling Day Tours, Centre Based Cycling Holidays and Leisure Cycling Tours take things fairly easily, cycling daily distances of 25km to 65km on hybrid bikes with varying amounts of hill climbing. 
For cyclists looking for more of a classic road cycling challenge, check out our Road Cycling Tours, with greater daily distances over multiple days and more hill climbing. These tours include rental of a carbon-framed road bike.
To develop your road cycling skills or train for racing and sportive events, join one of our Cycling Coaching Weeks.
We also have some specific routes for self-guided e-biking on the quiet roads around Ronda and through the surrounding countryside.
Click on the boxes below to find out more about our cycling options