Explore by e-bike from Ronda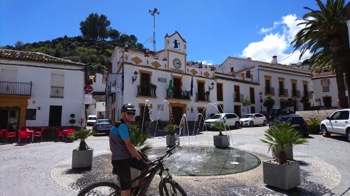 Self Guided e-bike Day Tours
We offer a great range of self guided Leisure e-bike rides from Ronda into the surrounding countryside and Natural Parks. The routes use a mix of quiet roads and unsurfaced tracks and are suitable for everyone. Ronda sits on top of a hill, surrounded by mountains, so most riding in the area includes some hill climbs. But with our high performance e-bikes, hills will present no obstacle and you can enjoy the freedom of e-biking in this beautiful and unspoilt area.
We will pre-load your chosen route on to one of our easy-to-use Garmin GPS devices. You can take yourself off for the day with no need to hurry and plenty of time to enjoy the scenery, local culture and maybe a tapas or two along the way. You can even enjoy a spot of wine-tasting on our Bike & Bodega tour.
Select any of the routes below for a great day out. All self-guided e-bike routes start from our base, just 6 minutes' drive from Ronda (pick-ups possible, subject to availability):
e-MTB Rides Ronda
We also offer e-MTB rides in Ronda. These e-bike rides take you slightly more off the beaten track and include some sections which require some previous mtb experience.