Cycling Holidays in Andalucia, Spain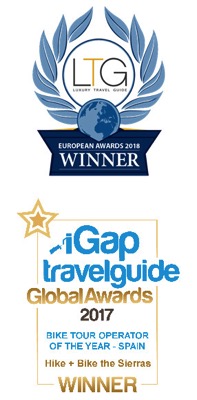 We offer a wide range of guided and self guided cycling holidays and tours in western Andalucia, Spain.
Without a doubt, the Andalucian mountains offer fantastic cycling holiday opportunities. This area of outstanding natural beauty contains stunning landscapes, sweeping mountain roads and quiet country lanes meandering through the countryside. The area feels remote and unspoilt, with traditional white villages dotted through the mountains - the perfect place for a tapas break or overnight stop. Traffic is minimal and drivers are very considerate to cyclists. All in all, our cycling holidays are the perfect way to enjoy the scenery, the fresh air and the tranquil experience of pedalling your way through the spectacular Andalucian landscape.​
Leisure Cycling 
Our Centre Based Cycling Holidays and Leisure Cycling Tours (Andalucian White Village Tours) take things fairly easily, cycling daily distances of 25km to 65km on hybrid bikes with varying amounts of hill climbing. 
Sport Road Cycling Tours
For cyclists looking for more of a classic road cycling challenge, see our Sport Road Cycling Tours, with greater daily distances over multiple days and more hill climbing. These tours include rental of a carbon-framed road bike.
Cycling Holiday Dates and Availability
We are very flexible, tell us the dates you wish to travel and we will arrange a trip to suit. 
Click on your preferred cycling holiday below to read more:
Cycling Holiday Testimonials
"The route took us through, up, down and across, then across, up and down. Flowers, wildlife, history, culture and friendliness. The route was excellent, the info good and the accomodation atmospheric. Not too hard or so easy. We left smiling; muscles, brains and stomachs satiated." Zena & Peter, Australia, Bespoke Cycling Tour, May 2018

"We booked a 4 day self-guided bike tour with Hike and Bike Holidays. Wayne and Heather have created some great well researched bike tours. Our itinerary had to be changed up at the last minute due to heavy rains and washed out trail. The alternate trail may have been the best part of our ride! we got to ride miles of the Via Verde path and Caminos! being able to ride for so far on maintained trail is wonderful! Our tour included accommodation every location that was ideal. we enjoyed every part of our trip and recommend booking with Hike and Bike." Courtney & Lee, USA, Ronda to Seville Tour, April 2018

"Hike and Bike provided great route planning in areas that we never would have found on our own with a lot of research and likely some time lost encounters. The GPS track that was provided on our little Garmin was spot on, easy to use and allowed us to focus on the wonderful sites along our journey. Wayne has clearly ridden the routes and hand picked the real gems. We'll be back to try out some of the local mountain bike trails!" Tracy & Brendon, Canada, Cycling Mini-Tour, April 2018

"The whole family really enjoyed the cycling, which is quite a tricky thing to get right because of the different ages. Ronda was beautiful and the scenery amazing." Julie & family, UK, Cycling Mini-Tour, April 2018

"We had ten well organized days, a good mix between tours and rest days in that beautiful landscape. Heather & Wayne are very involved to make our wishes come true. We recommend it to everybody!" Annina & Marianne, Switzerland, Centre-based Holiday, Mar 2016

"We had a fantastic holiday. Relaxed and well organised. Heather and Wayne are a great team. I would definitely recommend them to a friend!!!" Noel & Edward, UK, Luxury Spa Tour, Sep 2015

"...you don't have to be Bradley Wiggins to fully enjoy [Hike + Bike] holidays. Anyone with a moderate level of fitness and an enjoyment of cycling will really appreciate seeing the breathtaking scenery from the leisuirely pace of a bike. Throw in the comfortable unstuffy accommodation and the amazing food from Heather ... and you've got a winning combination! I'm afraid we might be back."  Jane & Bob, UK, Centre-based Cycling Holiday, Sep 2015
Cycling Day Tours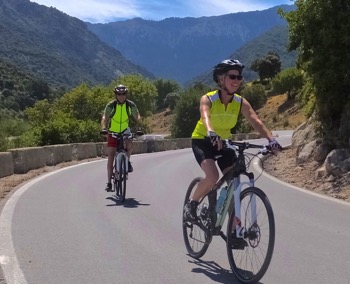 Already in Ronda and looking for a day's cycling out on the roads? Check out our Cycling Day Tours for a great Andalucian cycling adventure.