Mountain Bike Rides and Day Trips - Ronda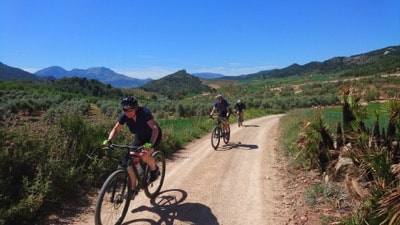 Want to explore the countryside near Ronda? Then join us for a day on one of our guided mountain bike rides. Whether you are an experienced cross country mountain biker or simply want to enjoy a fun tour on two wheels, we offer rides to suit all levels of experience and fitness.
All our mountain bike rides are led by a fully qualified British Cycling MTB guide with expert knowledge of the local tracks, trails and singletrack.
Most of the trails we ride are unmarked and only through years of exploration have we been able to put together our routes in the Sierras and Natural Parks surrounding Ronda.
Try Our e-MTB's
We also have electric bikes available for our guided mountain bike rides. They can be used on the range of rides below or use them for our more specific e-MTB routes; the specific e-MTB rides are designed specifically with the electric bikes in mind, taking you further and up climbs that we would normally avoid on our regular mountain bike rides.
Guided Mountain Bike Rides Schedule
We are very flexible in our scheduling and don't run set trips on set days. In other words, simply let us know the date(s) you are available, your ability level or the ride you like from those featured below and we will arrange a mountain bike ride to suit you.
Select any of our MTB routes below to see a detailed PDF with more information and photos:
What to Bring:
We supply bikes, helmets and water bottles. 
Footwear - Trainers or firm soled shoes. No open toed sandals or flip flops. 
Clothing - Loose, comfortable clothing or sportswear. Thin layers are better than 1 thick top as they are easier to remove during the ride if you get warm.
Padded cycling shorts and cycling gloves will help to make your ride more comfortable but are not necessary.
A thin windproof jacket is advisable on rides which go higher into the mountains or include long downhil sections (see individual ride details).
Rucksacks - Optional, to carry spare clothes, suncream etc. Essential for longer rides in the summer when you will need to bring extra water. No bags allowed hanging from the handle bars.
Snacks - Refreshment stops usually scheduled for the end of your ride and also midway for longer rides. Bring your own if you will need something else to keep you going (particularly famillies with children as they tend to need re-fuelling mid-ride!)
Other - sunglasses, suncream!
Interested in our Road Cycling Day Tours or Walking Day Tours ? 

Click here