Hiking Holidays and Day Tours in Andalucia, Spain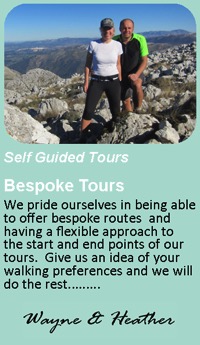 Our hiking holidays and day tours are the perfect way to enjoy the stunning, natural landscapes of Andalucia. The unique mountain scenery of Ronda and its nearby Natural Parks provide a Spanish experience which is a world away from that of the busy coastal resorts. The region remains quiet, peaceful and decidedly rural. Following ancient routes between the villages, you will barely see a soul. What's more, the white villages dotted amongst the mountains have changed little in hundreds of years and show you a side of Spain which few visitors get to enjoy.
Choose Guided or Self Guided 
Our guides know all the best routes in the area. They will ensure you never lose your way and, as you hike, will point out interesting sights and talk about life and culture in this part of Spain. 
If you prefer to take your hiking at your own pace and go-it-alone, we can provide a hiking GPS device with pre-loaded routes or bespoke maps with marked-up hiking trails.
Hike and Bike
On our hiking holidays and day tours you can explore the small tracks and trails which criss-cross the local landscape in all directions. To add variety to your holiday, we also highly recommend our Hike + Bike Holidays. These mix some days of hiking and some days of biking to allow you to experience both activities without having to commit a full week to either activity. We can vary the difficulty level of both activities to suit your preferences.
Click on the boxes below to find out more about hiking alone or mixing hiking with biking.