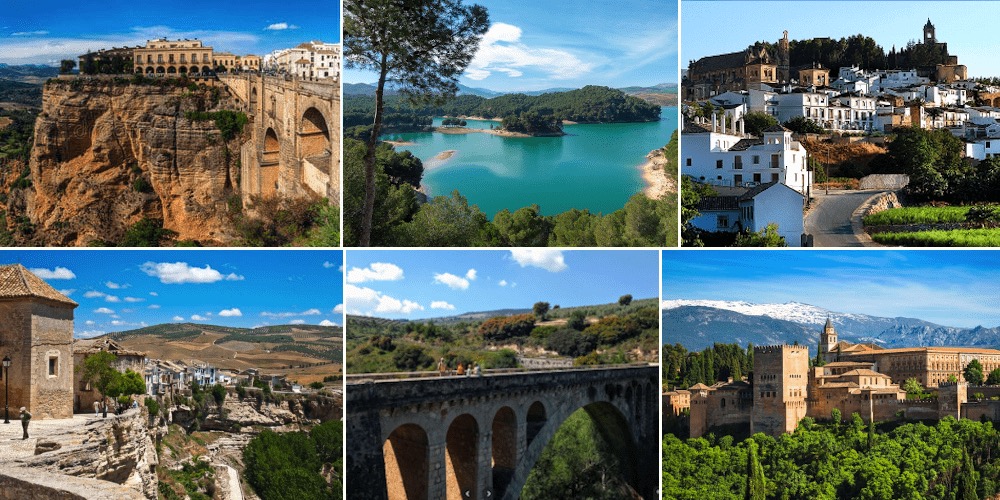 Ronda to Granada - Road Cycling Tour in Spain
Discovering Andalucia on 2 Wheels
This spectacular road cycling tour in Spain will take you from Ronda to Granada along a wonderful route visiting some iconic and unique towns and villages. The roads are smooth and you will be able to relax and enjoy Andalucian weather, hospitality, and great cuisine.
Riding is at a moderate/challenging level and bikes can be road bikes, hybrids or electric bikes whatever your preference you are assured of the best quality bikes available.
Andalucian Road Cycling Tour Highlights
Culture & History

Ronda 'City of Dreams' - Puente Nuevo bridge and 120m gorge

El Chorro Gorge

Antequera - Alcazaba (Moorish fortress)

Sierra de Loja

Alhama de Granada a beautiful village perched above a deep gorge

Granada

Scenery & Cycling

Ride on smooth, quiet roads through ever-changing landscapes

Take the less-travelled routes, that tourists rarely discover

Lakes of El Chorro

Discover the river gorge of Alhama de Granada 

The luxurious La Bobadilla "Royal hideaway" is an optional hotel upgrade midway through this tour
Summary

START: 

Ronda

     FINISH: 

Granada

Duration *

7 days

6 nights

5 cycling days

Distance

258 km total

52 km daily avg     (

 max 60km : 

min 32km )

Grading
Moderate-Challenging - The route follows mostly quiet roads, with very little traffic.  The roads in Andalucia are in excellent condition providing smooth surfaces and courteous drivers.  There are some significant climbs along the way so a reasonable level of bike fitness is needed. 
Availability **
March to November. Choose the dates which suit you. Start on any day of the week. 

N.B. Supplements may apply during Easter week due to inflated accommodation prices.

Price ***

€1195

  per person based on 2 people sharing a double or twin room with breakfast     

( 

€1295

 with e-bike 

)

* Travellers who wish to spend more time in Granada can request additional sightseeing days at the end of the cycling tour. Visits to the Alhambra must be booked directly via the official website - book as early as possible to avoid disappointment.
** Check out the local annual temperature and rainfall here. 
*** Solo traveller and single occupancy prices are available upon request.

 

Day-by-Day Itinerary

Arrival Day in Ronda

Check in to your hotel and enjoy the sights and sounds of the beautiful clifftop town of Ronda. Briefing and bike set-up will take place on your first evening.

 

Spain Bike Tour Day 1 - Ronda to El Chorro

60km +1030m

 

 

Spain Bike Tour Day 2 - El Chorro to Antequera

32km +763m

Passing "Lobo Park" an Andalucian Wolf Sanctuary.  Private tours can be pre-booked.

 

 

Spain Bike Tour Day 3 - Antequera to Sierra de Loja

54km +1049m

 

 

Spain Bike Tour Day 4 - La Bobadilla to Alhama de Granada

54km + 980m

 

 

Spain Bike Tour Day 5 - Alhama de Granada to Granada

58km + 708m

 

 

Departure Day - Depart Granada

Check out from your hotel and have a safe trip home or to your next destination.

We can provide transfers to your next destination or airports of Sevilla or Malaga. POA

We hope to see you again in the future.

What's Included

WHAT'S INCLUDED

6 nights accommodation on a B&B basis 

Luggage transfers

Road bike or Hybrid

Optional seat-post rear bag and/or handlebar bag for your daily needs (we recommend travelling light)

Helmet & water bottle (or bring your own)

Route GPS (phone App with daily routes, profiles and maps, no Data-usage required) or GPX files

Annotated route maps 

Briefing Pack, incl tips, advice and day-by-day route notes

Briefing meeting on arrival 

ACCOMMODATION

Your tour goes through a mix of large and small towns and more rural areas, so the accommodation style and standard will vary. In the larger towns, we book 4-star or 3-star hotels; outside of these, you will stay in countryside haciendas, boutique B&Bs or traditional-style village hotels. All rooms have en-suite facilities. Our selections are based on clean and comfortable accommodation (if sometimes quite simple), friendly owners and staff, a warm welcome, bike storage and if possible a swimming pool too.

Ronda - 3 star - Hotel Maestranza

El Chorro - 3 star - La Garganta Hotel with pool

Antequera - 3 star - Infante Antequera

Sierra de Loja - Country Hotel with pool. Optional upgrade; for a night of luxury at 5-star "La Bobadilla" Royal Hideaway Hotel +€100 p.p.

Alhama de Granada - Casa Rural la Seguiriya

Granada - 4 star - Eurostars Aurea Catedral

 

 

 

FAQ's

 

WHERE WILL I BE RIDING?

Our road cycling tour routes take you on a scenic journey along country roads with very little traffic as far as possible. Roads in Andalucia are mostly smooth and a delight to ride. We design all our routes so that you will have time after your cycling to relax and enjoy each overnight location.

WILL I BE FIT ENOUGH?

Our tours are designed for cyclists who enjoy the great outdoors and are looking for a few challenging hills, rather than cycling experts or people looking for large daily mileage and ascent. There are hills throughout the region but we keep daily distances manageable, particularly on days with more hills.  Anyone who is reasonably fit and happy to be on a bike for 4+ hours a day will enjoy this tour. 

WILL MY LUGGAGE BE TRANSFERRED?

No need for panniers or trying to pack light and risk leaving important items behind. We transfer your main luggage for you so you just take a few items for each day – water, snacks, and sunscreen. We provide an 8-litre capacity rear trunk bag.

CAN I DO THIS LEISURE CYCLING TOUR WITH A GUIDE?

We can offer a guided version of this tour with qualified guides and support vehicles or a semi-supported version with a support vehicle and driver who is a qualified guide.  There is a minimum person requirement of 4 to be able to provide this service.  Please do not hesitate to enquire about price and availability.

HOW WILL I NAVIGATE THE TOUR?

 

For self-guided cycling, we provide a GPS application on your mobile phone.  We give free access to the application which can be used in offline mode for each day's ride. The application shows maps and the route in great detail.  We also supply quality phone holders on the bike to keep your phone safe.

We also provide a large-scale, annotated map, designed specifically for your tour by Hike and Bike, giving you a perspective of where you are at all times.
Award Winning Tours & Service