Road Cycling Tour Spain - 'Frontiers of Al-Andalus'
Self-Guided Road Cycling Tour in Spain
Andalucian White Village Road Bike Tour
This self-guided road cycling tour makes a stunning 350km circuit from the town of Ronda out into the mountains and valleys of Malaga and Cadiz provinces. This region enjoys stunning mountain scenery, Cat 1 and Cat 2 climbs, great road surfaces with relatively little traffic and the best weather in Europe – what's not to like!
This Andalucian bike tour uses 3 hotels as bases during the week, visiting the Moorish frontier towns of Jimena de la Frontera and Castellar de la Frontera, together with Ubrique, one of the last frontier strongholds of the Republicans in the Spanish Civil War. In each location you will do one circular ride and then ride on to your next overnight location, giving 6 days of moderate-to-challenging road cycling.
On this road cycling tour of Spain, you can expect to get fitter and stronger and burn some serious calories – all the more to enjoy the fantastic local food and wine.
Road Cycling Tour Spain - Highlights
♦ Ronda 'City of Dreams'

♦ Frontier towns of Jimena de la Frontera, Castellar de la Frontera and Ubrique

♦ Historical sights of Acinipo Roman ruins and Setenil de las Bodegas cave-house village

♦ Long mountain ascents and descents

♦ Varied terrain - rocky mountains, forested hillsides, river valleys and coastal plains

♦ Smooth, quiet, country and mountain roads 

♦ Amazing vistas at every turn

♦ Challenging tour for strong riders
PHOTO GALLERY

Ubrique hidden town in Grazalema Natural Park - Ronda bridge and gorge - Acinipo Roman ampitheatre - Grazalema village - Setenil de las Bodegas cave-houses - Castillo de Castellar
Summary

START:  

Ronda

     FINISH:  

Ronda

Duration*
8 days
7 nights
6 cycling days
Distance
353 km total
58 km daily avg  -  ( max 68km - min 50km)
Grading
Moderate to Challenging - Some long ascents and good daily mileages on this tour. Total tour ascent is 7636m, average daily ascent of 1272m, with plenty of "ups-and-downs" along the way.
Availability**
All year round. Start on any day of the week. Choose the dates which suit you. 
Price***

€1055

  per person based on 2 people sharing a double or twin room (en-suite)

  

INCLUDED IN OUR PRICES

7 nights of accommodation on a B&B basis 

Luggage transfers

Carbon-framed road bike

Helmet (or bring your own) & 2 water bottles

Route GPS (phone App with daily routes, profiles, and maps, no Data-usage required) or GPX files

Annotated route maps 

Briefing Pack, incl day-by-day route notes

Briefing meeting on arrival  

We operate locally to Ronda, so support is always close at hand if needed

See our suggested KIT LIST for road cycling holidays in Spain.

WHERE WILL I BE STAYING?

Your tour goes through a mix of large and small towns and more rural areas, so the accommodation style and standard will vary greatly. In the larger towns, we usually book 4**** or 3*** hotels; outside of these, you will stay in countryside haciendas, boutique B&Bs or traditional-style village hotels. All rooms have en-suite facilities. Our selections are based on clean and comfortable accommodation (if sometimes quite simple), friendly owners and staff, a warm welcome, bike storage, and sometimes a swimming pool too.

 

* Tour duration can be extended by adding rest days along the route; let us know your preferences when you enquire.

** Check out the local annual weather conditions here. 

*** Solo traveler and single occupancy prices are available upon request.

Itinerary

Arrival in Ronda

Check in to your hotel and enjoy the sights and sounds of the beautiful clifftop town of Ronda. Briefing and bike set up will take place on your first evening

 

Road Bike Tour Spain Day 1 - Setenil de las Bodegas

50km + 1076m (circular route)

Warm up your legs for the week with an undulating mountain loop that takes in two of the oldest sites in the area. Ronda sits on top of a hill so you start with a long descent into the valley, followed immediately by a steady 10km climb up to the Roman ruins of Acinipo. Take a short break from the bike to walk up to the amphitheater on top of the escarpment for spectacular views across to Grazalema – a glimpse of where you will be riding on Day 6. Another long descent takes you down into Setenil de las Bodegas, "village of the cave-houses" a great lunch stop before you climb up to the village of Arriate and then on up to Ronda.

Road Bike Tour Spain Day 2 - Ronda to Jimena de la Frontera

60km +1294m

From Ronda, the first climb takes you high onto a mountain ridge that runs above the Guadiaro valley. You follow the ridge with views of another valley to the south, the Genal valley, full of chestnut trees. You will follow the undulating ridge line, passing through a series of white villages - Atajate, Benadalid, Algatocin, and Gaucin. Then head down off the ridge on a fantastic twisting descent past fields and farms. A final climb takes you up to the village of Jimena de la Frontera, where you will spend the night.

Road Bike Tour Spain Day 3 - Castillo de Castellar

68km +742m (circular)

A gentler day today, with plenty of distance but very little climbing, as you explore the region between Jimena and the coast. You ride past the castle at Castellar and breathe in the sea air as you come within a couple of kilometers of the coast. Then sprint back through the countryside to Jimena, finishing with the short climb up into the village for your second night.

Road Bike Tour Spain Day 4 - Jimena de la Frontera to Ubrique

55km +1312m

Today you take a long and steady climb from just above sea level up into the heart of the mountains of the Sierra de Grazalema Natural Park. The route is along a twisting, "away-from-it-all" road with no villages and only occasional traffic. You will ride through the Alcornocales Natural Park, with the road twisting and turning through miles of forests – pine, fir, and holm oak. Take a break at the single venta (roadside restaurant) around halfway but be prepared to carry your own supplies today to keep you going through the hills.

Road Bike Tour Spain Day 5 - Grazalema Natural Park

64km +1695m (circular route)

The toughest day today, although we have planned here the "easier" direction for this loop. You begin with a 16km Cat 2 climb out of Ubrique village. A short breather on a flat section before you are climbing again to Grazalema village (lovely plaza for refreshment stop) and up out of the village to the top of the El Boyar Pass. We have been kind to you with this loop, as you now head down a 19km stretch of road which, in an uphill direction, is known as "The Beast of Boyar". Do this loop the other way round for the full Beast experience – 16km with an average 5.3% gradient.

Road Bike Tour Spain Day 6 - Ubrique to Ronda

55km +1485m

You begin today with another Cat 2 ascent of 10km out of Ubrique village to climb to the ridge along the northern edge of the Guadiaro valley, opposite the ridge you rode on Day 3. From the high point of 769m, the road takes an undulating descent down to river level and the village of Jimera Estacion before climbing straight back up into the mountains. Then you drop back to meet the river again before the final steady 12km climb back up to Ronda. Well done – you have completed your sportive tour!

Day 7 Depart Ronda

Check out from your hotel and have a safe trip home or to your next destination.

We can provide transfers to your next destination or airports of Sevilla or Malaga. POA

We hope to see you again in the future.

FAQ's

 

WHERE WILL I BE RIDING?

Our road cycling tour routes take you on a scenic journey away from traffic as far as possible. You will cycle mainly on quiet country roads where the locals are very courteous to cyclists. Daily distances vary according to the tour you select. We design all our routes so that you will have time after your cycling to relax and enjoy each overnight location.

WILL I BE FIT ENOUGH?

Our self-guided road cycling tours are designed for keen cyclists rather than leisure cyclists. There are mountains throughout the region that will need to be tackled but are often rewarded with long descents.

WILL MY LUGGAGE BE TRANSFERRED?

No need for panniers or trying to pack light and risk leaving important items behind. We transfer your main luggage for you so you just take a few items for each day – water, snacks, and sunscreen. We provide an 8-liter capacity rear trunk bag.

CAN I DO THIS CYCLING TOUR WITH A GUIDE?

We can offer a guided version of this tour with qualified guides and support vehicles or a semi-supported version with a support vehicle and driver who is a qualified guide.  There is a minimum person requirement of 4 to be able to provide this service.  Please do not hesitate to enquire about price and availability.

HOW WILL I NAVIGATE THE TOUR?

We have 3 options available:

Ride with a GPS application on your mobile phone.  We give free access to the application which can be used in offline mode for each day's ride.  The application shows maps and the route in great detail.  We also supply quality phone holders on the bike to keep your phone safe.
Garmin GPS Device supplied by Hike and Bike.  This is a simple device that shows a breadcrumb trail for each day's ride.  Very reliable and simple to use.
Upload route files to your own GPS device.  We will forward files for each day riding in the format needed for your device.

We also provide a large-scale, annotated map, designed specifically for your tour by Hike and Bike, giving you a perspective of where you are at all times.

Route Map
Take a look at some alternative road cycling tours in Spain:
ANDAUCIAN CYCLING TOUR - HILLTOP TOWNS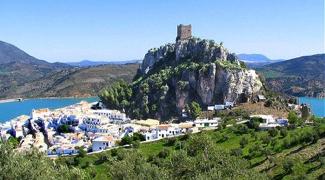 Moderate Road Cycling Tour in Spain
4 days riding  A moderate level road cycling tour through the scenic countryside of the Serrania de Ronda and beyond. Visit the most memorable hilltop villages of the region. 
Average daily distance 42km
Average daily ascent 1067m
Read more
ANDALUCIAN CYCLING TOUR - KING OF THE HILLS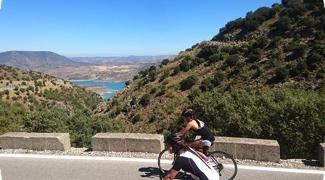 Challenging Road Cycling Tour in Spain
5 days riding  A challenging road cycling tour through diverse hilly terrain and the Grazalema mountains of western Andalucia. Long ascents and descents each day.  
Average daily distance 70km
Average daily ascent 1626m
Read more