Things to Do in Ronda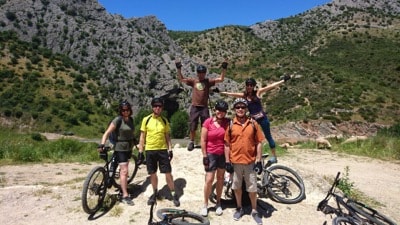 Looking for things to do in Ronda? We offer a wide range of guided and self guided day trips for all ages, abilities and interests:
Explore the Beautfiul Serrania de Ronda
The countryside around Ronda is without doubt some of the most beautiful and unspoilt in Spain.
On our biking and hiking day tours you will explore hidden local tracks and trails, surrounded by fabulous mountain scenery. We include visits to local sights of interest or traditional white villages, as well as plenty of time to stop for rests, to enjoy the views, take photos and then sample a few local tapas at the end. Just look at the grading on each route to pick the right day trip for you: Easy / Moderate / Challenging
On our minibus tours, our English guide will drive you in comfort to visit the Roman ruins at Acinipo or to see the prehistoric paintings at the Pileta Cave. Or do a  vineyard tour and some wine tasting at a local bodega. Simply select the tour that suits your interests.
Dates & Availability
We are very flexible in our scheduling and don't run set trips on set days - we book bike rides, hikes and minibus tours on a first come, first served basis for a minimum of 2 people. If you are solo we will try to find a suitable day tour for you to join. 
Mountain Biking - Cycling - Hiking Day Trips
Based in Ronda, Malaga, Andalucia, Spain
Select your preferred activity below to find out more about individual day trip options :
Minibus Support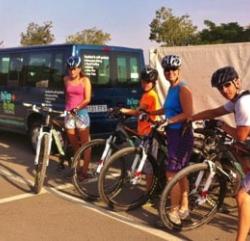 To optimise the route choices available, our guided biking day trips and hiking day trips are supported by our Hike + Bike minibus. This means we are not restricted to circular routes and can include the most interesting hikes and bike rides in the local area. And the minibus is on hand if you find you have bitten off a bit more than you can chew and need a pick up before the end of the scheduled route.