Electric Bike Tours in Spain - Extending Your Limits
Electric bikes have been a fantastic addition to the world of cycling and mountain biking. E-bikes allow everyone to enjoy cycling more often and over longer distances. Strong riders can improve their technical MTB skills, by tackling rocky and uneven ground, roots and ruts and technical trails. Less frequent riders, who might shy away from hill climbing or be anxious about coping with long distances, no longer need to worry.  In other words, e-bikes are fun for the young and the old, for those that feel fit and also for those who are feeling a little out of shape. However you class yourself, we have an e-bike ride to suit you.
CUBE Reaction Hybrid Pros - Specification
Our e-bikes are the adaptable hardtail CUBE Reaction Hybrid Pros. They are built around the superbly efficient Bosch CX drive system. The electric motor has 4 power settings, from Eco to Turbo, powered by a 500-watt battery. In simple terms, this means that you have the power to cope with every situation over long distances. For the technically minded, our e-bikes have upgraded RockShox forks and grippy 2.6-inch tyres. They have a Shimano 10-speed transmission with a new wide-range 11-42T cassette and powerful hydraulic disc brakes. From the first pedal stroke to the last, our e-bikes will help you on your way.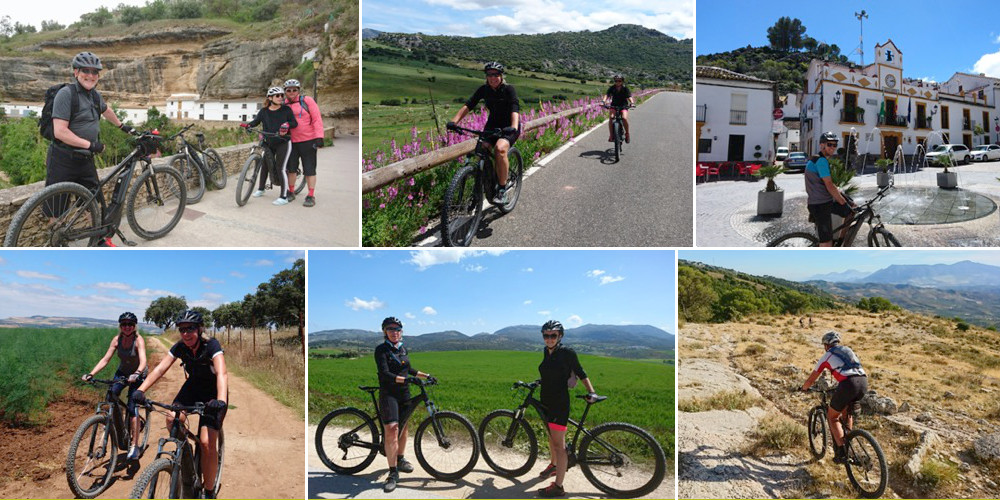 Leisure e-biking
Our Leisure electric bike day tours take things faily easy, with distances from 24km up to 65km. Choose from exploring Ronda's many sights, wine-tasting at a local bodega or visiting some traditional white villages. The rides use quiet roads and unsurfaced tracks and are designed for self-guiding, so you can take things at your own pace, stopping to enjoy the scenery and sights as you go, with time for lunch if you wish. Whilst they all include some ascent, of course the e-bikes take the strain on the hills. Also available guided. See Leisure Electric Bike Day Tours here.
Our e-bikes can also be used for any of our multi-day cycling holidays - self guided Leisure Cycling Tours.
e-MTB for Mountain Bikers
Our e-MTB rides are a chance to take the e-bikes off-road and enjoy their capabilities when faced with challenging hill climbs and technical terrain. The e-MTB rides are graded accorded to fitness/effort level and technical mtb skills requirement and are mainly guided, as they explore less easy-to-navigate areas and require support driver. Some of them ride out from Ronda whilst others explore the mountains behind the Costa del Sol, perfect for guests staying on the coast near Marbella, Puerto Banus, San Pedro and Estepona. Some of the local Ronda rides are also available self-guided. See e-MTB Rides here.
Included in our prices:

Self Guided - Route maps & Garmin cycling GPS with preloaded route

Guided - "British Cycling" qualified guide & transport assistance

Cube Reaction Hybrid e-bike

Helmet & water bottle

Transport to and from start and finish of rides where necessary

Meeting points are arranged according to accommodation locations

Will I be fit enough?

Our e-bike routes are designed for leisure cyclists right through to experienced XC mountain bikers. There are hills and mountains throughout the region which need to be tackled but we keep distances manageable and within the range capabilities of our e-bikes, particularly on routes  where less experienced riders will require more assistance from the e-bike. To ride our challenging routes you will require a good level of fitness on the bike.

Just remember that in summer, higher temperatures can make cycling seem harder so taking this into consideration is strongly advised when choosing a route.