Premium Cycling Tour Spain - 'Sherry Triangle of Andalucia'
Discovering Spain by Bike - Sherry & Artisan Product Tasting Experiences
Guided or Self-guided 
Our Sherry Triangle cycling tour rides from the mountains of the Serranía de Ronda to Spain's famous sherry-producing region, on the western coast of Cádiz province in Andalucía. This premium cycling tour is a feast for the taste buds, including sherry tastings, bodega (winery) visits, olive oil and jamon experiences.
You begin in the town of Ronda, set dramatically on a 120m cliff above a deep river gorge that divides the town in two. From here you ride cross-country via traditional white villages adn towns, into the sherry region. You visit the three main sherry-producing towns of Jerez de la Frontera, Sanlúcar de Barrameda and Puerto de Santa María, before a final night in the city of Cádiz.
Over the week, you will ride through stunning scenery on a mix of quiet roads and easy tracks. You will stay in the best hotels in each town, with plenty of time to experience the culture, character and unique produce of Andalucía.
This tour is available as a self-guided or fully-guided cycling tour.
Option to add an additional day in Jerez, the most-famous of the Sherry Triangle towns.*
Andalucia Premium Cycling Tour Highlights
Tasting Experiences:

Visit renowned bodegas (wineries) and a sherry museum
Learn about the history and techniques of sherry production
Taste varieties of sherry, from fino to manzanilla and Pedro Ximenex
Understand the production of Iberian ham and watch expert jamon-cutters at work
Visit an organic olive oil mill
Taste locally-produced cheeses

Cultural Experiences:

Explore white towns on guided walking tours
Marvel at Ronda's Puente Nuevo bridge, cliffs, gorge and bullring
Visit Moorish castles and historic buildings
Enjoy beaches and port towns
Follow the story of Osborne's giant metal bulls which decorate the Spanish countryside
Luxuriate in premium 4**** and 5***** hotels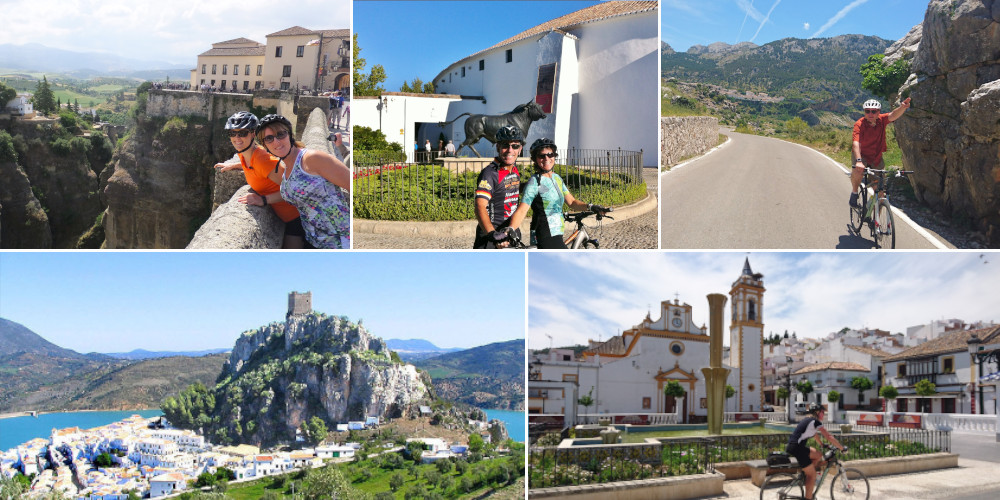 MORE PHOTOS HERE

Ronda Puente Nuevo bridge, the old town and Almocabar gates

View from Ronda bridge - The Bullring - Riding in Grazalema - Zahara de la Sierra - Prado del Rey

Arcos de la Frontera - Tio Pepe Bodega Gonzalez Byass - Puerto de Santa Maria Castle - Bodega barrels

Bike tour leaving Ronda - Bodega Osbourne - Sherry tasting - Enjoying some local wine - Cadiz Beach - Cadiz

Cadiz Cathedral from across the Mediterranean Sea
Summary

START:  

Ronda

     FINISH: 

Cadiz

Duration *

8 days

7 nights

5 cycling days

Distance

233 km total

46 km daily avg     (

 max 54km: 

min 41km )

Grading
Moderate - whilst the first two days have some good hills, as you head further west towards Cádiz, the terrain becomes less mountainous and the days become easier. This route uses a mix of quiet roads, unsurfaced roads, and tracks to keep you away from traffic as far as possible. 
Availability **

March to November. Choose the dates which suit you. Start on any day of the week. 

N.B. Supplements may apply during Easter week due to inflated accommodation prices.

Price ***

Self-Guided - €1,530 per person ( €1,650  with e-bike )

Guided - €2,220 per person  ( €2,340  with e-bike )

All prices based on 2 people sharing a double or twin room with breakfast 

* Add an additional night in Jerez to visit the Tio Pepe bodega and fully explore the town's historic sights. Price on enquiry. 

** Check out the local annual weather conditions here. 

*** Guided tours have a minimum of 4 people. Single occupancy prices are available upon request.

INCLUDED IN OUR PRICES

7 nights of accommodation on a B&B basis

Luggage transfers

Quality hybrid bike or e-bike

Optional seat-post rear bag and/or handlebar bag for your daily needs (we recommend traveling light)

Helmet & water bottle

Briefing Pack incl. tips, advice, and day-by-day route notes

Briefing meeting on arrival

For self-guided riders:

Route GPS (phone App with daily routes, profiles, and maps, no Data-usage required) or GPX files

Annotated route maps 

 For guided-riders:   

qualified cycling guide

vehicle support throughout

See our suggested KIT LIST for cycle touring in Spain.

ACCOMMODATION

Ronda - 4**** Catalonia hotel

Zahara - rural hotel with pool

Arcos - 4**** Parador hotel 

Jerez - 5***** luxury hotel 

Sanlucar - 4**** boutique hotel

Santa Maria - 4**** river-side hotel

Cádiz - 4**** Parador hotel

 

 

 

Itinerary

Day 1 Arrival in Ronda

Check in to your hotel and enjoy the sights and sounds of the beautiful clifftop town of Ronda. Briefing and bike set-up will take place on your first evening.

 

Day 2 - Ronda to Zahara de la Sierra

Cycling day 1 - 38km +602m

From Ronda....

Day 3 - Zahara to Arcos de la Frontera

Cycling day 2 - 50km +745m

Today...

Spain Bike Tour Day 3 - Arcos to Jerez de la Frontera

46km +329m

Today....

Spain Bike Tour Day 4 - Jerez to Sanlucar de Barrameda

41km +260m

Today....

Spain Bike Tour Day 5 - Sanlucar to Puerto de Santa Maria

43km +235m

Today.....

Day 6 - Sanlucar to Cadiz

Historical sights of Cadiz

Take a well-earned rest 

 

 

 

Day 7 - Depart Cadiz

Check out from your hotel and have a safe trip home or to your next destination.

We can provide transfers to your next destination or airports of Sevilla or Malaga. POA

We hope to see you again in the future.

FAQ's

WHERE WILL I BE RIDING?

Our cycling tour routes take you on a scenic journey away from traffic as far as possible. You will cycle mainly on quiet country roads and unsurfaced tracks. Daily distances vary according to the tour you select. We design all our routes so that you will have time after your cycling to relax and enjoy each overnight location.

WILL I BE FIT ENOUGH?

Our self-guided tours are designed for leisure cyclists rather than cycling experts or people looking for large daily mileage. There are hills throughout the region that will need to be tackled but we keep daily distances manageable, particularly as you get closer to Sevilla when it can be extremely hot in the summer.

Take things at your own pace and anyone who is reasonably fit and happy to be on a bike for 3+ hours a day will enjoy this tour. 

WILL MY LUGGAGE BE TRANSFERRED?

No need for panniers or trying to pack light and risk leaving important items behind. We transfer your main luggage for you so you just take a few items for each day – water, snacks, and sunscreen. We provide an 8-liter capacity rear trunk bag.

CAN I DO THIS LEISURE CYCLING TOUR WITH A GUIDE?

We can offer a guided version of this tour with qualified guides and support vehicles or a semi-supported version with a support vehicle and driver who is a qualified guide.  There is a minimum person requirement of 4 to be able to provide this service.  Please do not hesitate to enquire about price and availability.

HOW WILL I NAVIGATE THE TOUR?

 

We have 3 options available:

Ride with a GPS application on your mobile phone.  We give free access to the application which can be used in offline mode for each day's ride.  The application shows maps and the route in great detail.  We also supply quality phone holders on the bike to keep your phone safe.
Garmin GPS Device supplied by Hike and Bike.  This is a simple device that shows a breadcrumb trail for each day's ride.  Very reliable and simple to use.
Upload route files to your own GPS device.  We will forward files for each day riding in the format needed for your device.

We also provide a large-scale, annotated map, designed specifically for your tour by Hike and Bike, giving you a perspective of where you are at all times.

Route Map
Take a look at some alternative cycling tours in Spain:
ANDALUCIA FROM RONDA TO SEVILLA CYCLING TOUR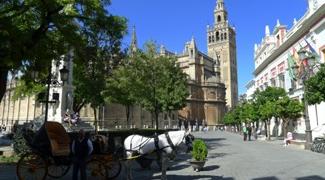 White Villages & Historic Sights of Andalucia
5 days cycling  Ride through unspoiled white villages which have barely changed in centuries. This bike tour follows part of the ancient Roman Via Serrana route, dotted with castle remains and churches of Santiago to finish in the vibrant city of Sevilla.
Read more
ANDALUCIAN WHITE VILLAGES CYCLING TOUR 'LOW ROAD'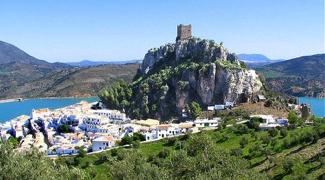 Circular Cycling Tour of Classic Andalucian white villages
5 Days cycling A week-long circular cycling tour that starts and finishes in Ronda, visiting some of the nicest white villages in the Serrania de Ronda and Grazalema Natual Park.
Read more