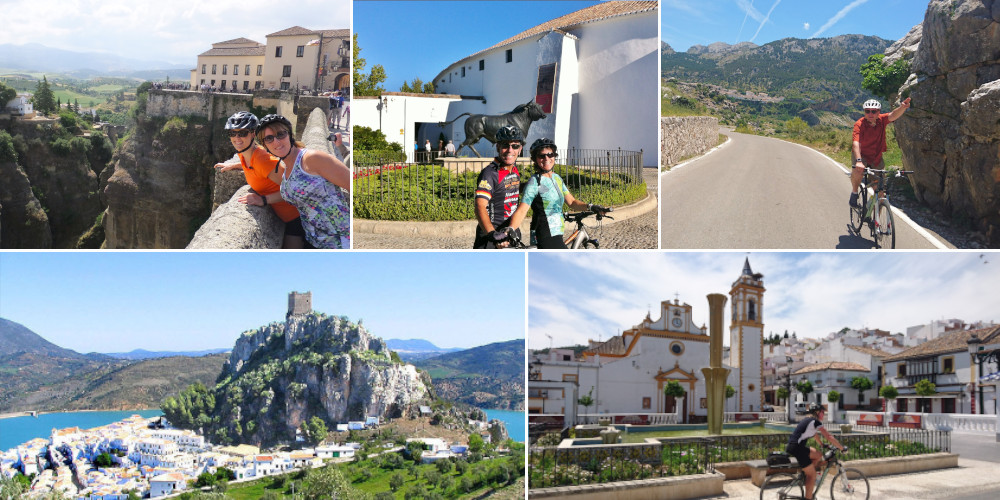 Andalucia's Sherry Triangle
Premium Cycling Tour in Spain
This Premium cycling tour offers all the cycling pleasures of our regular Leisure Cycling Tours but you will also enjoy upgraded hotels throughout, plus fabulous artisan product-tasting experiences.
You will ride from the mountains of the Serranía de Ronda via traditional white villages and towns to Spain's famous sherry-producing region, in the Cádiz province of Andalucía. You visit the three main sherry-producing towns of Jerez de la Frontera, Sanlúcar de Barrameda and Puerto de Santa María, before a final night in the city of Cádiz.
Read more.....

Over the week, you will ride through stunning scenery on a mix of quiet roads and gravel tracks. You will stay in the best hotels in each town, with plenty of time to experience the culture, character and unique produce of Andalucía. You will enjoy sherry tastings, bodega (winery) visits, olive oil and jamon experiences, providing an Andalucian feast for the taste buds.
Details

 

START: 

 

Ronda

     FINISH: 

 

Puerto de Santa Maria

Price***

Self-guided from €1595 p.p. based on 2 people sharing a double or twin room

Guided from €2395 p.p. based on 2 people sharing a double or twin room

Duration

8 days

7 nights

5 cycling days

Distance

233km total

46km daily avg     (

 max 54km - 

min 41km )

Grading
Moderate - The first two days have the most ascent but as you head further west towards Cádiz, the terrain becomes less mountainous and the days become easier. This route uses a mix of quiet roads, unsurfaced roads, and gravel tracks to keep you away from traffic as far as possible. 
Availability
March to November.

 

Choose the dates which suit you. Start on any day of the week. 

N.B. Supplements may apply during Easter week due to inflated accommodation prices.

*** Guided tours require a minimum of 4 people. Single occupancy prices are available upon request.

 

Andalucia Sherry Triangle Tour Highlights 

Tasting Experiences

Visit renowned bodegas (wineries) and a sherry museum

Learn about the history and techniques of sherry production

Taste varieties of sherry, from fino to manzanilla and Pedro Ximenex

Understand the production of Iberian ham and watch expert jamon-cutters at work

Visit an organic olive oil mill

Taste locally-produced cheeses

Cultural Experiences

Explore white towns on guided walking tours

Marvel at Ronda's Puente Nuevo bridge, cliffs, gorge and bullring

Visit Moorish castles and historic buildings

Enjoy beaches and port towns

Follow the story of Osborne's giant metal bulls which decorate the Spanish countryside

Luxuriate in premium 4-star and 5-star hotels 

 
 

Itinerary

 

Arrival Day in Ronda

Extra sightseeing days can be added on request

Check in to your hotel and take some time to relax in the gardens, by the pool or over lunch in the hotel restaurant, with spectacular views over Ronda Valley. During the afternoon, take a stroll into the town centre, where a local history guide will take you on a fascinating tour of some of the town's most famous and historic sights. They will share interesting facts about the town and stories about its most famous inhabitants. They will also explain the unique relationship between the clifftop town and the surrounding countryside.

Your tour finishes at the famous food emporium, La Casa de Jamón, where you will see expert ham carvers, cutting the thinnest slices of Iberian jamón off the bone. You will learn about the age-old practices for the production and maturation of jamón, and taste some of the finest examples.

For self-guided riders, bike fitting and briefing take place this afternoon at your hotel, so you can set off the next morning at whatever time suits you. For guided riders, we meet in the morning to set up your bikes and prepare for your tour.

N.B. All riding on this cycling tour is on a mix of quiet roads and gravel tracks, keeping you away from traffic and the main roads as much as possible.

 

Cycling Day 1 - Ronda to Zahara de la Sierra

38km +602m

Your cycling tour begins by riding down to the bottom of Ronda's valley, for spectacular views of the famous Puente Nuevo bridge. You climb out of the valley and then head out into the countryside and a region of limestone mountains. You skirt the edge of the Grazalema Natural Park, descending past vineyards and olive groves, to then cycle along the length of Zahara Lake. A short climb to finish takes you up into the village of Zahara de la Sierra and your overnight accommodation, overlooked by the Arab fortress, which is perched at the top of the village.

Check in to your hotel and then either walk or take your bike (2km) down to the olive oil mill on the edge of the village. Here you will learn about different types of olive, how they are farmed and the oil extracted. If you come in the harvest season (Oct/Nov) you may be able to see traditional harvesting taking place, shaking the tree with a stick or machinery to drop the olives into nets which are placed on the ground around each tree. Enjoy an olive oil tasting and late lunch, before returning to the village for the remainder of the afternoon and evening.

 

Cycling Day 2 - Zahara to Arcos de la Frontera

50km +745m

Leaving Zahara, you ride on an undulating road through arable farmland and open countryside. To your left, you will see dramatic mountain crags but your route avoids the toughest climbs so you can just enjoy the views. You reach Arcos reservoir and enter the lowest levels of the town. Winding streets climb steadily up to the top of the hill and your accommodation is at the Parador Hotel, with fabulous views of the surrounding countryside.

In the afternoon, a local guide leads you on a tour of the town, including tasting delicious local cheeses.

 

Cycling Day 3 - Arcos to Jerez de la Frontera

46km +329m

Descend from the village and head out into open farmland. This is now easy riding on a quiet road, whilst the traffic uses the newer and faster main road. You will ride close to the Jerez motor racing circuit, before entering the outskirts of Jerez, the main town of the 'Sherry Triangle'. From here you follow mainly quieter, residential roads and cycleways to arrive at your beautiful 5***** accommodation for the night.

After check-in, you can walk or take the bikes a couple of kilometres to Bodegas Lustau, where you will enjoy a bodega (winery) tour to learn about the history and techniques of sherry production in this unique region of southern Spain. Your tour includes tastings of classic varieties of sherry, from bone-dry fino and nutty oloroso to super-sweet Pedro Ximenez.

N.B. Cyclists who wish to visit the Tio Pepe bodega can spend an extra night in Jerez and enjoy this special tour the following morning. You can then spend the afternoon visiting some of Jerez's many sights, including the Alcázar and Cathedral.

 

Cycling Day 4 - Jerez to Sanlucar de Barrameda

41km +260m

From Jerez, you ride northwest, heading towards the Atlantic, through the heart of the chalk hills which provide the perfect growing soil for sherry's main Palomino grapes. You arrive in Sanlúcar in an area that was once under the sea before the land was reclaimed and the castle found itself no longer on the seafront, but now in the heart of the town.

Check in to your hotel and take a short walk up to the castle and the Barbadilla winery and the Sherry museum. The museum includes explanations of grape varieties used in sherry production, the story behind the invention of sherry vinegar and many artifacts and pieces of machinery that have been used for centuries in the production of the region's world-renowned products. Then take a stroll down to the beach, a wide expanse of flat sand where horse racing takes place at low tide on summer evenings, in Europe's oldest equestrian event.

 

Cycling Day 5 - Sanlucar to Puerto de Santa Maria

43km +235m

For your final day's cycling, you follow the coastline to the west and then southwest. You continue through the Sherry Triangle region, through fertile and highly cultivated flatlands, where a wide variety of vegetables and fruits are grown. Eventually, you head closer to the coastline, following the seafront of the Bay of Cádiz to the mouth of the Guadalete River and the port of Puerto de Santa Maria, where your cycling ends.

This afternoon you head to the Osborne bodega, where some of the finest sherries are produced and shipped around the world. Osborne is also the home of the giant metal bull billboards which are dotted through Spain's landscape, creating one of the most iconic images of the country. Discover their history in the bodega museum.

In the afternoon, relax in the town, visit the castle, or cross the river and take a walk along the 6km Playa de Levante beach.

 

Day 7 - Sightseeing in Cadiz

Historical sights of Cadiz

This morning you take a short ferry trip across the bay to the historic city of Cádiz. The city is famous for its long maritime history, having been founded by the Phoenicians in 1100 and being the main port of the Catholic Kings at the time of the discovery of America and the New World. The cathedral has striking twin towers and an impressive, yellow-tiled, Moorish-style dome, with a lovely plaza in front. The Museo de Las Cortes has many interesting artefacts and paintings which chart the changing size and shape of the city over the centuries. The botanic gardens overlooking the sea contain species brought back from travels worldwide. Soak up the atmosphere in the old town's narrow streets or at the seafront fort or simply go to the beach – this city has something for everyone!

Your final night is spent in 'Hotel Atlantico' Parador de Cadiz, with stunning views across the sea.

 

Day 7 - Departure Day

Extra sightseeing days can be added on request

Check out from your hotel and say goodbye to Cadiz.

We hope you have enjoyed the sights, sounds and tastes of Andalucia and the Sherry Triangle on this unique cycling tour.

We can provide transfers to your next destination or airports of Sevilla or Malaga. POA

What's Included

 

 WHAT'S INCLUDED

7 nights of premium accommodation, including breakfast

Luggage transfers

Quality hybrid bike (or e-bike, supplement applies)

Optional seat-post rear bag and/or handlebar bag for your daily needs (we recommend travelling light)

Helmet & water bottle

Briefing Pack incl. tips, advice, and day-by-day route notes

Briefing meeting on arrival

Bike collection from cycling finish point

For self-guided riders:

Route GPS (phone App with daily routes, profiles, and maps, no Data-usage required) or GPX files

Annotated route maps 

 For guided-riders:   

Qualified cycling guide

Vehicle support throughout

Group dinner on the penultimate night

Malaga airport transfers

Souvenir route map

See our suggested KIT LIST for cycle touring in Spain.

ACCOMMODATION

Ronda - 4 star - Catalonia Reina Victoria hotel with pool

Zahara de la Sierra - Country hotel with pool

Arcos de la Frontera - 4 star - Parador hotel with pool

Jerez de la Frontera - 5 star - Luxury hotel with pool

Sanlucar de Barrameda - 4 star - Boutique hotel

Puerto de Santa Maria - 4 star - Boutique hotel with pool

Cádiz - 4 star - Parador hotel with pools

ROUTE NAVIGATION

For self-guided cycling, we provide a GPS application on your mobile phone.  We give free access to the application which can be used in offline mode for each day's ride. 

The app. shows maps and the route in great detail. We supply a quality phone holder on the bike to keep your phone safe.

We also provide a large-scale, annotated map, designed specifically for your tour by Hike and Bike, giving you a perspective of where you are at all times.

 

FAQs

 

 

IS THERE A LOT OF TRAFFIC ON THE ROUTE?

All our Leisure Cycling Tours are designed to follow the 'less travelled path. The route avoids traffic as much as possible, cycling on a mix of quiet country roads and unsurfaced tracks. It is not off-road mountain biking, so is perfect for cyclists on our hybrid bikes (or e-bikes) who are keen to explore the countryside. Drivers in Andalucia are generally very considerate to cyclists.

 

HOW FIT DO I NEED TO BE?

All our Leisure Cycling Tours are graded at a 'Moderate' level with daily distances from 20-55km, depending on the specific tour. There are hills in every tour but we keep daily distances manageable, particularly on days with more hills. These tours are designed for leisure cyclists who are reasonably fit and happy to be on a bike for 3-5 hours a day. Check the individual tour Itinerary for a daily breakdown of distance and ascent.

 

WHAT'S THE WEATHER LIKE?

Our cycling tours run from March through to November, with the best cycling weather from March to June and from September to November. Most routes are also possible during the summer months but we recommend an earlier start to beat the main heat of the day, and don't forget to carry plenty of water.

 

WHAT HAPPENS TO MY LUGGAGE?

We transfer all your main luggage for you. We provide a rear seat trunk bag or small side pannier and a handlebar bag (per couple) to carry a few essential items with you each day e.g. water, snacks, sunscreen, but we recommend you travel light.

 

HOW DO I NAVIGATE EACH DAY?

Navigation on this tour is very easy with our phone app. RidewithGPS. We provide personalised daily routes from door-to-door of each day's accommodation. The app shows maps and daily routes in great detail, with distances and route profiles, so you always know what is coming up. The app is used in offline mode so you do not need to use Data on your phone and can still navigate in areas where there is no phone signal.

 

WHAT HAPPENS IF I HAVE A PUNCTURE OR PROBLEM WITH MY BIKE?

On this self-guided tour, we provide all the necessary kit on your bikes for you to fix your own flat tyres or deal with minor mechanical issues (e.g. broken chain). If you do not know how, ask a bike mechanic at home to show you before your holiday or check our Bike Repair notes at the bottom of every webpage. If you need our assistance, you can call us on the number provided and we will help as much as possible on the phone; we may be able to attend to minor mechanical issues but this may be subject to a charge. In the case of a more major mechanical issue, we we will come to repair the bike or bring a replacement.

 

WHAT MEALS ARE INCLUDED?

All accommodation includes breakfast (unless specifically stated). Lunch and dinner are not included, so you are free to eat when and where you wish. We mark up your map with suggested lunch locations. Your hosts can recommend dining options, or sometimes they will serve dinner – this information will be included in your daily route notes.

 

IS THIS TOUR AVAILABLE WITH A GUIDE / SUPPORT?

We can offer a guided version of this tour with qualified guides and support vehicles or a semi-supported version with a support vehicle and driver/mechanic. There is a minimum requirement of 6 people to be able to provide this service. Please do not hesitate to enquire about price and availability.

 

WHAT IF I NEED TO CANCEL OR CHANGE MY BOOKING?

If you need to cancel or change the dates of a booking, we have a scaled set of charges based on the work already completed and any costs already incurred which we cannot get back. If you re-book a holiday with us within 12 months of a cancellation which has incurred charges, we will credit up to 50% of the retained amount to the new holiday. Our full cancellation policy can be found here