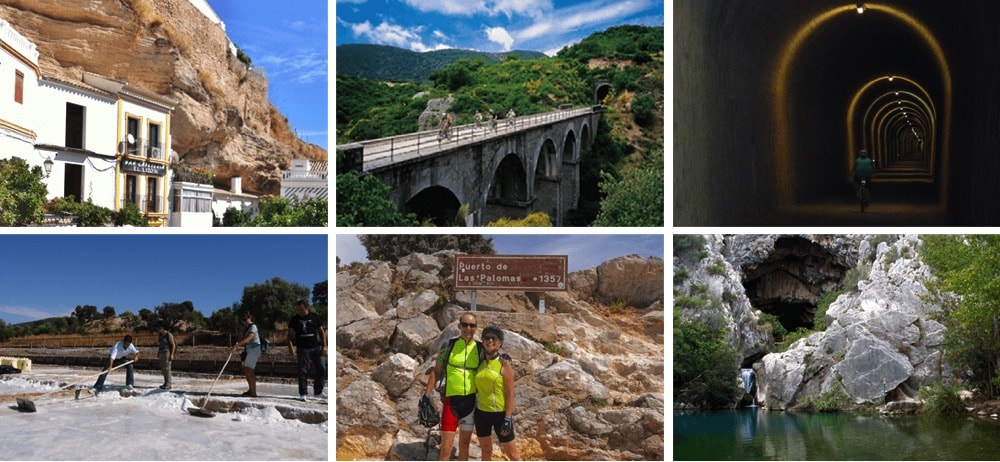 Take the High Road
Self-Guided Cycling Tour in Andalucia
Enjoy self-guided cycle touring in Spain; cycle at your own pace through beautiful, unspoiled countryside, visiting some of western Andalucia's most charming pueblos blancos. Stunning views, quiet roads and delicious local produce offer something special on every day of this week-long self-guided cycle tour, giving you a delightful picture of rural Andalucian life. 
Our Andalucian cycling tour routes always take the less-travelled path. We avoid the easy-to-find roads in favour of more scenic, lesser-known minor roads and country tracks, to give you a truly unique experience of the real Spain.
Read more.....

You will cycle through 3 Andalucian provinces – Malaga, Sevilla and Cadiz - and pass through the heart of the protected area of the Sierra de Grazalema Natural Park. You will enjoy a variety of mountain, valley, river and forest landscapes and see a different character and unique feel of many small white villages. This "High Road" tour includes two challenging and spectacular climbs through the high passes of "Puerto de Las Palomas" and "Puerto del Boyar", so you can experience the full beauty and drama of the Sierra de Grazalema mountains.
Details

 

START: 

 

Ronda

     FINISH: 

 

Ronda

Price

From

 

€975 p.p.

 

based on 2 people sharing a double or twin room with breakfast 

Duration

8 days

7 nights

6 cycling d

ays

Distance

210km total

35km daily avg     (

 max 56km - 

min 20km )

Difficulty
Moderate - route includes some hills each day (460m-960m per day), including 2 days with notable climbs into the mountains of the Sierra de Grazalema Natural Park (although distances are kept short on those days. Route uses a mix of quiet roads, unsurfaced roads, and tracks to keep you away from traffic as far as possible.
Availability
March to November.

 

Choose the dates which suit you. Start on any day of the week. Note: Supplements may apply during Easter week due to inflated accommodation prices.

 

Take the High Road - Andalucia Cycling Tour Highlights

Culture & History

Ronda 'City of Dreams' - Puente Nuevo bridge and 120m gorge

Setenil de las Bodegas – village of the cave house

Olvera – twin-towered church and Arab fortress

Roman salt pans of Iptuci

A variety of Andalucian white villages

Scenery & Cycling

Via Verde de la Sierra - disused railway track with tunnels, viaducts and griffon vulture colony

Spectacular scenery and amazing vistas at every turn - limestone mountains, forested hills and river valleys

Ride through the Grazalema Natural Park and over Las Palomas Pass at 1357 metres above sea level

Cueva del Gato - waterfall and crystal clear water pool

Ride on quiet roads and easy unsurfaced tracks, away from traffic

Taking the less-travelled routes, that tourists rarely discover

 
 

Itinerary

 

Arrival Day in Ronda

Extra sightseeing days can be added on request

Check in to your hotel and enjoy the sights and sounds of the beautiful clifftop town of Ronda. Briefing and bike set-up will take place on your first evening

 

Cycling Day 1 - Ronda to Olvera

41km +530m

From Ronda, you cycle northwards, past vineyards and olive groves. Lunch in Setenil de las Bodegas, under huge overhanging limestone cliffs. Ancient "cave houses" built into the rock form the basis of many village houses, shops and cafes. Cycle on through limestone gorge and farmland, up into Torre Alhaquime village, with great views across to Olvera's striking skyline of Arab fortress and twin-towered Renaissance church. A final section through the olives brings you to your overnight accommodation in a traditional Andalucian-style hotel.

Cycling Day 2 - Olvera to Montellano

38km +823m

Today you ride along the Via Verde de la Sierra, a disused railway line through the mountains and olive groves, with long tunnels (automatic lighting), viaducts, and a griffon vulture colony, perched high up on the rocks above the track. Lunch at one of the old station buildings before climbing up into the hills and onto the village of Montellano. You will stay in the village, with plenty of local dining options.

Cycling Day 3 - Montellano to El Bosque

56km + 649m

Ride through farmland, passing through olive, sunflower, and cotton fields. Lunch in the small village of Prado del Rey - lots of little tapas bars and cafes close to the picturesque village square. Ride on past an area of natural inland salt deposits, Las Salinas de Iptuci, managed as salt flats since Roman times and where 300 tonnes of salt are still produced every year. Overnight in El Bosque in a traditional village hotel; an old mill wheel and fountain on the village square provide a lovely spot for dinner.

Cycling Day 4 - El Bosque to Grazalema

20km +959m

Today's ride includes a steady 15km climb up "The Beast of El Boyar" to a high elevation of 1103m. The climb is tough and not to be taken lightly but it doesn't have to be tackled at a race pace, so should be perfectly doable if you take your time. Enjoy the views along the way and you'll forget about the climb! Continue on to Grazalema, set beneath dramatic mountains with fabulous views out into the valley below. You will stay in the center of the village, which is picturesque and well maintained with quite grand houses and a large central plaza and church. The village has lots of good restaurants for evening dining.

Cycling Day 5 Grazalema to Montecorto

28km +681m

Another good but shorter climb today, up to Las Palomas Pass (1189m). Going in this direction, from Grazalema, is the easier way to enjoy this high Pass, as you ride up for 5km out of Grazalema and then have a fantastic 11km twisting descent down to the village of Zahara de la Sierra. All the way down you will have fabulous views of the beautiful blue lake below the village. Take a lunchtime stop here and then continue via an undulating road around the lake's edge to your spa Cortijo accommodation, overlooking the lake. A table will be reserved for you for dinner in the hotel restaurant. Spa treatments can be pre-booked for you on request.

Cycling Day 6 - Montecorto to Ronda

33km +942m

The day begins with a climb up into the hills to the Puerto de Montejaque via vineyards and open countryside. A short descent is followed by a twisting climb up through the cork oak forest and past an abandoned dam to Montejaque village. Take a break in the picturesque village plaza before enjoying a fast descent down to the Cueva del Gato (Cat Cave), so-called because of the shape of the cave in the rockface. This is a local beauty spot with a year-round waterfall that cascades from the cave mouth into a crystal clear, blue pool of water. From here it is a gradual climb back up to Ronda to finish your cycling.

Departure Day

Extra sightseeing days can be added on request

Check out from your hotel and have a safe trip home or to your next destination.

We can provide transfers to your next destination or airports of Sevilla or Malaga. POA

We hope to see you again in the future.

What's Included

 

WHAT'S INCLUDED

7 nights of accommodation on a B&B basis 

Luggage transfers

Quality hybrid bike (or e-bike, supplement applies)

Optional seat-post rear bag and/or handlebar bag for your daily needs (we recommend traveling light)

Helmet & water bottle (or bring your own)

Route GPS (phone App with daily routes, profiles, and maps, no Data-usage required) or GPX files

Annotated route maps 

Briefing Pack, incl tips, advice, and day-by-day route notes

Briefing meeting on arrival

See our suggested KIT LIST for cycle touring in Spain.

 

ACCOMMODATION

Your tour goes through a mix of large and small towns and more rural areas, so the accommodation style and standard will vary greatly. In the larger towns, we usually book 4**** or 3*** hotels; outside of these, you will stay in countryside haciendas, boutique B&Bs or traditional-style village hotels. All rooms have en-suite facilities. Our selections are based on clean and comfortable accommodation (if sometimes quite simple), friendly owners and staff, a warm welcome, bike storage, and sometimes a swimming pool too.

Highlight on this tour is the Cortijo spa hotel overlooking Zahara lake.

 

ROUTE NAVIGATION

For self-guided cycling, we provide a GPS application on your mobile phone.  We give free access to the application which can be used in offline mode for each day's ride. 

The app. shows maps and the route in great detail. We supply a quality phone holder on the bike to keep your phone safe.

We also provide a large-scale, annotated map, designed specifically for your tour by Hike and Bike, giving you a perspective of where you are at all times.

FAQs

 

IS THERE A LOT OF TRAFFIC ON THE ROUTE?

All our Leisure Cycling Tours are designed to follow the 'less travelled path. The route avoids traffic as much as possible, cycling on a mix of quiet country roads and unsurfaced tracks. It is not off-road mountain biking, so is perfect for cyclists on our hybrid bikes (or e-bikes) who are keen to explore the countryside. Drivers in Andalucia are generally very considerate to cyclists.

 

HOW FIT DO I NEED TO BE?

All our Leisure Cycling Tours are graded at a 'Moderate' level with daily distances from 20-55km, depending on the specific tour. There are hills in every tour but we keep daily distances manageable, particularly on days with more hills. These tours are designed for leisure cyclists who are reasonably fit and happy to be on a bike for 3-5 hours a day. Check the individual tour Itinerary for a daily breakdown of distance and ascent.

 

WHAT'S THE WEATHER LIKE?

Our cycling tours run from March through to November, with the best cycling weather from March to June and from September to November. Most routes are also possible during the summer months but we recommend an earlier start to beat the main heat of the day, and don't forget to carry plenty of water.

 

WHAT HAPPENS TO MY LUGGAGE?

We transfer all your main luggage for you. We provide a rear seat trunk bag or small side pannier and a handlebar bag (per couple) to carry a few essential items with you each day e.g. water, snacks, sunscreen, but we recommend you travel light.

 

HOW DO I NAVIGATE EACH DAY?

Navigation on this tour is very easy with our phone app. RidewithGPS. We provide personalised daily routes from door-to-door of each day's accommodation. The app shows maps and daily routes in great detail, with distances and route profiles, so you always know what is coming up. The app is used in offline mode so you do not need to use Data on your phone and can still navigate in areas where there is no phone signal.

 

WHAT HAPPENS IF I HAVE A PUNCTURE OR PROBLEM WITH MY BIKE?

On this self-guided tour we provide all the necessary kit on your bikes for you to fix your own flat tyres or deal with minor mechanical issues (e.g. broken chain). If you do not know how, ask a bike mechanic at home to show you before your holiday or check our Bike Repair notes at the bottom of every webage. If you need our assistance, you can call us on the number provided and we will help as much as possible on the phone; we may be able to attend minor mechanical issues but this may be subject to a charge. In the case of a more major mechanical issue, we we will come to repair the bike or bring a replacement.

 

WHAT MEALS ARE INCLUDED?

All accommodation includes breakfast (unless specifically stated). Lunch and dinner are not included, so you are free to eat when and where you wish. We mark up your map with suggested lunch locations. Your hosts can recommend dining options, or sometimes they will serve dinner – this information will be included in your daily route notes.

 

IS THIS TOUR AVAILABLE WITH A GUIDE / SUPPORT?

We can offer a guided version of this tour with qualified guides and support vehicles or a semi-supported version with a support vehicle and driver/mechanic. There is a minimum requirement of 6 people to be able to provide this service. Please do not hesitate to enquire about price and availability.

 

WHAT IF I NEED TO CANCEL OR CHANGE MY BOOKING?

If you need to cancel or change the dates of a booking, we have a scaled set of charges based on the work already completed and any costs already incurred which we cannot get back. If you re-book a holiday with us within 12 months of a cancellation which has incurred charges, we will credit up to 50% of the retained amount to the new holiday. Our full cancellation policy can be found here