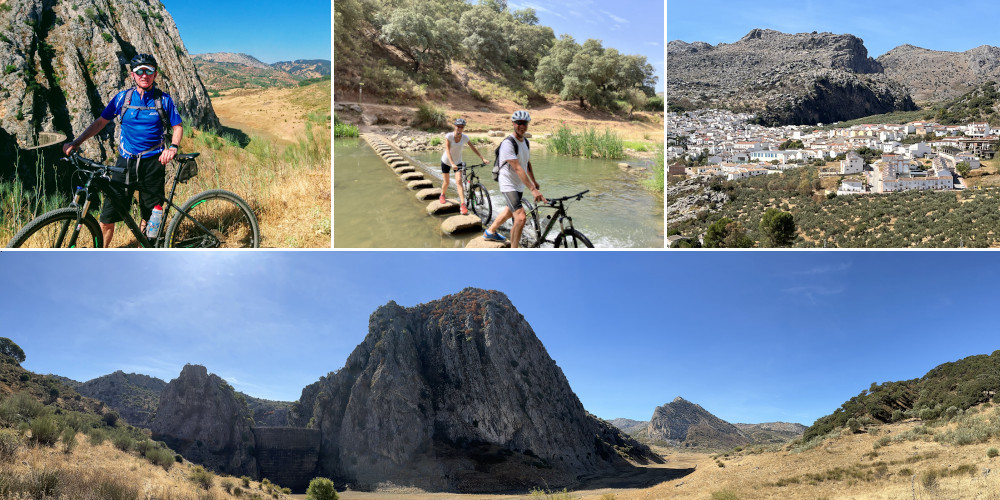 Hundidero Dam & Montejaque
Mountain Bike Tour - Moderate
DESCRIPTION

This MTB ride is one of our favourite local loops, starting below Ronda to save the long climb back into town.  The MTB tour is a good mix of single-track, dirt tracks and quiet mountain roads, with some longer ascents.  It takes you into the mountains west of Ronda where you will visit an abandoned dam and pass through a popular mountainside village.

Read more.....

After a 10-minute drive from Ronda, we start our ride by climbing over the hills to the west of Ronda, we ride an old pathway high above the main road, descending on single-track sections to the road.  We then head up into the Grazalema Natural Park, passing a forest of Cork Oaks (you will see where the cork is stripped from the trees).  We then drop into the dramatic Hundidero valley and to the old dam, abandoned since the 1930s.  If you have a head for heights you can take a quick walk onto the dam for great views into the deep gorge where the Hundidero cave leads into a long system of caves.

From here we drop below the dam and ride in the valley before climbing into the pretty mountainside village of Montejaque.  After a refreshment stop, a fast road descent to the Rio Guadiaro takes us onto a riverside path which takes us to the Cueva del Gato, a popular spot for swimming, and also the exit of the cave system starting at the Hundidero cave.  We stay in the valley and ride back to the start point for refreshments before driving back into Ronda.

TOUR DETAILS

Distance: 28km

Ride Time: 2-3 hours

Ascent: 544m ⬆︎

Descent: 544m ⬇︎

Meeting Point: RONDA

Start: LA INDIANA

Finish: LA INDIANA

INCLUDES

British Cycling Qualified Guide
Bike
Water Bottle
Helmet
Transport from Ronda to the start point and return to Ronda

PRICE:

Min. 2 people: €65 per person

3-7 people:     €55 p.p.
Award Winning Tours & Service

Activ Turismo No. AT/MA/00221