Banks of the Rio Guadiaro
Mountain Bike Ride- Moderate/Challenging
This mountain bike route will test your skills and endurance on long sections of single-track in the Serrania de Ronda, riding from the Cueva del Gato to Jimera de Libar and back again.
After a short drive from Ronda, we set up the bikes at the Cueva del Gato on the banks of the Rio Guadiaro. From here we are immediately onto the river path which gives us a good warm-up for the first couple of kilometers before the trail begins to undulate through the valley and onto what is known as Henderson's Way, a 7km stretch of single-track with natural technical sections. 
At the end of Henderson's Way, we head up to the village of Jimera de Libar where we can descend back into the valley to follow more single-track that brings us back to Henderson's Way. Returning along the same trail feels like a completely different ride where the climbs and descents take on new characteristics in the reverse direction.
Note: The single-track pathway along Henderson's Way makes this a great ride for any experienced MTB rider and a good test for competent intermediate riders who want to take their time and build their MTB skills. ​​​​​​There are a couple of points where walking the bike is necessary.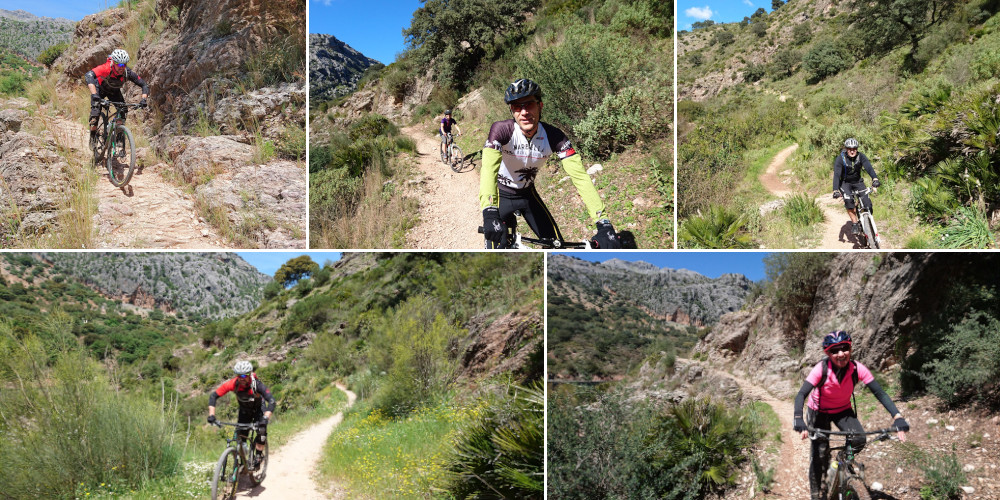 Distance: 

28km

Ride Time: 

2-3 hours

Ascent: 

494m ⬆︎

Descent: 

494m ⬇︎

Start:

CUEVA DEL GATO

Finish:

CUEVA DEL GATO

PRICE:

Min. 2 people: €65 per person

3-7 people:     €55 p.p.

Includes:

British Cycling Qualified Guide
Bike
Water Bottle
Helmet
Transport from and back to Ronda
Activ Turismo No. AT/MA/00221