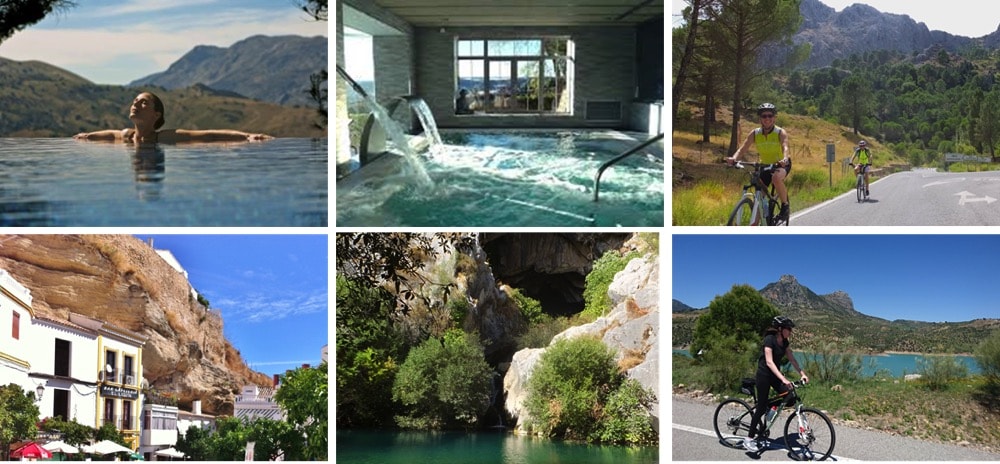 Spa Wellness Hike + Bike Tour
Self-Guided Cycling and Hiking Week from Ronda
Exercise your body and indulge your senses with a superb mixed activity week in the beautiful countryside of Andalucia. Stay in wonderful 4-star spa hotels with excellent facilities; relax with soothing treatments and massages and spend your days cycling and walking through the very best mountain scenery that Spain has to offer. This self-guided holiday is sure to invigorate and refresh you. 
You will stay in four different locations, beginning in the historic town of Ronda, then moving on for further nights in the white villages of Grazalema, a rural cortijo overlooking the beautiful blue Zahara lake and a restored mill on the edge of a flowing river in the Guadiaro valley..
You will explore local villages and unspoiled countryside on self-guided bike rides and walks and enjoy delicious local food and drinks in scenic surroundings.
Details

 

START: 

 

Ronda

     FINISH: 

 

Ronda

Price

From

 

€1695 p.p.

 

based on 2 people sharing a double or twin room with breakfast 

Duration

9 days

8 nights

4 cycling days / 2 walking days

Distance

131 km total

Cycling 27km avg.  /  Walking 12km avg.

Grading
Moderate - cycling and walking routes all include hills (this is a mountainous region) but they are kept to a minimum. Cycling routes use a mix of quiet roads and tracks to keep you away from traffic as far as possible. The walking route is almost wholely on tracks and paths.
Availability
March to November.

 

Choose the dates which suit you. Start on any day of the week. Note: Supplements may apply during Easter week due to inflated accommodation prices.

 

Spa Wellness Hike + Bike Tour Highlights 

Riding & Walking

Tranquil countryside, scenic cycling and walking routes

Setenil de las Bodegas - village of the cave houses

Cueva del Gato - waterfall and crystal clear water pool

Zahara Lake and village

Cueva del Gato

Experiences

Two luxury spa hotels; half-hour massage in each and spa entry every day of your stay

Ronda, 'City of Dreams'

Grazalema Natural Park

Hotel Molino del Santo

 
 

Itinerary

 

Arrival Day in Ronda

Extra days can be added on request

Check in to your hotel and enjoy the sights and sounds of the beautiful clifftop town of Ronda. A short briefing meeting will take place on your first evening.

 

Walk Day 1 - Montejaque and the Hundidero Dam 

14km +485m

Walk to the foot of the abandoned (and dry) Hundidero dam and stand beneath the dam's towering wall before climbing out of the valley.  It is possible to walk onto the top of the dam if you wish before dropping back down to the Guadiaro River. A walk through pleasant countryside, takes you back towards Ronda town, with a final section through the valley at the foot of Ronda's famous cliffs, gorge and bridge.

Entry to the spa and pools on your return to the hotel is included in your holiday package. 

Ride Day 2 - Ronda to Setenil de Las Bodegas

32km +250m

A moderate ride on tracks through open countryside, past olive groves and vineyards, ending with a descent into the white village of Setenil de las Bodegas. Here you will see cave houses built into the limestone valley walls and still used today as homes, cafes and bars. Minibus return to Ronda or we can create a circular route of approx. 50km total so you can do a circular ride, cycling back to Ronda  

Entry to the spa and pools on your return to the hotel is included in your holiday package.

Sightseeing Day 3 - Ronda

Relax & Invigorate

Relax in the spa today, enjoying a complimentary half-hour massage and maybe select additional items from the extensive list of relaxation and invigoration treatments available.

Discover Ronda on a 2-hour guided tour of Ronda with a licensed tour guide. Tour time will be confirmed upon booking.

Take some time to further explore Ronda's old town, narrow streets, bars and sights. 

 

 

 

Ride Day 4 - Ronda to Grazalema

30km +580m

A moderate ride on mainly quiet roads through beautiful countryside and mountain scenery to the unspoiled countryside of the Sierra de Grazalema Natural Park. Grazalema itself is a particularly charming white village, nestled beneath the mountains, with typical terracotta-roofed, white-painted houses, churches and a village plaza. Your hotel is located close to the plaza and many good restaurants and bars. It is also less than 5 minutes walk from the Grazalema Wellness Spa which is an optional visit after your ride. Alternatively, simply relax in your hotel, and enjoy the outdoor pool, terrace and fabulous views.

Walk Day 5 - Sierra de Grazalema

10km +497m

This is a circular walk that heads into the mountains which overlook Grazalema to the south and north of the village. Some of the paths are rocky but you will enjoy great views of the Grazalema Natural Park and be in the heart of the mountains. The final part of the walk takes you to a beautiful reservoir up above the village.

Ride Day 6 - Grazalema to Cortijo de Salinas

29km +675m

A moderate ride begins with a steady climb up to Las Palomas Pass for breathtaking views. Take the climb at your own pace and do not try to rush. A wonderful twisting 11km descent takes you to the village of Zahara, overlooking a beautiful blue lake, for lunch. Then cycle along the undulating lakeside road to the Cortijo Salinas Spa Hotel, situated on the hillside overlooking the lake. N.B. An alternative easy ride option is available which omits the visit to Zahara village and heads straight down from Grazalema village to the lakeside and your hotel.

Entry to the spa and pools plus a 30-minute massage is included in your holiday package. Will be pre-booked at time of enquiry.

Ride Day 7 - Cortijo Salinas to Molino del Santo

19km +493m

Riding from the Cortijo over the hills towards the Rio Guadiaro. You will ride through more cork forests and pass the village of Montejaque. After a nice descent into the Guadiaro valley, you finish at the acclaimed Molino del Santo hotel, a restored old water mill. 

After your ride you could take a short walk to the Cueva del Gato, a local beauty spot where a crystal clear pool of water sits below a waterfall.

A table will be reserved for dinner at the hotel's excellent restaurant. During most of the year, this can be taken on the terrace which overlooks the tumbling river that used to power the old mill. 

Departure Day

Extra days can be added on request

Check out from your hotel and we will return you to Ronda for your onward travel.

We can provide transfers to your next destination or airports of Sevilla or Malaga. POA

We hope you have enjoyed your Spa Wellness, Walking and Cycling Tour.

What's Included

 

INCLUDED IN OUR PRICES

8 nights accommodation in 4-star hotels on a B&B basis 

Luggage transfers

3 x spa circuits and 1 x half-hour massage at Ronda Hotel Catalonia Reina Victoria

1 x spa circuit and  half-hour massage at Cortijo Salinas spa hotel (other treatments can be booked for you in advance)

Quality Hybrid bike (or e-bike, supplement applies)

Optional seat-post rear bag and/or handlebar bag for your daily needs (we recommend travelling light)

Helmet & water bottle (or bring your own)

Route GPS (phone App with daily routes, profiles and maps, no Data-usage required) or GPX files

Annotated route maps

Briefing Pack, incl advice and day-by-day route notes

Briefing meeting on arrival  

See our suggested KIT LIST for cycle touring in Spain.

ACCOMMODATION

Double or twin room with en suite facilities in all locations.

Ronda - 4-star Catalonia Reina Victoria Wellness & Spa. Clifftop hotel with extensive garden area, outdoor swimming pool, sun terrace gym and spa with hydrotherapy pool, Turkish bath and hydromassage showers.

Grazalema - Charming village hotel with pool, garden terrace and valley views. Walking distance to Spa Wellness Grazalema.

Montecorto - 4-star Cortijo Salinas Hotel Spa Restaurant. Rural luxury Cortijo is surrounded by natural beauty - an ideal peaceful retreat. Hotel spa with pool jacuzzi, sauna, hammam, ice fountain, two-sensation shower, caldarium and a relaxing area.

Hotel Molino del Santo - A renovated mill with a high reputation for fine dining, service and hospitality.

ROUTE NAVIGATION

For self-guided holidays, we provide a GPS application on your mobile phone.  We give free access to the application which can be used in offline mode for each day's ride. 

The app. shows maps and the route in great detail. We supply a quality phone holder on the bike to keep your phone safe.

We also provide a large-scale, annotated map, designed specifically for your tour by Hike and Bike, giving you a perspective of where you are at all times.

FAQs

 

IS THERE A LOT OF TRAFFIC ON THE ROUTE?

All our Tours are designed to follow the 'less travelled path. The route avoids traffic as much as possible, cycling on a mix of quiet country roads and unsurfaced tracks. It is not off-road mountain biking, so is perfect for cyclists on our hybrid bikes (or e-bikes) who are keen to explore the countryside. Drivers in Andalucia are generally very considerate to cyclists.

 

HOW FIT DO I NEED TO BE?

This tour is graded at a 'Moderate' level with daily distances from 20-55km, depending on the specific tour. There are hills in every tour but we keep daily distances manageable, particularly on days with more hills. These tours are designed for leisure cyclists who are reasonably fit and happy to be on a bike for 3-4 hours a day. Check the individual tour Itinerary for a daily breakdown of distance and ascent.

 

WHAT'S THE WEATHER LIKE?

Our cycling tours run from March through to November, with the best cycling weather from March to June and from September to November. Most routes are also possible during the summer months but we recommend an earlier start to beat the main heat of the day, and don't forget to carry plenty of water.

 

WHAT HAPPENS TO MY LUGGAGE?

We transfer all your main luggage for you. We provide a rear seat trunk bag or small side pannier and a handlebar bag (per couple) to carry a few essential items with you each day e.g. water, snacks, sunscreen, but we recommend you travel light.

 

HOW DO I NAVIGATE EACH DAY?

Navigation on this tour is very easy with our phone app. RidewithGPS. We provide personalised daily routes from door-to-door to each day's accommodation. The app shows maps and daily routes in great detail, with distances and route profiles, so you always know what is coming up. The app is used in offline mode so you do not need to use Data on your phone and can still navigate in areas where there is no phone signal.

 

WHAT HAPPENS IF I HAVE A PUNCTURE OR PROBLEM WITH MY BIKE?

On this self-guided tour, we provide all the necessary kit on your bikes for you to fix your own flat tyres or deal with minor mechanical issues (e.g. broken chain). If you do not know how, ask a bike mechanic at home to show you before your holiday or check our Bike Repair notes at the bottom of every webpage. If you need our assistance, you can call us on the number provided and we will help as much as possible on the phone; we may be able to attend to minor mechanical issues but this may be subject to a charge. In the case of a more major mechanical issue, we we will come to repair the bike or bring a replacement.

 

WHAT MEALS ARE INCLUDED?

All accommodation includes breakfast (unless specifically stated). Lunch and dinner are not included, so you are free to eat when and where you wish. We mark up your map with suggested lunch locations. Your hosts can recommend dining options, or sometimes they will serve dinner – this information will be included in your daily route notes.

 

IS THIS TOUR AVAILABLE WITH A GUIDE / SUPPORT?

We can offer a guided version of this tour with qualified guides and support vehicles or a semi-supported version with a support vehicle and driver/mechanic. There is a minimum requirement of 6 people to be able to provide this service. Please do not hesitate to enquire about price and availability.

 

WHAT IF I NEED TO CANCEL OR CHANGE MY BOOKING?

If you need to cancel or change the dates of a booking, we have a scaled set of charges based on the work already completed and any costs already incurred that we cannot get back. If you re-book a holiday with us within 12 months of a cancellation which has incurred charges, we will credit up to 50% of the retained amount to the new holiday. Our full cancellation policy can be found here