"Ronda to Sevilla Tour"
Self Guided Leisure Cycling Tour in Spain
Andalucian White Village Tour
START:  
Ronda

     FINISH: 

Sevilla
Duration *

8 days

7 nights

5 cycling days

Distance

179 km total

36 km daily avg     (

 max 58km : 

min 24km )

Grading
Moderate - whilst the first two days have some good hills, as you head further north towards Sevilla the terrain becomes less mountainous and the days become easier. N.B. the longest distance day is not as tough as it first sounds as the second half is very flat. This route uses a mix of quiet roads, unsurfaced roads and tracks to keep you away from traffic as far as possible. 
Availability **

All year round. Choose the dates which suit you. Start on any day of the week. N.B. We recommend avoiding high summer as it gets very hot in Seville but the rest of the year is fabulous.

Price ***

€950

  per person based on 2 people sharing a double or twin room (en-suite)     ( €1040  with e-bike )
* Tour duration can be extended by adding rest days along the route; let us know your preferences when you enquire.
** Check out the local annual weather conditions here. N.B. Supplements may apply during Easter week due to inflated accommodation prices.
*** Solo traveller and single occupancy prices available upon request.
DETAILS

Enjoy a moderate 5-day self guided bike tour which takes you between two of Andalucia's most famous and beautiful towns. This tour is a feast of stunning scenery, ancient history and Spanish culture.

You begin in Ronda, set dramatically on a cliff above a deep river gorge which divides the town in two. Then head northwards to Sevilla, a city of stunning architecture, great food and the romance and drama of flamenco. Spend one more day on the bikes, exploring the Roman ruins of Italica, just outside the city. Then enjoy a final day exploring Sevilla on foot - the Alcazar Palace complex, Cathedral, Giralda Tower, narrow streets and atmospheric tapas bars

Your cycling route will take you through beautiful unspoilt countryside and via small white villages which have barely changed in centuries. It follows a section of the ancient Roman Via Serrana route, dotted with castle remains and churches of Santiago.

HIGHLIGHTS

Setenil de las Bodegas - village of the cavehouse

Via Verde de la Sierra - disused railway track with tunnels and viaducts

Castillo de Aguzaderas 

Italica - Roman amphitheatre

Sevilla - Cathedral, Giralda Tower, Alcazar palace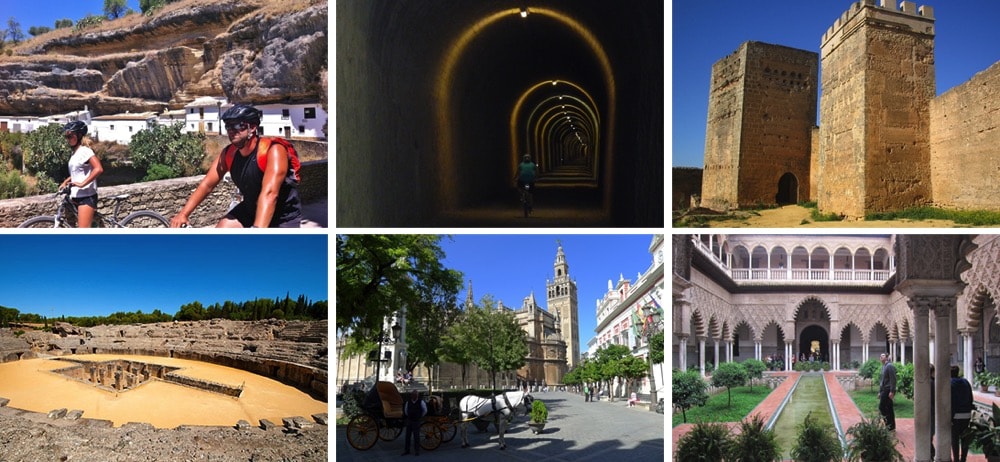 Day 1 - Arrival in Ronda
Welcome to Ronda
Check in to your hotel and enjoy the sights and sounds of the beautiful clifftop town of Ronda. Briefing and bike set up will take place on your first evening
Day 2 - Ronda to Olvera

35km - 461m ascent
From Ronda cycle northwards, past vineyards and olive groves. Lunch in Setenil de las Bodegas, under huge overhanging limestone cliffs. Ancient "cavehouses" built into the rock form the basis of many village houses, shops and cafes. Cycle on through limestone gorge and farmland, up into Torre Alhaquime village, with great views across to Olvera's striking skyline of Arab fortress and twin-towered Renaissance church. A final section through the olives brings you to your overnight accommodation in a traditional Andalucian style hotel.
Day 3 - Olvera to Montellano

38km - 823m ascent
Today you ride along the Via Verde de la Sierra, a disused railway line through the mountains and olive groves, with long tunnels (automatic lighting), viaducts and a griffon vulture colony, perched high up on the rocks above the track. Lunch at one of the old station buildings before climbing up into the hills to your overnight hacienda. Peaceful, exclusive and with a hint of luxury. A table will be reserved for you in the hacienda restaurant for dinner.
Day 4 - Montellano to Alcalá de Guadaira

58km - 380m ascent
Today you join the Via Serrana, one of many Camino de Santiago which criss-cross Spain, linking isolated municipalities and offering resting places and church sanctuaries. From Montellano this camino crosses a flat, treeless plain which goes almost all the way to Sevilla. Stop off at the ruins of the Castillo de Aguzaderas, a 14th century castle which was built to protect a natural water source – invaluable for crops in the long hot, dry summer months. Visit the grand Iglesia de Santiago in Utrera, and then continue on to the outskirts of Alcalá, to your overnight accommodation in a beautiful 1930's manor on the edge of the Oromano Natural Park. Dine in the hotel restaurant. 
Day 5 Alcalá de Guadaira to Sevilla

24km - 152m ascent
A short ride from your hotel to Sevilla today, so there is plenty of time for an optional visit into the town of Alcalá de Guadaira. Head up a steep hill ot the castillo and church for great views of the surrounding countryside. Then head back down to the river to cross over the "dragon bridge". Quiet riverside pathways lead you to the outskirts of Sevilla and then a fantastic network of cycleways takes you right to the cathedral at the heart of the city. Your overnight accommodation will be located close by.
Day 6 - Italica Circular

24km - 91m ascent
A nice easy, short cycling day which takes you on a circuit via the Roman theatre in Santicponce and to the ruins of the Roman city of Italica, birthplace of Roman Emperors Trajan and Hadrian. Check out well preserved public buildings, streets and gardens, as well as private villas, many with stunning mosaic floors. Don't miss the stunning oval amphitheatre which could seat 25,000 spectators (in a city of 8,000 inhabitants) and featured as the dragon pit in dramatic scenes of Game of Thrones, Season 7. N.B. Itlalica is closed on Mondays.
Day 7 - Sightseeing in Sevilla
Historical sights of Sevilla
Take a well earned rest and enjoy the magnificent city of Sevilla, richly endowed with beautiful and historic sights. The Real Alcazar Moorish palace (another Game of Thrones' site), Cathedral and Giralda Tower are must-sees. The Plaza Espana is a beautiful arc of stunning buildings around a bridged canal located within the Maria Luisa Park. The Archaeological Museum contains, amongst other artefacts, a number of items removed from the Italica site. For fans of more modern sights, visit the Metropol Parasol (or giant mushrooms), located directly over more Roman remains. And not to mention a myriad of delightful tapas bars, restaurants and shops. You could spend a week in Sevilla and still not exhaust its charms, so your time here is sure to provide a superb finish to you cycling tour.
Day 8 - Depart Sevilla
Safe Trip Home
Check out from your hotel and have a safe trip home or to your next destination.  Transfers can be arranged in advance if required.
INCLUDED IN OUR PRICES

7 nights accommodation on B&B basis (or self-catering apartment in Sevilla)

Luggage transfers

Quality hybrid bike or e-bike

Optional seat-post rear bag and/or handlebar bag for your daily needs (we recommend travelling light)

Helmet & water bottle

Garmin cycling GPS with preloaded route for each day

Anotated route maps 

Briefing Pack, incl day-by-day route notes

Village maps

Briefing meeting on arrival  

We operate locally to Ronda, so support is always close at hand if needed

WILL I BE FIT ENOUGH?

Our self-guided tours are designed for leisure cyclists rather than cycling experts or people looking for large daily mileages. There are hills throughout the region which will need to be tackled but we keep daily distances manageable, particularly as you get closer to Sevilla when it can be extremely hot in the summer.

Take things at your own pace and anyone who is reasonably fit and happy to be on a bike for 3+ hours a day will enjoy this tour. 

Due to Sevilla's specific propensity for high temperatures in the summer months, ensure you have plenty of water with you and we suggest starting soon after 9am and aiming to finish before 2pm. Take things fairly easy even on your sightseeing days.

WHERE WILL I BE STAYING?

Double or twin room with en suite facilities in all locations. 

Ronda hotel is normally 4****. Olvera accommodation is either a boutique B&B or traditional, Andalucian-style hotel close to the village centre, tapas bars and cafes.

Montellano is a lovely hilltop hacienda and Alcalá is a restored 1930's manor house.

In Sevilla, accommodation is either a hotel or self-catering apartment in the city centre, at the heart of the "action".

N.B. All accommodation subject to availability. In summer we prioritise hotels with pools.
What to Bring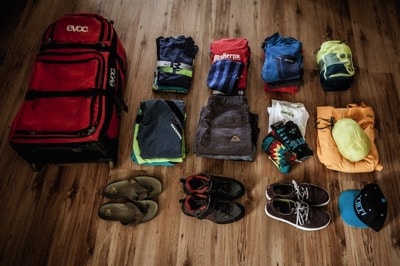 The essential kit to enjoy your cycling holiday
Helmet (bring you own or use ours - free of charge) 

Padded cycling shorts (essential kit for staying comfortable over a few days' riding)

Your own saddle if you prefer - let us know if you are bringing one

Cycling gloves

Cycling tops or T shirts

Sports bra (ladies only!)

Socks

Cycling shoes (let us know if you want clip-in pedals) or trainers - firm soles are best.

Sunglasses

Sun cream and after-sun lotion

Casual clothes, swimwear and footwear

Health insurance policy document (for UK travellers, a European Health Insurance Card, EHIC, will give you access to reduced cost medical services in Spain but it is not an alternative to travel insurance. It will not cover any private medical healthcare or costs such as mountain rescue, repatriation costs or lost or stolen property. Therefore it is important to have both an EHIC and a valid private travel insurance policy. Some insurers now insist you hold an EHIC and many will waive the excess if you have one.  https://www.ehic.org.uk/Internet/startapplication.do
For winter riding
extra body layers with long sleeves (thin thermal tops are great)

leggings or cycling tights

light waterproof/windproof jacket 

neck scarf / snood (great as sweat bands in the summer and for warmth in the winter)

warm fleece and jacket for the evenings