Ronda Sights
e-Bike Ride
On this easy, circular e-bike tour, you will ride past Ronda's most famous sights and also cycle out of the town, on quiet lanes and tracks, to experience rural Andalucian life, much of which has barely changed for centuries. 
Ronda enjoys wonderful countryside right on its doorstep, so from the centre of town, we are soon amongst olive groves and vineyards, arable fields and ancient holm oak forest. On the way we pass an old Roman aqueduct and an ancient water trough, where a natural spring provided fresh water to local farmers and to travelling drovers, driving their animals down towards the coast. From the fields we look down on to Ronda, enjoying a fabulous view of the old walled town.
We re-enter the town via an old cobbled street which heads below the city walls, riding over the Roman (or Arab) bridge, with views up to the Puente Viejo "Old Bridge". We ride through one of the oldest districts of the town, the barrio San Francisco. In warm weather, the charming central plaza is area is filled with multiple generations of families and friends enjoying outdoor gatherings which are so much part of Spanish life.
Then we head down into the valley below the town for Ronda's most iconic view - the Puente Nuevo "New Bridge". This stunning, 18th century, two-tiered, arched bridge rises high above us, spanning the 120m gorge which divides Ronda town in two. We head back up the hill to ride through the old town, across the Puente Nuevo and past the bullring.
Note: Ronda's clifftop location means that all riding in the area, even close to the town, includes some hill climbing, Whilst this can be tough on a normal bike, the e-bikes are perfect, and can tackle even the steep cobbled streets with ease.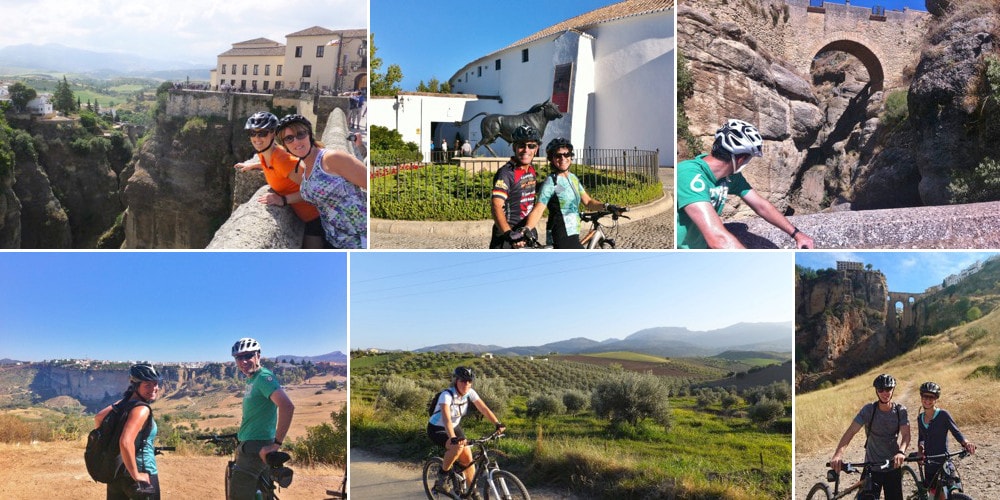 ​
Distance: 

29km

Ride Time: 

2-3 hours

Ascent: 

439m ⬆︎

Descent: 

437m ⬇︎

Start:

RONDA

Finish:

RONDA

PRICE GUIDED: €60 p.p.*

* Price is based on a minimum of 2 people 

Includes:

British Cycling Qualified Guide
Quality e-Bike
Water Bottle
Helmet

 This route is adaptle for self-guiding.

PRICE SELF GUIDED: €50 p.p

+ 1 off cost €10 for preloaded GPS and map
Tel: 0034 638 873 279
Activ Turismo No. AT/MA/00221