Grazalema, Zahara and Ronda
e-Bike Ride
This spectacular e-bike ride has it all: a dramatic mountain climb to the high peak of Las Palomas Pass, a thrilling, twisting 14km mountain descent, a beautiful blue lake, charming white villages and a return to Ronda via iconic views of the Puente Nuevo main bridge.  
We drive from Ronda out to the village of Grazalema, one of the grander white villages, with a large central plaza and smart townhouses. Its unique location, in the nook of a range of craggy limestone mountains, is a spectacular startpoint to our riding. From here, we ride straight up into the mountains, on a twisting 7km mountain road. If we are lucky, we may see mountain ibex hopping between the rocks on either side of the road or vultures soaring overhead. From the top of Las Palomas Pass (1357m) the views in both directions are incredible. Then we enjoy a 14km descent which twists and turns around the mountain, giving incredible changing views of the lake below. After a quick optional stop in Zahara village, we ride along an undulating road that follows the edge of the lake.
At the end of the lake we climb into the hills, past arable farmland and vineyards, then we have another great descent, with great views of Ronda in the distance. We use some small unsurfaced roads to climb back towards the town and suddenly we are on a ridge top with the full drama of Ronda's clifftop position directly in front of us. We drop down into a fertile valley below the town, then ride directly below the sheer rock walls of the gorge, looking up at the Puente Nuevo bridge high above us. We enter the town from the south, in the old Barrio San Francisco, which still retains much of its old village atmosphere. ​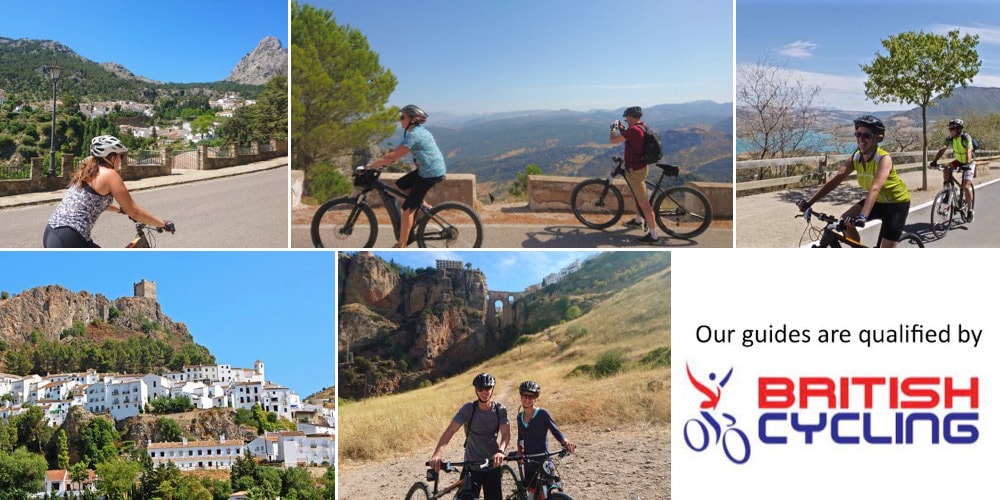 Distance: 

52km

Ride Time: 

4-5 hours

Ascent: 

1423m ⬆︎

Descent: 

1449m ⬇︎

Start:

GRAZALEMA

Finish:

RONDA

PRICE GUIDED: 

Min. 2 people: €85 per person

3-7 people:     €65 p.p.

Includes:

British Cycling Qualified Guide
Quality e-Bike
Water Bottle
Helmet
Transport to Grazalema

 This route is adaptable for self-guiding.

PRICE SELF GUIDED: €45 p.p

+ 1 off cost €40 for preloaded GPS, map and transfer to Grazalema
Tel: 0034 638 873 279
Activ Turismo No. AT/MA/00221