Hiking and Biking in Andalucia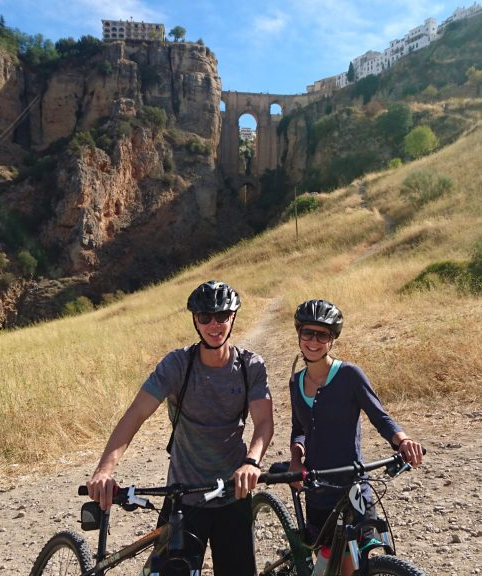 We are local guides for hiking and biking in Andalucia, based in the town of Ronda, in Malaga province. We are specialist providers of holidays, tours, day trips and bike rental.
Whether your preference is hiking or biking, Ronda is the perfect base. The town is located on a spectacular clifftop, surrounded by unspoilt countryside and protected Natural Parks. Hidden throughout are miles of peaceful, barely used tracks and pathways, many dating back to ancient times. Support for visitors wishing to hike or bike here is still relatively under-developed, There are few marked mountain bike trails, hiking paths or even up-to-date and accurate local maps, so navigation can be challenging. It means that only minimal tourists make it out into the countryside, so to this day you can still go for miles without meeting another soul - it's half of what keeps it so charming!                                                                                                                        read more about Ronda
Hiking and Biking with Us
We have spent many years exploring this dramatically beautiful mountain landscape to build an unparalleled knowledge of the area. Subsequently we have been able to create a range of flexible hiking and biking routes. Our goal is to provide enjoyable adventures for couples, families and small groups. We make it easy to explore the area, whether guided or self guided. 
On guided holidays and day trips, our guides are with you every step of the way. You will never lose your path or waste precious holiday time trying to find the best trails.
For self guided tours you travel at your own pace with one of our preloaded Garmin GPS devices. Simply follow the Garmin route, supported with our bespoke maps, to experience the most charming sights and sounds of rural Spain. 
Select your preferred activity below - mountain biking, cycling or hiking - and see our range of holidays, tours and day trips:

Important Note!
We are a fully accredited company registered in Andalucia with the Spanish tourist authorities and are Active Tourism registered (AT/MA/00221). Our guides are "British Cycling" qualified and trained and are certified Outdoor First Aiders. Your safety and enjoyment are key to us when you are hiking and biking in Andalucia with us.